This Carnivore Calzone is the perfect meal for the pizza loving Meat Lover!! Protein packed and loaded with cheese and pepperoni. This Calzone doesn't need carbs to be the best thing you put in your mouth today!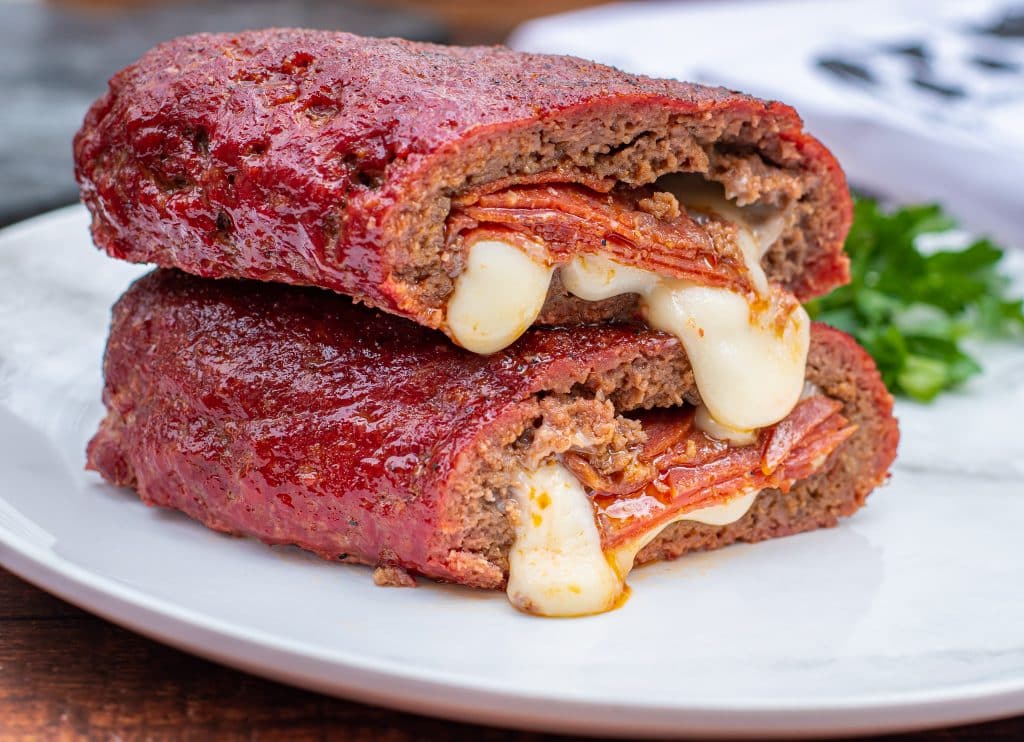 Carnivore Calzone… all the meat non of the crust!
This recipe is a hybrid between a calzone and a stuffed meatloaf. I use Pork King Good Breadcrumbs, Parmesan and one egg to give the carnivore calzone a bit of flavor and texture. It's hand held like a hot pocket so I guess it's a cross between a lot of things but no matter what you call it, it's delicious. 90/10 lean ground beef works best for this recipe because it doesn't shrink up much when you cook it. If you use a fatty grind like 73/27 you will have blow outs and you'll lose some of that cheesy goodness.
Pellet grills are fantastic for smoked Meatloafs or carnivore calzones.
The reason I Smoke this carnivore calzone is because the low temperature won't cause the meat to shrink up and split. You also get that smoky wood fired flavor that you can only achieve from using a smoker. The recipe works in the oven as well but if you have a smoker why wouldn't you take advantage of it. Because these carnivore calzones are hand held they don't take very long to cook. About 90 minutes tops. Once you reach an internal temperature of 155 degrees F. the calzones are done. I prefer to let them rest for about 10 minutes so the cheese doesn't run out when you slice them.
The beautiful red color you see is not sauce but a smoke ring formed when the gases from the smoke combine with the water molecules in the meat to form nitric oxide. the nitric oxide formed with Myoglobin forms a pink color that dent degrade from heat. it doesn't add any flavor but it is thought to be a sign of well smoked meat. And it looks pretty!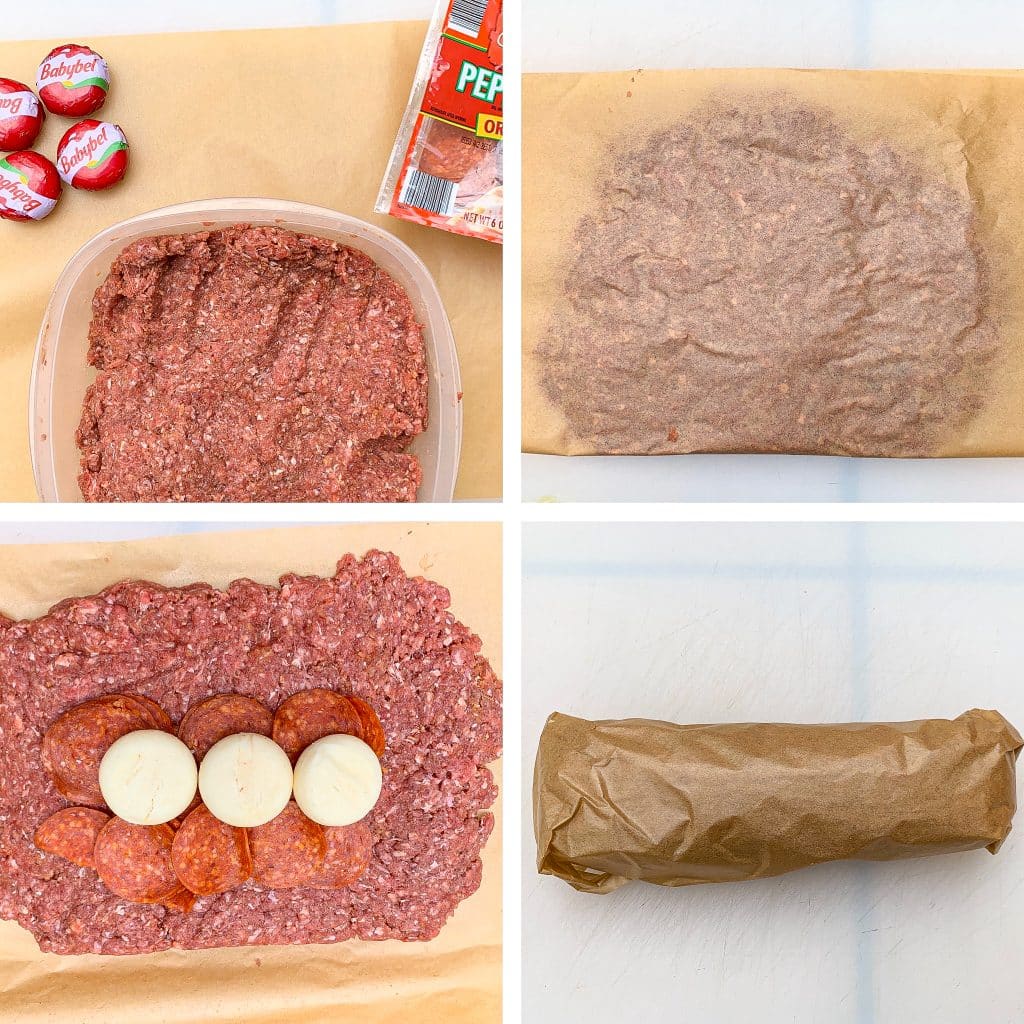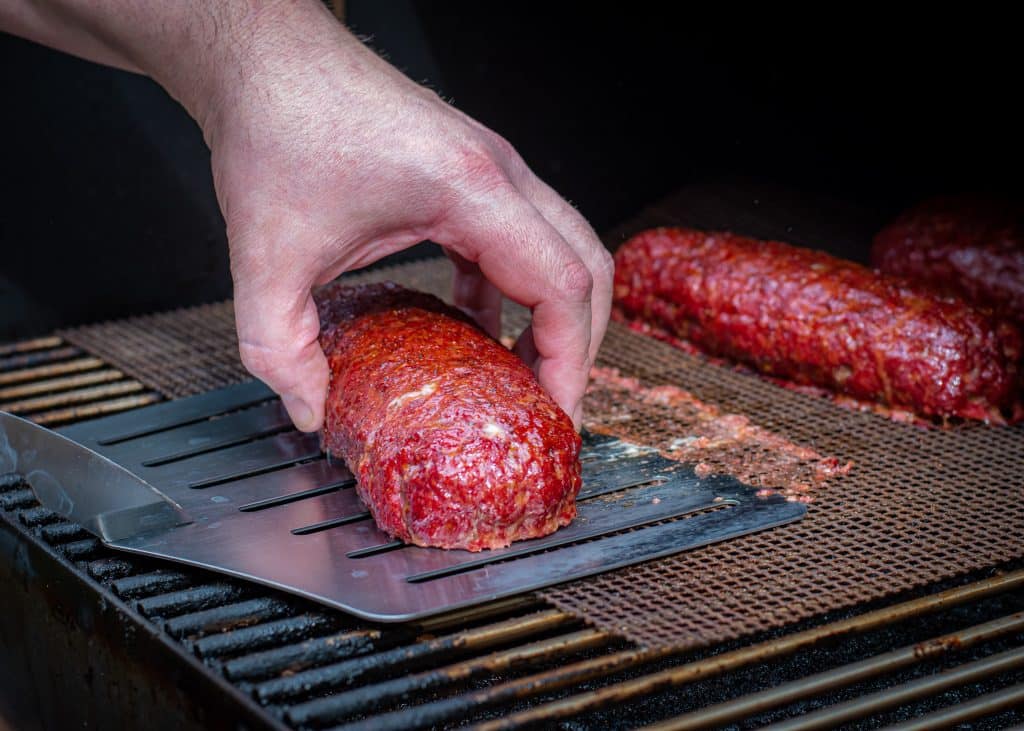 Forming the Calzone.
I find that laying out a sheet of parchment paper. This will not only make forming the calzone easier but it also makes for faster cleanup when you're finished. I put about 10-12oz of my meat mixture on one side of the paper. Then fold it in half to press out the meat mixture into a rectangular shape. After that I pile on the pepperoni and 2-3 babybel's. You can also use 2 mozzarella string cheese if you prefer. Next, I use the parchment paper to fold the meat over the pepperoni and cheese filling just like a sushi roll. Finally form the sides making sure they're completely sealed. Roll it up tight in the parchment and place in the fridge for 30 minutes while the smoker preheats.
The Carnivore Calzones take about 1 hour at 300 degrees F. In my Rectec 700 pellet grill. I put a grilling mat in the smoker to help support the calzones when they first go in because they're delicate. I made 3 different size calzones and they all cooked at about the same amount of time. The smaller one was filled with double the pepperoni and a kraft single since I ran out of baby bells. I've been trying to avoid the grocery stores as of late so it's caused me to get creative with ingredients. Turns out the double pepperoni/ kraft single was my favorite but I have the palate of a small child sometimes so take that for what it's worth.
Other ingredients.
Obviously you can fill the calzone with whatever ingredients you like. I just used pepperoni and cheese because they're the two most popular toppings. As long as you can fit everything inside the calzone without it bursting it's really up to you to make the perfect carnivore hot pocket, or calzone or stuffed meatloaf…you know what I mean. I like to dip my carnivorous creation in some Rao's Marinara but that's completely optional. Please tag @culinarylion on Instagram if you make these because I would love to see everyone's version.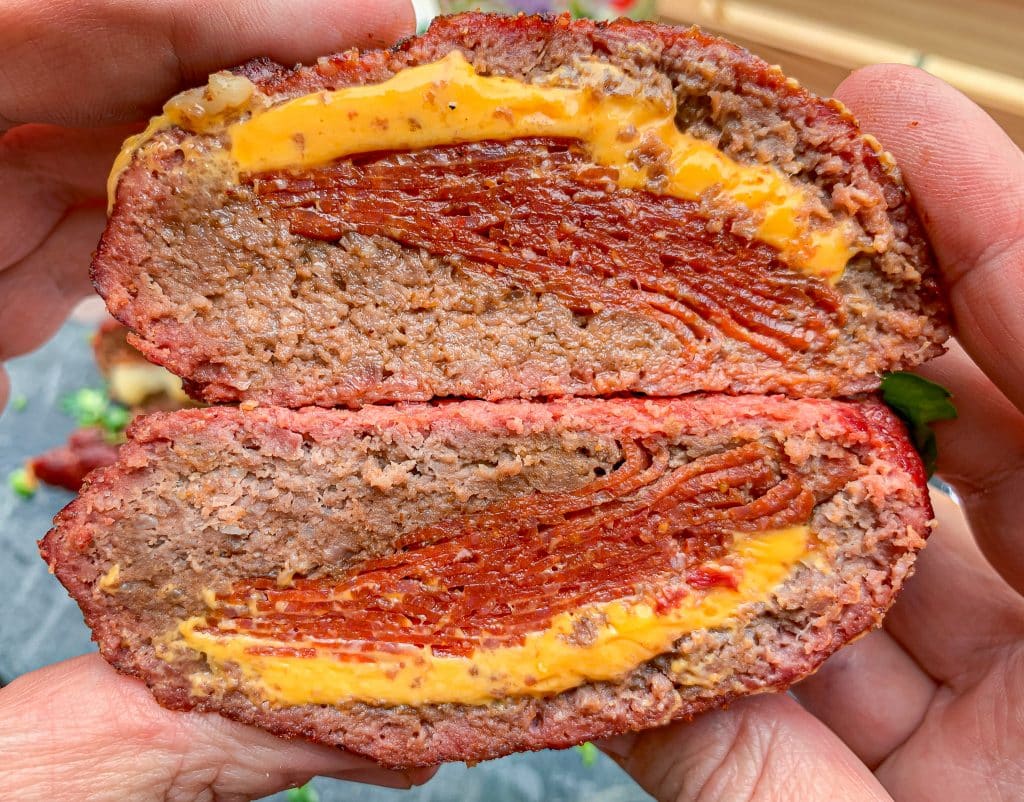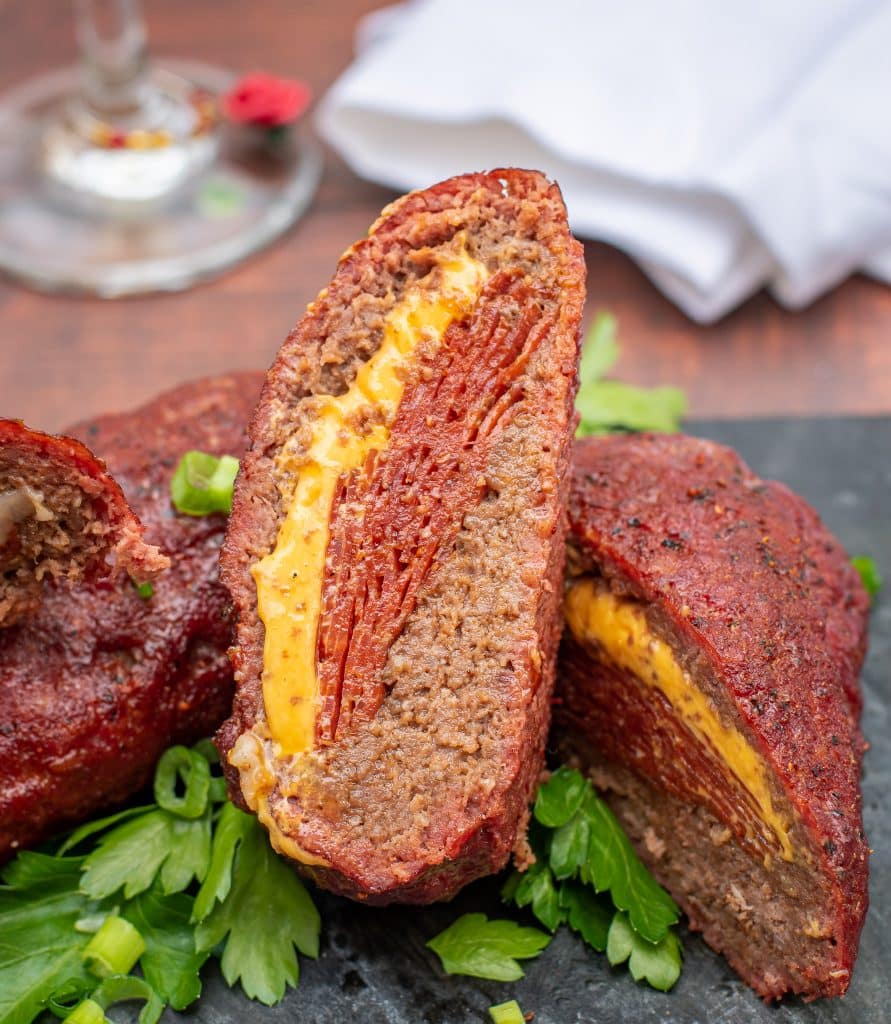 More Meaty Keto Recipes
---
Instructions
Pre heat Pellet Grill to 300 degrees F.

Combine ground beef, Pork king good breadcrumbs, egg and half of the bbq rub.

Divide the meat mixture into 3 equal portions. place a portion on a sheet of parchment paper then fold in half pressing the meat out to form a evenly thick rectangular shape about a 1/3 to a 1/4 inch in thickness.

in the center of the rectangle place a layer of pepperoni and cheese. use the parchment paper to fold the meat over the filling gently forming a tube. then press in the sides making sure the calzone is compleatly sealed. wrap tightly with the parchment paper then chill in the fridge for 30 minutes while your pellet grill heats up.

remove the carnivore calzones from the parchment paper, make sure they arte still even and fully sealed then place on the grill mat in your pellet grill. If you dont have a grill mat just use a piece of butcher paper or asheet pan.

season with remaining rub then smoke at 300 degrees F. for about 1 hour until the internal temperature of the calzon is 155 degrees F. Let rest for 5-1- minutes before slicing.
Notes
Serving size is 1/2 of a calzone. Recipe should make 3 even sized calzones
Nutrition
Calories:
421
kcal
|
Carbohydrates:
1
g
|
Protein:
46
g
|
Fat:
26
g
|
Saturated Fat:
12
g
|
Cholesterol:
145
mg
|
Sodium:
504
mg
|
Potassium:
586
mg
|
Fiber:
1
g
|
Sugar:
1
g
|
Vitamin A:
57
IU
|
Calcium:
29
mg
|
Iron:
4
mg
---
Nutrition Facts
Keto Carnivore Calzone
Amount Per Serving
Calories 421
Calories from Fat 234
% Daily Value*
Fat 26g40%
Cholesterol 145mg48%
Sodium 504mg22%
Potassium 586mg17%
Carbohydrates 1g0%
Protein 46g92%
Vitamin A 57IU1%
Calcium 29mg3%
Iron 4mg22%
* Percent Daily Values are based on a 2000 calorie diet.
---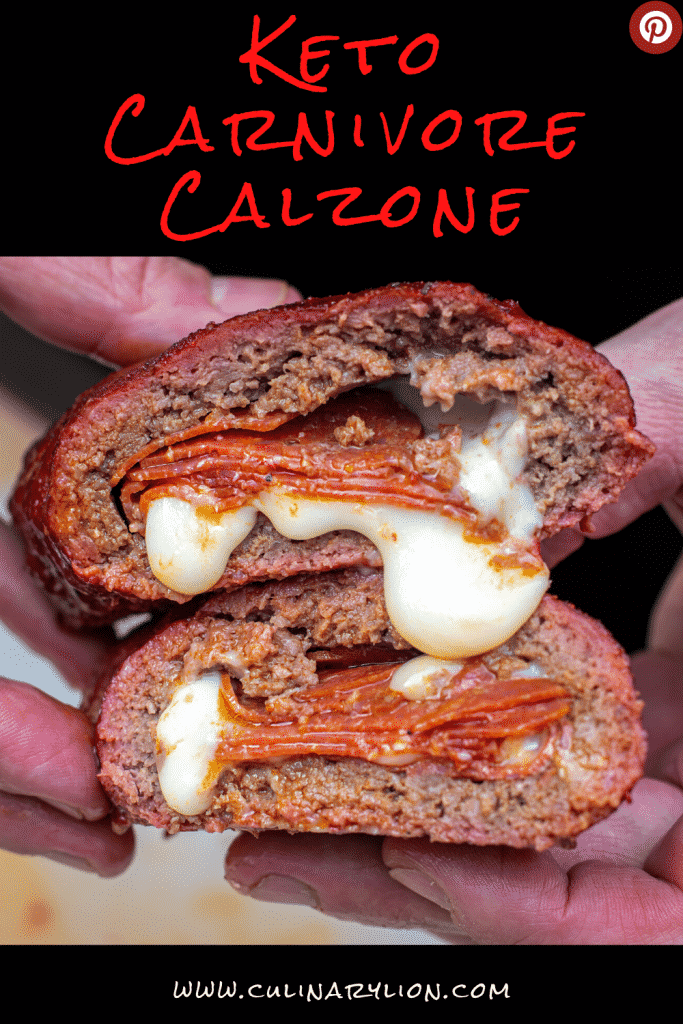 This recipe for keto carnivore calzone contains Affiliate links. I receive income from qualifying purchases.