Jump to Recipe
This Keto Crustless Quiche is a fantastic recipe anytime. Great for meal prep or a Sunday family brunch, its always a family favorite.
Its a recipe that's easy to prepare and can be prepped the day before making it perfect for Christmas Morning
How to Prep your Keto Crustless Quiche
The biggest thing to remember when prepping your ingredients is that moisture is the enemy of any egg casserole or quiche.
Too much water will leave your Keto Crustless Quiche runny or fall apart when you cut it. To prevent that I like to sautés all of the ingredients ahead of time and strain them if needed so any excess water is removed before I add the egg mixture.
You can do all of this up to 2 days ahead of time and chill the ingredients in the fridge so that all you have to do Christmas morning is pour the egg mixture over the filling and bake.
You can use any casserole dish or cast iron pan for this crustless quiche depending on how many people you need to feed.
For this 8 serving recipe I use a 9x6 oval pan but anything similar will work just fine. Just be sure to grease the sides and bottom with some cooking spray or butter before baking.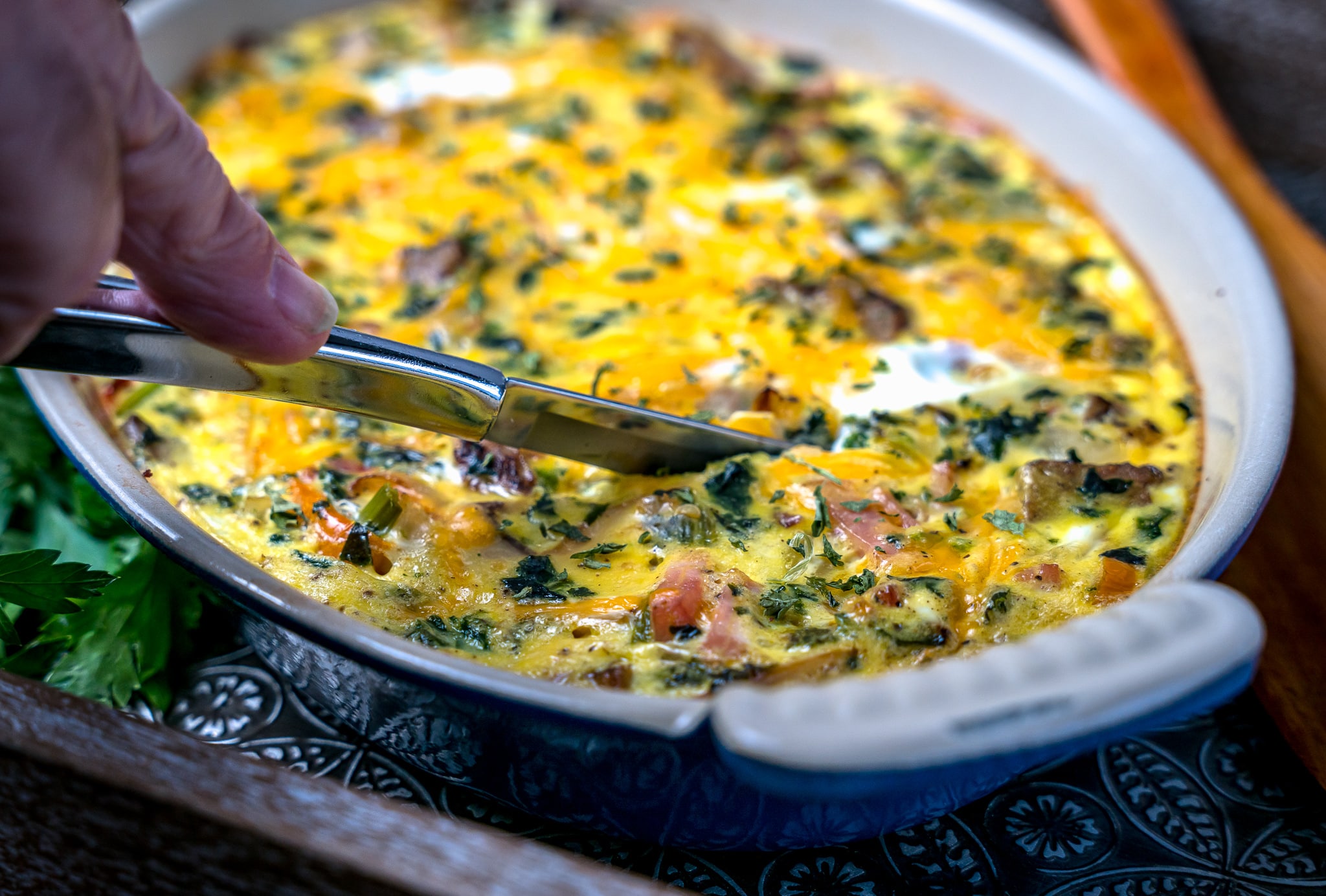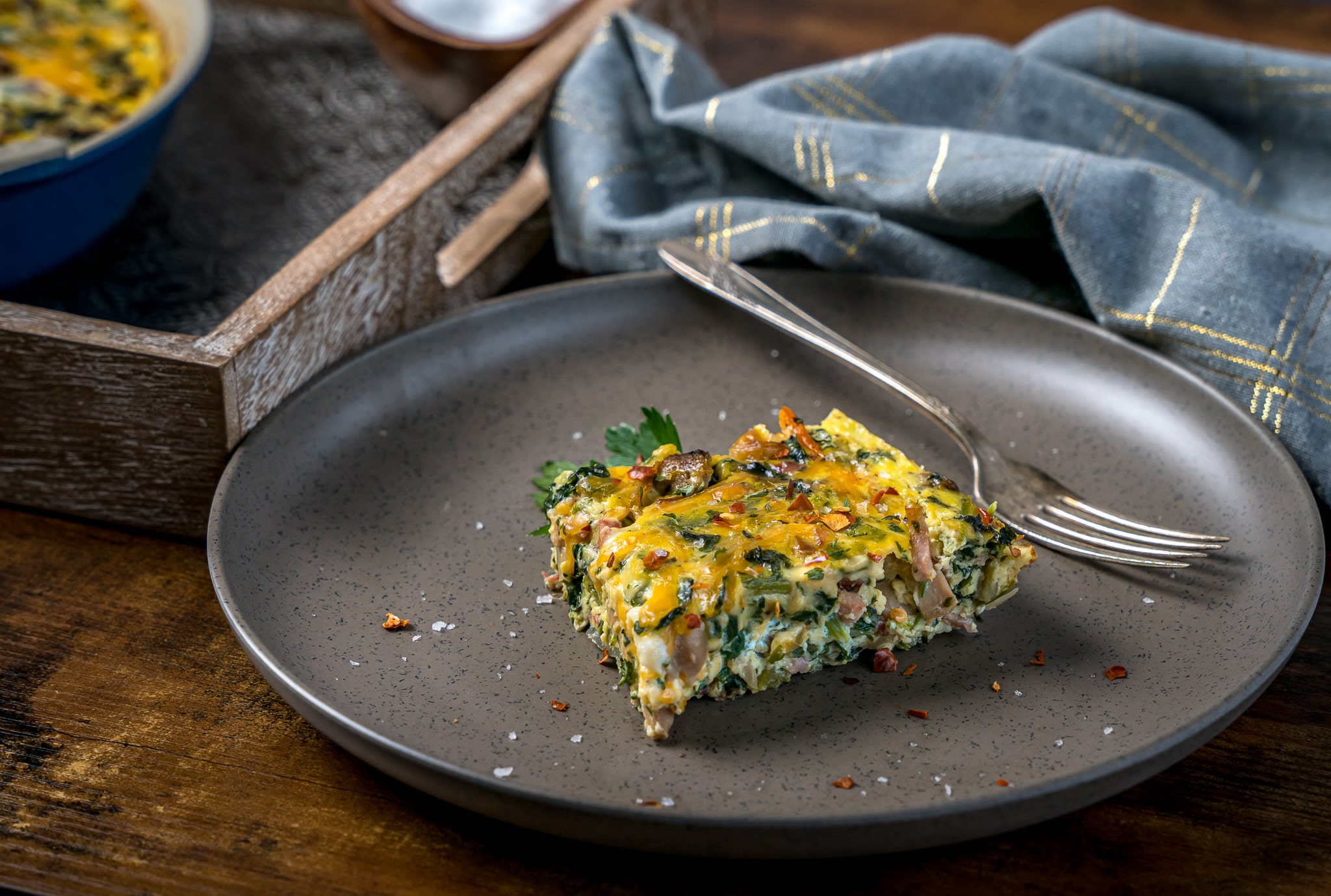 Ingredients For Keto Crustless Quiche
The Skys the limit when it comes to what you can put in your crustless quiche. Ive listed some of my favorite ingredients below to give you some options.
Think of it like a fantasy draft and your goal is to put the perfect team of ingredients together...just don't draft a kicker in the 1st round!
Veggies
Kale
Onions
Peppers
Brussel Sprouts (shaved)
Mushrooms
Tomatoes
Garlic
Spinach
Zucchini
Squash
Eggplant
Scallions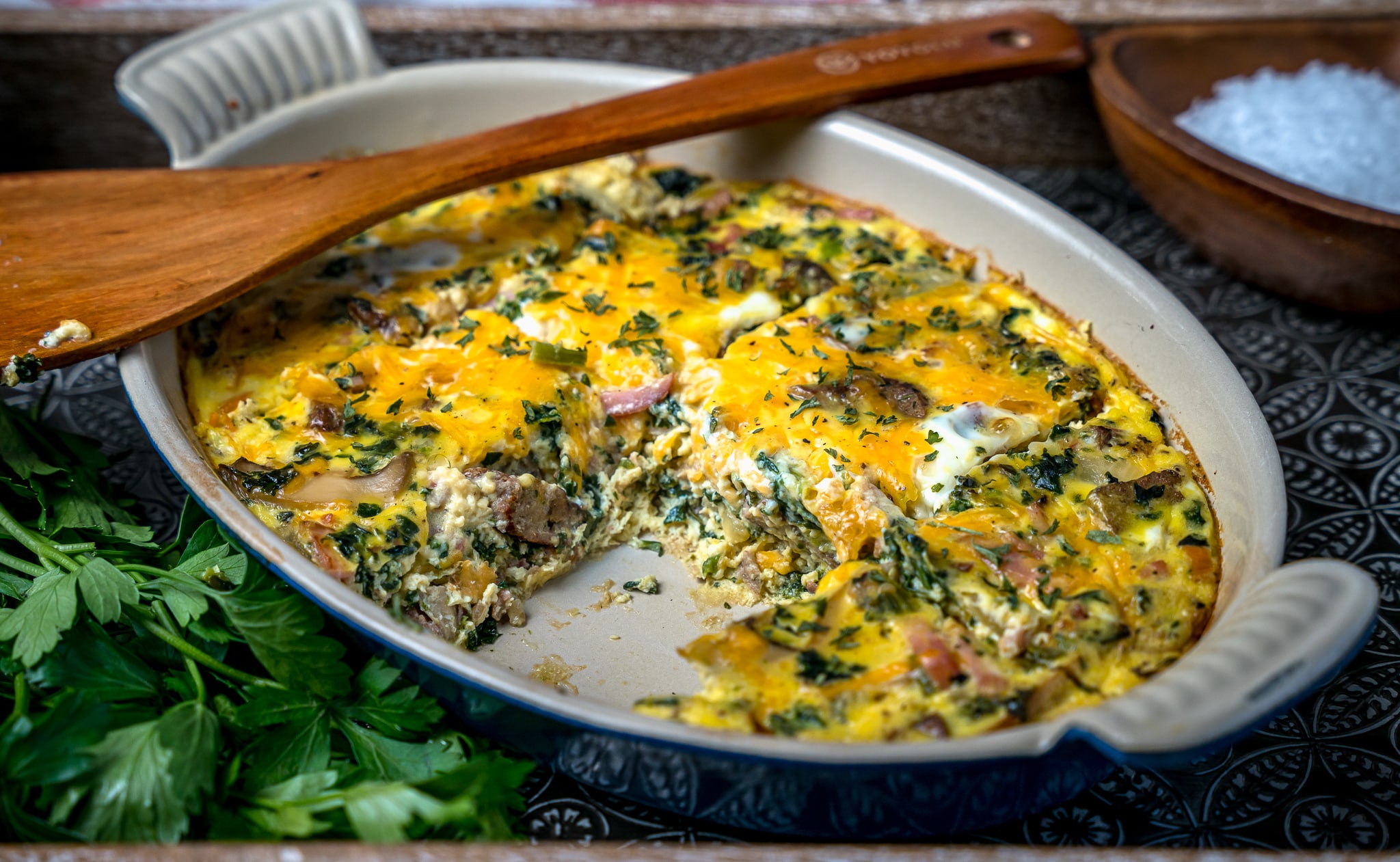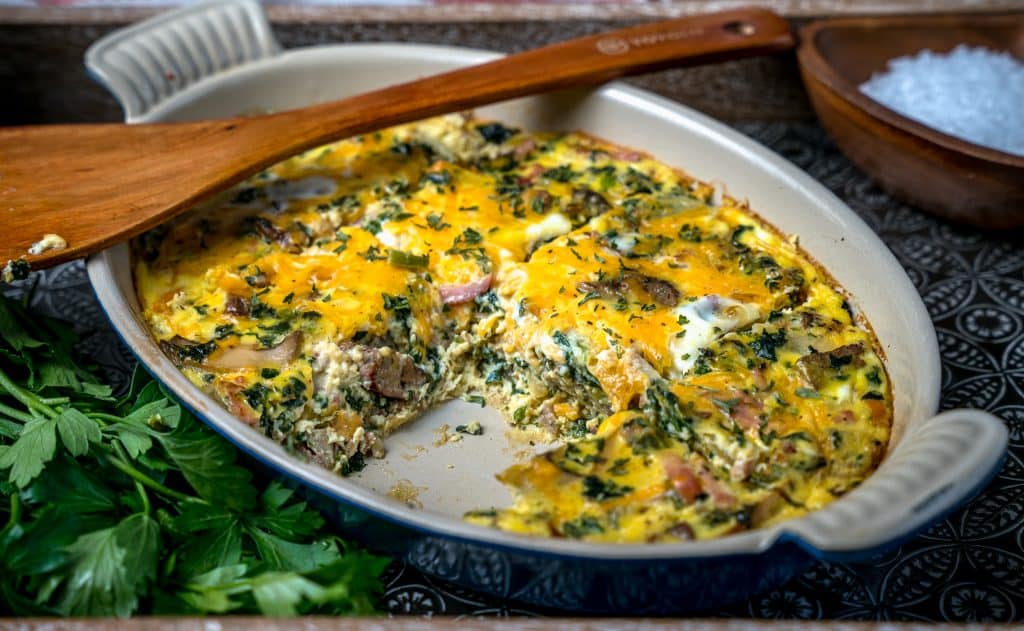 Meats
Sausage
Turkey/ Chicken Sausage
Ham
Bacon
Canadian Bacon
Deli Meats
Pepperoni
Crab
Shrimp
Scallops
Lobster
Salmon
Cheeses
Cheddar
Provolone
Mozzarella
Brie
Swiss
Bleu Cheese
Boursin
Goat Cheese
Gouda
Pepper Jack
American (Don't Judge)
Feta
Parmesan
Havarti
Fontina
Asiago
Countless others...
Putting the Keto Crustless Quiche Together
Once you have cooked all of the ingredients and drained off any excess liquids you can spread out the filling in the dish or pan you want to serve your Keto crustless quiche in.
This will give you an Idea of how large a container you'll need. The filling should be loose and not tightly packed in the pan and should sit about 1.5 inches high so when you add the eggs and cook the quiche it will be about 2 inches tall.
The Egg mixture can also be prepared ahead but since it only takes a few minutes you may want to just whisk them up right before cooking.
If you do prepare the egg mixture ahead be sure to whisk again just before pouring into the pan to make sure the ingredients are evenly distributed.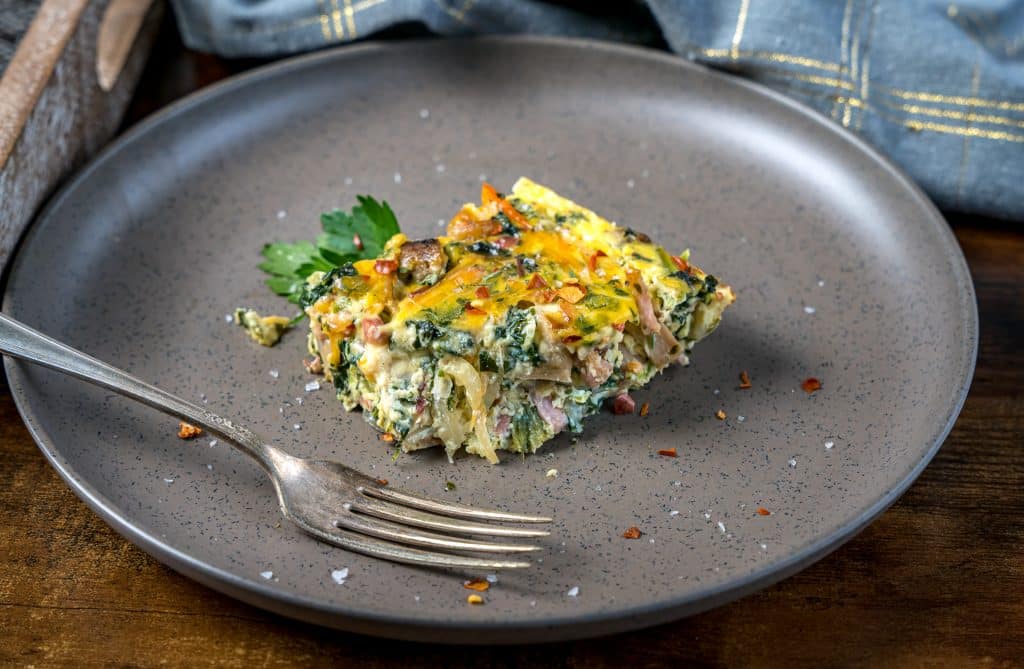 How Long to Cook Keto Crustless Quiche
This is where things get tricky. I can tell you an exact time and temperature and just assume that your oven is the same as mine.
That you have the exact dish that I used. That we both used the exact same ingredients but that's just not a likely scenario.
Instead I will give you a Temperature and some tips of how to tell when your Keto Crustless Quiche is fully cooked.
I think 350 degrees F. is the perfect temperature for this quiche recipe.
It's not so hot that your eggs over cook on the outside and leave the middle uncooked. Another tip is to use a pan or dish that gives you about a 2 inch tall quiche.
If your container is too small and deep the quiche will take forever to cook or if its too thin then you basically have an open faced omelette or Frittata.
How to tell when the Keto Crustless Quiche is Done
Once the Crustless Quiche is assembled and the oven is preheated I cover the dish with foil to help the quiche cook evenly.
Once the quiche is almost finished I cook for the rest of the way uncovered. To tell when the Quiche is cooked I use the toothpick test and the jiggle test.
The jiggle test is just a quick tap against the side of the casserole pan. It's hot so be careful or use a heat glove.
You can tell how close the quiche is to being fully cooked by the amount of jiggle. If you tap the side and get just a slight twitch like a cup of jello then you know its almost done.
However if you tap the sides and the center is just slushing around you know you've got a ways to go.
The Toothpick test is very straight forward and what I use to tell when a cake or muffin is done as well. Simply take a toothpick and gently poke into the center of the quiche.
If the toothpick comes out wet then the quiche isn't done. If the toothpick is dry then the Quiche is fully cooked.
At this point you can remove the quiche from the oven and allow the quiche to rest before slicing.
Resting and Serving Crustless Quiche
Once your Quiche is fully cooked its important not to cut into it right away. It needs a little time to set up or you'll have a mess when you cut into the quiche.
Plus its going to be so hot that you'll burn your mouth and not be able to enjoy your hard work. Let it cool for a minimum of 15-20 minutes.
Quiche is tasty hot, cold or somewhere in between. In French bistros Quiche is often served cold or at room temp served alongside spring greens tossed in a light vinaigrette.
If you're like my family we wake up Christmas morning, preheat the oven and start making a big pot of coffee. While the oven is preheating you can assemble the Keto Crustless Quiche and place it in the oven even if the oven isn't completely preheated.
Then you know you've got 25-30 minutes before you need to check the quiche to see if its done. As the kids open up presents and I have a timer set on my phone I sit and relax enjoying my coffee.
Once the Quiche is cooked I pull it out of the oven and let it sit on the counter for another 20 minutes until we are finished with opening presents.
If you think its gonna be a while before you gather for breakfast you can cover with foil and either store in a empty cooler wrapped in a towel or even place back in the oven set to warm.
The quiche will be there when you're ready...I promise.
More Tasty Breakfast Recipes
---
My Perfect Quiche Filling
Pre heat oven to 350 degrees F.

Saute all of your meats starting with the raw ones the add the cooked meats at the end. Remove from pan and set aside. Next saute the onions and peppersusing the leftover fat in the pan. Add the kale and cooke until tender and add the mushrooms last. Add the meat back into the pan and season.

drain off any exsess liquid then spread out in your buttered caserole dish or cast iron pan. Spread out the mixture evenly throughout the pan. spread out half of the shredded cheese over the filling and reserve the rest to add overtop the egg mixture.

Whisk together the egg, heavy cream, boursin cheese and seasonings. Pour Egg mixture over the filling so that the entire pan is evenly covered. if your egg mixture doesent cover the entire casserole just whisk together additional eggs and cream and pour over addtional mixture so that the egg mixture has just barely reached the top of the filling. Top with remaining cheese and bake for about 25-30 minutes until the Quiche is fully cooked.

Let Quiche rest of 15 minute before slicing.
Calories:
328
kcal
|
Carbohydrates:
4
g
|
Protein:
19
g
|
Fat:
26
g
|
Saturated Fat:
12
g
|
Cholesterol:
231
mg
|
Sodium:
740
mg
|
Potassium:
325
mg
|
Fiber:
1
g
|
Sugar:
1
g
|
Vitamin A:
1850
IU
|
Vitamin C:
23
mg
|
Calcium:
150
mg
|
Iron:
1
mg
---
Nutrition Facts
Keto Crustless Quiche
Amount Per Serving
Calories 328
Calories from Fat 234
% Daily Value*
Fat 26g40%
Cholesterol 231mg77%
Sodium 740mg32%
Potassium 325mg9%
Carbohydrates 4g1%
Protein 19g38%
Vitamin A 1850IU37%
Vitamin C 23mg28%
Calcium 150mg15%
Iron 1mg6%
* Percent Daily Values are based on a 2000 calorie diet.