Here it is, your one stop shop for my Top 4 Cinco de Mayo Keto Recipes. We have appetizers, main dishes and even dessert to make your Cinco de Mayo a true Fiesta!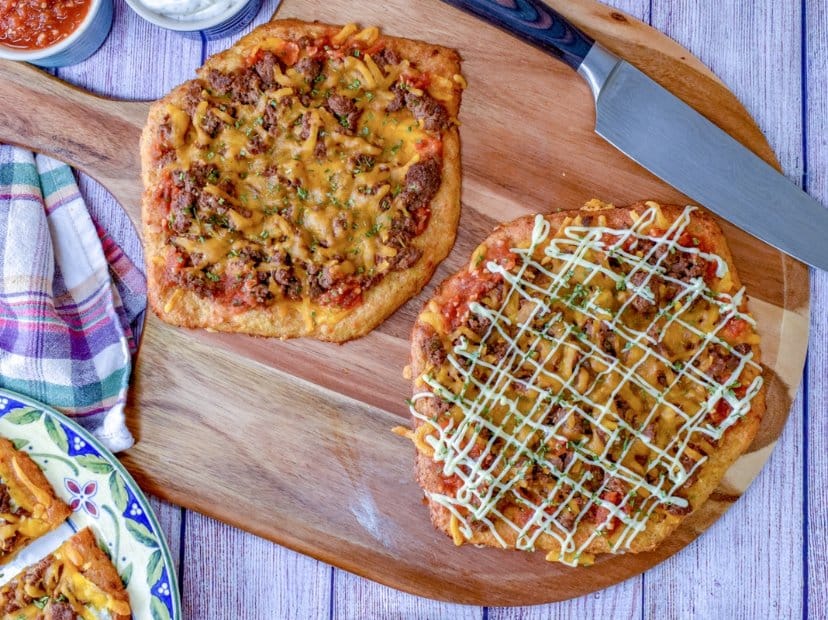 A Keto pizza that is truly low carb and full of flavor, this Mexican pizza is perfect for keeping you full and on track in your Keto journey. Protein packed and delicious pizza that you will have your taste buds dancing like it's Cinco de Mayo!

This recipe is dedicated to my favorite school lunch the "Fiastada" AKA Mexican Pizza. whenever this was on the menu at school you could be sure I was buying two lunches that day. Basically every athlete in school was ordering two and most of the wrestlers ordered 3. It's nothing special, just a oddly shaped hexagon topped with taco meat and cheddar cheese but man was it tasty.
I've updated this lunchroom classic by replacing the gluten filled crust with a protein packed chicken crust. The flavored are all very similar but without the government grade ground beef served on a flour filled crust.

This is one of those recipes that even people that don't eat a ketogenic diet can get with. It's a "tortilla" made from fried mozzarella cheese! Need I say more. Follow me to a magical world where fried cheese burritos can be part of a healthy low carb lifestyle.

One of my favorite things to meal prep are boneless skinless chicken thighs. They are easy to grill or smoke, they don't take long and they are so much juicier and more tender than breast meat. I'll keep a big container of thighs in the fridge to eat throughout the week and I dip them in a variety of sauces making it a great grab and go meal.

Sometimes you have a light bulb moment and a great idea just smacks you across the head. This must have been how Tesla or Edison felt… but I digress. I was in the mood for chipotle but I didn't feel like dropping $15+ bucks for a double or triple protein burrito bowl and I wanted something I could pick up and eat. I've made crispy cheese taco shells and they are great but I always want to eat a bunch of them and wanted something easier and quicker. I'd seen a video of someone making a breakfast burrito with a mozzarella tortilla and figured I'd give it a shot.

Now that the weather is warming up I look forward to being outside firing up the grill and enjoying the occasional shot of reposado tequila. This Keto friendly margarita ice box pie will put you in a summer state of mind with the salty, sour and sweet flavor profiles folded into this rich and creamy low carb fiesta. Come to think of it cinco de mayo is just around the corner and I can't think of a better dessert to bring to a Keto meetup or backyard cookout. Nobody would ever guest this recipe was low carb and when you tell them there's real tequila in there the only question they'll ask is where's the forks. This Keto dessert definitely reminds me of that salt rimmed margarita taste that lead to many regretful decisions in my younger years except without the guilt and hangover the next day. The only downside is you'll be asked to bring this pie to every summer party for the rest of your life so consider yourself warned.

Fajitas without the Tortillas??? Are you Mad?? Yeah yeah, I know technically it's not fajitas if there's no tortillas but this dish is prepared using the same method and if you're so inclined you can make any number of low carb tortilla recipes or just serve the shrimp over riced cauliflower. I'm familiar with a few store bought brands of low carb tortillas that do have some questionable ingredients but if they fit into your keto goals and lifestyle I don't judge! The spirit of this recipe is to provide you with a quick and easy dish full of fresh bright flavors that you can serve anyway you like. I love to make this when I'm looking for a quick bite and I can always meal prep the leftovers for lunch the next day.

You're going to over cook the shrimp adding the veggies at the end!!! Fear not, there is a method to my madness. If you're like me every time I order fajitas from a restaurant the veggies are always mushy and the meat is greasy. I prefer to sear the shrimp in a flaming hot cast iron skillet locking in the flavor and moisture of the shrimp and only cooking the veggies for a minute or two, just long enough so they are tender but still have a bite to them. Once the shrimp hit the pan the clock has started. You should have all other ingredients chopped and ready to add to the pan. So many times I see people cooking and chopping at the same time which tends to lead to rubbery shrimp and sad fajitas. As soon as the shrimp hit the pan spread them out so they are not touching and have even surface area to sear and develop a nice crust. You'll want to flip them as soon as you see the sides of the shrimp start turning pink. After flipping the shrimp it's time to add the raw veggies to the pan while the shrimp are searing on the second side. The veggies will immediately start to release moisture into the dish and once you add the tequila and lime juice the shrimp and veggies should be just about done. At this point I actually turn off the heat and add my herbs and scallions using the residual heat of the pan to finish off the dish. As an optional but very delicious final step I like to add one extra tablespoon of butter to bring the sauce together. Adding the butter while the shrimp are still cooking will give you a greasy unpleasant look but if you turn off the heat and gently fold in the butter it will coat the shrimp and combine with the natural juices to give you a beautiful velvety sauce.