Jump to Recipe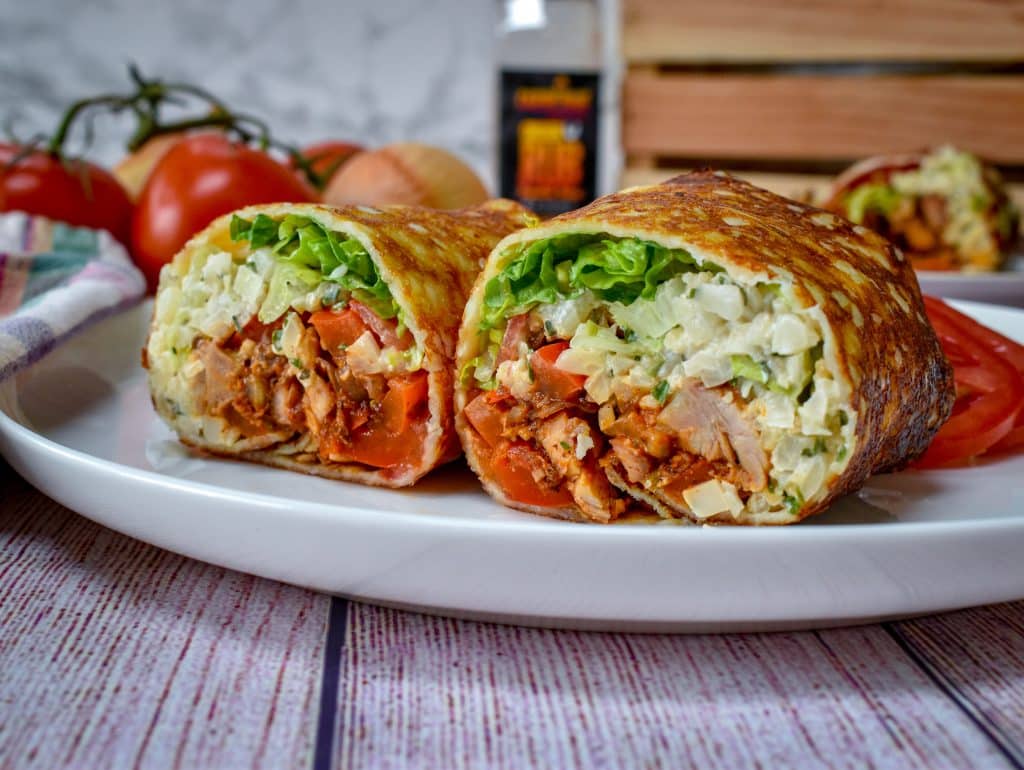 This is one of those recipes that even people that don't eat a ketogenic diet can get with. It's a "tortilla" made from fried mozzarella cheese! Need I say more. Follow me to a magical world where fried cheese burritos can be part of a healthy low carb lifestyle.

One of my favorite things to meal prep are boneless skinless chicken thighs. They're easy to grill or smoke. They don't take long and they're so much juicier than breast meat. I'll keep a big container of thighs in the fridge to eat throughout the week. I dip them in a variety of sauces making it a great grab and go meal.

This must have been how Tesla and Edison felt
Sometimes you have a light bulb moment and a great idea just smacks you across the head. This must have been how Tesla and Edison felt… but I digress. Since I was in the mood for chipotle but I didn't feel like dropping $15+ bucks for a double or triple protein burrito bowl. I've made crispy cheese taco shells and they're great but I always end up eating a bunch of them. Plus I didn't feel like making 3 cheese shells at once.
I'd seen a video of someone making a breakfast burrito with a mozzarella tortilla and figured I would give it a shot. Being Creative in the kitchen has always been my happy place. This Keto Burrito was just the recipe to get those creative juices flowing

All you need is a 12" nonstick skillet and about ¾ cup of part skim shredded mozzarella cheese. I prefer the thicker shred that I get from Costco over the cheaper thinly shredded type you might find at Aldi. Cheddar and Parmesan cheese don't have the flexibility to wrap. I don't recommend those cheeses for this recipe. I cook with a gas stove top most of the time and for the most part I cook in full blast of ¾ heat.
How To Make A Keto Cheese Tortilla
Start with the heat off and sprinkle an even layer of cheese into the pan. Turn on the heat and once the cheese has begun to melt you can sprinkle cheese into any gaps you see. With a rubber spatula go around the outside of the cheese pushing the mozzarella down to form a even circular "tortilla". After about 3-4 minutes you will see the edges turning golden. Start to loosen up the cheese from the pan all the way around. Look to see if the cheese has reached a nice golden color. Once the color is a perfect golden hue remove from the heat and let the mozzarella cool down for 4-5 minutes.
let the cheese cool enough to handle and tighten up a bit. Gently run the spatula around the sides until the cheese to loosens from the pan before removing it and placing on a clean surface. Now you're ready to roll, once we get some stuff to put in there.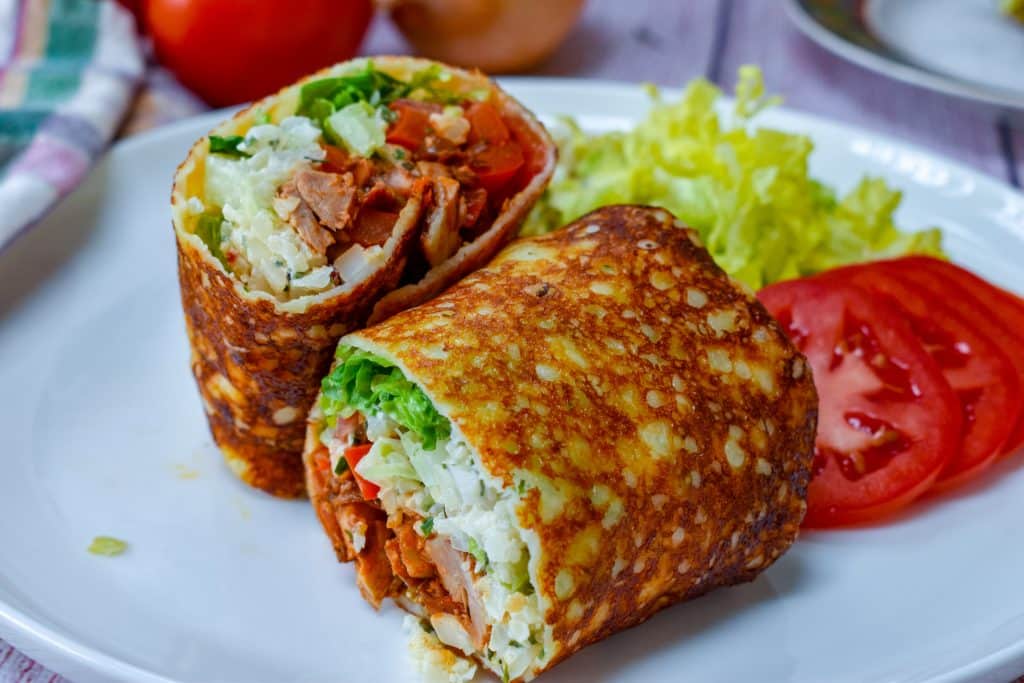 Prep Your Ingredients Ahead of Time
Before you prepare the cheese "tortilla" get all of your toppings and condiments ready so once it's ready you can wrap it up. I sliced up my chicken thighs into thin strips along with a handful of onions and peppers seasoned with a little chicken rub from Caribeque along with a tablespoon or two of salsa. Once it's heated through it's ready to go. For the riced cauliflower I used a frozen bagged version. I pour the cauliflower into a microwave safe container, added cilantro, lime, cream cheese and some Tanjin seasoning.
If you've never had it Tanjin seasoning is a tangy spicy season blend that goes great with any Mexican dishes. I just microwave everything for about 3 minutes. Then stir it together and you've got a super easy creamy cauliflower rice. Lastly I thinly slice up some lettuce and tomato so I'm ready to assemble my burrito.

Fill it up Just How You Like It!!
Here's where you get to decide what goes in the perfect burrito. Mine consisted of onions, peppers, salsa, taco seasoning, chicken, cilantro lime cauliflower, lettuce, tomato and sour cream. I would have definitely thrown a few slices of avocado in but the 15 minute window where avocados are ripe had not happened yet. Once you've piled everything on top of your cheese "tortilla" you simply fold in the sides then roll it up. Carefully slice the burrito in half or don't and it's time to feast. I made this recipe over the weekend and I've been craving it ever since. You can bet that this recipe will be going into regular rotation in the culinary lions den.

The next day I had leftovers of everything but I was out of mozzarella so I put together a beautiful taco salad. I used the same ingredients with the addition of some Parmesan cello whisps. You cant eat fried cheese burritos everyday so i figured a salad was the perfect change of pace. If you're gonna have salad, make it a chicken fajita taco salad I say!!
Cilantro Lime Riced Cauliflower
Ingredients
2

cups

Cauliflower

Riced

2

oz

Cream Cheese

½

tsp

Tajin Seasoning

1 tbsp

Lime Juice

1

tbsp

Cilantro

fresh chopped (use parsley if you don't like cilantro)

⅛

tsp

Real Salt

season to taste
Instructions
Place all ingredients except cilantro in a microwave safe container. Microwave for 2-3 minutes then stir to combine ingredients

Fold in cilantro right before you serve.
Nutrition
Calories:
62
kcal
Carbohydrates:
3
g
Protein:
1
g
Fat:
4
g
Saturated Fat:
2
g
Cholesterol:
15
mg
Sodium:
133
mg
Potassium:
169
mg
Fiber:
1
g
Sugar:
1
g
Vitamin A:
190
IU
Vitamin C:
24.1
mg
Calcium:
25
mg
Iron:
0.3
mg
Chicken Fajita Keto Burrito
Ingredients
¾

cup

Mozzarella

Shredded

6

oz

Chicken Thighs

Cooked, boneless skinless

¼

cup

Onions

sliced

¼

cup

Bell Peppers

sliced

2

tbsp

Salsa

2

oz

Tomatoes

sliced

¼

cup

Romaine Lettuce

Chopped

1

tbsp

Sour Cream

¼

cup

Cilantro Lime Riced Cauliflower

(See Recipe Above)
Instructions
saute chickens, onions, peppers and salsa until warm. Set aside. Next chop lettuce and tomatoes and prepare the riced cauliflower.

Evenly sprinkle mozzarella in a non stick skillet, turn heat on medium high and melt cheese for 2-3 minutes

As cheese begins to melt form the sides using a rubber spatula so you have a perfectly round "tortilla"

Once the edges begin to turn golden slide the spatula underneath the edges to loosen up the cheese.

once cheese is golden, remove from heat and let cool for 4-5 minute until you can handle the "tortilla"

Using the spatula gently separate the cheese from the pan and move to a clean surface. Top with the chicken and other condiments, fold in the two edges and roll up like a traditional burrito.
Notes
To cut the carbs down further you can omit the tomatoes, cauliflower rice, onions or peppers to meet your dietary needs. I recommend this to be the bulk of you caloric and carb intake for the day. Steak & eggs for breakfast and a Keto burrito for dinner. Perfect Keto Macros
Nutrition
Calories:
759
kcal
Carbohydrates:
13
g
Protein:
48
g
Fat:
53
g
Saturated Fat:
22
g
Cholesterol:
254
mg
Sodium:
1060
mg
Potassium:
786
mg
Fiber:
3
g
Sugar:
8
g
Vitamin A:
3610
IU
Vitamin C:
58.3
mg
Calcium:
462
mg
Iron:
1.5
mg