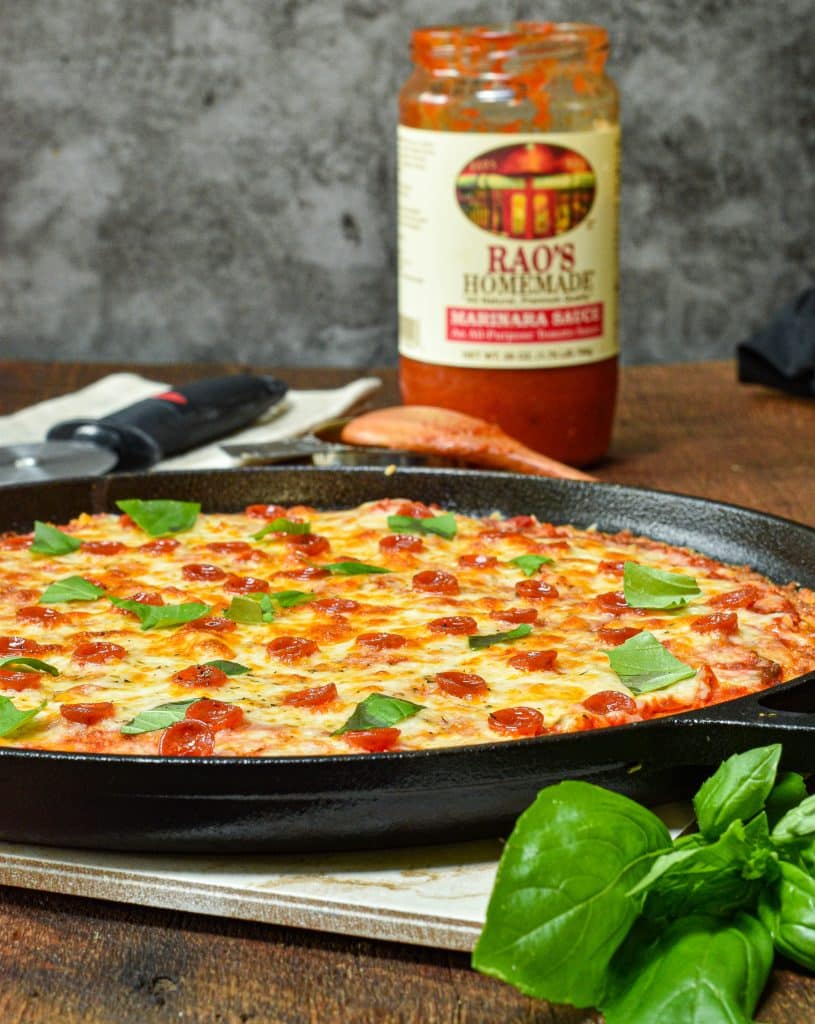 Jump to Recipe
This Keto Pan Pizza is about as close as you're gonna get to the classic pan Pizza Hut version. Way better thank Fat head dough!
If you are living that keto life but need a great low carb pizza crust you know Ive got you covered!
Hello, I'm Addicted to Pizza…Keto Pan Pizza
Long ago before keto was even on my radar I had a pizza addiction. I doubt I was the only one.
My favorite type of pizza was Pan Pizza. That buttery crust was the perfect vessel to top with all of my favorite ingredients.
I've since been on a mission to create a keto friendly pan pizza crust that could scratch that itch. Well though nothing will fully compare to the real thing I believe I've come pretty darn close.

Fat head dough though are very good can be annoying to make. I always seem to have trouble getting all the ingredients to combine before the dough cools and turns into a brick.
I wanted a pizza dough recipe that I could simply whisk up and bake anytime the mood struck me.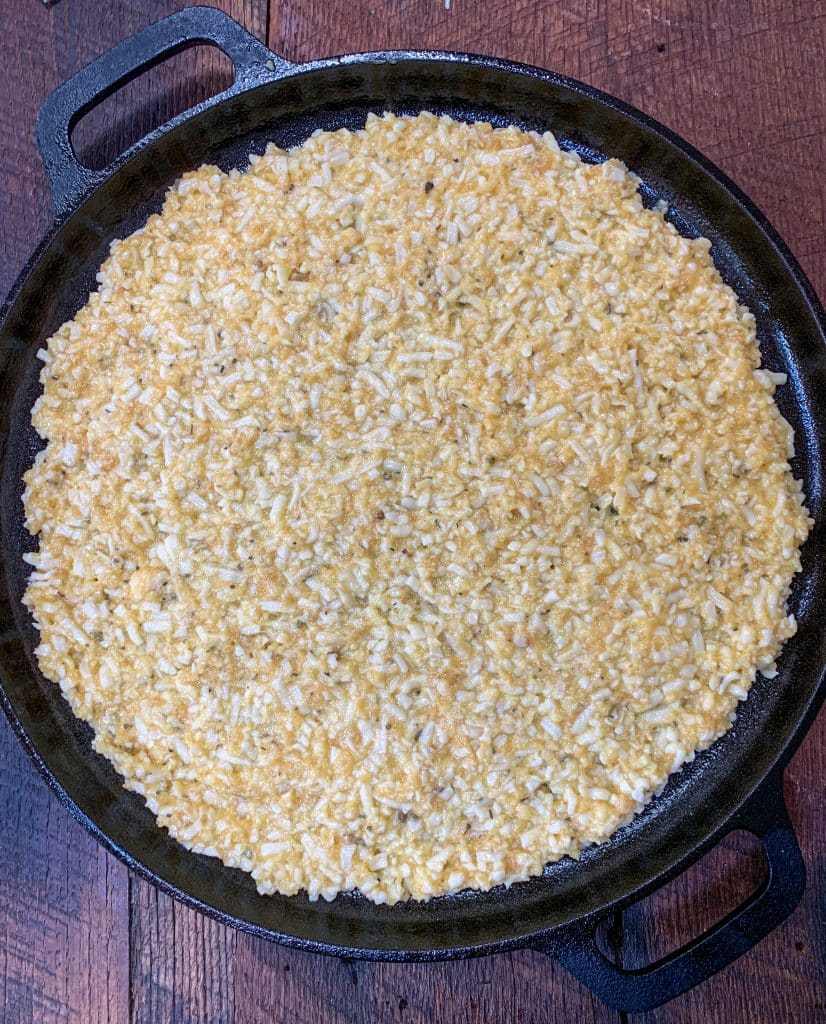 Chaffle turned Pizza Crust
That's when I decided to take a page from the Chaffle Craze. If you haven't been on the internet in a while and haven't seen a Chaffle I'll fill you in.
A Chaffle is just a cheese and egg mixture that is poured into a waffle maker. They are a fantastic substitute for bread for sandwiches and I've even got 2 recipes you really should check out.
The first is a Pulled Pork Chaffle Sandwich and the second is a Chaffle Reuben Sandwich

I took the basic idea of the Chaffle but wanted to add some pizza flavor like Italian herbs, Parmesan cheese along with garlic and onion.
In addition to those ingredients I also wanted to add crushed pork rinds, not only to add some structure to the crust but also for added flavor.
You can definitely crush up your own but I love the convenience of using Pork King Good Breadcrumbs. They are evenly ground to the perfect size and ready to use at a moments notice.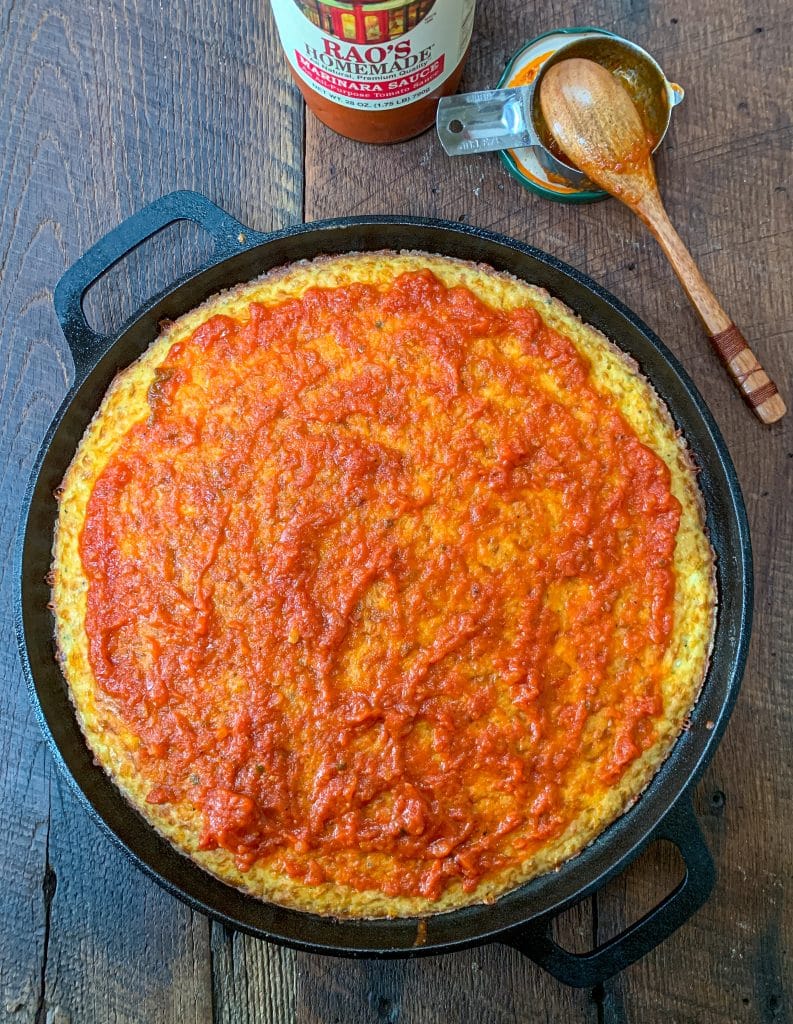 Cast Iron Pizza Pan..yes. You Need One
Once you have the quick and easy dough put together its time to spread it out. I use a 13.5" Cast Iron Pizza Pan because it's the perfect size and creates the perfect crust.
Before I pour out the dough mixture I like to brush the pan with about 2 tablespoons of melted butter or ghee to give the crust an extra buttery flavor.
This will also help prevent the pizza from sticking to the pan while baking.

The easiest way to form the pizza crust is to pour the mixture directly in the center. Then gently press the crust out evenly to fill the pan.
Don't worry if it's not perfect looking at this point. As the crust bakes it will spread out covering the entire pan. This takes just about 20 minutes at 375 degrees F.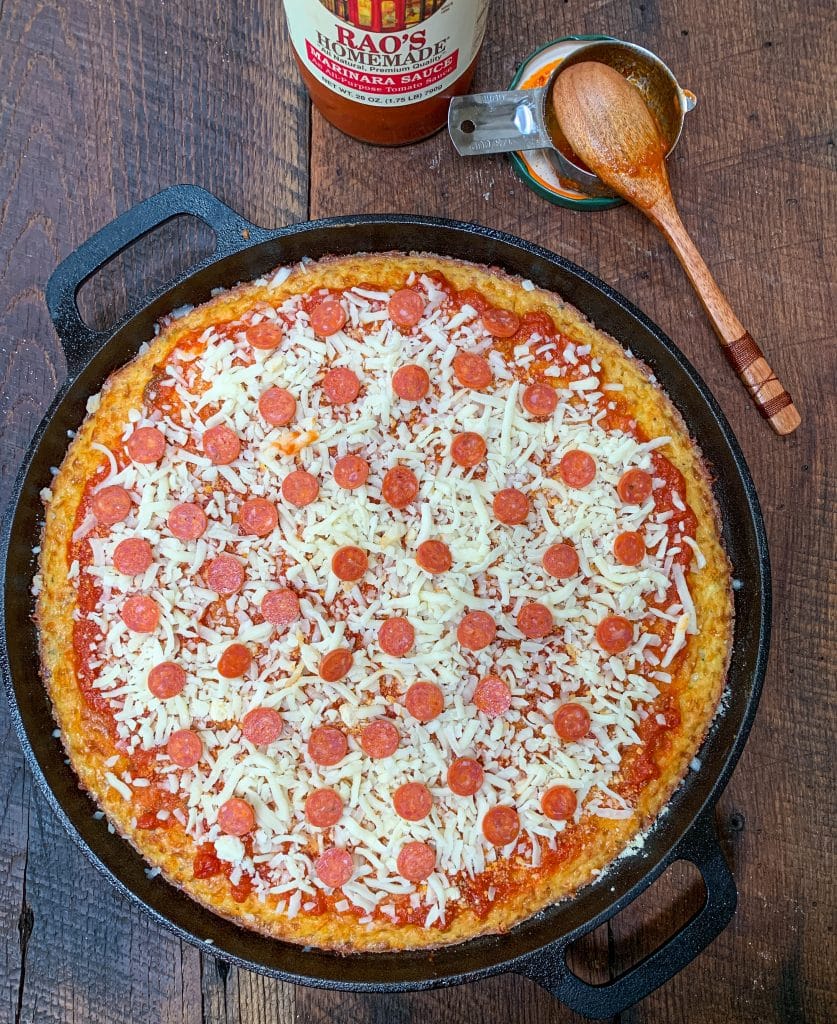 Topping Your Pizza just the Way You Like It.
Once the crust is out of the oven you can top the pizza however you like. I kept it simple with Mozzarella, pepperoni and freshly torn basil.
I highly recommend Rao's Homemade Marinara as your pizza sauce. Not only is it low in carbs (4 carbs per ½ cup) but it also has very clean ingredients.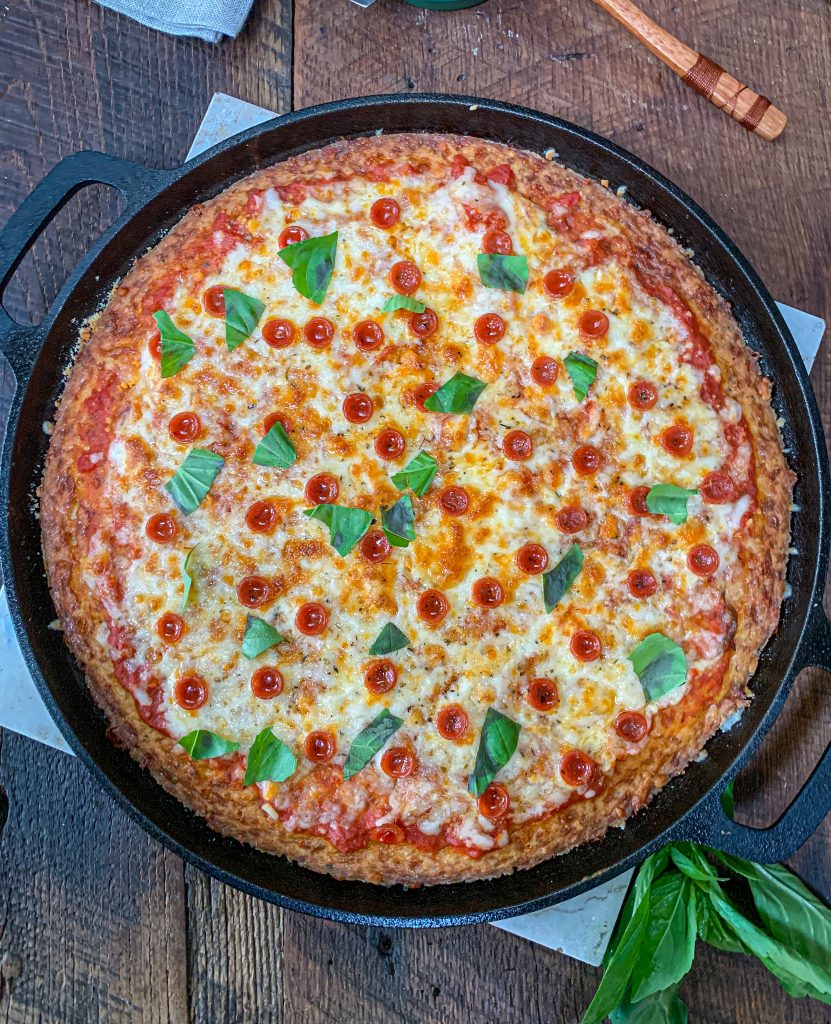 Tips for Perfect Keto Pan Pizza
While your topping your pizza turn your oven to the low broil setting since you only need to melt the cheese and cook the top of the pizza.
You don't need to go crazy with the cheese on top of the pizza. Since you already have so much cheese in the crust.
Just add enough to cover the top and that will be fine. Honestly it's your pizza so do what works for you. I'm not your mother lol.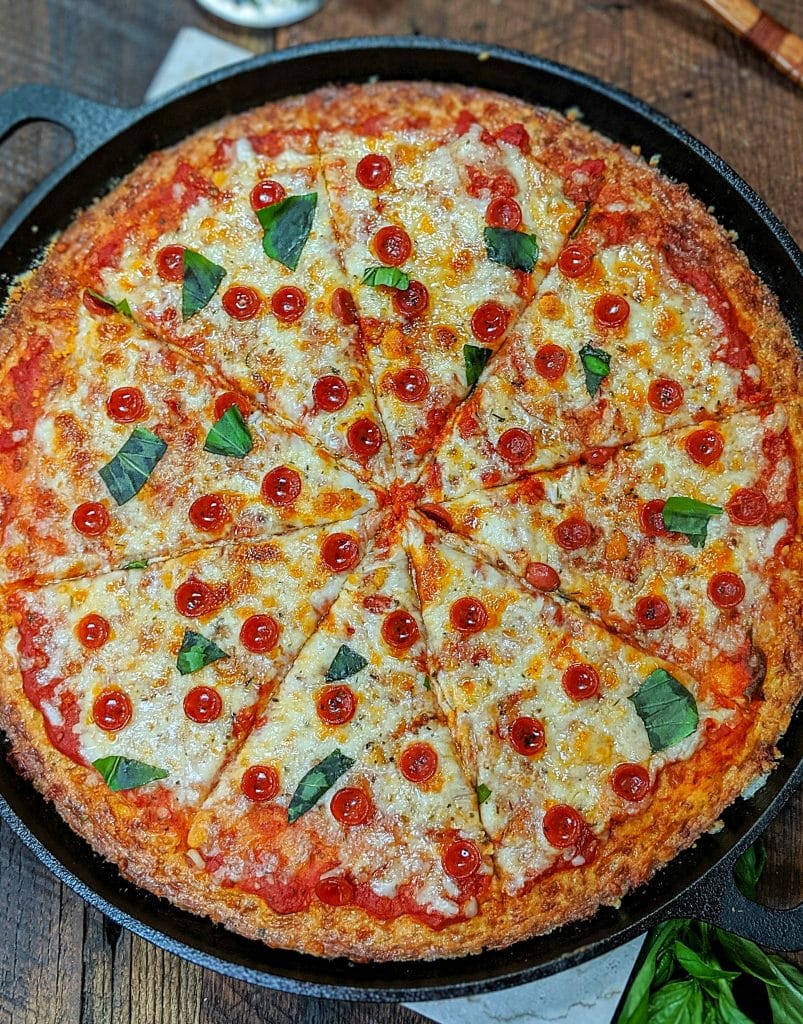 A Slice of Keto Pizza Heaven
The pizza crust will be strong enough to hold up to a lot of toppings and won't fall apart in your hands like some other recipes I've tried.
If you're like me and miss cold leftover pizza this recipe is great for meal prep leftovers.
I'll sometimes make a whole pizza, have 2 slices fresh then potion out the rest in Meal Prep Containers. Finally a Pizza Diet that works!!!

More Recipes You Will Love
---
Keto Pan Pizza Crust: Pizza Hut Copycat
This Keto Pan Pizza is about as close as you're gonna get to the classic pan Pizza Hut version. Way better thank Fat head dough!
Instructions
Preheat Oven to 375 Degrees F.

Whisk together eggs with Seasonings and Baking powder, then add Mozzarella, Olive Oil, Parmesan and Pork Rinds

Brush Cast iron pizza pan with melted butter covering the entire surface. Pour out dough mixture into the center and press out to the edges evenly (don't worry of its not perfect as the dough will spread out to the edges as it cooks)

Bake for about 20 Minutes until crust has a light golden color.

Remove pizza dough from the oven and set oven to your Low Broil Setting

Top the pizza with your favorite sauce and toppings and broil until the cheese is melted to you liking and toppings are hot. (About 6-8 Minutes)

Remove Pizza from the oven and wait about 5 Minutes before slicing
Notes
Note* Portion size is one slice total of 8 servings.
*Recipe Macros for crust only, calculate additional toppings separately 
Nutrition
Calories:
182
kcal
Carbohydrates:
2
g
Protein:
11
g
Fat:
15
g
Saturated Fat:
8
g
Cholesterol:
116
mg
Sodium:
347
mg
Potassium:
83
mg
Fiber:
1
g
Sugar:
1
g
Vitamin A:
341
IU
Calcium:
220
mg
Iron:
1
mg
---
Nutrition Facts
Keto Pan Pizza Crust: Pizza Hut Copycat
Amount Per Serving
Calories 182
Calories from Fat 135
% Daily Value*
Fat 15g23%
Cholesterol 116mg39%
Sodium 347mg15%
Potassium 83mg2%
Carbohydrates 2g1%
Protein 11g22%
Vitamin A 341IU7%
Calcium 220mg22%
Iron 1mg6%
* Percent Daily Values are based on a 2000 calorie diet.