Jump to Recipe
Smoked Chuck Roast is a great substitute for brisket for a lot of reasons including cook time, cost, and fat content.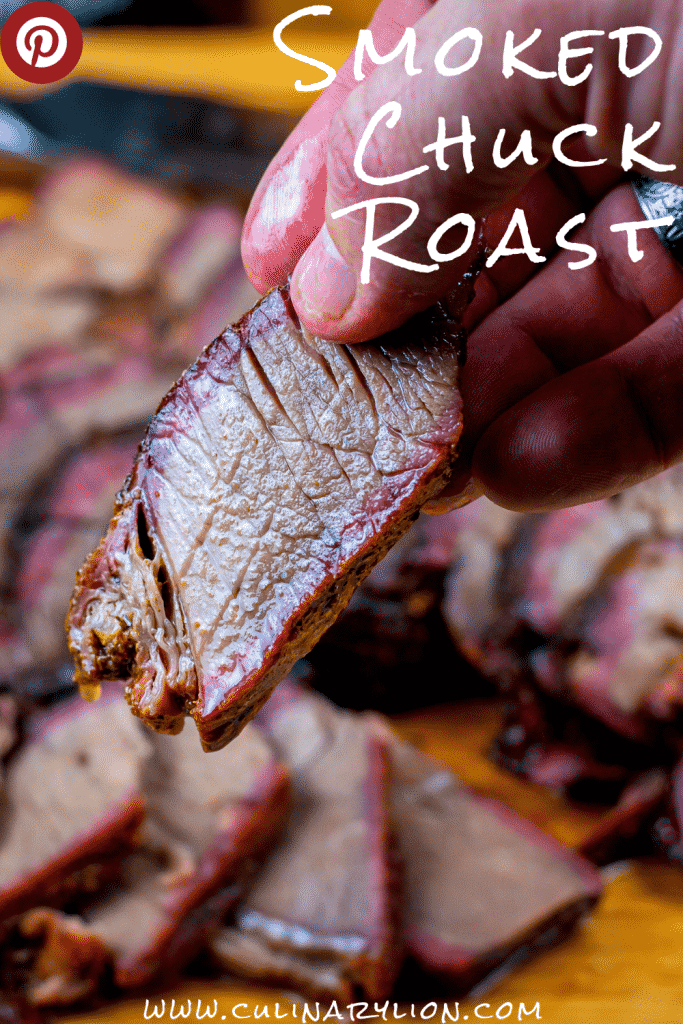 Much like brisket beef roast you need to smoke this cut low and slow for maximum tenderness
Chuck Roast can be a fantastic choice for smoking whether you're a pro or just a backyard novice. I'll show you why Smoked Chuck Roast is known as the poor mans brisket.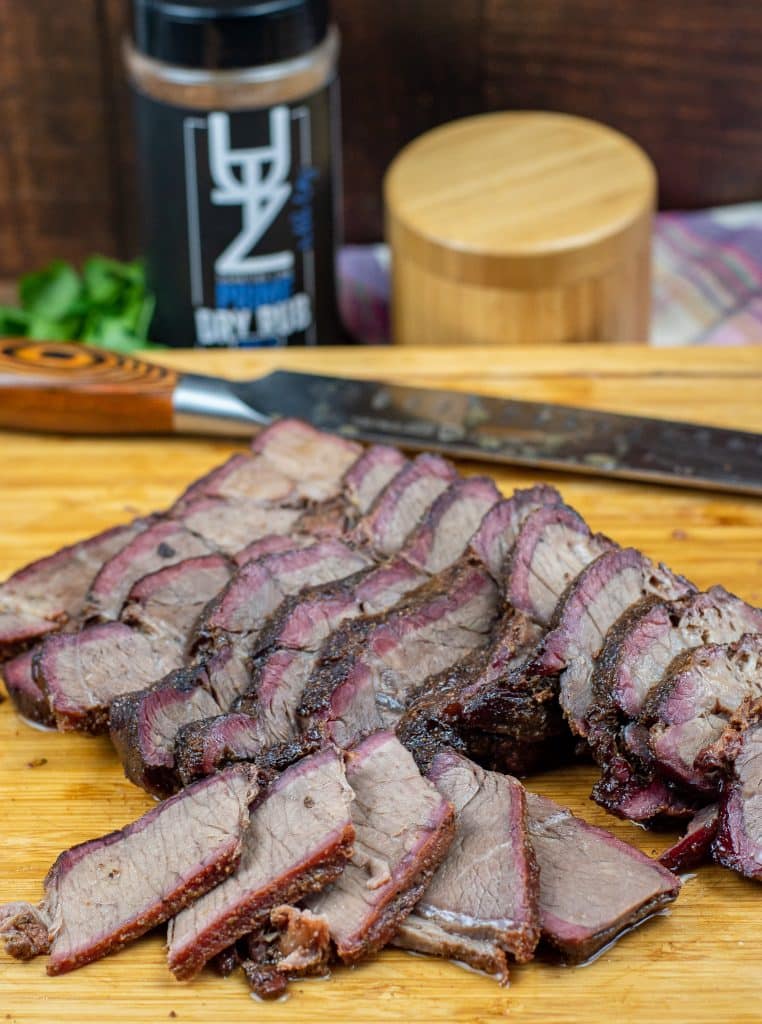 Checkout More Meaty Recipes like: Keto Carnivore Calzone, Smoked Pork Loin Asian Lettuce Cups, Texas Style Smoked Beef Brisket.
Smoked Chuck Roast AKA "Poor Mans Brisket
Chuck Roast is a large primal cut located on the front upper shoulder of the cow.
It contains many different muscles and connective tissue but overall Chuck Roasts are relatively lean cuts.
The Brisket is located underneath the Chuck and has a much higher fat content displayed in the marbled cross section.
Both cuts are optimal for low and slow cooking methods like smoking, roasting and braising.
Chuck Roast is referred to as "poor man's brisket" because it's a cheaper cut of beef that can be prepared the same way.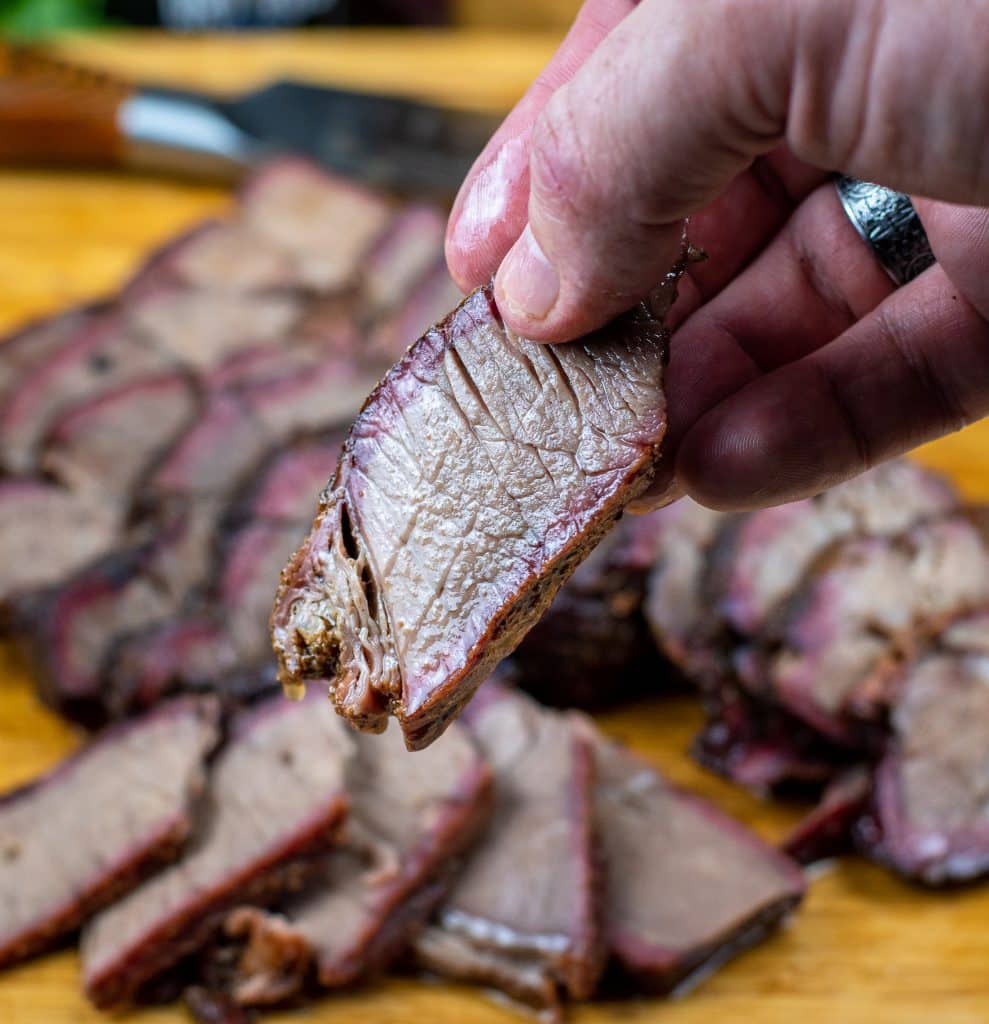 Smoking Chuck Roast using a Pellet Grill.
I used my new Camp Chef Woodwind WiFi 36 for this cook because it's easy to monitor and adjust the temperature from anywhere.
Another feature I like is that you can adjust the level of smoke that the pellet grill produces to really impart a robust wood flavor into the roast.
When running a high smoke level you sacrifice a little temperature consistency so once I wrap the meat I adjust the smoke level to one so my temperature is on point as I finish the cook.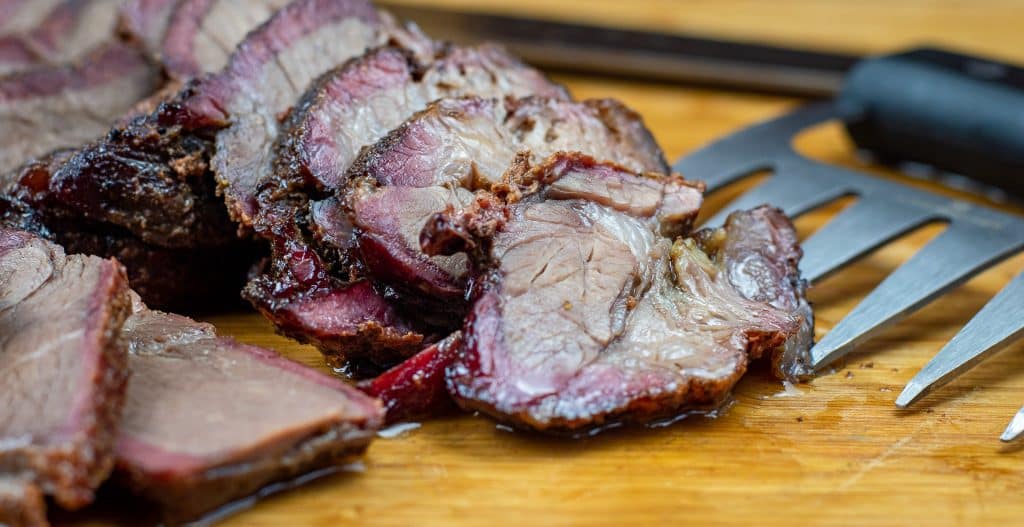 Ingredient List for Poor Mans Brisket
How to Smoke a Chuck Roast
Start off by aggressively seasoning both sides of the Chuck Roast with your favorite rub. I used Utz Works Prime because it's great on beef and I have used it on briskets one the past.
Next, I place the roast on the smoker set to maximum smoke and leave it alone for 2 hours. This gives the meat a chance to absorb a lot of smoke.
Then check to see if the rub has adhered to the roast completely before I start mopping the Chuck Roast.
Otherwise, the mop will just wash off the rub. I continue to mop the roast once an hour until you reach an internal temperature of around 170 degrees F. 
Now it's time to wrap the Chuck Roast in an Aluminum Half Pan and braise with a cup of the mop. You can continue cooking at around 225 degrees F or you can speed up the process by raising the temperature as high as 275 degrees F. I don't like to cook any higher than that for fear that too much moisture will evaporate and dry out the roast.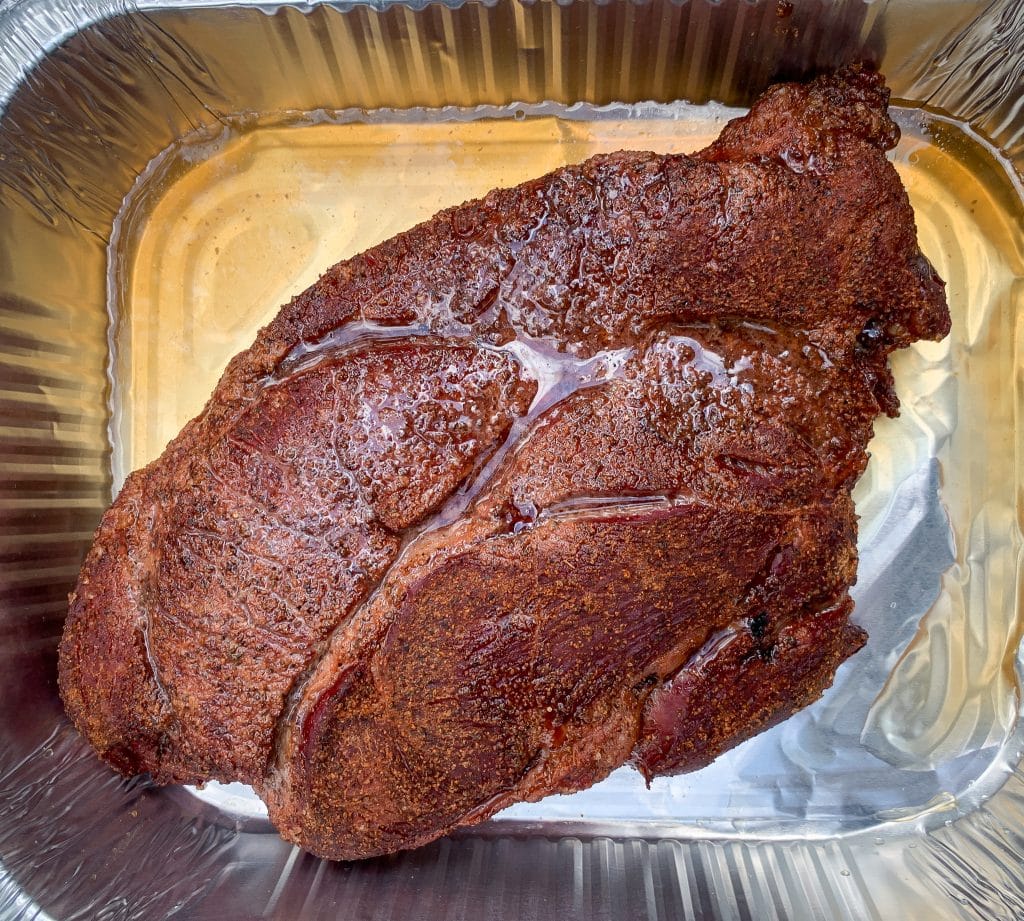 After about two hours of braising I remove the foil so the crust can get more smoke as the meat reaches optimal tenderness. Once your Chuck Roast reaches an internal temperature of 200 degrees F it's time to start probing the roast to check for tenderness. The Probe Thermometer should go into the meat with very little tension. If the meat still seems tough just continue cooking.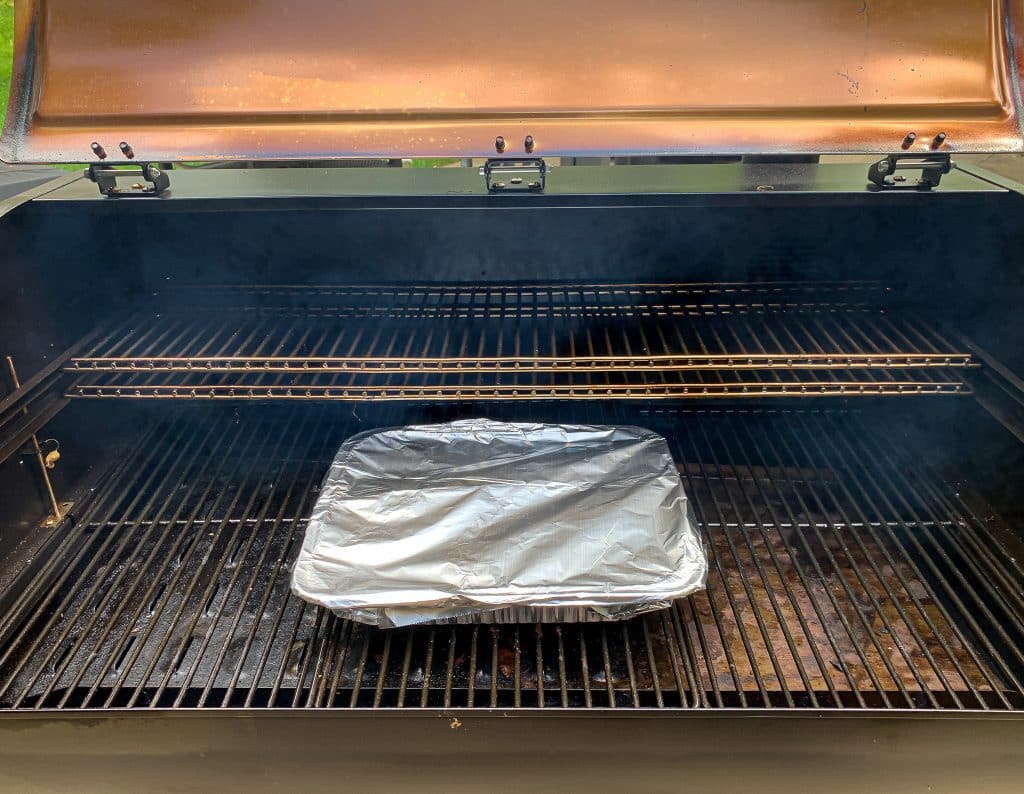 Once the Chuck Roast is tender and fully cooked make sure to rest the meat for at least 15 minutes. Cover with foil but still sitting in the braising juices.
If you want to add some extra richness add a few pats of butter on top of the Chuck roast.
You can also pour over some of the braising liquid as well. Slice the beef against the grains into pencil thick slices using a sharp slicer knife. If the meat is dry you can always rehydrate the slices in the braising liquid.
For a video tutorial visit my Instagram Highlights (Click Here)
More Meaty Recipe Inspiration
---
Smoked Chuck Roast
Smoked Chuck Roast is a great substitute for brisket for a lot of reasons including cook time, cost, and fat content. 
Instructions
Season the Chuck Roast aggressively on both sides and set the smoker to 225 degrees F.

Smoke the Chuck Roast for 2 hours before checking to see if the rub has adhered to the roast. Combine beer, worchestersire and apple cider vinegar and mop onto the roast once an hour until the roast has reached an internal temperature of 170 degrees F.

Place Chuck Roast in an Aluminum Half pan and pour in about 1 cup of the mop mixture. cover with foil and braise for about 2 hours. To cook faster you can raise the temperature at this point as high as 275 degrees F.

Once the internal temp has reached 200 degrees F. use the probe thermometer to check for tenderness. If done, cover and rest the roast in the braising liquids with a few tablespoons of butter on top of the roast for 15 minutes. Slice against the grains in pencil thick slices.
Notes
portion size about 4oz cooked Chuck Roast
Nutrition
Calories:
330
kcal
Carbohydrates:
1
g
Protein:
33
g
Fat:
20
g
Saturated Fat:
9
g
Cholesterol:
117
mg
Sodium:
161
mg
Potassium:
600
mg
Fiber:
1
g
Sugar:
1
g
Vitamin A:
48
IU
Vitamin C:
1
mg
Calcium:
43
mg
Iron:
4
mg
---
Nutrition Facts
Smoked Chuck Roast
Amount Per Serving
Calories 330
Calories from Fat 180
% Daily Value*
Fat 20g31%
Cholesterol 117mg39%
Sodium 161mg7%
Potassium 600mg17%
Carbohydrates 1g0%
Protein 33g66%
Vitamin A 48IU1%
Vitamin C 1mg1%
Calcium 43mg4%
Iron 4mg22%
* Percent Daily Values are based on a 2000 calorie diet.
---