Jump to Recipe
Print Recipe
Big New York Deli Reuben are Back on the Menu
Do you miss the piled high New York style deli sandwiches since going keto? Well this is the recipe for you!!!
I've got a legit Rueben sandwich made with a rye Swiss chaffle recipe. You don't have to miss out on your deli delights anymore!!

As a young man I chased a girl to New York and spent a lot of time up there. One of my favorite places to visit was Katz deli.
The sliced corn beef piled high on rye bread. As well as the surgeon like knife skills of the cutters behind the counter.
I was torn between the Reuben or the pastrami on rye with tons of spicy mustard. Both sandwiches are iconic and definitely a big part of New York food culture.
I may have lost the girl but that doesn't mean I have to lose the sandwich too.

The "Chaffle" Craze is Sweeping the Nation!!
I know I'm not the first person to make a chaffle and judging by the craze sweeping the keto community I won't be the last.
That being said I wanted to put my twist on one of my favorite sandwiches in the land…the New York Style Reuben.
A classic Reuben has sauerkraut, Russian dressing, Swiss cheese and copious amounts of corned beef piled high on rye bread.
If you're not big on sauerkraut you can substitute coleslaw. That substitute is known as a Rachel, the sister sandwich to the Reuben.

If you don't have a Waffle Iron here is a cheap mini version that will make 4 chaffles per batch. Dash Mini Waffle Maker
Pastrami vs. Corned Beef
This might seem blasphemous but I substituted pastrami instead of corn beef. I tend to prefer pastrami because of the peppery crust and smokier flavor.
I figured if I was making a ketofied Reuben on a cheese waffle I could take a few liberties.

A Very Reuben Twist on the Chaffle
When it comes to the chaffle I made a few adjustments to make this recipe closer to the classic flavors of an authentic Rueben.
I added caraway seeds to give the chaffle that rye flavor profile. I also substituted Swiss cheese instead of mozzarella or cheddar to add subtle nutty flavor.

Easy Keto Friendly Russian Dressing
I kept the Russian dressing very simple using an avocado oil mayo and AlternaSweets Classic Ketchup.
AlternaSweets Ketchup is by far my favorite because it's sweetened with stevia and erythritol instead of aspartame or sucralose.
The flavor of the ketchup tastes just like the real thing and is great for adding to lots of other recipes.
They also make a spicy ketchup and sweet & smoky bbq sauce that are both outstanding!!

More Chaffle and Reuben Ideas
I hope you give this recipe a try and be sure to check out my other Pulled Pork Chaffle recipe w/ Ranch Slaw.
If you've got leftover ingredients definitely try out my Reuben Egg Roll Bowl as well!!

More Keto Recipes
---
Rye "Bread" Chaffle Recipe
Instructions
Combine ingredients in a bowl

add a ¼ cup of the mixture to the Hot waffle Iron, Repeat process to make four Chaffles

Let Chaffles Cool for a minute and they will become crispier
Nutrition
Calories:
286
kcal
Carbohydrates:
2
g
Protein:
21
g
Fat:
19
g
Saturated Fat:
11
g
Cholesterol:
213
mg
Sodium:
313
mg
Potassium:
229
mg
Fiber:
1
g
Sugar:
1
g
Vitamin A:
686
IU
Calcium:
506
mg
Iron:
1
mg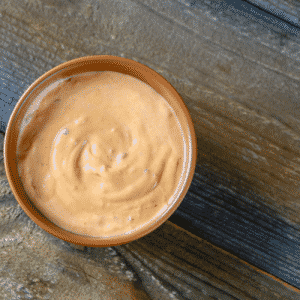 Russian Dressing
Instructions
Mix ingredients until smooth
Nutrition
Serving:
2
tbsp
Calories:
79
kcal
Carbohydrates:
1
g
Protein:
1
g
Fat:
8
g
Saturated Fat:
1
g
Cholesterol:
4
mg
Sodium:
138
mg
Sugar:
1
g
Vitamin C:
1
mg
Iron:
1
mg
Chaffle Reuben
Ingredients
2

Rye "Bread"Chaffles

2

tbsp

Russian Dressing

6

oz

Corned Beef

or Pastrami

1

oz

Swiss Cheese

¼

cup

Sauerkraut
Instructions
Using Recipes above prepare the Rye "bread" Chaffles and Russian Dressing

top corned beef or pastrami with saurkraut and swiss. Heet in air fryer or oven at 400 degrees F. for about 5 minutes

Apply Russian dressing to both chaffles then top with meat, Kraut and swiss. Slice and serve
Nutrition
Calories:
816
kcal
Carbohydrates:
6
g
Protein:
55
g
Fat:
60
g
Saturated Fat:
13
g
Cholesterol:
118
mg
Sodium:
2359
mg
Potassium:
566
mg
Fiber:
2
g
Sugar:
2
g
Vitamin A:
235
IU
Vitamin C:
51
mg
Calcium:
247
mg
Iron:
3
mg