Jump to Recipe
Tips For Crispy Chaffles
I get a lot of comments about my chaffle and how I get them so crispy. I thought I'd share a few tips to help you up your crispy chaffle game. Even though the basic chaffle only has a few ingredients little changes can affect the final product. Even Better I made Crispy Jalapeño Cheddar Cornbread Chaffles

A few days ago I was creating a Beef Rib Tutorial for my Instagram account that you can check out. I also Did a full blog post on my other Website Grilling24x7.com for the full rundown. I wanted to have a side dish to go along with my bbq. We grilled some asparagus but I wanted to make a chaffle version of my favorite cornbread recipe as well.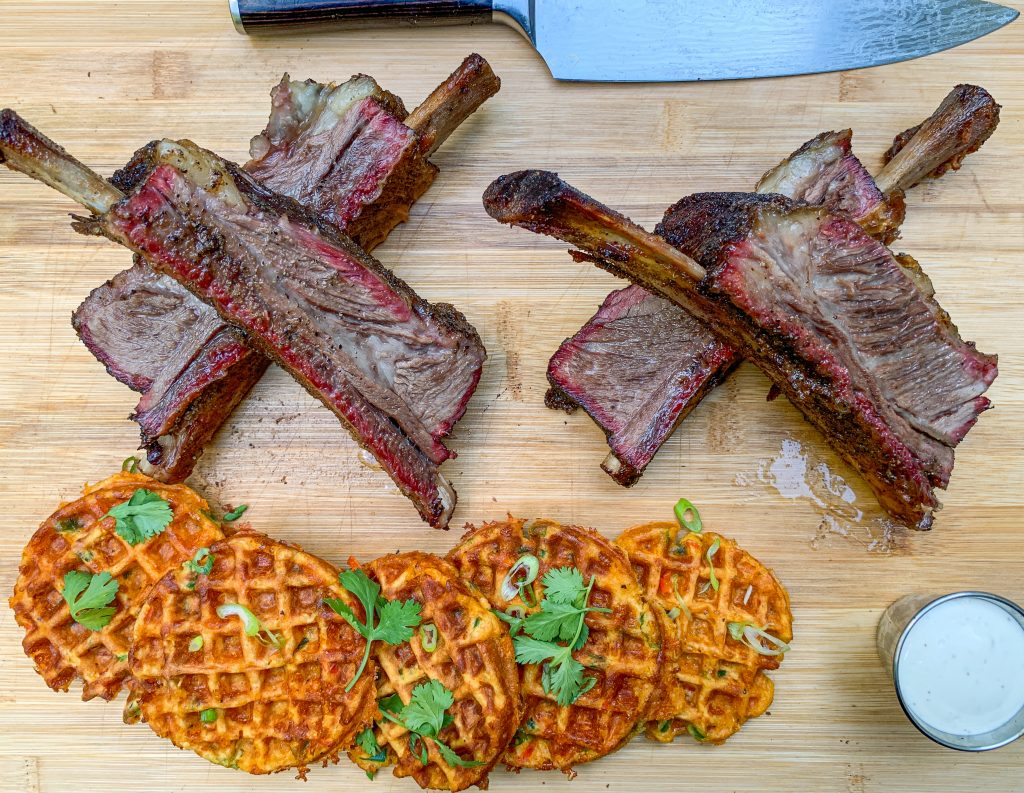 Chaffle turned Cornbread… A Ketogenic Miracle
Jalapeño Cheddar Cornbread was always a go to recipe whenever I served barbecue. The spicy, cheesy and subtle sweetness was always a crowd pleaser.I figured this would be the perfect recipe to ketofy using the latest chaffle craze as the vessel.
The Recipe starts just as all my other Chaffles do with 2 eggs and a cup of cheese. When selecting your cheese I've noticed that the hand grated thicker cheese creates crispier chaffles. If you buy pre shredded cheese look for the thicker grated version known as feather shredded. The thinly shredded cheese is also known as fancy shred.

What Cheese Makes the Crispiest Chaffle
You can use any cheese you like but using dry cheeses also seems to create crispier chaffles. Sharp cheddar and provolone seem to give me the best results over cheeses like mozzarella or a mild cheddar jack blend. Shredded Parmesan also makes for crispy chaffles. If you combine Parmesan with your softer mozzarella cheese that will also help crisp things up a bit.

Good Dee's Corn Bread Baking Mix to the Rescue
Originally I used a combination of baking powder, coconut flour and some golden erythritol for this recipe. That's when It hit me that I had a bag of Good Dee's Corn Bread Baking Mix in the pantry. You only need a few tablespoons to give the chaffles that buttery corn bread flavor and you'll have enough to make several batches of this recipe. Instead of buying three ingredients you've got everything you need in one bag. Good Dee's has a whole line of Low Carb Baking Mixes and everything I've tried has been DEE-LICIOUS! If you haven't tried their Mixes I highly recommend them.

You can use this recipe as a base to create your own chaffle masterpiece. You can adapt your chaffle flavors simply by changing the ingredients. Add different herbs and spices to change the flavor profile to compliment the other components of your meal.

I use the Mini Dash waffle maker because it makes four perfect chaffles per batch. You can obviously use any waffle maker you like. Just adjust the timing to make sure your chaffles are crispy.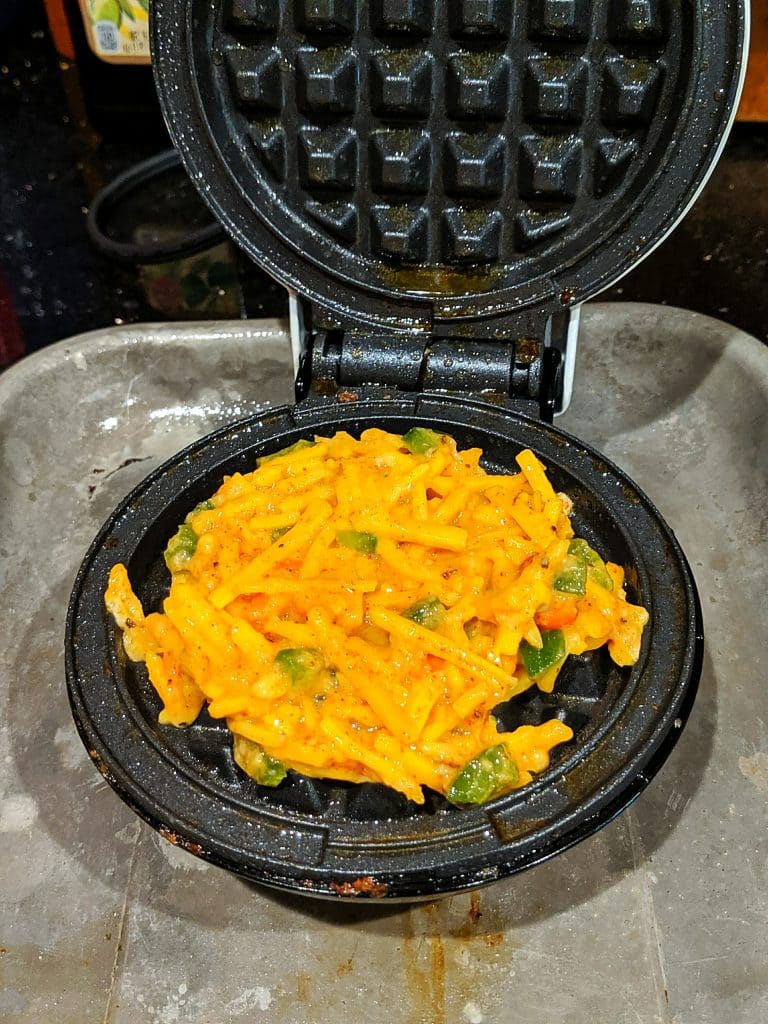 Chaffles and BBQ = Baseball and Apple Pie
These particular chaffles were perfect with bbq because of the pinch of Lakanto Golden sugar substitute and a spicy bbq rub. The flavors compliment the bbq and would be fantastic with a slather of butter or dipped in creamy ranch dressing. Everyone keto and non keto loved these chaffles and couldn't believe how easy they are to make.
Things got a little crazy when the family started making sandwiches and tacos using the beef ribs but it made for some outstanding food porn. a little ranch and Alternasweets BBQ sauce on a Chaffle taco tastes way too good to be Keto but what do I know.

Jalapeno Cheddar Cornbread Chaffles
Ingredients
1

Cup

Shredded Sharp Cheddar

Thick Shred

2

Eggs

1

Diced Jalapeno

Use half Red & Green for Color

½

tsp

Caribeque A.P. Rub

Use code LION15 for 15% off
Instructions
Combine all ingredients in a bowl, Heat waffle maker

lightly spray waffle iron on both sides, use ¼ cup scoop portion per waffle. pour chaffle mixture into center of waffle maker then gently spread out to cover the space.

cook chaffle for 4-5 minutes until golden and crispy. remove chaffle and lay on paper towel to absorb any extra grease. Repeat process to make all four chaffles.
Nutrition
Calories:
157
kcal
Carbohydrates:
2
g
Protein:
10
g
Fat:
12
g
Saturated Fat:
7
g
Cholesterol:
112
mg
Sodium:
211
mg
Potassium:
132
mg
Fiber:
1
g
Sugar:
1
g
Vitamin A:
451
IU
Vitamin C:
5
mg
Calcium:
249
mg
Iron:
1
mg
Nutrition Facts
Jalapeno Cheddar Cornbread Chaffles
Amount Per Serving
Calories 157
Calories from Fat 108
% Daily Value*
Fat 12g18%
Cholesterol 112mg37%
Sodium 211mg9%
Potassium 132mg4%
Carbohydrates 2g1%
Protein 10g20%
Vitamin A 451IU9%
Vitamin C 5mg6%
Calcium 249mg25%
Iron 1mg6%
* Percent Daily Values are based on a 2000 calorie diet.