Jump to Recipe
These Keto Brussel Sprouts are tossed in mayonnaise then roasted in the oven with parmesan and crispy prosciutto. Served with vodka sauce.
Roasted Brussels are one of my favorite keto veggies. Roasting the Brussel sprouts in mayonnaise adds flavor as well as helps to hold the seasoning an parmesan on the Brussels.
Proscuitto roasted along with the Brussels crisps up and brings that salty pork goodness to the recipe
Want more keto Veggie Recipes? Checkout Spaghetti Squash Rings, Kale Rockefeller and Thai Veggie Salad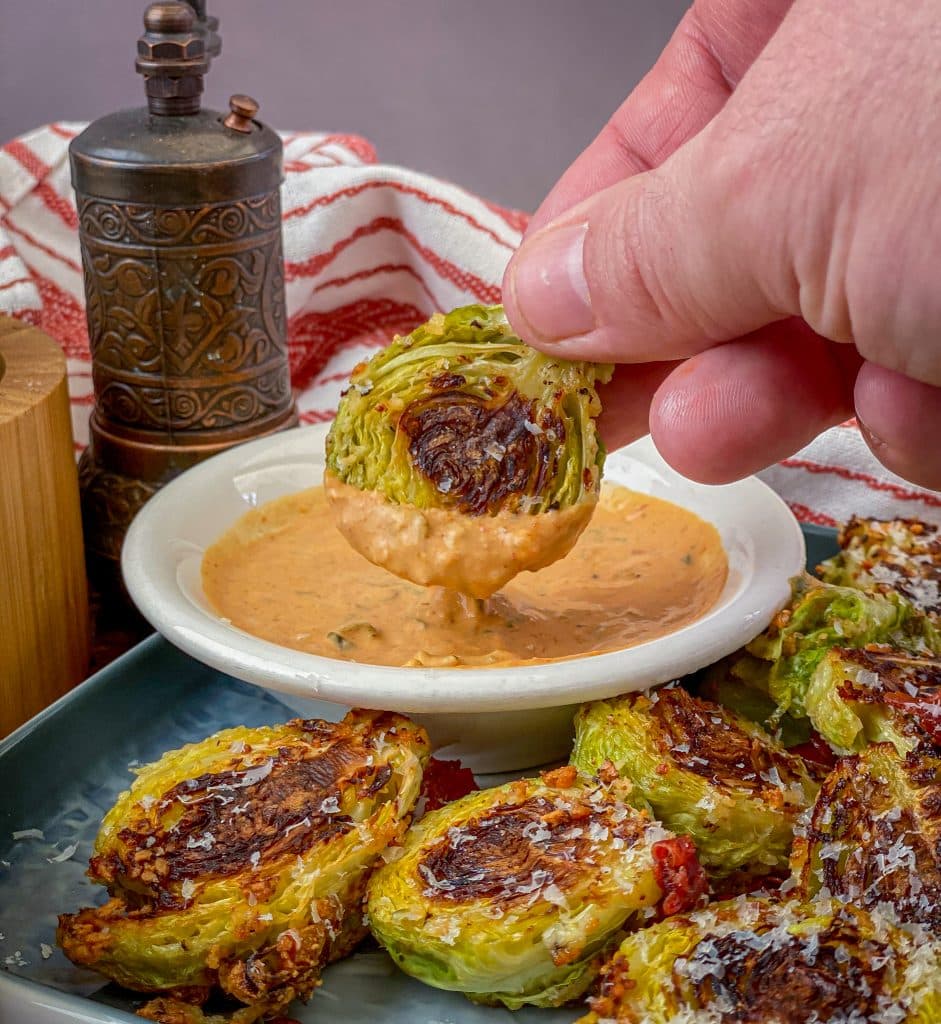 Why Roast Brussel Sprouts with Mayonnaise?
So at the end of the day all mayonnaise really is, is an emulsion of oil and eggs that have been whipped to suspend air into the oil.
This thickens the oil and allows it topcoat the Brussels sprouts much better than oil alone.
The mayonnaise not only coats the Brussel sprouts but it allows the seasoning and parmesan cheese to stick better evenly coating the Brussels.
Cast Iron Pans are The Best for Keto Brussel Sprouts
Cast iron pans are my favorite vessel to roast Brussel sprouts because it holds heat well and gives the Brussels a nice even sear.
Preheat the cast-iron pan in the oven so that the Brussels begin searing as soon as they hit the skillet.
I recently picked up this new cast iron pan from Talonclaw Cookware. It has a removable handle making it perfect for grilling and oven roasting.
The handle (has talon claws) and is easy to take on and off but feels secure.
I had no fear of dropping the pan on my feet while removing from the oven.
Talon Claw Cookware was kind enough to offer 10% off their pans if you use the code culinarylion at checkout
Preparing Roasted Brussel Sprouts in the Air Fryer
If you're an Air Fryer Devotee then I know you're gonna want to make this recipe in the air fryer.
Follow all the same steps including preheating your air fryer so the basket or trays are hot when you add the Brussel sprouts.
This will give you a better roasted flavor and speed up the cooking process.
Keto Brussel Sprouts Recipe
Mayonnaise– Dukes is My Favorite Mayo
Brussel Sprouts– Look for large Brussels, if you can only find small ones don't split them in half
Prosciutto– Leave the prosciutto in large pieces because it will shrink as it cooks
Grated Parmesan– I actually prefer the cheap stuff in the green can. Use the good stuff to grate over the top
Salt Pepper Garlic– My go to all purpose seasoning.
Italian Seasoning– For this recipe dried herbs work best but feel free to chops som fresh herbs to sprinkle on top.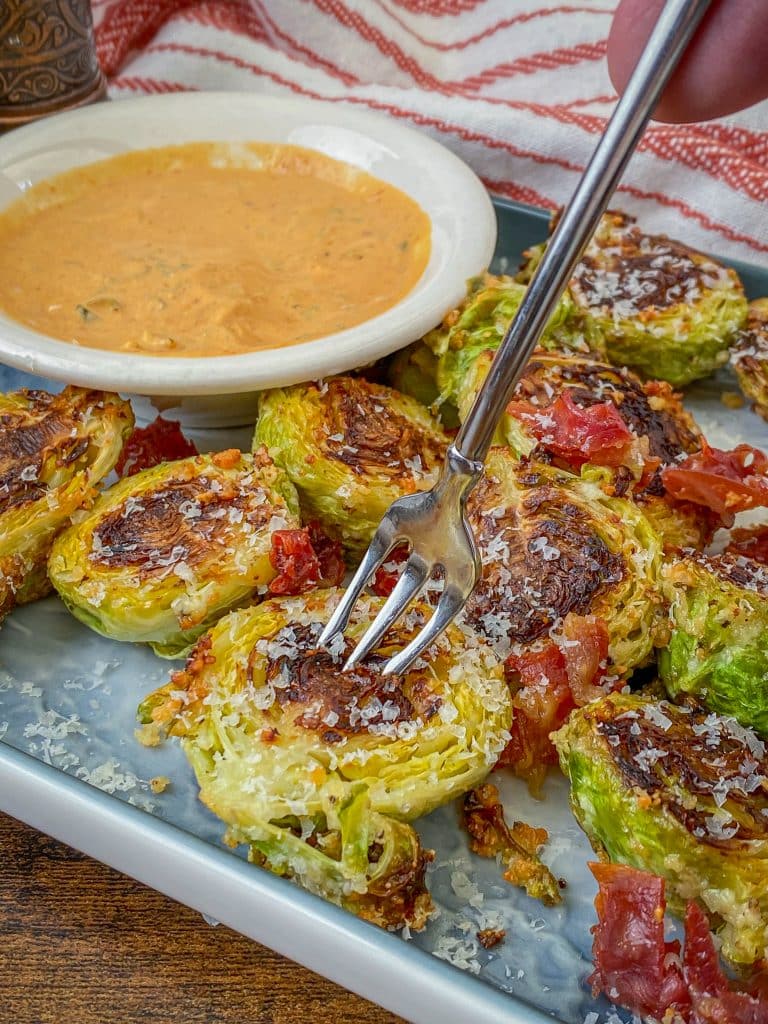 Questions About Roasted Brussel Sprouts
Making the Vodka Sauce
This is just a quick easy sauce that is great for dipping just about anything in. I use this sauce with chicken shrimp and veggies anytime I want to elevate an otherwise boring recipe.
I don't actually add vodka to this sauce because their is no need to. Its just a creamy marinara but vodka sauce sounds cooler I guess.
Vodka Sauce Recipe
½ cup Rao's Marinara
¼ Cup Heavy Cream
1 Tbsp Grated Parmesan
1 tsp Italian Seasoning
Directions: simmer cream in a pan until it begins to thicken (about 2 minutes) Turn heat to low, whisk in Parmesan Cheese then add marinara and Italian seasoning. As soon as the marinara is warm the sauce is done. total cook time is about 5-6 minutes. Easy to prepare while your Brussels are in the oven.
Follow Culinary Lion on Tiktok
More Keto Recipes
---
Keto Mayonnaise Roasted Brussel Sprouts
Easy Roasted Keto Friendly Brussel Sprouts Coated in Mayonnaise and parmesan cheese with crispy prosciutto.
Equipment
cast iron pan or air fryer
Instructions
Preheat Oven to 425 degrees F. Preheat the cast iron pan in the oven as well.

Cut the tip off the stem of the brussel sprouts but leace as much as possible. then slice the brussel sprouts in half.

place the brussels in a large bowl and toss with mayonnaise, parmesan and seasoning.

Once the oven and cast iron have preheated place the brussel sprouts cut side down in the pan, add the prosciutto around the brussels in the empty spaces of the pan.

Roast for 12-15 minutes until brussels are golden and tender. Serve with vodka dipping sauce, garnish with fresh grated parmesan cheese.
Notes
serving size is ¼ lb of Brussel sprouts or ¼ of the entire recipe
Nutrition
Calories:
191
kcal
Carbohydrates:
9
g
Protein:
7
g
Fat:
15
g
Saturated Fat:
4
g
Trans Fat:
1
g
Cholesterol:
16
mg
Sodium:
518
mg
Potassium:
478
mg
Fiber:
4
g
Sugar:
3
g
Vitamin A:
893
IU
Vitamin C:
96
mg
Calcium:
81
mg
Iron:
2
mg
---
Nutrition Facts
Keto Mayonnaise Roasted Brussel Sprouts
Amount Per Serving
Calories 191
Calories from Fat 135
% Daily Value*
Fat 15g23%
Cholesterol 16mg5%
Sodium 518mg23%
Potassium 478mg14%
Carbohydrates 9g3%
Protein 7g14%
Vitamin A 893IU18%
Vitamin C 96mg116%
Calcium 81mg8%
Iron 2mg11%
* Percent Daily Values are based on a 2000 calorie diet.
---