Jump to Recipe
Easy Meals that anyone can make in Minutes
Here's another quick and easy recipe that's not only delicious but filling. You only need four total ingredients and I used my new air fryer oven to sear my blackened beef tips & sausage. You can pair this with any keto dipping sauce like bleu cheese, ranch or a flavored mayo.

Sirloin Beef Tips are the perfect cheap meal on a budget
Beef tips are a tasty quick protein packed meal that I can't get enough of. Sirloin is a relatively cheap cup that's full of flavor. You can substitute more expensive cuts like strip loin or filet but sirloin is definitely your best bang for your buck. You can normally find kabob meat or cubed sirloin at your local butcher or grocery store. Sometimes I will cut a whole beef tenderloin and have leftovers that I cube up and cook as well. If I cut tenderloin for a special dinner you can normally reserve about a pound or two of small pieces that I'll freeze for another meal.

Black & Bleu Seasoning From Spiceology
When it comes to seasoning I am a big fan of the spice company Spiceology. You've probably heard me talk about them on Instagram or Facebook because I'm constantly trying new spices. One of my absolute favorites is their black & bleu blend. It's the perfect combination of a classic Cajun seasoning with the added funky flavor of powdered bleu cheese. I use this blend on literally everything from pork to chicken to shrimp and it's great on all of them. If you don't have Black & Bleu on hand just use any Cajun Seasoning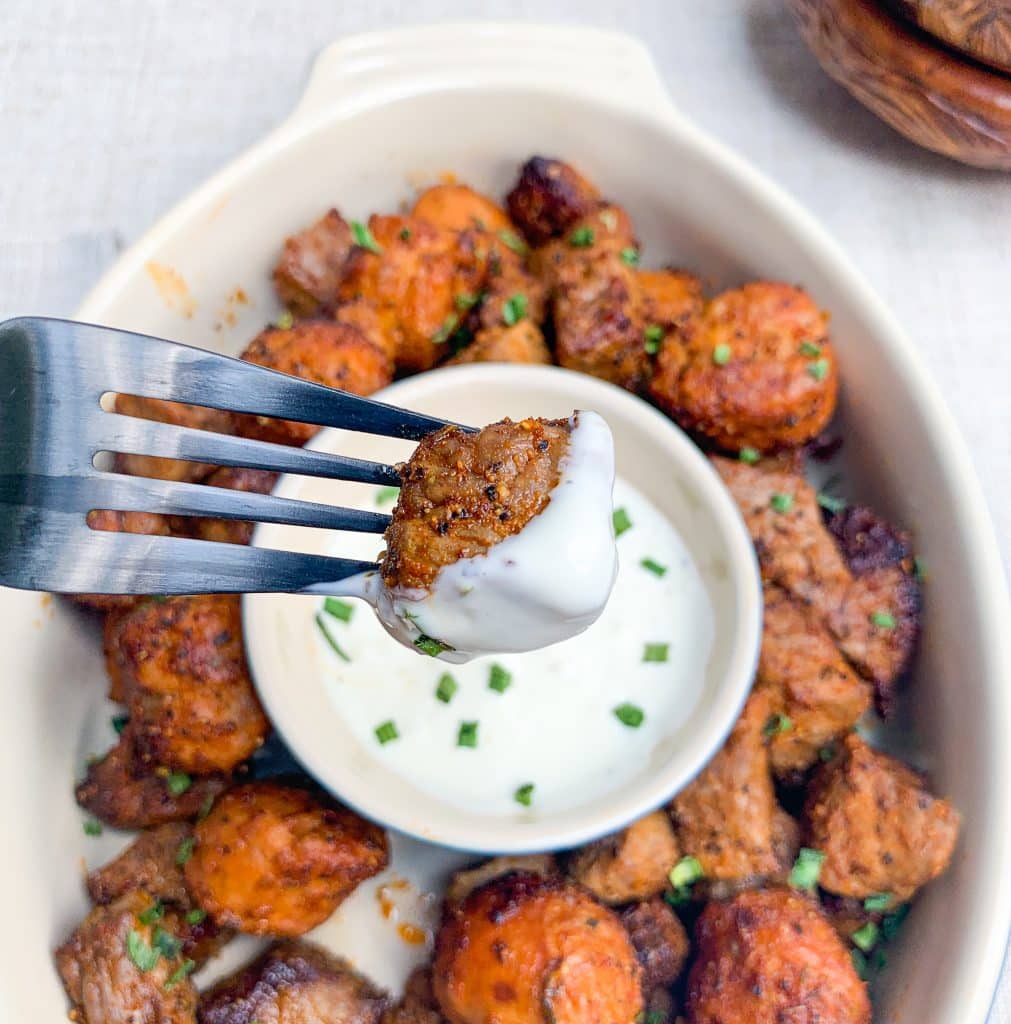 You might be asking why sausage and beef together. Well the fact of the matter is I had a few links of sausage in the fridge and I needed to cook them up. I love all the different varieties of sausage but spicy Italian might be my favorite. Turns out cooking the beef tips and sausage together was a pretty awesome combination. You've got tender beefy sirloin with the spicy robust pork so it's really nice to have different flavors in each bite. I get bored with one note dinners so this kept my taste buds guessing making my meal much more enjoyable.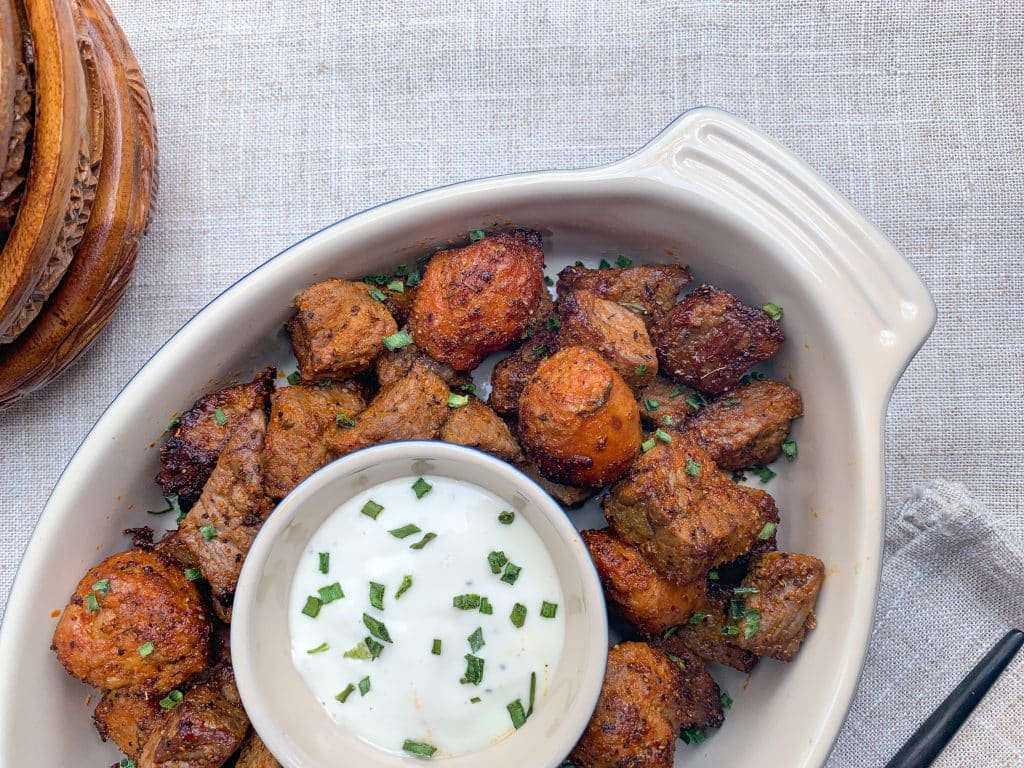 Air Fryer Oven…Set it and Forget It
The air fryer oven might be the most convenient appliance I've ever owned. You can cook so many different things from wings to to veggies and everything in between. I find myself using it anytime I don't feel like cooking. You can simply throw anything in the air fryer,hit a button and walk away. If you're looking for gourmet perfection this isn't for you but it's far and above the quality of food you would get from a microwave meal.
It does a great job putting a crust on meats and searing in the juices. I find that air fryer meals are fantastic for weeknight meals when you don't have time to cook dinner from scratch.

Dipping Sauces to add Fat to fit your Macros
Meals like this are high protein but sometimes you need to add fats to reach your macros. Beef tips and sausage are great for dipping in all sorts of sauces. If you need extra fat you can use my favorites like bleu cheese or sour cream. If you just need flavor then I recommend using a bbq sauce like AlternaSweets.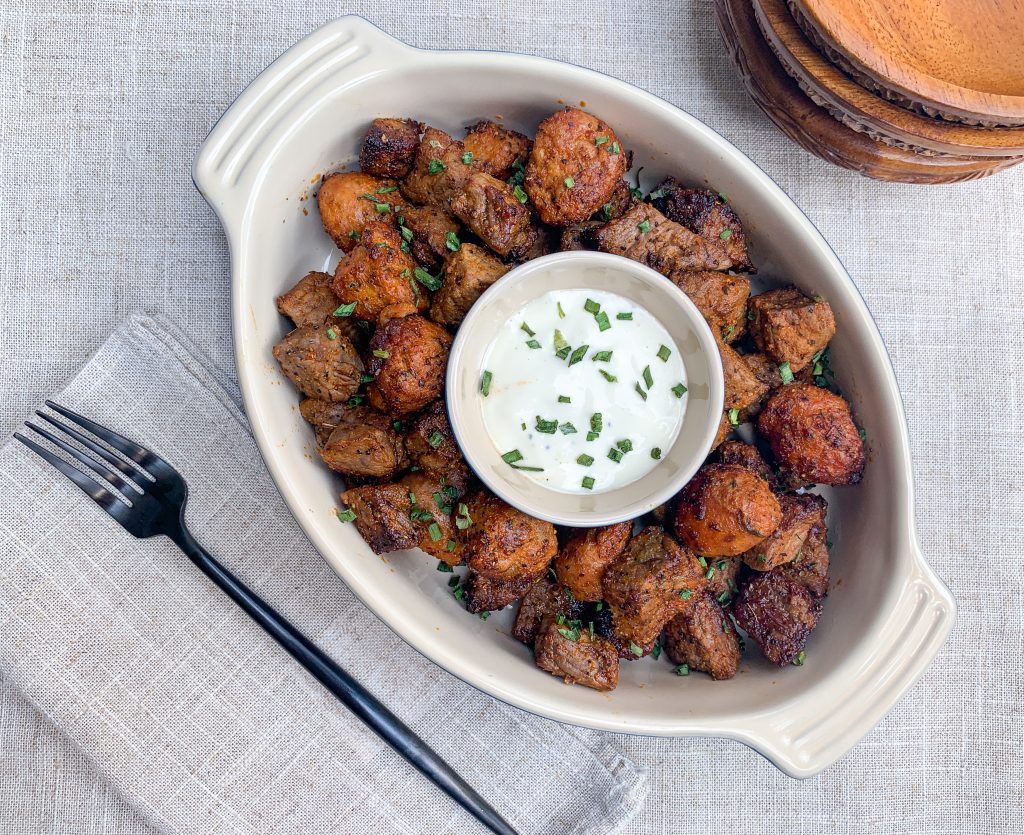 Please Check out other Recipes from my Keto Cut Meal Series like Spicy Sausage Fettuccine Alfredo and Pepperoni Mozzarella Shrimp Salad
Ingredients
1

lb

Beef Sirloin Cubes

8

oz

Sliced Italian Sausage

1

tbsp

Avocado Oil
Instructions
Slice Sirloin and Sausages into Roughly 1 inch pieces, toss in avocado oil then toss in Spiceology Black & Bleu Seasoning

Spread out beef and sausage on Trays or basket, leave as much room between pieces as possible

Cook at 400 degrees F. For about 20 minutes, you may want to turn the pieces about half way through the cooking process.

remove Beef and sausage from air fryer, serve with your favorite dipping sauce.
Nutrition
Serving:
6
oz
|
Calories:
375
kcal
|
Carbohydrates:
1
g
|
Protein:
33
g
|
Fat:
25
g
|
Saturated Fat:
8
g
|
Cholesterol:
110
mg
|
Sodium:
478
mg
|
Potassium:
548
mg
|
Vitamin C:
1
mg
|
Calcium:
35
mg
|
Iron:
2
mg
Nutrition Facts
Blackened Beef Tips & Sausage
Amount Per Serving (6 oz)
Calories 375
Calories from Fat 225
% Daily Value*
Fat 25g38%
Cholesterol 110mg37%
Sodium 478mg21%
Potassium 548mg16%
Carbohydrates 1g0%
Protein 33g66%
Vitamin C 1mg1%
Calcium 35mg4%
Iron 2mg11%
* Percent Daily Values are based on a 2000 calorie diet.