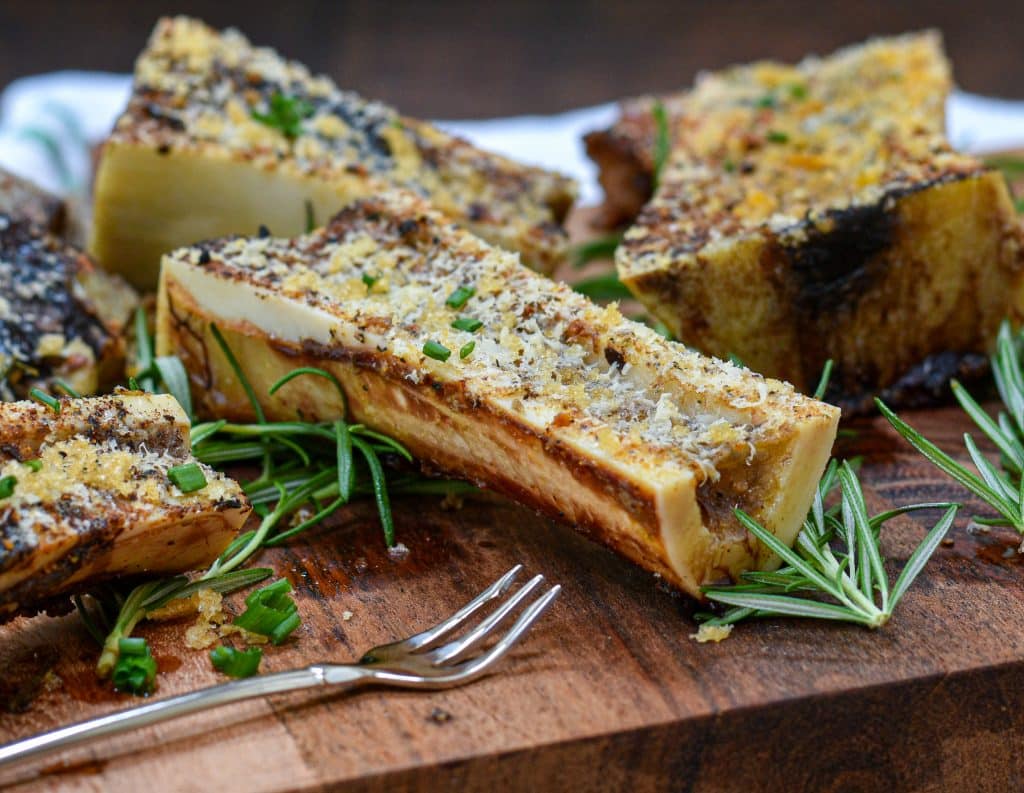 Restaurant Quality Roasted Marrow Bones at Home.
Roasted Bone Marrow is one of my favorite appetizers to order at a restaurant. It's fatty rich flavor is truly an amazing bite of food and a perfect way to start a meal. For some this may be a bit intimidating to make at home but it's actually quite. A bit of preparation and some help from your local butcher is all you need for a gourmet low carb appetizer.

There are many different bones you can use for Marrow and bone broth but I always request cross cut shin bones. Beef shin bones can be as long as 12-15 inches but can be cut in half to make things more shareable. Just ask your butcher and they can custom cut them for you. Always make nice with your butcher, it will serve you well in the future.

How to Prepare Keto Italian Roasted Marrow Bones
Once you get the bones home all you need to do is season them up and roast them in the oven for about 40 minutes. There's lots of different preparations for Roasted Marrow bones, I went an Italian direction for this recipe. Simple ingredients like olive oil, garlic, herbs and Romano cheese are perfect companions to the rich Marrow.

When roasted the Marrow you'll see it turn a golden roasted color. To tell if it's ready I like to poke with a toothpick. If the toothpick just goes in and hits bone with no tension you're ready to go. I simply grate some Romano on top and broil for about a minute until the cheese bubbles up and turns a golden color.

Normally roasted marrow would be served with bread or crustini. Obviously that's not going to work for our low carb lifestyle so I just dive in with a seafood fork and eat the Marrow just like I would roasted oysters. This Keto Italian Roasted Marrow Bones are the perfect bite of food. Not only for its taste but its nutritional density.
You could also scoop it onto a pork rind or fold into a softened butter for an amazing compound marrow butter to serve over steak. There's really no bad to dive into bone marrow.
Check out this recipe for Garlic Herb Compound Butter that would work great with bone marrow added.
Quality Ingredients Make Quality Meals
Use good quality ingredients, especially your olive oil and Romano cheese. They will act as the flavor drivers for all other ingredients. I also recommend a quality salt. I almost always use Redmond Kosher real salt. It's got a great texture and clean salty flavor for seasoning any beef. You can use fresh or dried herbs but if dry make sure it's not the Italian seasoning that's been in the back of your spice cabinet for 2 years. Dried spices really shouldn't be older than 6 months and look for brands that grind their spices to order. I highly recommend the Italian Seasoning from the company Spiceology.

Romano or Parmesan?? which is best and Why?
I always prefer Romano over Parmesan cheese but either one would be fine. Romano is a sheep's milk cheese that tends to have a bit bolder sharp flavor. Parmesan has a similar umami taste but has a mild nutty profile. It really comes down to personal preference. My family has always been team Romano so I'm probably biased. I remember my family would purchase a whole wheel of Romano, portion it out and distribute throughout the family. My grandfather "Geke" would be in charge of who got the lion's share. Another advantage to purchasing a whole wheel or even just a hunk from a cheese monger is that you have the rind. Romano or Parmesan rinds are commonly used to flavor soups and sauces. The rind is removed before serving but the flavor that imparts is a next level!!!

Respect your ingredients, Never throw away Flavor.
After you've devoured these delicious prehistoric looking delights don't throw them away. You can simply transfer to a pot to make some outstanding bone broth.
I'm all about getting every drop of flavor and nutrition out of my food so this is a great way to nourish your body and respect the ingredient at the same time. I hope that this post has given you the confidence

Keto Italian Roasted Marrow Bones
Instructions
Pre heat oven 425 Degrees F

coat marrow bones with olive oil, then season with salt and Italian seasoning or fresh herbs

Roast Bones for 40 minutes. Then Grate Pecorino over the marrow bones and roast for additional 5 minutes. Serve with small seafood forks.
Nutrition
Calories:
256
kcal
Carbohydrates:
1
g
Protein:
4
g
Fat:
26
g
Saturated Fat:
2
g
Cholesterol:
3
mg
Sodium:
612
mg
Potassium:
16
mg
Fiber:
1
g
Sugar:
1
g
Vitamin A:
119
IU
Calcium:
47
mg
Iron:
2
mg
Nutrition Facts
Keto Italian Roasted Marrow Bones
Amount Per Serving
Calories 256
Calories from Fat 234
% Daily Value*
Fat 26g40%
Cholesterol 3mg1%
Sodium 612mg27%
Potassium 16mg0%
Carbohydrates 1g0%
Protein 4g8%
Vitamin A 119IU2%
Calcium 47mg5%
Iron 2mg11%
* Percent Daily Values are based on a 2000 calorie diet.