Jump to Recipe
Can't decide on eggplant or chicken Parmesan??? Got you covered. Great weeknight dish that can be prepped ahead of time and finished in the oven for dinner. This Lasagna style keto casserole keeps the carbs low and the flavor high.
Is it lasagna? Is it Eggplant Parmesan? What's going on here???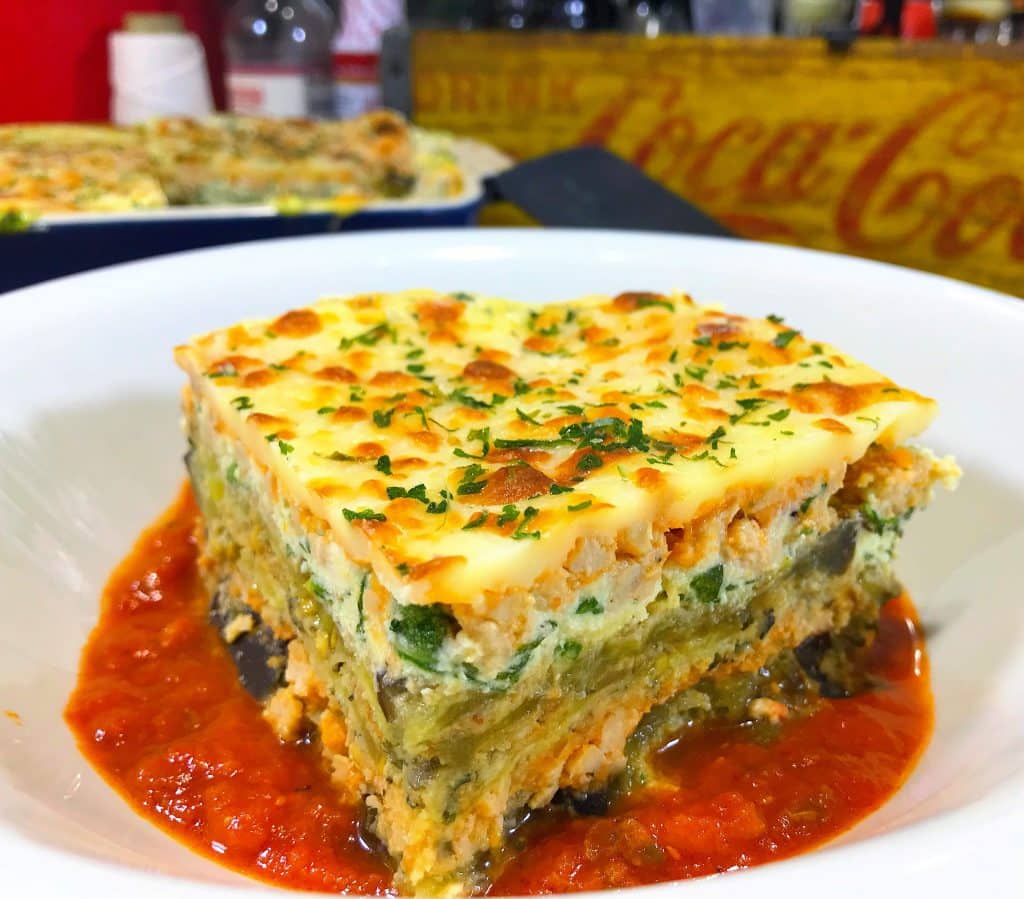 This recipe is a combination of three different dishes, it's layered like a lasagna but the eggplant replaces the pasta and I used ground chicken instead of ground beef or Italian sausage. As you might guess I couldn't decide on what to make for dinner so I just took door number three and made everything in one. I've got to say I was very happy with how this dish came out, it's incredibly filling but doesn't pull you in a food coma like traditional lasagna can. The ground chicken is perfectly cooked because it's got the ricotta and marinara prevent it from drying out. The eggplant is tender but strong enough to hold the layers together.

Hold on, are you brushing mayonnaise on the eggplant??

Yeah that's right, mayonnaise is a fantastic binder that I use all the time. If you really think about it mayonnaise is just an emulsified egg wash. It's easy to coat the eggplant then dredge it in the breading. In this video I use a mixture of nutritional yeast, Parmesan and Italian seasoning. That definitely works great but you could also use almond flour or crushed pork rinds if you don't have nutritional yeast. The reason I used nutritional yeast was because it has a nutty flavor similar to Parmesan so I thought it would be a good way to bulk up the breading. Use whatever you have on hand that works best for you.

I live by myself, that's way too much food for just little old me.

So I'm sure you know what I'm going to say, just portion it out for meal prep. That's one solution but even better is to portion the lasagna out and freeze it. Eating the same thing 5 straight days can be downright painful. By the 3rd day you'll be regretting that you ever took the time to make this recipe. By freezing portions individually you can pull single servings out to thaw whenever the mood strikes you. I've frozen portions for up to four months and they were just as good as the day I made them. Wrapping in parchment paper than a second layer of plastic wrap. Then store the individual portions in a large freezer bag. I love knowing that I can thaw out a quick keto dinner on demand

This is a fantastic dish to make any night of the week whether you're feeding a large family or just getting ahead on some low carb meal prep. I hope you enjoy this eggplant chicken Parmesan lasagna or whatever you call it. I'll just call it delicious and that's good enough for me. If you have any questions or ideas on how you improved on this dish leave me a comment below. One final note, I apologize for the music in this video. I'm working on changing it without having to re upload the video. It was free and I think you'll know it when you hear it. Lol.
Low Carb Chicken & Eggplant Lasagna
Instructions
Prepare the Dry Dredge mix by combining the nutritional yeast ⅔ cup Parmesan Cheese, Italian seasoning. parsley and black pepper.

prepare the cheese mixture by combining eggs, ricotta, spinach, basil, parsley, parmesan, Italian seasoning and black pepper

Cut both ends off of the eggplant, optional step to peel stripes off of the eggplant. (I feel like its is easier to eat with less skin) .Next slice eggplant into ¼ inch slices

Brush may on both sides of the sliced egg plant one at a time and place in the dry breading dredge then place on a greased sheet pan.

Bake at 400 degrees F. For about 20 minutes until golden brown.

while eggplant is cooking brown off ground chicken in a pan with salt, pepper, and Italian seasoning. once chicken is cooked add heavy cream and reduce by half. Finally stir in the marinara then Set aside to cool

once the eggplant is out of the oven you can assemble the lasagna stating with layers of the cheese mixture, eggplant, chicken and repeat. top of with sliced provolone cheese

Bake at 400 degrees F. for 15-20 minutes until golden brown.
Nutrition
Calories:
311
kcal
Carbohydrates:
6
g
Protein:
18
g
Fat:
23
g
Saturated Fat:
10
g
Cholesterol:
119
mg
Sodium:
512
mg
Potassium:
488
mg
Fiber:
2
g
Sugar:
2
g
Vitamin A:
860
IU
Vitamin C:
2.9
mg
Calcium:
214
mg
Iron:
1.3
mg
Nutrition Facts
Low Carb Chicken & Eggplant Lasagna
Amount Per Serving
Calories 311
Calories from Fat 207
% Daily Value*
Fat 23g35%
Cholesterol 119mg40%
Sodium 512mg22%
Potassium 488mg14%
Carbohydrates 6g2%
Protein 18g36%
Vitamin A 860IU17%
Vitamin C 2.9mg4%
Calcium 214mg21%
Iron 1.3mg7%
* Percent Daily Values are based on a 2000 calorie diet.