October is right around the corner so it's the perfect time for a German Octoberfest recipe!!! Braised Red Cabbage with some juicy Brats is a comfort food recipe with international flare.
This recipe wis one of my favorites because its mostly ingredients that I already have in my pantry and it doesn't take long to make a fantastic meal!!
A classic pairing of meaty pork sausage with the tangy, sweet & sour cabbage. Serve it up with a spicy whole grain mustard Aioli and this Ketogenic German Classic is ready to eat.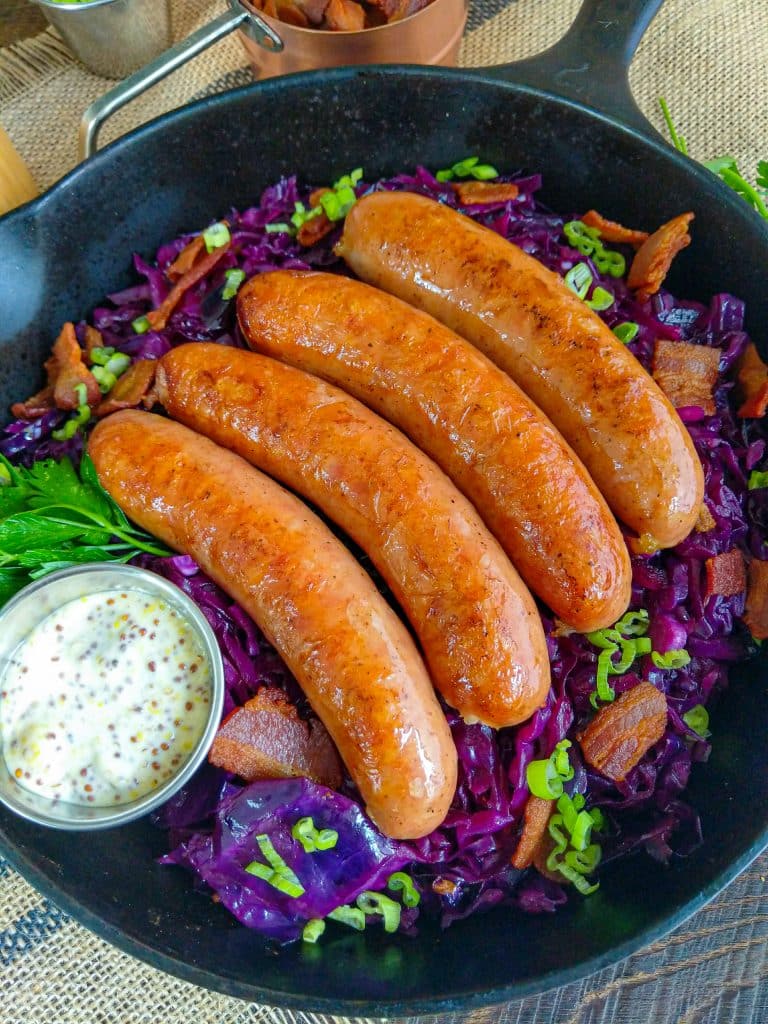 Jump to:
Keto Friendly Braised Red Cabbage
Over the summer at ketocon I tried some sausages from a texas based Company that produces all sorts of tasty meats, Especially their Sausages and Bacon. Pederson's Farm Has a full line of no sugar added sausages, bacon and ham.
products that I'm quickly falling in love with. The quality ingredients and top notch flavor will definitely make this my go to for sausages in future recipes.
As soon as I saw the bratwurst I knew I had to use it for this recipe. If you're interested in Learning more about their full line of Products check out their website Here.

German Braised Red Cabbage.

Braised Red Cabbage is commonly served with a variety of German cuisine especially around Octoberfest. For such a simple dish, there's a lot of complex flavors going on.
The sweet and sour combination with the saltiness all balances in perfect harmony. 
Sliced apples are traditionally used to add sweetness to braised red cabbage. I find that using Lakanto Golden Monkfruit sweetener is a great substitute when combined with the sour Apple Cider Vinegar.
I use a Japanese Mandolin to slice the head of cabbage so that the cabbage is all the same thickness.
This helps so that the dish cooks evenly. start out by quartering the cabbage leaving the stem on.
This will act as a handle and make it easier to slice and less dangerous. Nobody like to use the guards that come with the mandolin so I strongly recommend using Cut Resistant Gloves.
This will give you a safe grip on the food while protecting your fingers from any untimely slips.

Germany Knows Sausage!

The Germans have definitely got sausage making down. There are so many varieties, flavors and textures not to mention different meats. The most popular and personal favorite is the Bratwurst. It's fatty rich flavor of the pork or sometimes veal is delicious.

Brats can be raw or cooked so make sure you know what you have. If raw you may want to boil them in a light beer to plump them up and gently cook them.
Then you can simply sear them off in a pan. If the brats are fully cooked, then you can simply brown them up in the pan.
If you're grilling from raw I recommend a combination of direct and indirect heat so not to char the outside leaving the center under cooked.
Speaking of German encased meats be sure to check out my Coney Dog Casserole Recipe inspired by the Classic German Boardwalk Favorite

Horseradish Mustard Aioli
Brats are great for slicing and dipping in spicy German mustard. You can use a creamy style or a grainy mustard for a more intense mustard flavor.
Personally, I love to take a Whole Grain Mustard, add some Horseradish and Mayonnaise and turn it into an Aioli perfect for dipping.
¼ cup Whole Grain Mustard
½ cup Mayo
2 tbsp Horseradish
1 tsp Worcestershire sauce
When you put this hearty plate of deliciousness together you will feel like putting on Lederhosen and dancing around the Bier Haus even if you your not slugging down enormous steins of brew.
After doing a bit of research Becks Light might be the best low carb option for an authentic keto Octoberfest.

German Style Braised Red Cabbage
Instructions
Thinly slice red cabbage with mandolin then season with real salt, let sit for 15 minutes to draw out moisture. Drain excess liquid

Slice the White part of the scallions for the cabbage, use the green parts for the Aioli and Garnish

over low heat render the fat from the thick cut bacon until fully cooked. set bacon aside then add butter, Monkfruit Sweetener, scallions and caraway seeds. Bloom for about 1 minute then raise temperature to medium and add red cabbage.

Saute cabbage until it starts to soften (about 10 minutes) then add apple cider vinegar and continue to cook until the cabbage has absorbed the fats and vinegar has reduced. (about 15 additional minutes) Cabbage should be soft with just a bit of crunch left. Think Al dente Pasta.
Nutrition
Calories:
182
kcal
Carbohydrates:
7
g
Protein:
5
g
Fat:
14
g
Saturated Fat:
6
g
Cholesterol:
26
mg
Sodium:
824
mg
Potassium:
336
mg
Fiber:
3
g
Sugar:
4
g
Vitamin A:
1301
IU
Vitamin C:
61
mg
Calcium:
57
mg
Iron:
1
mg
Horseradish Mustard Aioli
Instructions
combine all ingredients, Refrigerate up to 14 days
Nutrition
Calories:
145
kcal
Carbohydrates:
2
g
Protein:
1
g
Fat:
15
g
Saturated Fat:
2
g
Cholesterol:
8
mg
Sodium:
386
mg
Potassium:
47
mg
Fiber:
1
g
Sugar:
1
g
Vitamin A:
30
IU
Vitamin C:
2
mg
Calcium:
16
mg
Iron:
1
mg