Jump to Recipe
Print Recipe
These Keto Chicken Wings are a copycat of one of my favorite flavors at a major restaurant chain known for their buffalo wings.
The sweet and spicy asian zing sauce sticks to your fingers and packs the perfect amount of heat without overpowering.
If you love Asian Zing Wings but without all the sugar this is the recipe you need to pin and save immediately!!!
No More Boring Buffalo Wings
Are you tired of the same old Buffalo wings with bleu cheese and celery at your Super Bowl Party??
Why not go global and try these low carb keto friendly asian zing keto chicken Wings using Alternasweets Spicy Ketchup.
The sweet and spicy flavor of these sticky wings will have everyone licking their fingers well into the fourth quarter.

The secret to making crispy chicken wings is planning ahead. Sure you could just throw some wings in the oven or air fryer and cook them until they are crisp but they never seem to come away from the bone easily.
Also the crispness only lasts a minute or two before returning to a less than optimal texture.
If this doesn't sound like the kind of wings you want to serve at your next get together then you'll need to start preparing these wings the night before.
Another advantage to this method is you'll have less work to do on game day. You can spend more time enjoying the game and your guests.

When I bake wings in the oven they're never crispy…HELP!!!!
Moisture is the enemy of crispness and salt is the enemy of moisture. So by deductive reasoning salt is your friend…in moderation of course.
Take the wings out of the package the night before. Then pat them dry, dusting them with a light coat of salt.
Finally leave them in the fridge overnight uncovered. This will draw out the moisture in the chicken skin without affecting the meat of the bird.
If possible store in a wide shallow container or even a sheet pan with a cooling rack. To cut dow on the mess I like to use parchment paper sheets underneath the cooling rack.
More Secrets To Crispy Keto Chicken Wings

The second secret solution to crispy wings is baking powder. Adding the baking powder along with your desired seasoning will almost act as a poultry Botox treatment.
Pulling the skin tight so the wings can crisp up in the oven.

Cooking the wings slowly at first at a lower temperature also helps to draw out moisture. If possible I recommend cooking the wings in the morning the next day then refrigerating them.
This will help the wings pull away from the bone when they are fully cooked. It also cuts down on the time cook time later when you want to serve them.
How to Make Keto Copy Asian Zing Sauce
Ingredients:
Instructions:
In a sauce pan melt 2 tbsp of butter along with chopped garlic and fresh ginger. sauté until the ginger and garlic are caramelized, then add remaining ingredients except for the last tbsp of butter.
Simmer until sauce begins to thicken then remove from heat
Let cool for 1 minute the whisk in last tablespoons of butter and sauce is ready to be brushed over the wings
How do restaurants get wings to the table so fast???
If you've ever had wings in a restaurant and they arrived in less than 15 minutes they were most likely par cooked.
Don't think that this is a lazy hack just to serve food quicker. It actually helps tenderize the meat and crisp the skin even further by expanding and contracting the fibers in the meat.
The double "fry" method is often used to create optimal crispness in French fries and other meats.

Time to Get Saucy with Asian Zing Chicken Wings
Now that I've given you all my secrets to the crispiest oven baked wings on the planet let's talk about the sauce.
We don't want to drowned the wings in sauce or even the crispiest wing will turn soggy in seconds.
I prefer to actually baste my sauce on to each wing. A trick I learned from most Korean fried chicken joints.
This method though a bit more time consuming insures each wing an even distribution of sauce.
If you are in a time crunch and tossing the wings is required, start with just a few tablespoons at a time.
You can always add more and I recommend serving the extra sauce on the side for those guest who want a saucier wing.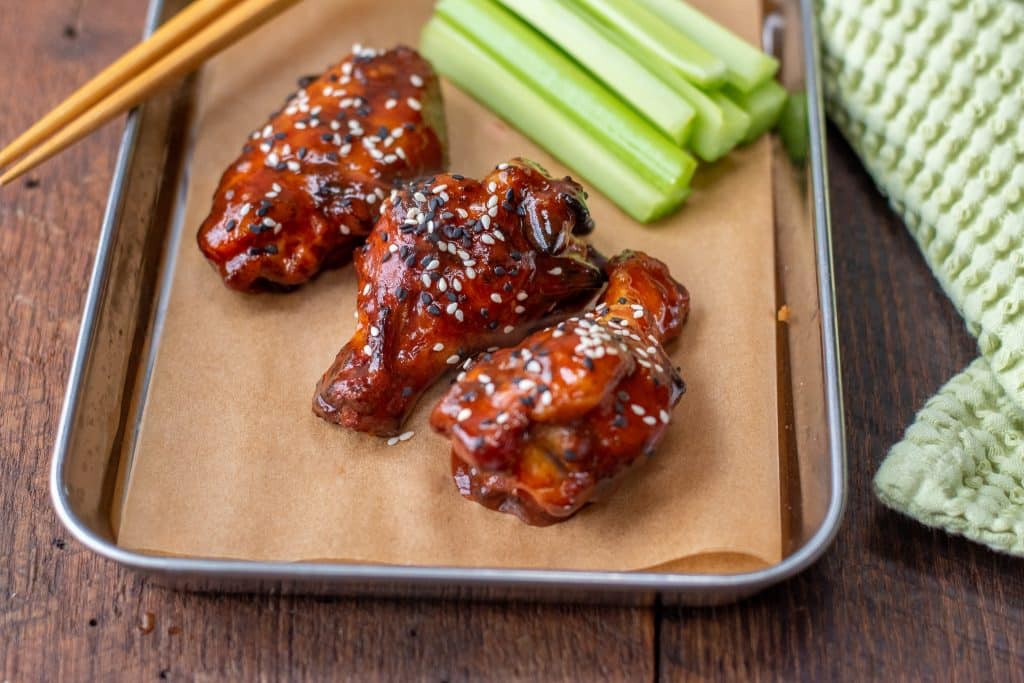 Looking For More Keto Appetizers
---
Keto Chicken Wings: Asian Zing Copycat
These Keto Chicken Wings are a copycat of one of my favorite flavors at a major restaurant chain known for their buffalo wings.
Ingredients
Garnish
1

tbsp

Scallions

thinly sliced

1

tbsp

Toasted Sesame Seeds
Instructions
Pat wings dry and season with salt. Refrigerate overnight or for at least a few hours.

Pat dry again and toss wings with Chinese five spice and baking powder.

Lay wings out on a baking rack over a sheet pan. Bake for 1 hour at 275 degrees F

After one hour spray or brush your favorite oil or animal fat lightly over the wings to help them crisp up even more.

Then raise heat to 425 and cook for 30-45 minutes until crispy. (pro tip: Refrigerating the wings after the first cook will help the wings become more tender and come away from the bone easier)

While the wings are finishing up heat a pan over medium with butter, garlic, ginger and scallions sauté until garlic and ginger begin to carmelize . Add remaining ingredients to pan and reduce for 1 minute while stirring. Shut off heat and whisk in 1 extra tablespoon of butter.

Once wings are crispy and fully cooked brush the sauce onto each wing individually and serve extra sauce on the side. Garnish with scallions and sesame seeds
Notes
About 4 wings (depending on size) per serving. About 8oz
Nutrition
Calories:
375
kcal
Carbohydrates:
5
g
Protein:
24
g
Fat:
28
g
Saturated Fat:
10
g
Polyunsaturated Fat:
6
g
Monounsaturated Fat:
11
g
Trans Fat:
1
g
Cholesterol:
109
mg
Sodium:
1736
mg
Potassium:
286
mg
Fiber:
1
g
Sugar:
1
g
Vitamin A:
383
IU
Vitamin C:
4
mg
Calcium:
50
mg
Iron:
2
mg
---
Nutrition Facts
Keto Chicken Wings: Asian Zing Copycat
Amount Per Serving
Calories 375
Calories from Fat 252
% Daily Value*
Fat 28g43%
Cholesterol 109mg36%
Sodium 1736mg75%
Potassium 286mg8%
Carbohydrates 5g2%
Protein 24g48%
Vitamin A 383IU8%
Vitamin C 4mg5%
Calcium 50mg5%
Iron 2mg11%
* Percent Daily Values are based on a 2000 calorie diet.
---