One of the most popular restaurant menu items in the mid Atlantic. Chesapeake Crab Dip is a creamy dip loaded with Blue crab, cheeses and old bay served with a variety of dippers. Its the perfect shareable appetizer for any gathering
Crab Dip, A Maryland Staple
Living in Maryland for most of my life Crab Dip is a staple of any restaurant menu with no two recipes the same. Some are so thick you could spackle drywall and others so creamy you'd think it was soup. The key is to find that happy balance between the two. To create that perfect texture I use a mixture of cream cheese, Boursin cheese and Mayonnaise as my base. The Boursin is similar to cream cheese but much lighter plus it has a garlic herb flavor.

Other ingredients include lemon juice, hot sauce and horseradish but the ingredient that I think can be overwhelming is the old bay. You definitely want old bay but you want to be careful not to overpower the crabmeat. You can always sprinkle some extra on top but if you use too much in you base dip you can't take the old bay out.
When Making Crab Dip there are lots of different types of Crab Meat to choose from. On the East coast we predominately use Blue Crab over other varieties like King, Snow or Dungeness crab. I think a combination of Backfin or Special with Claw is the perfect combination for Crab Dip. Jumbo Limp is great but is expensive and you will break up those big lumps of crab when you mix it up anyway. Backfin is the perfect size pieces and the claw adds a natural sweetness and fortifies the crab flavor.
What to look for when Buying Crab Meat
When you purchase crabmeat there are many different options. Not everyone is lucky enough to have the bounty of the Chesapeake bay nearby so I wanted to give you some tips on what to look for. Obviously Maryland crabmeat is the gold standard but North Carolina and evening Texas also have great fresh crab meat options. You will see fresh crab meat from Venezuela, though I have had good meat from there it's kinda the Wild West so ask your seafood counter how fresh the crab is and if possible I even ask to take a look and give it the sniff test.
Types of Crab Meat
Jumbo Lump/ Colossal: the prized enormous nuggets that come from the back legs of the crab. There are only 2 pieces on each crab and are painstakingly removed by hand making them the most expensive. The flavor is mild and fresh but probably the most bland of the crabmeat options.
Backfin: this crab meat comes from the other cavities of the crabs body along with broken up pieces of jumbo lump, the meat has a sweeter flavor than jumbo but still boasts large individual pieces.
Special: often said to be the most versatile type of crab meat because it can be used for everything from crab cakes to soups. It consists of smaller broken pieces of body meat that packs together tightly.
Claw: as the name suggests this meat comes exclusively from the claw. Though it's commonly thought of as a lesser grade it has the sweetest flavor and is great for combining with a more expensive grade to add flavor while being economical.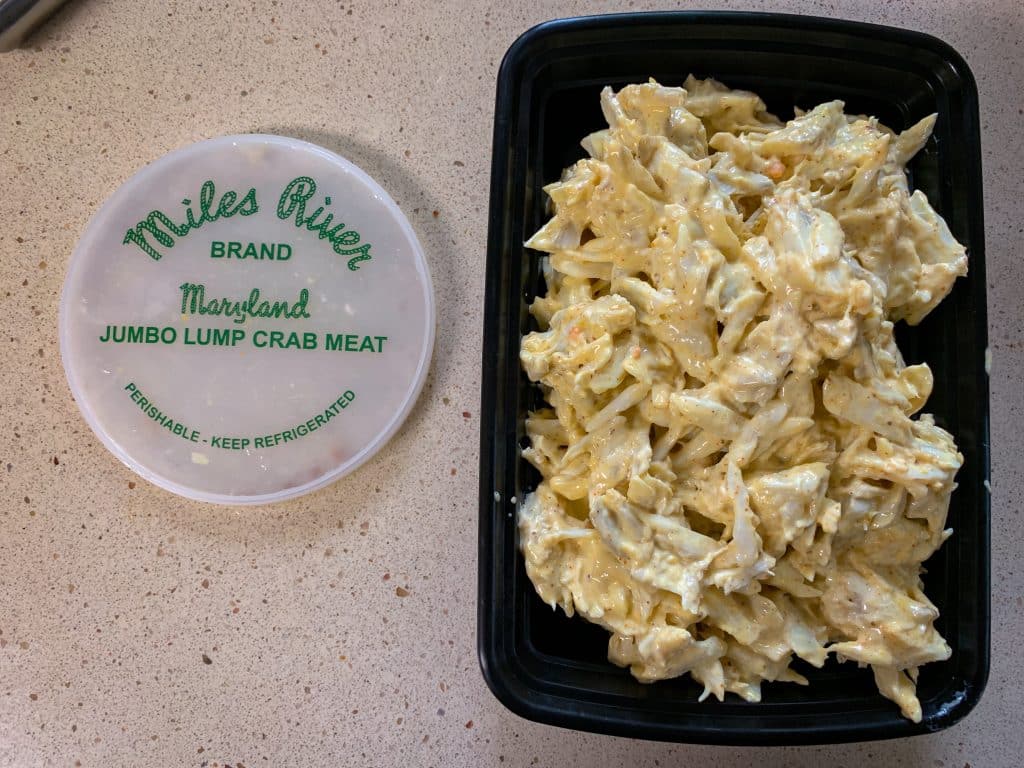 Is imitation crab meat actually crab?

In short the answer is no. Imitation crab, Crab sticks, Sea Wings, Krab and other processed "crab" is actually made from a ground white fish called Surimi. Think of it like how Hot dogs are made where the fish is ground into a paste and formed into a shape to mimic crab. These products often contain sugar and emulsifiers along with preservatives so I normally stay away from them. You will see them often used in sushi and other Japanese cuisine. I will admit that shredded imitation crab mixed with a sriracha mayonnaise is pretty tasty stuff but not a very healthy option.
Low Carb Dippers for Chesapeake Crab Dip
Traditional Dippers (not Low Carb)
Looking For More Low Carb Appetizers?
---
Combine softened cream cheese along with bousin, half of the cheddar cheese, mayo, worcestershire, mustard and old bay. make sure the mxture is completly smooth.

Once dip is smooth gently fold in crab meat along with chives, old bay and lemon juice.

spread the crab dip out into a cast iron pan and top with remaining cheese. Bake at 375 degrees for about 15 minutes. for a bubbly golden top. set the oven to broil for the last 2 minutes until the dip reaches the desired color.

top with scallions or parsley (optional) and serve with your favorite dippers listed above in blog post.
Serving Size about 1/3 cup
Calories:
252
kcal
|
Carbohydrates:
2
g
|
Protein:
11
g
|
Fat:
22
g
|
Saturated Fat:
10
g
|
Cholesterol:
51
mg
|
Sodium:
599
mg
|
Potassium:
127
mg
|
Fiber:
1
g
|
Sugar:
1
g
|
Vitamin A:
383
IU
|
Vitamin C:
4
mg
|
Calcium:
110
mg
|
Iron:
1
mg
---
Nutrition Facts
Chesapeake Crab Dip
Amount Per Serving
Calories 252
Calories from Fat 198
% Daily Value*
Fat 22g34%
Cholesterol 51mg17%
Sodium 599mg26%
Potassium 127mg4%
Carbohydrates 2g1%
Protein 11g22%
Vitamin A 383IU8%
Vitamin C 4mg5%
Calcium 110mg11%
Iron 1mg6%
* Percent Daily Values are based on a 2000 calorie diet.
---
This site contains affiliate Links