Jumbo Keto Clams Casino are made with fresh cherrystone clams and loaded with bacon, butter and cheese. Do I have your Attention?
History of Clams Casino
Clams Casino first showed up on menus in the early 1900's in the Northeastern United States. Legend has it they were first served at the little Casino in Narragansett Rhode Island. Created as a special request of a woman who was looking to impress her guests. The recipe traditionally includes clams, bell peppers, bacon and breadcrumbs but there are many variations. In New Orleans Oysters Casino is very popular due to the abundance of oysters in the Mississippi and nearby gulf.
Different types of Clams
There are many different varieties of clams but the ones most commonly consumed are found in the northeastern United States. Other varieties like Manila clams found on the west coast are small and sweet, mainly served in pasta dishes or steamed and served with clarified butter. You also have varieties like Atlantic and pacific razor clams as well as the very peculiar looking Geuduck clam.
East Coast Clams
The clams I grew up on all hail from the northeastern United States. Clams and other shellfish were a main source of sustenance for the native Americans of the Narragansett tribe. Their name for the mollusk was poquauhock which over time morphed into the word quahog by early English settlers. Clams are named and classified based on size, the smaller clams are sweeter and more tender while larger clams have a tougher texture often chopped up for soups and chowders.
How to purge Clams
When purchasing clams you may need to do some work before cooking. Oftentimes the outer shells will be muddy with some sand on the outside. Always ask your fishmonger if the clams have already been cleaned and purged. If not, it's no big deal and you'll just need to clean them yourself.
Simply give the clams a light scrub under cold water and rinse thoroughly. Next you'll need to purge any sand out of the clams by soaking clams in cold water for about an hour. This will make sure you don't have gritty clams when you eat them after cooking. I prefer to purge my clams in salted water so they still have that clean saltwater flavor.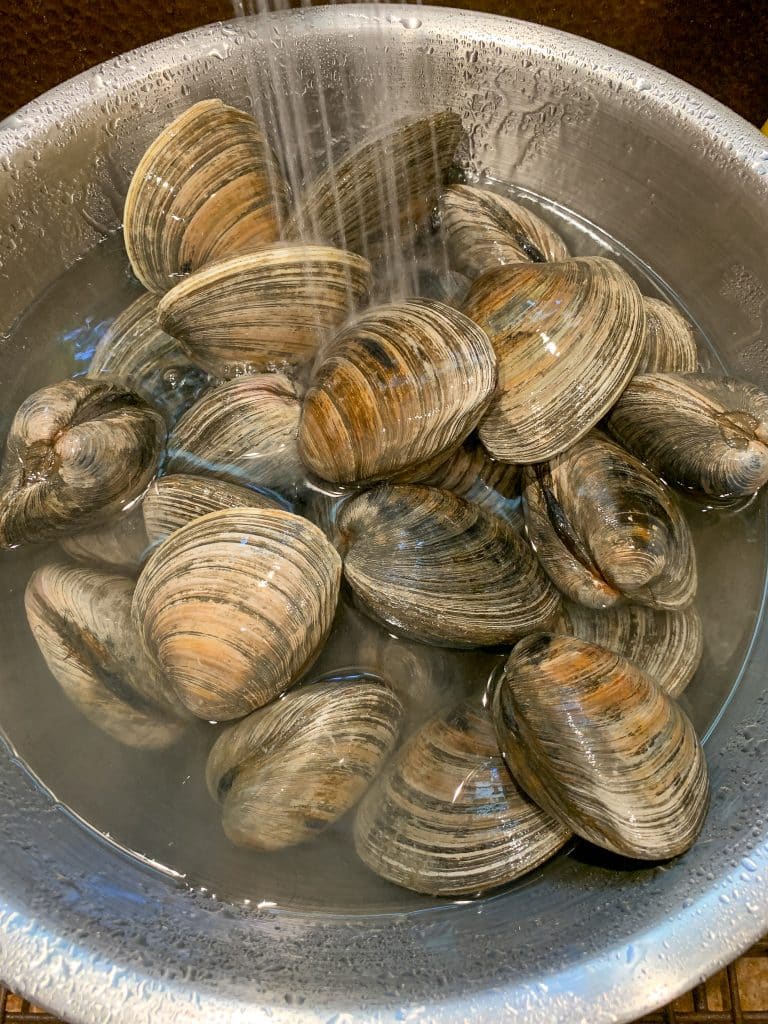 How to Steam Clams
Once you have cleaned and purged the clams it's time to steam them. If you have a large pot with a steamer basket that's the easiest way to steam clams. Fill the pot just below the basket with salt water and bring to a boil. Depending on the size the clams usually take between 6-10 minutes to cook. You'll see the shells open up wide. You want the clam to look firm but not shriveled up in the shell. For smaller clams like little nexts or top necks you can leave the clams whole but for cherrystones or chowder clams it's best to chop up the clams then combine with the casino butter then scoop back into the half shell.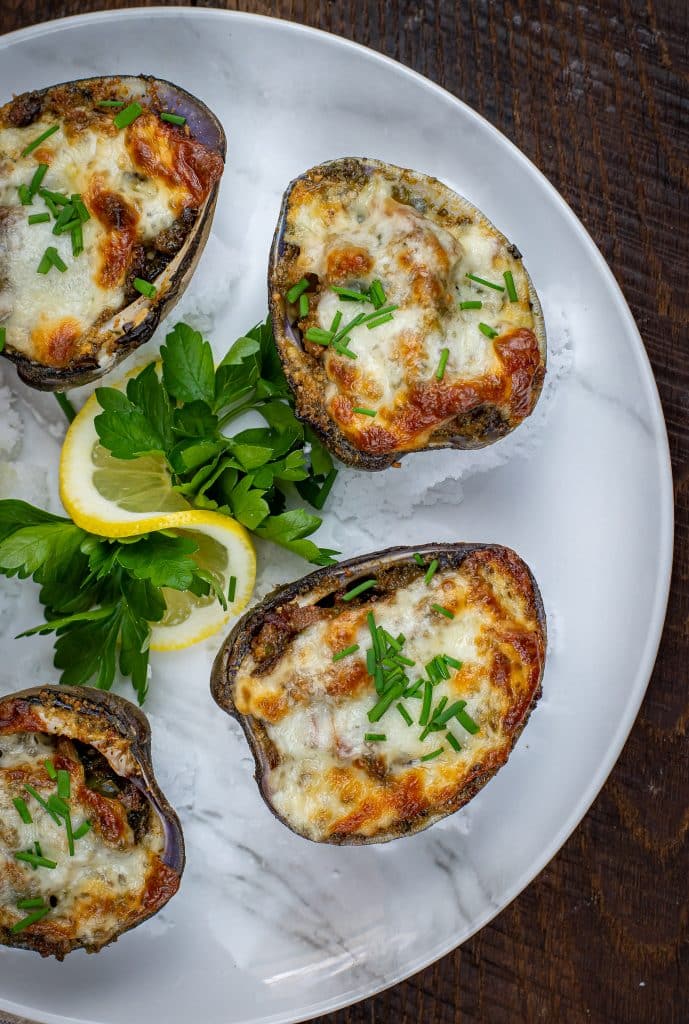 How to prepare Clams Casino
I worked at a restaurant in Maryland right outside Baltimore that served tons of clams casino. It was definitely one of the most popular appetizers on the menu. We served smaller clams and topped them with a bacon garlic butter mixture then topped with provolone cheese before broiling in a hot oven. The bubbly hot cheese is held in the buttery bacon and clam mixture also keeping the clams hot. For this recipe I wanted to use a larger clam so I chopped the cooked clams and combined with the bacon and garlic butter. I also added pork king good Italian breadcrumbs made from crushed pork rinds to help the mixture hold together while cooking.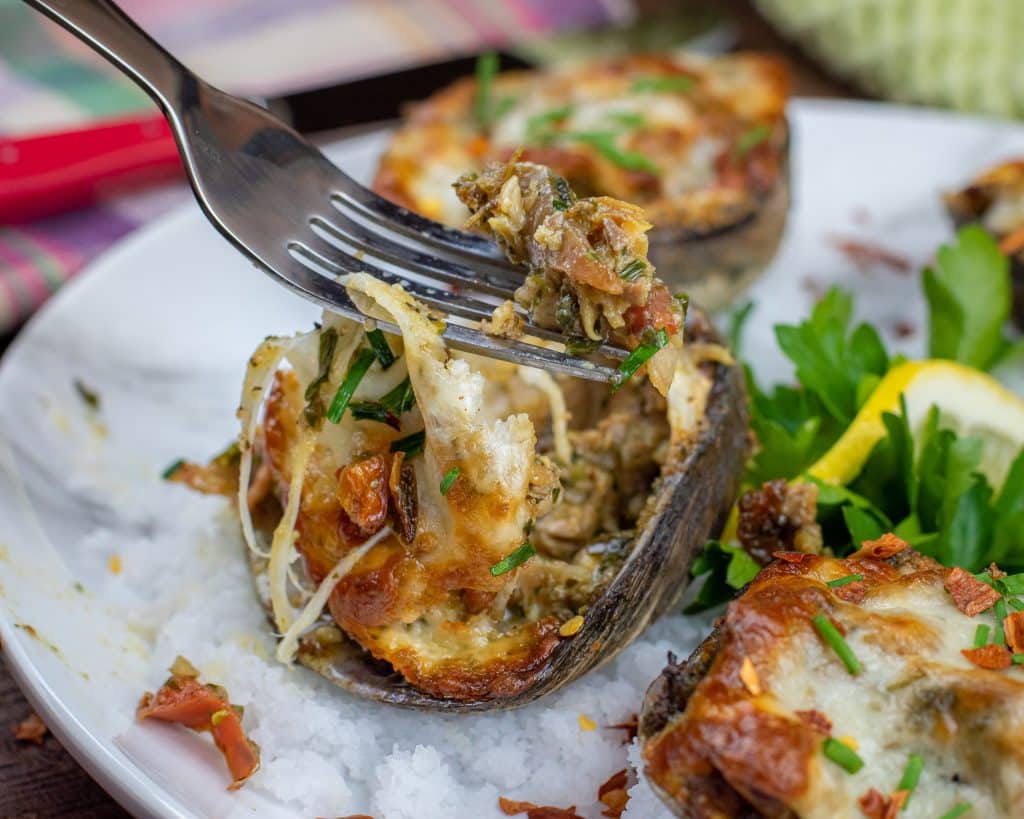 I made two versions of this recipe. The first version I actually smoked on my pellet grill (RT-700 Rec Tec) topped with Parmesan and pork king good breadcrumbs. The second version I baked in the oven topped with provolone cheese. Both are fantastic and I would gladly serve either one to guests. The pellet grill version had a light smoky flavor that worked well with the clams and bacon. The oven version had that cheesy melted provolone that I also love.
Pellet Grill method: set the clams casino on the grill and cook at 400 degrees F. for 10-15 minute until a crust forms on top of the clam and butter starts bubbling out the sides. See Full Recipe For Smoked Clams Casino
Oven Method: preheat the oven to 400 degrees F. Bake the clams for 10-15 minutes until the cheese is melted and begins to bubble. You can also switch the oven to broil for the last few minutes if you like that golden bubbly cheese
How to Plate and Serve Clams Casino
Once those beautiful Clams Casino are cooked and ready to eat you'll want to just put them on a plate. One problem. They're gonna slide everywhere and either fall off the plate or be a complete pain in the ass to eat. To fix this we've got 2 options. They make plates specially for clams casino and oyster Rockefeller that have impressions to hold the shells in place. Your other option is to simply mix a cup of kosher salt with about a tablespoon of water together. The salt will clump up and then you can spoon out dollops on the plate to set the clams in. It's a really nice presentation and only takes an extra second to prepare.
More Keto Seafood Recipes
---
Keto Clams Casino
Ingredients
24

Cherrystone Clams

8

oz

Butter

2 sticks

4

oz

Crispy Bacon

1

Bell Pepper

½

cup

Sliced Scallions

¼

cup

Parmesan Cheese

¼

cup

Chopped Parsley

8

slices

Provolone Cheese

1

tbsp

Chopped Garlic

1

tsp

Crushed Red Chili Flakes
Instructions
Rinse and srub the outside of each clam using cold water. once the clams are clean fill a large pot or bowl with cold water and a ¼ cup of salt. let the clams sit in the water to purge for about 2 hours. let butter sit out to soften while clams purge.

cut raw bacon into 1 inch pieces and saute until crispy. Remove bacon and let coll on a paper towel. saute the scallions, diced bell pepper and garlic in the bacon fat. then let cool to room temperature.

fold the sauteed vegies, crispy bacon and italian pork king good breadcrumbs with the softened butter. then mix in remaining seasonings and half of the parmesan cheese.

Bring a Large Pot w/ a steamer basket to a boil and add ¼ cup of kosher salt to the pot. Steam the clams for 8-12 Minutes until the clams have all fully opened. once the clams are cool enough to handle harvest the meat from each clam. Chop the clams into medium pieces.

Fold the Chopped clams into the casino butter mixture. then split apart the shells and rinse off any shell fragments. Scoop a heaping spoonful of the casino butter into 24 shells. top with a quarter slice of provolone and remaining parmesan cheese.

Place Clams on a sheet pan and bake at 425 for 8-10 minutes util cheese is fully melted and butter is begining to bubble out the sides of the clams
Nutrition
Calories:
512
kcal
Carbohydrates:
3
g
Protein:
14
g
Fat:
49
g
Saturated Fat:
27
g
Cholesterol:
117
mg
Sodium:
738
mg
Potassium:
160
mg
Fiber:
1
g
Sugar:
1
g
Vitamin A:
2140
IU
Vitamin C:
31
mg
Calcium:
265
mg
Iron:
1
mg
This Keto Clams Casino Recipe contains affiliate links. I receive income from qualifying purchases.