Crispy Keto Friendly Mahi Tenders that will Blow your mind. This recipe will have you double dipping these Keto panko style breaded fish sticks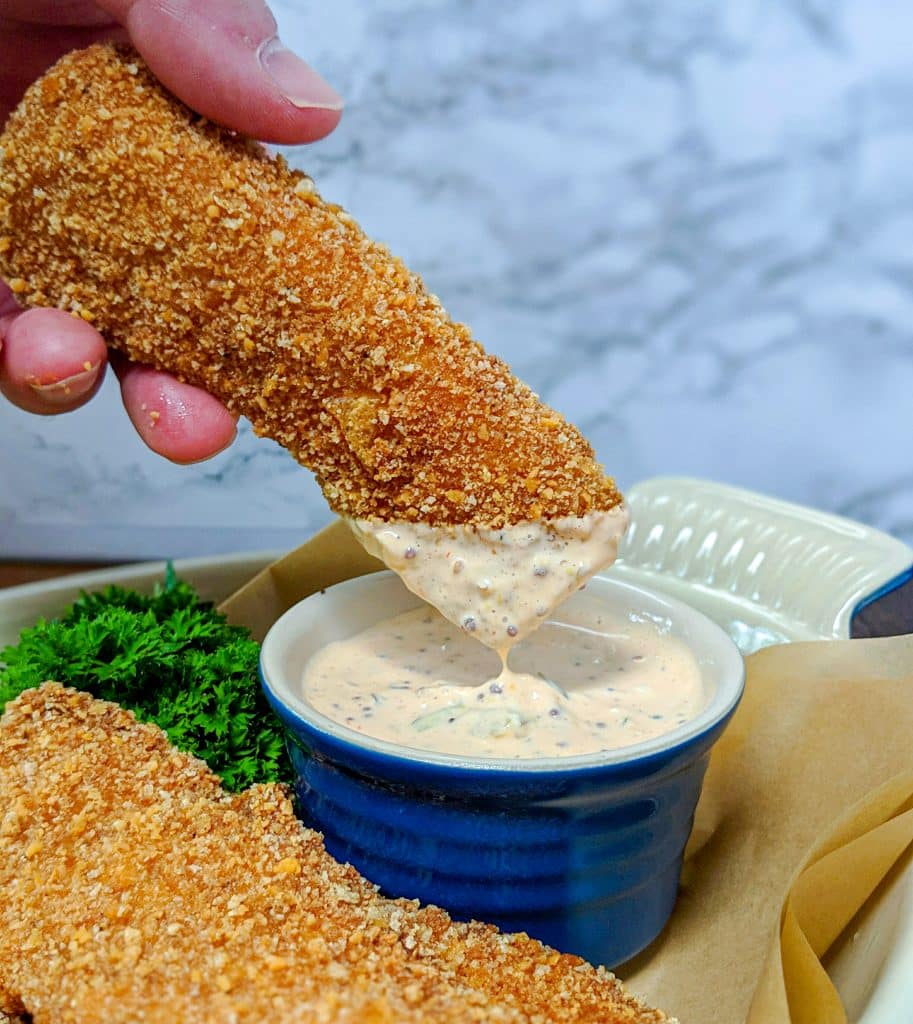 As an east coast dweller I'm a lover of all things from the ocean. Wether it's low carb crab cakes or keto shrimp cocktail seafood has always been my protein of choice. Fried fish is definitely a guilty pleasure I've missed since adopting a ketogenic lifestyle but not anymore. These Crispy Mahi tenders are golden, delicious and perfect for dipping in Remoulade sauce!!

Theres a lot of fish in the sea…Literally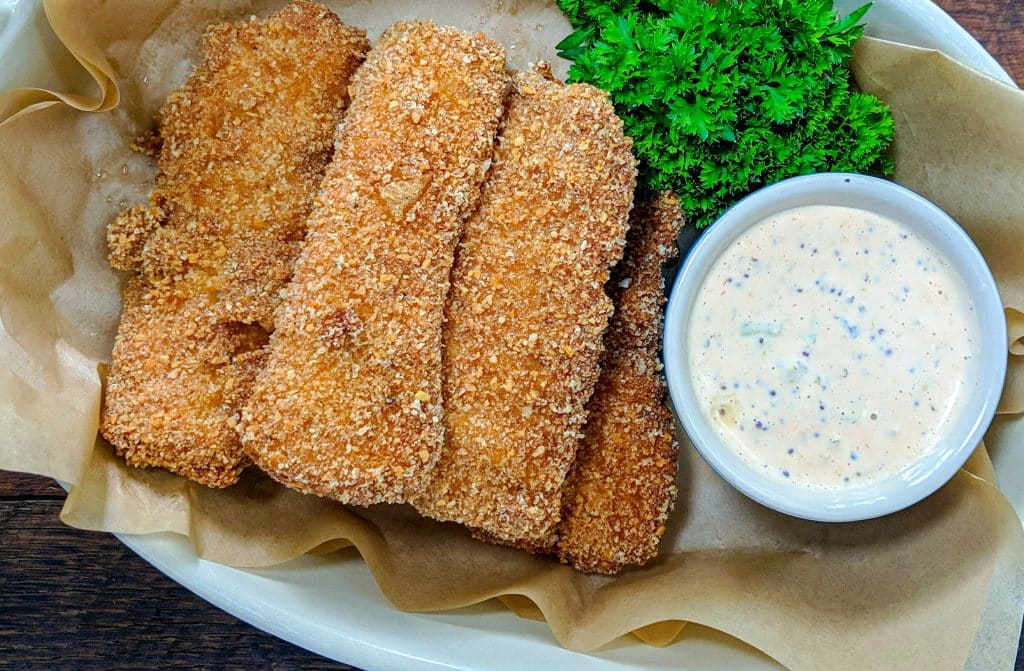 Most of the time when you think of fried fish it's a bland white fish like cod, haddock or flounder. Even cheaper varieties like Swai or tilapia are often fried up to disguise the poor quality. Instead I love using Mahi Mahi and fish that have a bit firmer texture. Other fish I recommend for this recipe would be grouper, halibut or even ahi tuna which can be fried to medium rare for a beautiful presentation. Mahi was what looked best at the market so I am using this fish in the recipe today. It's the perfect texture as it is firm yet slightly flaky but won't fall apart. I prefer my Mahi tenders cut down into about 2 oz strips so they cook quickly and evenly. The ones I picked up at Trader Joe's were about 3 oz which was close enough for me.

Dredging Away
For the dredging procedure I like to marinate the Mahi in a combination of heavy cream and hot sauce. You can add any other seasonings you like to the marinade but that's the base I start with. For this recipe I added a combination of DAKS CAJUN VOODOO and REDMOND'S REAL SALT. Marinate the Mahi for at least an hour. If you're in a rush, give it at least 15 minutes when possible.

After your Mahi is marinated it's time to mix up you're breading. I like a bit thicker coating on my fish so I use a combination of almond flour and Pork King Good Bread crumbs. I have a recipe for Boneless wings and I used coconut flour. That creates a lighter coating, still tasty but for this recipe I prefer the almond flour.

Everything is better with Bacon! Especially Crispy Mahi Tenders
Now as far as cooking goes your best results will come from frying. I use a shallow pot and fill with about 3-4 inches of Bacon Up Bacon grease. It's my favorite thing to fry just about anything in. When frying anything you always want to make sure your oil is up to temperature. I use an infrared thermometer to make sure the oil is hot.

When placing the fish in the oil make sure to never drop the fish towards you. Always lay away so any splash is directed away. Another helpful kitchen gadget I recommend is a splatter guard. All that grease bubbling away can make quite a mess on the stove top. Cook the fish for about 4-6 minutes until golden brown. You can either cut a tender in half or use a probe thermometer to make sure the fish is cooked.

If you don't want to go through the hassle of deep frying you can always bake them in the oven or use an air fryer. Bake or air fry at 400 degrees F for 15-20 minutes until golden. They won't be as crispy as the deep fried method but still quite good.
Equipment
Inferred Thermometer

Instant Read Thermometer
Instructions
Slice the Mahi filets into 2 oz strips. Combine heavy cream, hot sauce and seasoning then marinate the Mahi in the mixture for one hour.



Heat bacon grease or oil up to 350 degrees F

Combine pork king good breadcrumbs and almond flour.



Dredge the Mahi in the breading mixture so it's fully coated then carefully lay the fish in the oil away from your body. Cook for 4-6 minutes until golden brown.





Remove Mahi from oil and allow to cool on a paper towel, sprinkle lightly with salt and Cajun voodoo. Serve with Remoulade dipping sauce.
Notes
Recipe does not include bacon grease oil frying oil, Estimate about 1 tbsp of bacon grease or oil per portion if fried. Disregard if using air fryer method.
Nutrition
Calories:
249
kcal
|
Carbohydrates:
5
g
|
Protein:
25
g
|
Fat:
15
g
|
Saturated Fat:
5
g
|
Cholesterol:
110
mg
|
Sodium:
862
mg
|
Potassium:
535
mg
|
Fiber:
2
g
|
Sugar:
1
g
|
Vitamin A:
1335
IU
|
Vitamin C:
4.9
mg
|
Calcium:
63
mg
|
Iron:
2.2
mg
Instructions
Place all ingredients in a blender or food processor and rough pulse so it's fully combined but not completely smooth.
Nutrition
Calories:
85
kcal
|
Carbohydrates:
2
g
|
Fat:
8
g
|
Saturated Fat:
1
g
|
Cholesterol:
4
mg
|
Sodium:
184
mg
|
Potassium:
9
mg
|
Vitamin A:
65
IU
|
Vitamin C:
0.6
mg
|
Calcium:
1
mg
|
Iron:
0.2
mg