Jump to Recipe
Low Carb Birria Taco Recipe
These Beefy Cheesy Street Tacos are Loaded with big flavor in a little package. Low Carb Birria Tacos dipped in the spicy beef consommé is truly a life changing experience.
If you love tacos checkout my low carb Sriracha Lobster Roll Taco Recipe
What Are Birria Tacos
I have to admit I had never heard of Birria Tacos before I noticed multiple recipes popping up on the internet over the last year.
Traditional Birria tacos are made with Goat and served on special occasions. Most of the recipes nowadays are made with beef using a combination of lean and fattier cuts.
The beef is seared in a cast iron pot and then braised in a beef stock loaded with chilies, garlic and tomato until the beef is fall apart tender.
The Birria Tacos are served with a side of the braising liquid referred to as consommé to dip the tacos in.
---
More Tasty Recipes
---
Ingredient List to Make Low Carb Birria Tacos
Additional Ingredients
Shredded Cheese
Avocado Oil or Lard (pork fat)
Lime Optional Garnish
What Type of Meat Should I use to make Birria Tacos
As I mentioned earlier traditional Birria Tacos are made with goat meat but I find that today beef is more commonly used for the recipe.
I prefer to use multiple cuts of meat to give the tacos a nice contrast of fatty and lean beef. I chose to use a combination of oxtail and sirloin but short rib, chuck roast or beef shanks would be great options.
Oxtail has a lot of inter-muscular fat and rehires a long braise to become tender but the flavor you develop over this long cook is second to none.
The sirloin is much leaner but shreds up nicely making it great for these Low carb Birria Tacos.
Tips For Making Birria Tacos
One of the most important steps to braising is searing the outside of the meat to form a crust. This caramelization will add so much flavor and is definitely worth the extra few minutes it takes to prepare.
Another Important step is to not be in a rush. This is the type of dish that you start in the morning and let cook all day long. Get yourself a good wide dutch oven so you have plenty of room to make a big batch of meat.
You may need to brown the beef in batches since overcrowding the pan causes the meat to steam. Again, your patience will be rewarded.
Prepare a Sachet bag for your spices and herbs. When a recipe calls for herbs and spices that need to be removed from the sauce later I make a Sachet Bag.
Place all of the ingredients in a piece of Cheesecloth then fold in the sides and tie of the top with butchers twine.
Then you can incorporate all of the flavors into the sauce without having to fish out the ingredients one by one. You can buy Sachet bags that are already to go or use the cheesecloth method.
What Chilies are best for Birria Tacos
Even though there's a lot of chilies in this recipe it really not very spicy at all. A few added chipotle peppers in adobe would kick up the spice level if that's what you're looking for.
Dried Guajillo, Ancho Pasilla Chilies along with tomato paste are the base for the sauce in this recipe. As the dried chiles simmer in the beef stock they will soften making them easy to puree later.
Be sure to cut off the tops of the peppers and shake out as many of the seeds as possible. If you miss a few it's not a big deal as long as you get most of them.
Assembling the Tacos
Once the Consommé is finished and the beef is shredded its time to assemble. Get all of your ingredients ready and turn your oven on warm if your making a big batch.
That way you can keep the tacos warm while you finish the rest. Get a sheet pan with a cooling rack to set the finished tacos on.
I use Mr Tortilla Low Carb Tortillas for this recipe because they crisp up when you fry them. This makes them perfect for Low Carb Birria Tacos.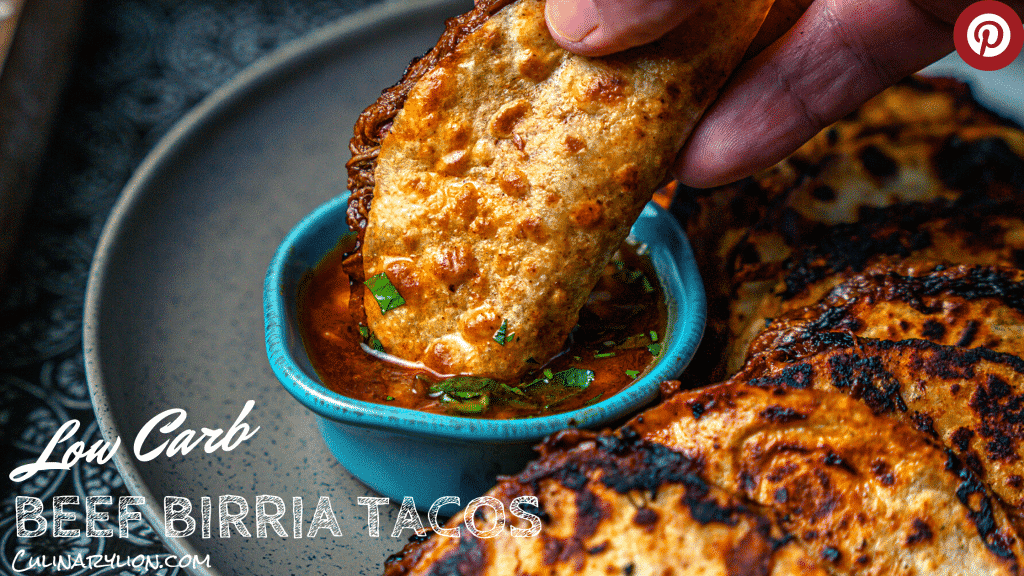 In a large cast iron skillet over medium heat add a tbsp of lard or avocado oil. Once the skillet is hot add the tortilla to the pan and top with cheese.
Next add a small amount of the shredded beef to one side of the tortilla.
Cook the tortillas for about 2-3 minutes until the outside is crispy and the cheese is melted. Use a Fish Spatula to transfer the tacos from the pan to the cooling rack.
Continue making tacos in batches until you have enough. there will be leftovers.
More Beefy Low Carb Recipes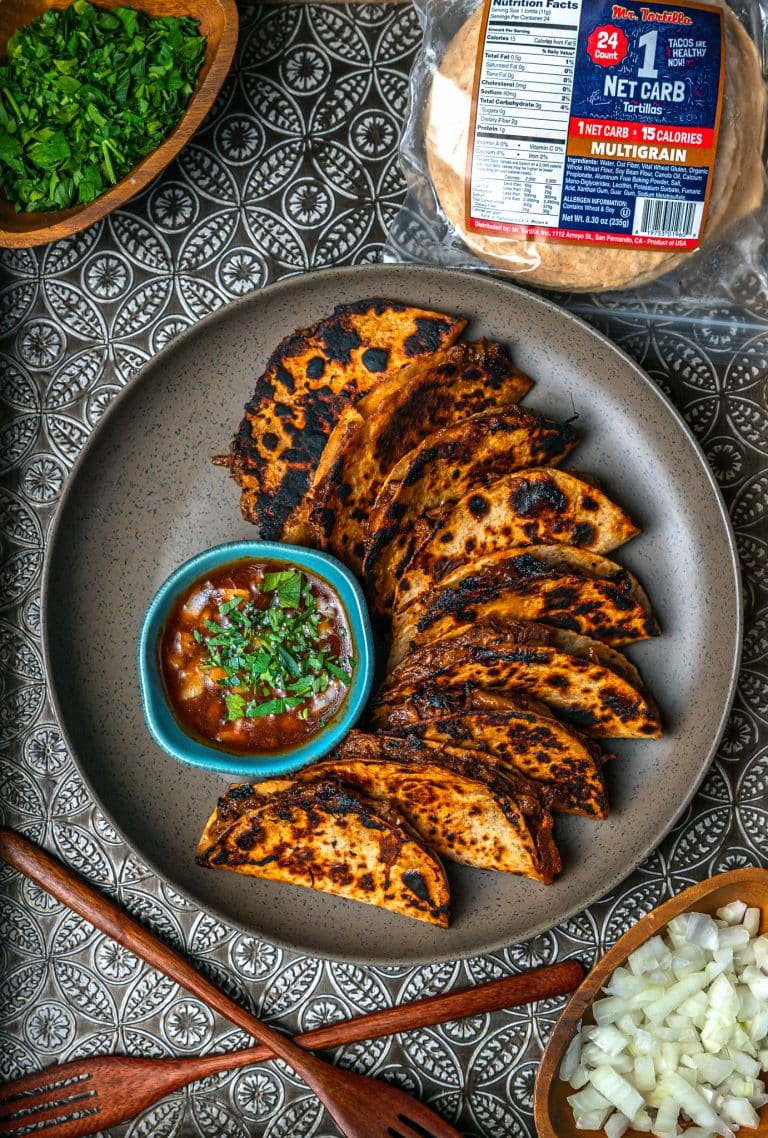 ---
Low Carb Beef Birria Tacos
Low Carb Birria Tacos dipped in the spicy beef consommé is truly a life changing experience and a must try for any taco lovers
Ingredients
Additional Ingredients
2

cups

Shredded Cheese

2

tbsp

Avocado Oil

or Lard (pork fat)

1

Lime

Optional Garnish
Instructions
Create a Sachet bag using Garlic, Cinnamon sticks, Cilantro Stems, Corriander and Peppercorns. Set aside

Cut the stems off of all the dried peppers and remove all of the seeds. Set aside

Add Avocado oil to a large Dutch oven then sear off the oxtails and sirloin in batches so all sides have a crust then remove from pot and set aside. Add diced onions to the pot and saute for 3-5 minutes until slightly soft. Next add tomato paste, coconut aminos, Worcestershire and oregano to the pot and cook for an additional minute.

Add the Beef stock, Sachet bag, dried peppers and beef back to the dutch oven and turn heat to low. Simmer for about 2-3 hours with a lid on. If pot begins to boil. turn off heat for 10-15 minutes and then turn back on as needed to maintain a simmer.

Once the oxtails are tender and falling off the bone remove all of the meat and dicard the bones. Shred the meat and set aside. Remove the sachet bag and discard. Scoop

Take all of the dried peppers along with about 3 cups of the Broth to a blender and pulse until the mixture is smooth. Pour the mixture back into the pot. Set aside about 2 cups of the broth for dipping the tacos in. Stir in the shredded beef and bring back to a light simmer.

To assemble the tacos heat a large skillet over medium heat with a tablespoon of avocado oil then lay out the tortillas in the pan and top with cheese and a small amount of the shredded beef. once the tortillas are crispy and the cheese is melted fold the tortillas over and repeat until all the tacos are prepared.

Serve Tacos along with the Consomme and Devour.
Notes
About 3 Tacos per serving
Nutrition
Calories:
435
kcal
Carbohydrates:
10
g
Protein:
49
g
Fat:
20
g
Saturated Fat:
8
g
Cholesterol:
143
mg
Sodium:
1917
mg
Potassium:
876
mg
Fiber:
4
g
Sugar:
5
g
Vitamin A:
2953
IU
Vitamin C:
7
mg
Calcium:
177
mg
Iron:
6
mg
---
Nutrition Facts
Low Carb Beef Birria Tacos
Amount Per Serving
Calories 435
Calories from Fat 180
% Daily Value*
Fat 20g31%
Cholesterol 143mg48%
Sodium 1917mg83%
Potassium 876mg25%
Carbohydrates 10g3%
Protein 49g98%
Vitamin A 2953IU59%
Vitamin C 7mg8%
Calcium 177mg18%
Iron 6mg33%
* Percent Daily Values are based on a 2000 calorie diet.
---