This super simple recipe for Piccata Fish Cakes is a perfect lunch when you're cooped up at home. All the flavors of Chicken Piccata but with a Pescatarian twist. This healthy meal is both nutritious and satisfying served over a bed of field greens.
Raiding your Pantry can be fun.
I've been playing chopped at home long before the food network unknowingly stole my idea. I could go into any pantry whether it was mine or my family's and come out with ingredients to prepare a tasty meal. Lately I know a lot of us have been at home trying to be more creative with the ingredients we already have. These Piccata Fish Cakes are a fantastic use of ingredients you probably have in your pantry already. Even if you're missing a few of these ingredients you can substitute some of the items you do have and make it work!
Piccata Fish Cakes???
On the surface I know this recipe may sound a bit strange but it actually exceeded my expectations. I was just going to make tuna salad for lunch. Then I saw I had a lemon and a jar of capers. That's when the light went off...Picatta!!! I love the citrus tartness combined with briny capers in the classic Italian dish. So why not take those same flavors and present them in a new way. Instead of making a lemon capers sauce with white wine and butter I made an aioli (fancy word for mayonnaise). I used capers, garlic, lemon and Calabrian chili powder to make the sauce.
What are Calabrian Chilies
Calabrian chilies are, you guessed it from Calabria, Italy. They have a slightly sweet and spicy flavor that gives a subtle kick to all sorts of dishes. It can be found dried, packed in oil or in powder form. It's an ingredient that I see Bobby Flay using it all the time. That's how I first discovered this Chili pepper. If you can't find any or don't want to grab some from amazon you can always substitute cayenne pepper or if you don't like spicy food just use smoked paprika.
Piccata Fish Cakes: great way to incorporate more fish and healthy Omega 3 fatty acids into your diet.
Sardines are a food that I keep on hand all the time as a staple in my pantry. Fish Cakes are loaded with Omega 3 fatty acids. It's also a fantastic way to incorporate fish into your diet. I prefer to buy the sardines packed in olive oil then I season them however I like. Sometimes with spicy mustard and sea salt or just a few dishes of my favorite pepper relish Wickles. People that are scared of trying them I think this Piccata recipe is a great introduction because once they're mixed together with the other ingredients you won't even know you're eating sardines.
Substitution Ideas
Tuna or sardines can be substituted with canned salmon or chicken.
Calabrian chili powder can be substituted with cayenne or smoked paprika
Lemon juice can be substituted with lime juice or orange juice.
Pork King Good Breadcrumbs can be substituted with crushed pork rinds, almond flour or nutritional yeast.
Capers can be substituted with chopped green olives.
More Keto Seafood Recipes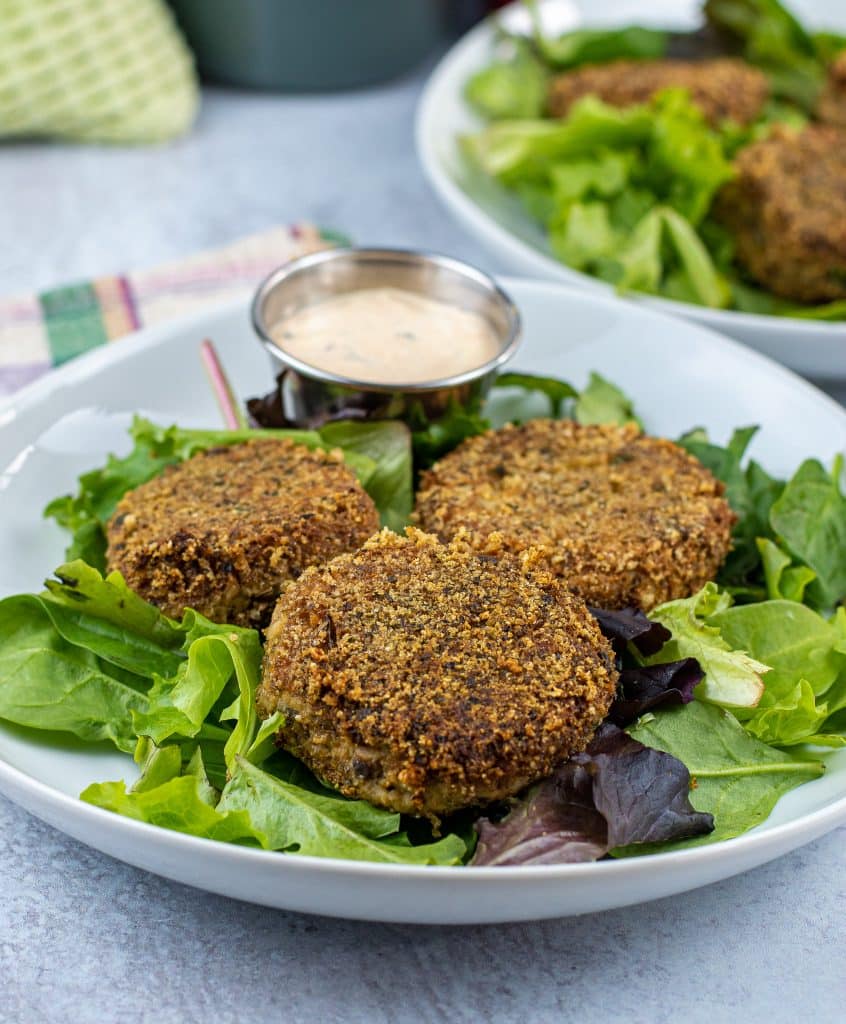 ---
Additional Ingredients
1/3

cup

Ghee

or Avocado Oil
To prepare the Fish cakes drain tuna and shred in a bowl, then add sardines with oil to the bowl and shred as well. Add remaining ingredients and mix well. chill in the fridge for 15 minutes.

To fry the Fish Cakes portion each cake into a 3 oz balls, then coat with Italian pork king good crumbs and fry over medium heat in a cast iron skillet with ghee. Cook for about 3 minutes per side. for crispier fish cakes flatten the cakes to make them thinner by pressing down on the cakes with a spatula as the first side is cooking.

To prepare the Aioli combine all ingredients in a bowl or mason jar and pulse with a stick blender to combine. for a chunky dressing simply whisk ingredients. Store in fridge for up to 3 weeks

Serve Fish cakes over Field Greens or lettuce with aioli
Serving size 2 3oz Fish Cakes w/ 2 tbsp Lemon Caper Aioli
Calories:
445
kcal
|
Carbohydrates:
2
g
|
Protein:
31
g
|
Fat:
34
g
|
Saturated Fat:
5
g
|
Cholesterol:
142
mg
|
Sodium:
825
mg
|
Potassium:
345
mg
|
Fiber:
1
g
|
Sugar:
1
g
|
Vitamin A:
307
IU
|
Vitamin C:
5
mg
|
Calcium:
226
mg
|
Iron:
3
mg
---
Nutrition Facts
Piccata Fish Cakes
Amount Per Serving
Calories 445
Calories from Fat 306
% Daily Value*
Fat 34g52%
Cholesterol 142mg47%
Sodium 825mg36%
Potassium 345mg10%
Carbohydrates 2g1%
Protein 31g62%
Vitamin A 307IU6%
Vitamin C 5mg6%
Calcium 226mg23%
Iron 3mg17%
* Percent Daily Values are based on a 2000 calorie diet.
---
---
This Recipe for Piccata Fish Cakes Contains Affiliate Links. I receive income from qualifying purchases.