Jump to Recipe
How to Make Chick-fil-a Sauce at Home
If you're like me you love chick-fil-a sauce with nuggets. I've created a copycat recipe that's gluten free, keto friendly and 100% delicious! Checkout this low carb doppelgänger recipe and Eat more chicken!!!

Looking For More of you favorite Recipes Ketofied? Checkout Keto Pan Pizza Crust: Pizza Hut Copycat, Hidden Valley Ranch, General Tso Chicken and Skyline Chili
Keto Copycat Chick-fil-a sauce Recipe
That golden sweet sauce that we love is sadly loaded with sugar, inflammatory oils, corn syrup and lots of preservatives.
This keto copycat Chick-fil-a sauce ditches all the sugar and carbs giving you a fantastic tasty sauce suitable for all your nugget dipping needs.
At its core this sauce is essentially barbecue sauce, honey mustard and mayonnaise combined. If you're not keto you could easily take 3 parts mayo, 2 parts honey mustard and 1 part bbq sauce.
This would give you a very close copycat. For us keto folks like always we have to do a little more work. I've found that Wondrose is a great keto friendly sweetener for sauce recipes.
Mainly because it dissolves completely unlikely granular erythritol that gives sauces a grainy texture.
What is Wondrose?
Recently I had a chance to try out a new keto friendly sugar replacement Wondrose from Keto and Co. It's a zero net carb and zero calorie sweetener made from Erythritol, Non GMO Soluble Corn Fiber, Inulin and Monk Fruit.
I was very impressed how well it blended into the sauce and has a powdered sugar consistency instead of the granule texture I'm used to with erythritol.
I'm impressed with the fact that there was no cooling aftertaste. I look forward to trying it in some baking recipes in the near future so stay tuned.
Alternasweets BBQ to the Rescue!!
If you have followed my blog for any amount of time you know I'm a big fan of alternasweets bbq sauce.
In my opinion it's the closest to traditional bbq sauce that I've ever tried. I've got plenty of other recipes using alternasweets ketchup and bbq sauce that you can checkout.
For this Chick-fil-a sauce copycat recipe the bbq sauce helps add a sweet and smoky flavor to the sauce. It also helps with creating that golden color of the original recipe.
Eat More Chicken (Nuggets)
The nuggets at chick-fil-a are probably the best in the fast food game. They taste like real chicken and aren't overly processed or coated in a thick batter.
Creating a keto version was fairly easy by marinating them in a simple mixture of Dijon mustard, smoked paprika and one egg. This marinade helps keep the chicken juicy. It also acts as a binder to hold the Pork King Good Breadcrumbs on the chicken.
Once you've breaded the chicken I place a sheet of parchment paper over the sheet pan for easy clean up. The final step before baking the nuggets is to give the chicken a quick spray of cooking oil. This helps the nuggets crisp up in the oven.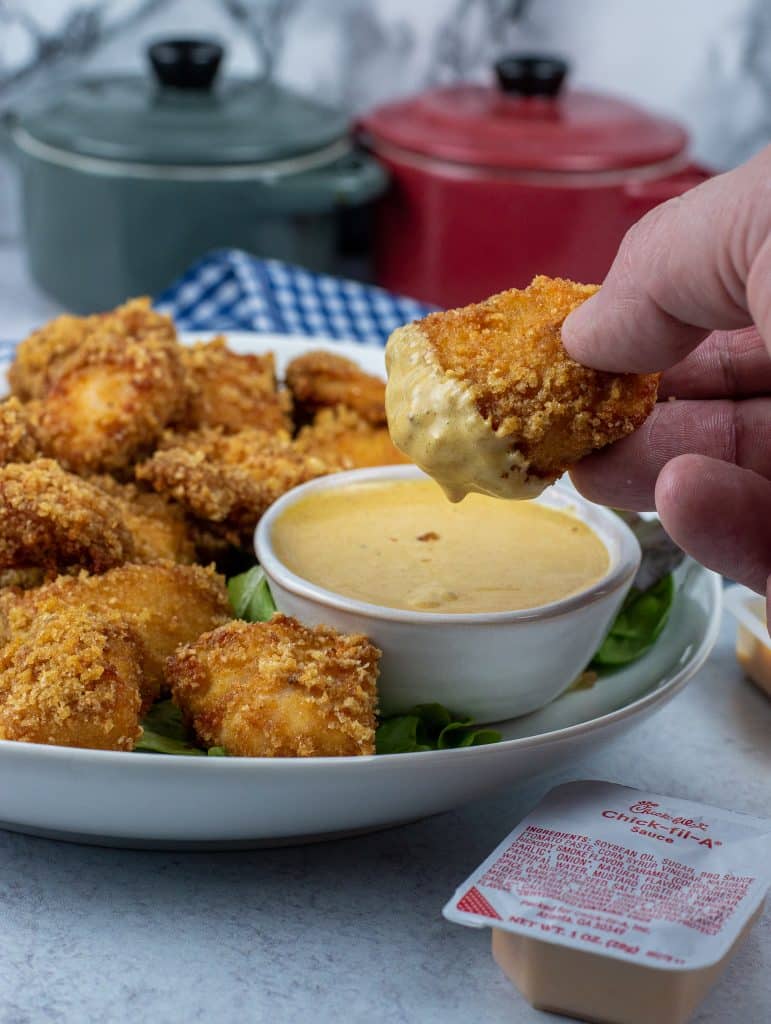 More Keto Chicken Recipe Ideas
---
Chick-Fil-a Sauce
Instructions
Whisk all ingredients together. Store in the fridge for up to 2 months
Nutrition
Calories:
102
kcal
Carbohydrates:
1
g
Protein:
1
g
Fat:
11
g
Saturated Fat:
2
g
Cholesterol:
6
mg
Sodium:
148
mg
Potassium:
23
mg
Fiber:
1
g
Sugar:
1
g
Vitamin A:
70
IU
Vitamin C:
1
mg
Calcium:
3
mg
Iron:
1
mg
---
Chick-Fil-a Nuggets
Instructions
Preheat oven to 450 Degrees F.

Cut chicken breast into small 1.5 inch pieces then toss in a bowl and combine with smoked paprika, egg and dijon mustard. Let marinate in the fridge for 15-30 minutes

Pour 1 cup of pork king breadcrumbs into a bowl. one at a time coat the pieces of chicken in the bread crumbs. gently press the breadcrumbs into each piece of chicken.

Place each piece of chicken on a sheet pan lined with parchment paper. Lightly spray each nugget with cooking spray of choice.

Bake For 30-35 minutes until chicken nuggets are crispy. serve with Keto Chick-Fil-a Sauce.
Nutrition
Serving:
4
oz
Calories:
231
kcal
Carbohydrates:
1
g
Protein:
36
g
Fat:
9
g
Saturated Fat:
3
g
Cholesterol:
113
mg
Sodium:
233
mg
Potassium:
457
mg
Fiber:
1
g
Sugar:
1
g
Vitamin A:
340
IU
Vitamin C:
1
mg
Calcium:
16
mg
Iron:
1
mg
---
This Recipe for Keto Copycat Chick-fil-a sauce and nuggets contains affiliate links. I receive income from qualifying purchases.