Jump to Recipe
This easy to prepare breakfast is perfect for any picky family because using these mini cast iron skillets everyone can customize their own breakfast. Crispy cheese crust filled with all your favorite toppings in a hot Keto cast iron breakfast skillet.



Got A Picky Family??? Blink Twice If Yes!

I'm sure it's not just me when I say that I've got a picky family. We can never make large casserole style dishes because one person doesn't like onions and another person hates mushrooms. If I was to make everyone in my family happy there would only be egg and salt in the pan and that just doesn't work for me. The solution for our family was making individual cast iron breakfast skillets. Simply whisk up a bunch of eggs then each person can chose their favorite breakfast toppings, pour in the eggs and pop them in the oven for 12-15 minutes and boom everyone's happy.

Your Way, Right Away!

It used to be a Christmas morning tradition that my mother would make a big giant breakfast casserole with potatoes and peppers,sausage, bacon and cheese. It was amazing but over the years as our family grew with wives and kids we had to omit ingredients, then I stopped eating potatoes altogether and the Christmas casserole tradition was in peril.
I often worked the omelette station on holiday brunches like Easter and Mother's Day where customers could walk up pick out the meats, cheese and veggies they wanted and I would make them a custom omelette in minutes. Side note* next time you're at a breakfast buffet and you see someone working the omelette station, throw them a tip and say thank you.
That is a brutal job and I often wake up in cold sweats to this day thinking about the never ending line of hungry customers waiting for their omelette. It's a thankless job that requires finesse and impeccable organizational skills. I wanted to simplify the omelette station concept but keep the same idea and that's when the individual breakfast skillets began.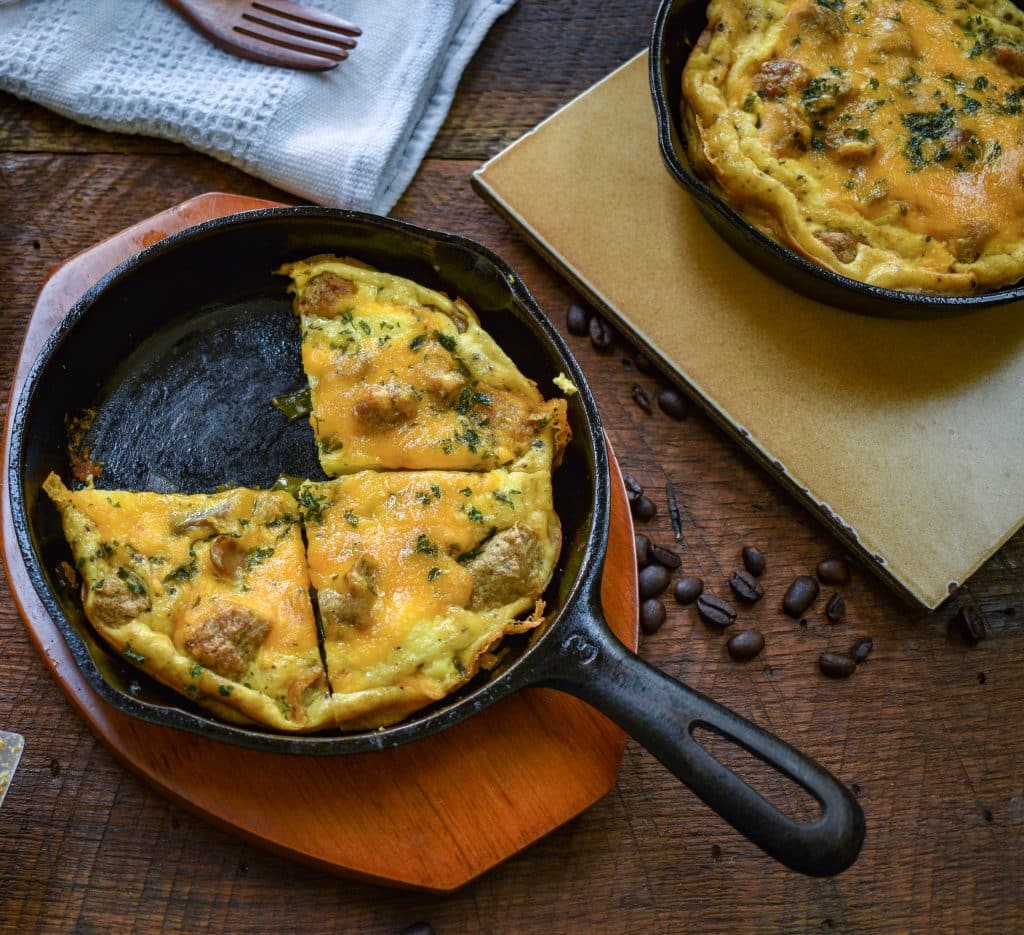 One Skillet To Rule All!!

One modification I made was to make a crispy cheese crust on the bottom of the skillet. Simply melt a thin layer of cheese in the skillet until it starts to bubble and brown just a bit, then toss in your toppings and pour in the eggs. By heating the cast iron skillet ahead of time the eggs will begin cooking the moment they hit the pan. After that just pop the skillets in the oven and by the time you brew a fresh pot of coffee you've got a breakfast that everyone will love because it's just the way they want it.

I know you may not want to go buy a bunch of these cast iron skillets and the wooden holders that I recommend with them but we use them all the time in my house for all sorts of things from cauliflower Mac n cheese to my famous Sloppy Joe Shepherds Pie. They are really handy, easy to clean and also great for portion control. And I promise to keep making recipes using them so you can get a proper return on your investment.
Here is just a small list of items commonly found on an omelette station. Obviously the sky's the limit and you can add anything you like. My omelette that is pictured in this post had green onion, mushrooms, chicken sausage and cheddar cheese. Made just the way I wanted!!!

Omelette station:

Onions, peppers, jalapeños, broccoli, scallions, spinach, feta, cheddar, Swiss, provolone, sausage, bacon, Canadian bacon, ham, smoked salmon, crab, shrimp, lobster…
Additional Equipment:
Keto Breakfast Skillets
Ingredients
Instructions
Pre Heat Oven to 375 Degrees F.

Sprinkle shredded cheese in the skillet and heat on the stove top over medium heat until cheese has fully melted and beginning to form a golden crust on the edges, about 4-5 Minutes

Add in what ever toppings you like in your skillet

Whisk 3 Eggs Per serving along with heavy cream, salt and chives, then pour into skillet and place in the oven for 10-12 minutes until fully cooked.

*eggs will be puffed up at first but will deflate a few minutes after removing from the oven.
Nutrition
Calories:
352
kcal
Carbohydrates:
2
g
Protein:
25
g
Fat:
26
g
Saturated Fat:
12
g
Cholesterol:
541
mg
Sodium:
717
mg
Potassium:
182
mg
Vitamin A:
1185
IU
Calcium:
262
mg
Iron:
2.3
mg
Nutrition Facts
Keto Breakfast Skillets
Amount Per Serving
Calories 352
Calories from Fat 234
% Daily Value*
Fat 26g40%
Cholesterol 541mg180%
Sodium 717mg31%
Potassium 182mg5%
Carbohydrates 2g1%
Protein 25g50%
Vitamin A 1185IU24%
Calcium 262mg26%
Iron 2.3mg13%
* Percent Daily Values are based on a 2000 calorie diet.