Smoked Pork Loin is so tasty but often overcooked or prepared poorly.

These Asian lettuce cups are loaded with amazing condiments and perfectly cooked pork loin sliced thin.
Jump to Recipe
Pork Loin Abuse is Real!!
As much as I love a juicy tender smoked pork loin I've also had some dry nasty sawdust tasting ones.
Pork loin doesn't have near the fat content that a pork shoulder or pork belly has so it needs a different cooking approach.
When you cook a Pork butt you need to cook it to above 200 degrees F. to break down the muscle fibers and make it tender.
If you cook a Pork loin the same way you will end up with a dry, mealy unpleasant piece of meat.
For me the perfect internal temperature to cook pork loin is about 145 degrees F.
Carryover should take the pork to about 150 degrees F. giving the meat time to rest giving you juicy tender pork loin every time.
Safe Temperature for Cooked Pork
In 2011 the USDA lowered their guidelines for cooked pork from 160 degrees F to 145 degrees F. followed by 3 minutes resting time before serving.
This recommendation is for all whole pork roasts, chops and loins.
Ground pork is still recommended to be cooked to 160 degrees F. to prevent foodborne illness.
As I mentioned above the pork will continue to cook after it has been removed from the heat. If you see a light pink color that's a good thing, the outer pink color is just a smoke ring.
If you are not comfortable cooking the pork to 145 degrees feel free to cook it well done but you are sacrificing a good amount of moisture and flavor.
How to Smoke Pork Loin.
Because Pork loin doesn't have a lot of fat or connective tissue it cooks very quickly not giving it much time to absorb smoke flavor.
The trick I use to give your loin more time on the pit is to make sure the pork is as cold as possible when it goes on.
I sometimes will put the pork loin on the smoker while it's still half frozen.
This will let you season the meat and begin smoking as the center slowly thaws out never reaching an internal temperature of 145 degrees F.
To keep the meat moist I like to spray the pork loin with avocado oil a few times during the cooking process.
Slicing the Pork Loin
Once the Pork Loin is smoked and rested it's time to slice. If you have a meat slicer at home this would be a great time to bust it out.
I actually have one but they can be a pain to clean and I was lazy. Instead I cut the pork loin by hand.
To slice the pork as thin as you can make sure you have a sharp knife. Make long clean strokes to smoothly cut through the pork in as few motions as possible.
Only cut as much Pork as you need to serve at that time. The Pork loin stays juicier longer when it's left whole. I slice as much as I think I need and then just shave a few slices as needed.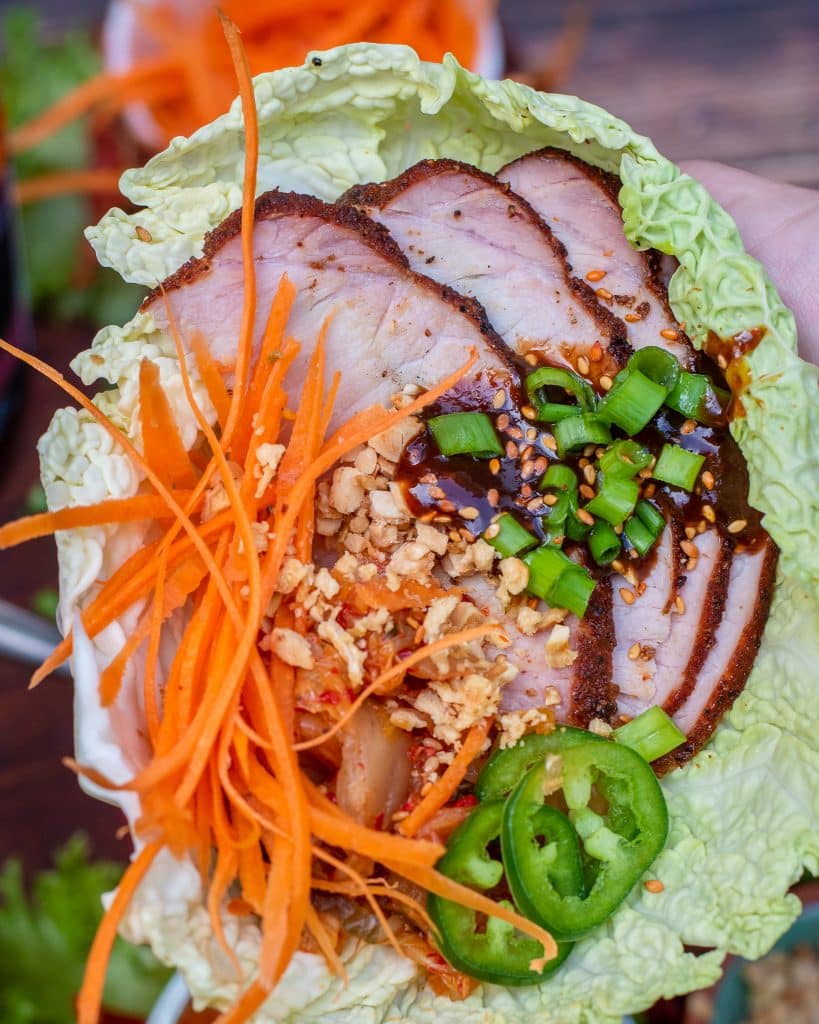 Condiments and Cabbage
This recipe works with any kind of lettuce or cabbage you like. It just so happens that I had Savoy cabbage on the day I prepared this dish.
If I had my choice my favorite cruciferous vessel is actually Napa cabbage. Leaf lettuce, romaine, red or white cabbage also do just fine for this recipe.
Once you have your pork sliced and your cabbage cup ready it's time to load it up with tasty condiments.
Kimchi is a must for me because it's delicious and nutritious along with chopped peanuts, crispy garlic, sesame seeds, scallions and carrots.
For some spice I add in some sliced jalapeños and everything needs a good sauce and my Asian Bbq sauce.
Kinders Sugar Free Jalapeño BBQ Sauce combined with soy sauce and sambal oelek is a great condiment for all sorts of Asian recipes so I often make a double batch and keep it in the Fridge.
Other great condiments include Wasabi Mayo, Sriracha or a Thai Peanut sauce.
More Meaty Keto Recipes
---
Smoked Pork Loin Asian Lettuce Cups
Ingredients
Condiments/ Toppings
Scallions

Sliced Carrots

Sliced Jalapeños
Instructions
Set Smoker for 275 Degrees F. Brush a light coat of mustard on the pork loin then season with a combined mixture of dry rub and Chinese 5 spice. Smoke Pork Loin for about 90 minutes until the internal temperature reaches 145 degrees F.

Wrap the Pork loin in foil and let it rest for 10-15 minutes before slicing the pork loin as thin as possible. use a slicer if you have one available.

to prepare the Asian BBQ sauce combine all ingredients and stir until smooth. Prepare all other condiments and set aside while pork loin is resting.
Nutrition
Calories:
222
kcal
Carbohydrates:
7
g
Protein:
33
g
Fat:
6
g
Saturated Fat:
2
g
Cholesterol:
86
mg
Sodium:
311
mg
Potassium:
741
mg
Fiber:
3
g
Sugar:
2
g
Vitamin A:
921
IU
Vitamin C:
28
mg
Calcium:
49
mg
Iron:
2
mg
---
Nutrition Facts
Smoked Pork Loin Asian Lettuce Cups
Amount Per Serving
Calories 222
Calories from Fat 54
% Daily Value*
Fat 6g9%
Cholesterol 86mg29%
Sodium 311mg14%
Potassium 741mg21%
Carbohydrates 7g2%
Protein 33g66%
Vitamin A 921IU18%
Vitamin C 28mg34%
Calcium 49mg5%
Iron 2mg11%
* Percent Daily Values are based on a 2000 calorie diet.
---