Love Amazing Keto Recipes? Sign up so you get all the latest Recipes
Jump to Recipe
Make these Chili Rubbed Wings part of your next Cinco de Mayo Fiesta. Bold and spicy wings along with zesty chipotle ranch is the perfect combo of Tex Mex Deliciousness.
Chili Rubbed Wings are Perfect Appetizers for Cinco De Mayo
Cinco de Mayo is almost here and we won't be hanging out at our favorite Mexican bar/restaurant. I thought that bringing some of those flavors home would be the next best thing. These chili rubbed wings have all of the flavors you love and associate with Tex Mex favorites. The chipotle ranch dressing is a fantastic spicy dipping sauce for the wings to balance the heat. Wings might not be the first thing that comes to mind when you think Cinco de Mayo but it's a perfect appetizer to go along with your other Tex Mex favorites.
Preparing your Chili Rubbed Wings before cooking
Making sure your wings are dry before cooking is one of the most important steps to getting extra crispy wings. I like to pat them dry with paper towels then let them sit uncovered in the fridge for a few hours before cooking. Another trick to get crispier wings is adding some baking soda to my spice rub. Baking soda helps pull moisture out and crisp the wings but using too much can cause the wings to become rubbery so a little goes a long way.
Seasoning the Chili Rubbed Wings
Now that the wings are patted dry it's time to season the wings. If you want you can buy a premade taco seasoning like DAKS Taco Knight or Hardcore Carnivore MeatChelada: Chili Lime. Both are really tasty but I do like making my own spice blends so I can control the flavors and ingredients. Most taco blends include: cumin, chili powder, onion powder and garlic along with a variety of other herbs and spices. You can play with the ingredients to make these wings hotter or milder.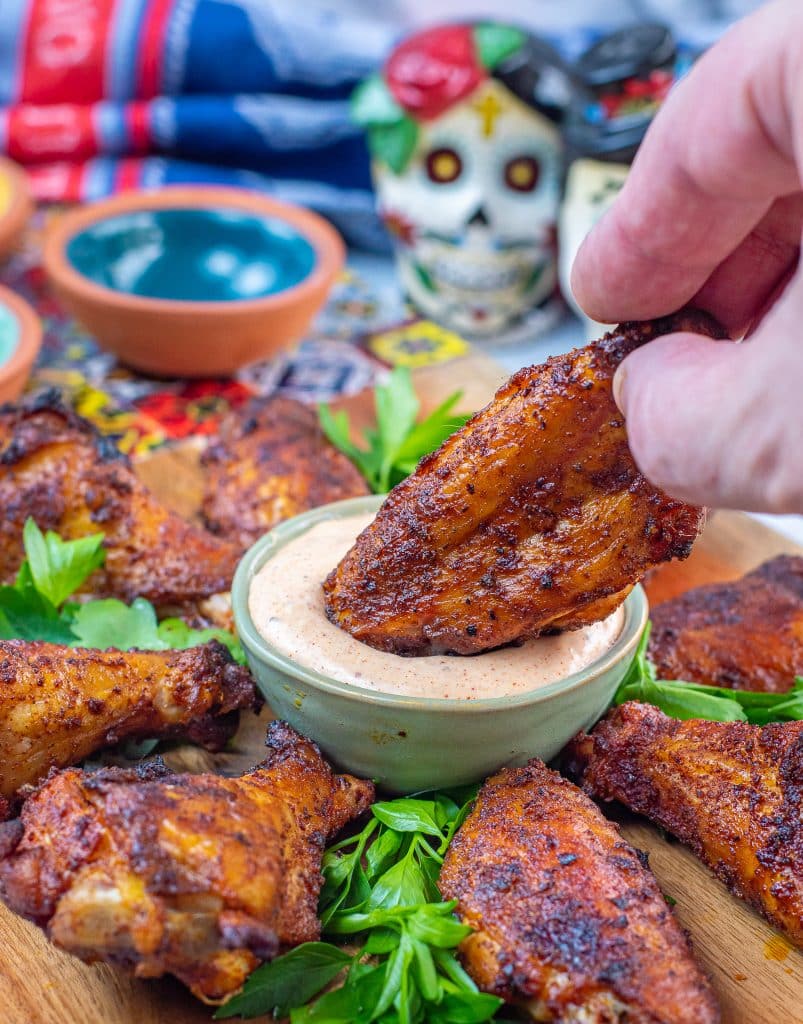 How to cook your Wings
Using my pellet grill is my preferred method for cooking wings most of the time.You get the perfect balance of wood fire flavor as well as high heat for crispy skin. If you don't have a Pellet Grill your Air Fryer or Oven will work as well. If using an oven place the wings on a sheet pan with a cooling rack so the wings get air on all sides. The times and temperature should be about the same but every oven and air fryer are just a bit different. I start the wings at a lower temperature to dry out the wings and render some of the fat from the skin. Then I jack up the heat and get the wings crispy. I like to use cooking spray to help keep the wings moist as well as making the wings crispy. You could also brush avocado oil or ghee with a little chili rub stirred in to add even more flavor.
Chipotle Ranch Dressing
Staying with the Tex Mex Theme I wanted to add a kick to my ranch dressing. If you already have a ranch dressing you like you can just add some chipotle in adobe along with some lime juice and call it a day. I take my keto hidden valley ranch dressing copycat and dress it up a little. I find most store bought ranches are kinda watery. Using sour cream and mayo together gives the ranch dressing a thicker viscosity perfect for dipping.
Things I would have done differently if I had the ingredients
I wanted to share this recipe so you could make these Chili Rubbed Wings for Cinco de Mayo but if I had gone grocery shopping I would have added a few touches to make this recipe even better. I would have loved to brush melted butter with chopped garlic, cilantro and lime juice over the wings before serving to give them an extra pop of flavor. Simply take a stick of butter, 2 cloves of garlic, 2 tablespoons chopped cilantro and the juice of one fresh lime. Instead of just celery and carrot sticks I think adding some sliced bell peppers would be tasty and add some color to the presentation.
More Keto Tex Mex Recipes
---
Combine all ingredients of the chili rub and store in a cool dry place for up to 6 months

Pat wings dry and let the wings sit uncovered in the fridge for a few hours up to overnight

toss wings in the chili rub seasoning making sure to cover the wings evenly. use about 1-2 tablespoons of chili rub per pound. Recipe will make extra rub seasoning.

Heat your Pellet Grill, Oven or Air Fryer to 300 degrees F. Cook wings for about 45 minutes until they reach an internal temperature of 150 degrees F. Spray wings with cooking spray. You may want to turn the wings a few times during the cooking process.

Raise temperature to 375 degrees F. continue cooking wings until they reach an internal temperature of 185 to 190 degrees F. and wings are crispy. About 25-35 Minutes
serving size 1/2 pound of wings with seasoning.
If using an oven place the wings on a sheet pan with a cooling rack to let air circulate all sides of the wings. 
you will have enough rub to make about 3-4 batches of this recipe
Calories:
316
kcal
|
Carbohydrates:
3
g
|
Protein:
24
g
|
Fat:
21
g
|
Saturated Fat:
6
g
|
Cholesterol:
94
mg
|
Sodium:
2536
mg
|
Potassium:
436
mg
|
Fiber:
4
g
|
Sugar:
1
g
|
Vitamin A:
3213
IU
|
Vitamin C:
1
mg
|
Calcium:
63
mg
|
Iron:
4
mg
---
combine all ingredients and blend until smooth. Store in fridge for up to 3 weeks
Calories:
114
kcal
|
Carbohydrates:
1
g
|
Protein:
1
g
|
Fat:
12
g
|
Saturated Fat:
3
g
|
Cholesterol:
11
mg
|
Sodium:
191
mg
|
Potassium:
12
mg
|
Fiber:
1
g
|
Sugar:
1
g
|
Vitamin A:
240
IU
|
Vitamin C:
1
mg
|
Calcium:
8
mg
|
Iron:
1
mg
This recipe for chili rubbed wings with chipotle ranch contains affiliate links. I receive income from qualifying purchases.