Love Amazing Keto Recipes? Sign up so you get all the latest Recipes
Jump to Recipe
Need a simple Keto dessert that will have all your guests talking. This keto friendly Margarita Ice box pie is everything you could want in a dessert. Or a cocktail for that matter. Not only is it this pie colorful and delicious. One bite and you'll think your poolside in Cancun sipping tequila.
Margarita Ice box Pie
It's March 14th also known to many as Pie day. I decided it was the perfect day to release a Keto Margarita Ice Box Pie. This low carb version is similar to a no bake cheesecake and to be honest I don't see much difference. But it's not cake day so I'm calling it Pie.
The spring has almost sprung, daylight savings has extended our time in the sun. I'm already gearing up for grilling season. Tequila is a spirit that I don't to drink in the winter as bourbon is my preferred adult beverage in the colder months.

Spring has sprung!!!

Now that the weather is warming up I look forward to being outside firing up the grill and enjoying the occasional shot of tequila. This Keto friendly margarita ice box pie will put you in a summer state of mind with the salty, sour and sweet flavor profiles folded into this rich and creamy low carb fiesta.
Come to think of it cinco de mayo is just around the corner and I can't think of a better dessert to bring to a Keto meetup or backyard cookout.
Nobody would ever guest this recipe was low carb and when you tell them there's real tequila in there. The only question they'll ask is where's the forks. This Keto dessert definitely reminds me of that salt rimmed margarita taste that lead to many regretful decisions in my younger years. Except without the guilt and hangover the next day.
Using a Keto friendly sweetener like this Golden Monkfruit Sweetener from Lakanto cuts the carbs and the calories but not the flavor.The only downside is you'll be asked to bring this pie to every summer party for the rest of your life. So consider yourself warned.

What's an Ice Box Pie?

Ice box pies are traditionally made with lemon and have a graham cracker crust. This crust is made with a coconut flour crust. I prefer it not only from a standpoint of lower carbs but the flavor and texture as well. Ice box pies got their name from southern farmers who didn't have electricity and would store pies in an icebox to keep cold.
Ice box pies are very similar to key lime pies for their tangy citrus notes and creamy cheesecake like texture. Overall this is a very simple dessert to prepare and perfect for the person who doesn't like to bake…like me.
When I first started developing this recipe I knew I wanted this to be a dessert anyone could make. Whether you make it with or without the tequila this recipe is a winner from the first bite to the last. I recommend making this pie the day before you want to cut it so it has time to tighten up. If you need to serve sooner just put it in the freezer for a few hours.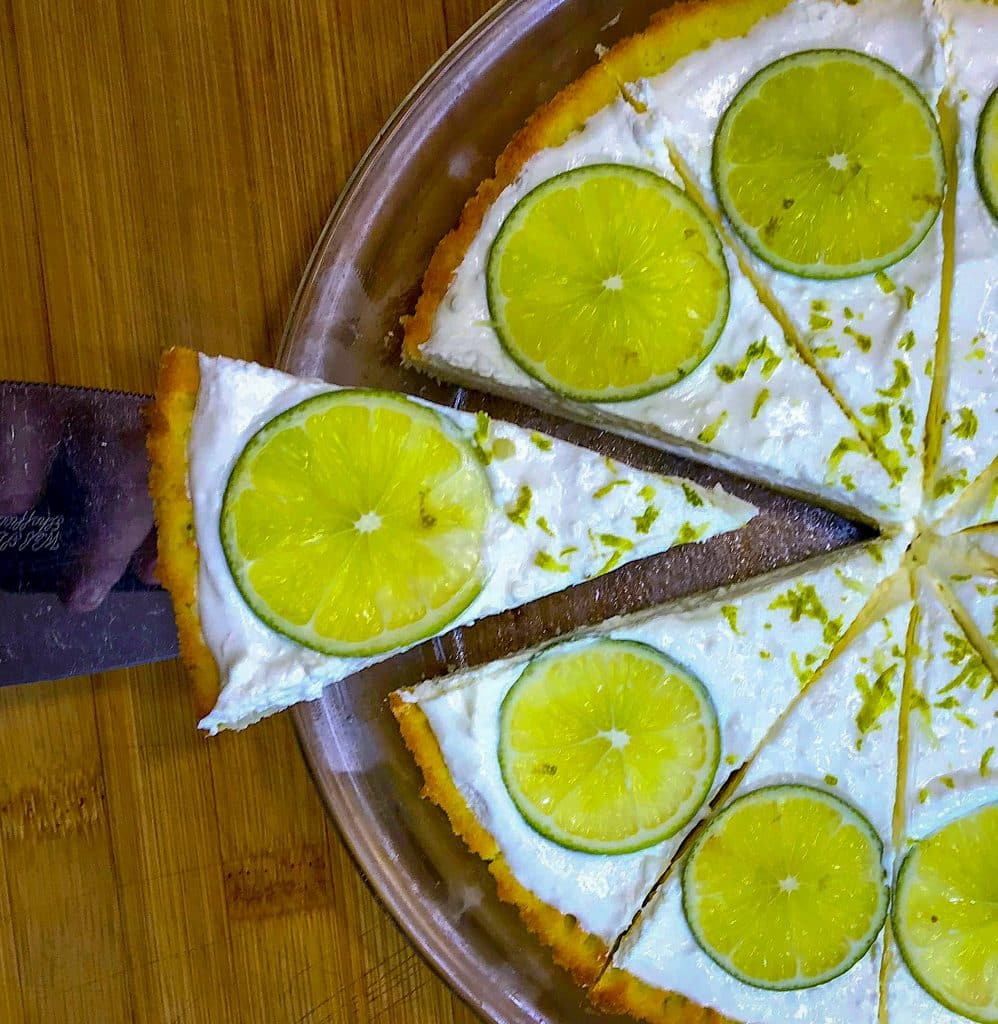 Looking for More Low Carb Dessert Ideas
Keto Margarita Pie
Instructions
in a food processor combine all ingredients of the pie crust and pulse until a dough begins to form, remove the mixture and kneed into a dough ball

In a 9 inch pie pan press out the dough to cover the entire pan and about 1 inch up the sides then press a fork along the sides to give that ruffled look, then poke a bunch of holes in the bottom of the crust to prevent bubbles forming

Bake at 375 degrees F for 11-13 minutes just until the edges of the crust begin to become golden.

Set aside to cool.

to make the filling, i

n a small saucepan add tequila, lime juice, lemon extract and sweetener. Stir just long enough to dissolve sweetener then set aside to chill

In a mixing bowl whisk the heavy cream to soft peaks

In a second mixing bowl whisk sour cream and cream cheese then add the tequila/lemon mixture, then

gently fold the whipped cream into the cream cheese mixture until smooth

Pour the mixture into a cool pie crust and place 10 lime slices around the outside of the pie and chill at least 4 hours before slicing, 2 hours in the freezer. (Chilling in the fridge overnight is ideal if possible)
Nutrition
Calories:
317
kcal
Carbohydrates:
7
g
Protein:
4
g
Fat:
28
g
Saturated Fat:
17
g
Cholesterol:
101
mg
Sodium:
223
mg
Potassium:
67
mg
Fiber:
3
g
Sugar:
1
g
Vitamin A:
845
IU
Vitamin C:
1.8
mg
Calcium:
50
mg
Iron:
0.6
mg
---
Nutrition Facts
Keto Margarita Pie
Amount Per Serving
Calories 317
Calories from Fat 252
% Daily Value*
Fat 28g43%
Cholesterol 101mg34%
Sodium 223mg10%
Potassium 67mg2%
Carbohydrates 7g2%
Protein 4g8%
Vitamin A 845IU17%
Vitamin C 1.8mg2%
Calcium 50mg5%
Iron 0.6mg3%
* Percent Daily Values are based on a 2000 calorie diet.
---
Thanks as always for trying out this recipe and please tag me on instagram or Facebook if you please. I love seeing everyone's pics and getting feedback on your thoughts. You can also comment below and rate the recipes so I can see what types of dishes are most successful. Remember, recipes are like roadmaps, you can always take another route