Jump to Recipe
Print Recipe
Ratatouille Caprese is a show stopping Keto friendly side dish perfect recipe to accompany just about anything.
The beautiful kaleidoscope of colors in the bold backdrop of cast iron make this dish visually pleasing and delicious too.

This is one of those side dishes that could easily double as a meal if you wanted.
Full of colors veggies like zucchini, squash, eggplant and tomatoes along with fresh mozzarella cheese and salty cured prosciutto.
Every bite is sure to wake up every last taste bud.

No, this was not made by a cooking rat from the animated movie Ratatouille
This is another one of my Keto mashups recipes. I take two different dishes and bring them together to create something new and exciting.
Ratatouille isn't just an animated children's movie about a cooking rat.
Believe it or not it's a classic French dish comprised of eggplant and other seasonal vegetables.
Traditionally its sautéed w/ fresh herbs in a light tomato sauce. Just like most classic European recipes there are hundreds of various versions based on the regional tastes.
Caponata is an Italian eggplant dish very similar to ratatouille normally served cold with crusty bread.

The second component of this recipe is the fresh mozzarella and tomatoes commonly paired in the Italian dish Tomato Caprese.
Caprese is a simple salad consisting of tomatoes, mozzarella, Basil and olive oil.
It's sometimes drizzled with balsamic vinegar and served over "rocket" also known as arugula.

France and Italy come together in one pan
I wanted to put together a traditional ratatouille but I wanted something a bit more filling.
The mozzarella and prosciutto are perfect partners to make this recipe more substantial along with bringing a ton of flavor to the dish.

You can use any type of eggplant for this recipe. I've found that Japanese or graffiti eggplants work best because of their smaller more uniform size.
When choosing your other veggies try to purchase similar sized produce. This will help assembling the dish so everything is a similar size.
The same goes for the mozzarella. I often find the pre sliced tubes of fresh mozzarella are quite convenient.
If you can't find any you can always just cut a larger ball into quarter slices. My intent was to incorporate fresh basil into my ratatouille but the quality of basil was sub par.
I skipped it but if you have some I recommend incorporating it into the recipe.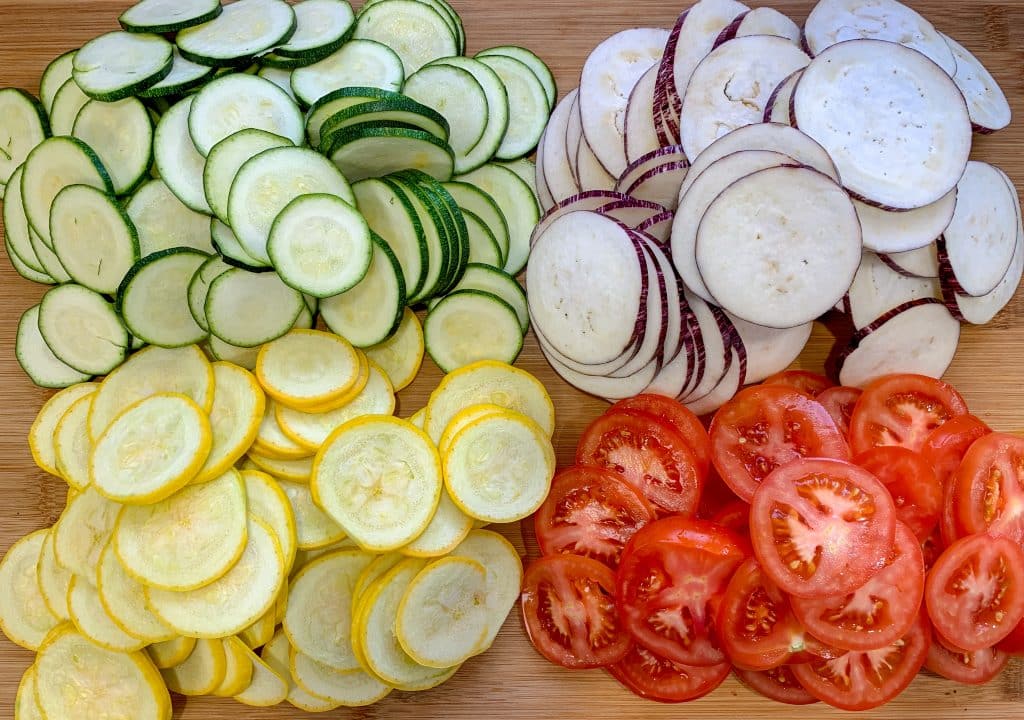 Time to get slicing
Once you've got all your ingredients laid out it's time to start slicing. The goal is to have all of the veggies cut to the same thickness so they will cook evenly.
You can most definitely cut them buy hand but I prefer to use a Japanese Mandolin. Please use the safety guard and pay attention while you're slicing.
Many a fingertip have been lost to the Gatana sharp blade of the mandolin.
I set the blade to its maximum width which is still only about an ⅛th of an inch. After all your veggies are sliced it's time to assemble.
Ingredient List for Keto Ratatouille Caprese
Fresh Mozzarella
Prosciutto
Japanese Eggplant
Zucchini
Squash
Roma Tomatoes
Take a few tablespoons of Olive oil any wipe down the inside of the cast iron pan.
I use that paper towel to act as a book shelf for my veggies as I layer them all the way around the pan.
Then I remove the paper towel as I squeeze in the last of the veggies. Continue to spiral the veggies, cheese and prosciutto until your pan is full.

Before roasting in the oven I like to brush some olive oil or butter infused with fresh herbs and garlic over top so the vegetables caramelize as they cook.
Once the ratatouille Caprese if out of the oven feel free to give it an extra drizzle of olive oil. Then grate some good Pecorino Romano on as well.
More Recipes you will love
---
Ratatouille Caprese
Ratatouille Caprese is a show stopping Keto friendly side dish perfect recipe to accompany just about anything. 
Ingredients
1.5

lbs

Fresh Mozzarella

4

oz

Prosciutto

2

Japanese Eggplant

2

zucchini

2

squash

6

Tomatoes

2

tbsp

Olive Oil
Instructions
Pre heat oven to 425 Degrees F.

Using a knife or mandolin slice your zucchini, squash, eggplant and tomatoes into ⅛th inch thick slices

Using a paper towel wipe down the inside of you cast iron pan with 1 tbsp olive oil, next place the balled up paper towel in the pan on the outside to act as a base to hold your veggies as you spiral them around the outside of the pan.

Continue to spiral the ingredients in the pan until it is full. Drizzle with olive oil and season with salt & pepper along with any fresh herbs or grated Parmesan you would like to add

Bake for 30- 40 minutes until veggies have caramelized on top, let rest for 5 minutes before serving.
Nutrition
Calories:
351
kcal
Carbohydrates:
8
g
Protein:
17
g
Fat:
22
g
Saturated Fat:
10
g
Cholesterol:
57
mg
Sodium:
492
mg
Potassium:
837
mg
Fiber:
4
g
Sugar:
7
g
Vitamin A:
14265
IU
Vitamin C:
41.3
mg
Calcium:
362
mg
Iron:
1.6
mg
---
Nutrition Facts
Ratatouille Caprese
Amount Per Serving
Calories 351
Calories from Fat 198
% Daily Value*
Fat 22g34%
Cholesterol 57mg19%
Sodium 492mg21%
Potassium 837mg24%
Carbohydrates 8g3%
Protein 17g34%
Vitamin A 14265IU285%
Vitamin C 41.3mg50%
Calcium 362mg36%
Iron 1.6mg9%
* Percent Daily Values are based on a 2000 calorie diet.
---