Jump to Recipe
Pizza for breakfast, count me in!!! When you come across a Keto/ Low Carb recipe like this you know it's gonna be good before you even try it! As the famous movie line goes "you had me at sausage crust"

Going into this recipe I wasn't sure how it was going to come out, I wasn't even sure what I was actually going to make at first but as I started pulling ingredients out of the fridge a plan came together. You can use a wide variety of ingredients for this recipe but that particular day I had radishes, peppers and onions. The radishes were meant to be a substitute for potatoes. In retrospect I think I would have roasted them and put them on top so you could see them. As it stands the radishes got a bit lost in the dish.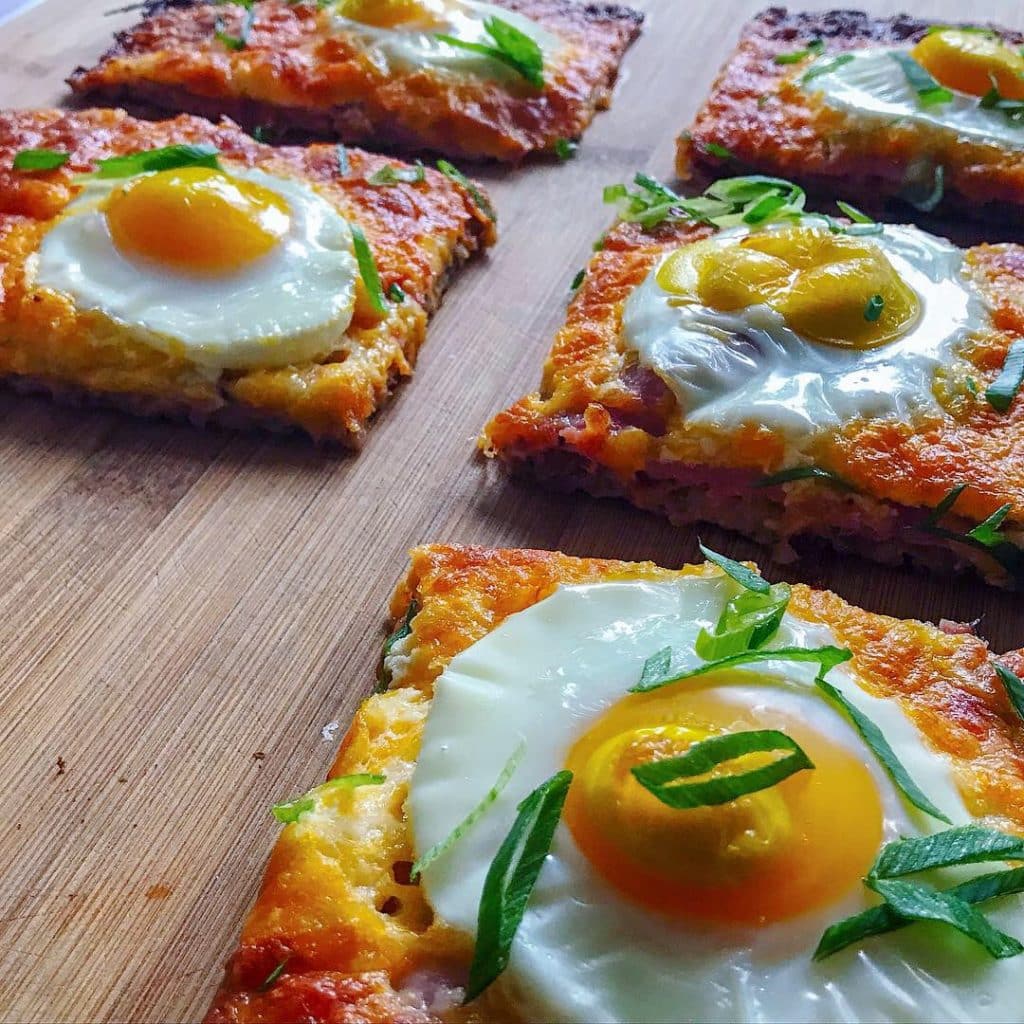 The Kid In Me Loves This Pizza

The kid in me was loving the tangy sweet ketchup but the adult in me was even happier because it was the Sugar Free Keto friendly ketchup from Alternasweets. This stuff is legit and I will put it up against any ketchup on the market Keto or otherwise.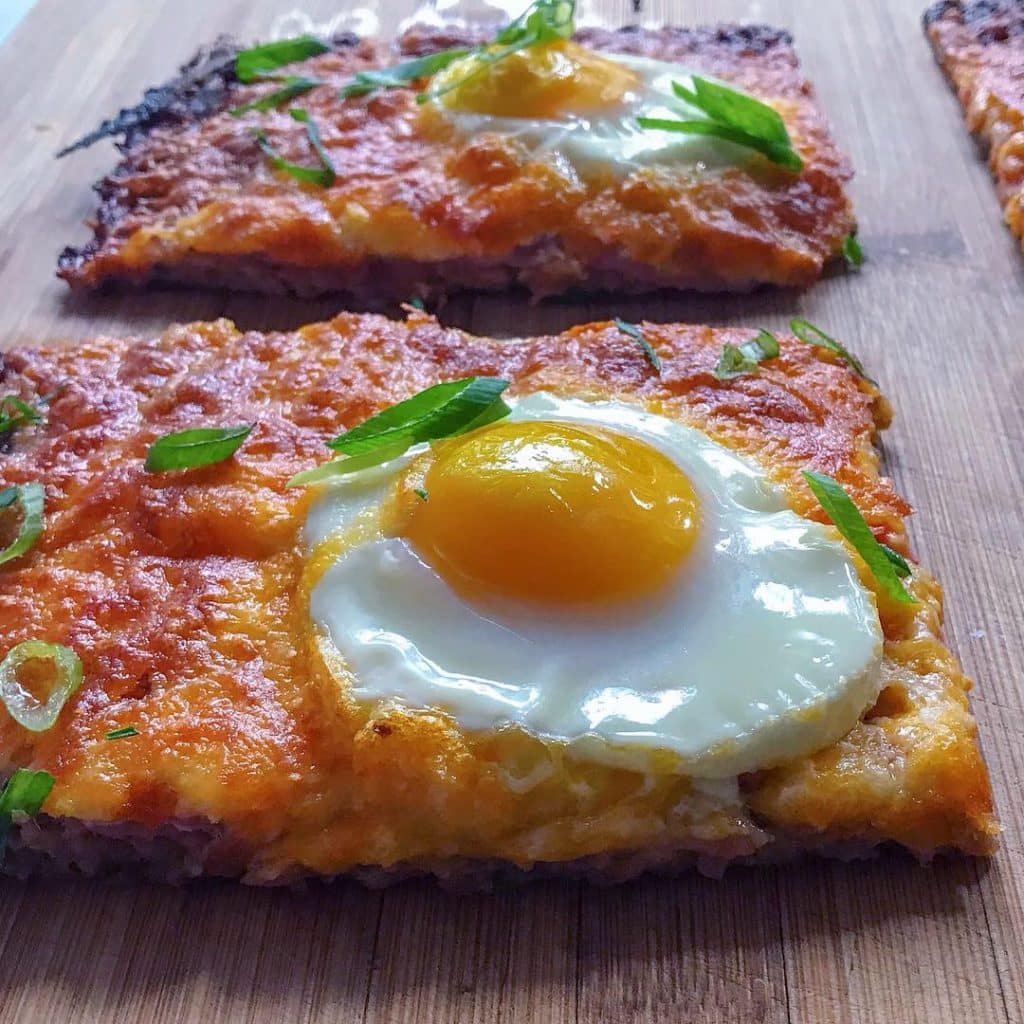 As far as the crust goes is pretty simple, it's made from sausage and cheese with an egg to hold it together just a bit. Man is it good. I like to get some crispy corners so I leave it in the oven a few minutes longer than needed. What I lost in I Aesthetics I made up for in flavor. After the par baking process I added some thinly sliced ham then lathered it up with a light brush of ketchup.Finally topping with pizza with a generous amount of cheddar jack cheese. Use any cheese you like and then make 6 little wells big enough to hold the eggs then pop the pie in the oven.

Eggs are Like Cats, They do what they want!

The goal is to have the white perfectly cooked and the yolk set but runny. In most conventional ovens this is almost impossible. There's always going to be hot spots and one of the yolks will undoubtedly over cook. Don't let that deter you. It will still be delicious and I save the over cooked slices for my leftovers anyway so I can enjoy the best slices when the pizza is fresh out of the oven.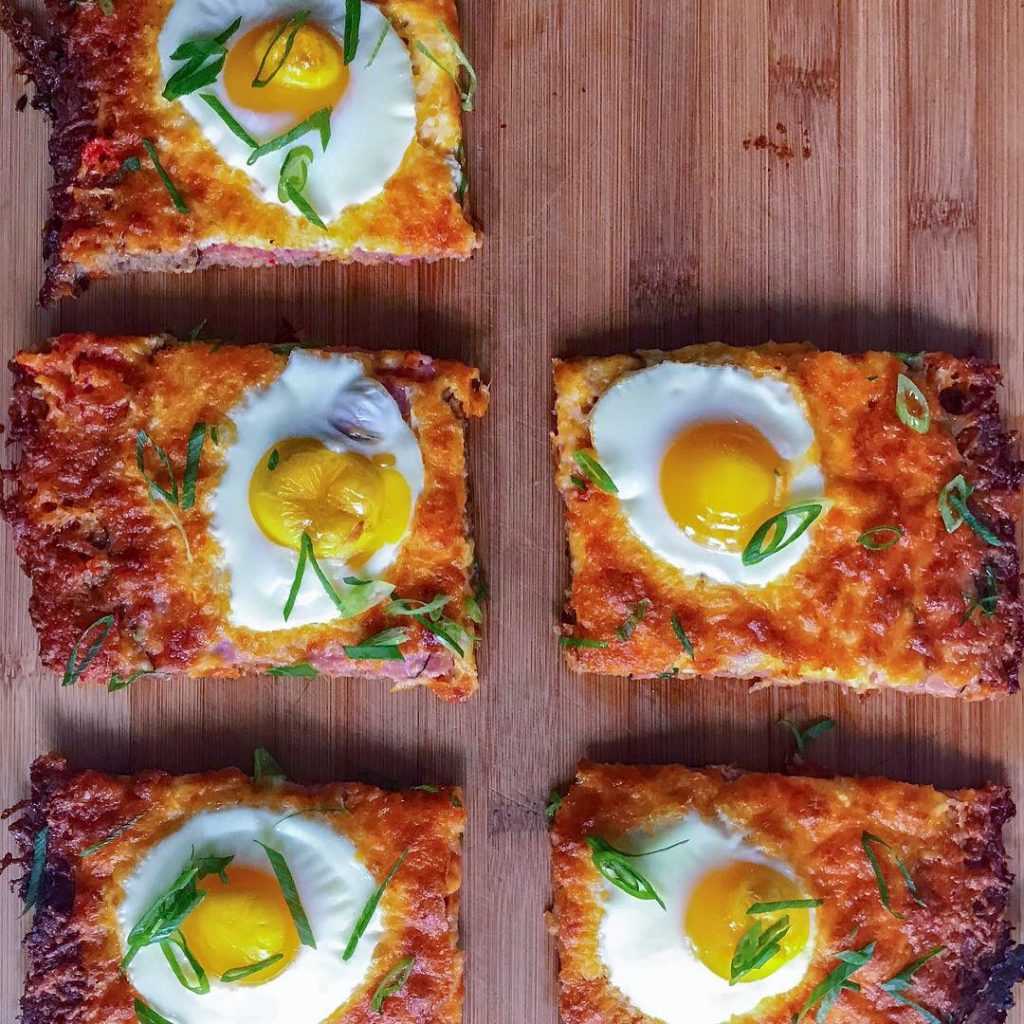 This Keto friendly may have started as a random idea but finished as a low carb masterpiece. All of the things you love about breakfast food without the bread holding you back! There is something about picking up your food that I miss in a lot of Keto recipes. It seems the knife and fork is appropriate more often but I welcome any opportunity to pick up my pizza and chow down like a wild ketogenic beast.
Looking For More Keto Friendly Breakfast Inspiration?
Keto Sausage Crust Breakfast Pizza
Ingredients
1

lbs

Breakfast Sausage

3

oz

Ham

2

tbsp

Alternasweets Spicy Ketchup

1

cup

Mozzarella Cheese

1

cup

Cheddar Jack Cheese

½

cup

Grated Parmesan Cheese

8

Eggs

6

Radishes

½

White Onion

1

Bell Pepper
Instructions
Preheat oven to 425 degrees F

In a bowl mix 2 eggs, sausage, mozzarella and Parmesan to form sausage crust mixture.

Place mixture on a sheet pan between two sheets of parchment paper. Evenly spread sausage mixture out to form crust.

Place second sheet pan on top of parchment paper and bake for 10 minutes.

Uncover and continue to bake for additional 10 minutes (if sausage has any gaps gently form back into square shape)

Grate veggies and squeeze out moisture then spread Alternasweets Spicy Ketchup over sausage crust.

Top with veggies and sliced ham, s

prinkle cheddar jack cheese over pizza then

form six small wells to drop eggs into

Bake for 10 minutes until eggs have set,

Let cool for a few minutes before slicing into six portions.