Jump to Recipe
Don't let all these NYC pizzeria's have all the fun. This KETOFIED Dill Pickle Pizza is a mind-blowing flavor bomb of nuclear proportions. Creamy Ricotta Ranch white sauce topped with mozzarella and loads of Dill Pickle slices all on a cast iron pan pizza crust. If you love pickles and ranch this pizza will change your life.

WTF!!! Dill Pickle Pizza?? What are you smoking!!!

This sounds like a recipe where I was clearly under the influence of some sort of mind altering substances. I assure you I was dead sober when I decided to take on this Instagram sensation. I had seen dill pickle pizzas on social media and even on the Food Network and was intrigued and confused simultaneously. you can't decide if this was genius or madness or a combination of both. Rest assured that if I took the time to make, photograph and write this blog it must be good.

The creamy combination of ricotta and ranch combined with the tangy dill pickle is nothing short of "dill" lishousness. From the first bite my expectations of this pizza was exceeded and I couldn't wait to share. I now see what all of the fuss is about and I hope you take a chance and give this recipe a try.

Crust is a Must.

I recently did a recipe for a Pizza Hut Style Pan Pizza Crust using a 13.5 inch cast iron pizza pan. It was a big hit with numerous readers making it at home and sharing their delight with the recipe. I wanted to give another option for everyone that didn't use pork rinds and had a lighter texture. substituting phyllium husk and ground flax meal gives the crust more of a Sicilian style pizza crust that was similar to a focaccia crust. I was incredibly happy with the results and flavor of this crust and will definitely use it again as a base for other recipes.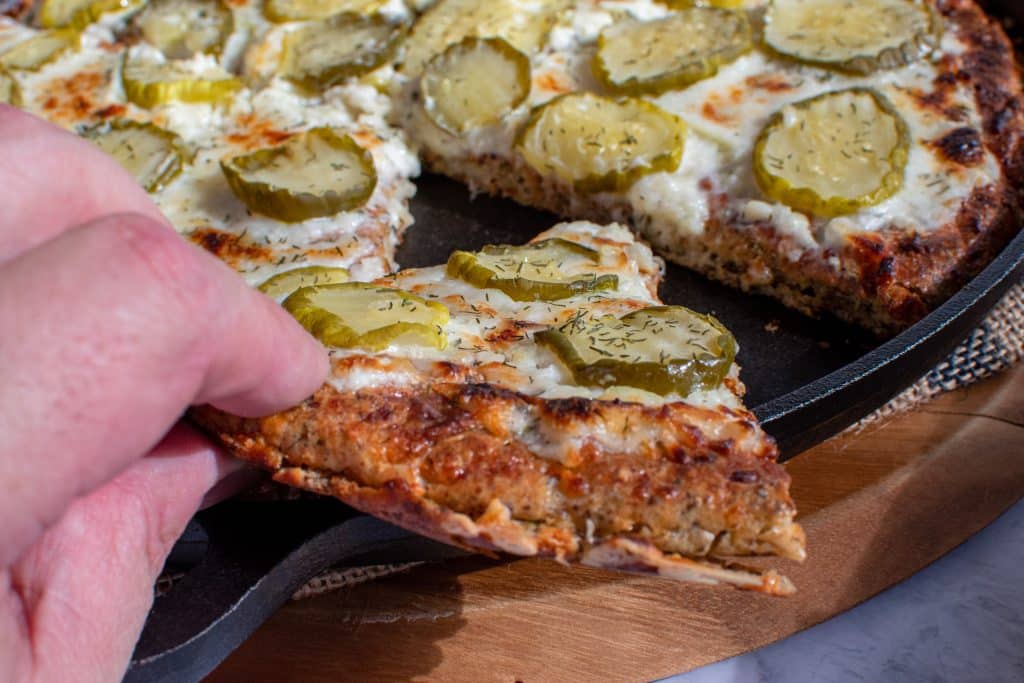 Pickles are a big Dill

When you're purchasing pickles I would recommend using dill pickle chips. Most hamburger pickle chips will work but as always read your labels. Bread & Butter Pickle though quite tasty normally have a lot of added sugar. You'll want to avoid any pickles that are sweetened. Not only because they have added sugar and the flavors don't match as well as the dill pickles do.

Ricotta Ranch White Sauce

Most of the Pickle Pizzas that I have seen are made with a garlic white sauce and served with a side of ranch for dipping. I decided to just add the ranch directly to the sauce to kill two birds w/ one sauce. Not to say you can't reserve some of the sauce to dip the crust with as well. I really loved the texture of the ranch and ricotta cheese. It really amplified the creaminess and richness of the pizza. Overall. I thinned out the sauce with a little pickle juice just so the pickle flavor was all throughout the pizza.

Big Shout out to Rhinos Pizza in Webster NY

I always want to make sure I pay tribute to my inspiration. If you want to checkout the original then you'll need to make a trip to Webster NY to Rhinos Pizza Home of the original Big Dill Pizza. After I saw a few pics of this magnificent pizza creation I knew it needed a keto makeover . I really can't recommend this recipe enough. I think you'll be blown away if you give this one a shot!
Instructions
To make the crust combine all ingredients except for 1 cup of mozzarella and sliced pickles. After crust mixture is combined oil up your cast iron pan and spread mixture out evenly taking up the entire pan.

Bake at 375 for 15-20 minutes until crust begins to turn a light golden color.

While pizza crust is baking prepare your white sauce by whisking ricotta, ranch, pickle juice and seasoning

Remove crust from the oven then top with white sauce, mozzarella cheese and sliced dill pickles

Set oven to broil and cook for about 10 minutes until Cheese is bubbly and melty. Cut into 8 slices and enjoy!
Nutrition
Calories:
258
kcal
|
Carbohydrates:
5
g
|
Protein:
15
g
|
Fat:
19
g
|
Saturated Fat:
8
g
|
Cholesterol:
142
mg
|
Sodium:
573
mg
|
Potassium:
174
mg
|
Fiber:
2.5
g
|
Sugar:
1
g
|
Vitamin A:
501
IU
|
Vitamin C:
0.13
mg
|
Calcium:
327
mg
|
Iron:
1.18
mg
Nutrition Facts
Low Carb Dill Pickle Pizza
Amount Per Serving
Calories 258
Calories from Fat 171
% Daily Value*
Fat 19g29%
Cholesterol 142mg47%
Sodium 573mg25%
Potassium 174mg5%
Carbohydrates 5g2%
Protein 15g30%
Vitamin A 501IU10%
Vitamin C 0.13mg0%
Calcium 327mg33%
Iron 1.18mg7%
* Percent Daily Values are based on a 2000 calorie diet.
This Site Contains Affiliate Links