Jump to Recipe
Keto Reuben Coleslaw Recipe

This Low carb Reuben Coleslaw is an awesome recipe that literally takes less than 10 minutes to prepare.
The perfect way to use up leftover corned beef with everything you love about a Rueben sandwich, but without the bread.
Need More Reuben Inspiration? Checkout my Reuben Chaffle and Reuben Egg Roll Bowl Recipes
Don't have the energy to cook? Reuben Coleslaw to the rescue

Pop quiz hot shot...It's the day after st. Paddy's day, you're a little hungover and you definitely don't feel like cooking...WHAT DO YOU DO??
You take that leftover corned beef along with a bag of shredded cabbage and a few other ingredients you probably have on hand and you make
This fantastic Reuben Coleslaw recipe!! You'll be back in bed watching the Price is Right with a belly full of deliciousness before the showcase showdown!!!

Even if you're not hungover and you're just finishing a workout this recipe is still a fantastic dish for quick and easy meal prep.
It's overall pretty cheap to make, it's loaded with big Rueben flavor and requires zero cooking.
Heck a college kid could slap this Reuben Coleslaw together from the cramped walls of his or her dorm room.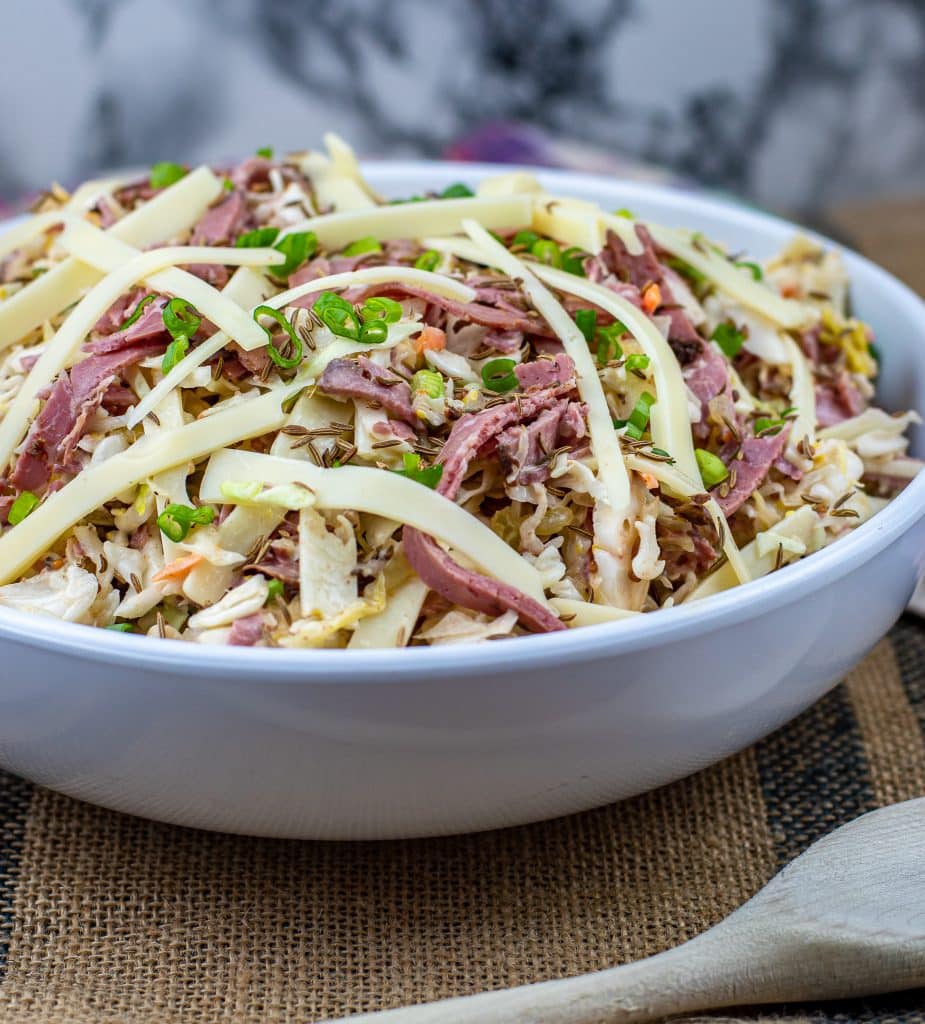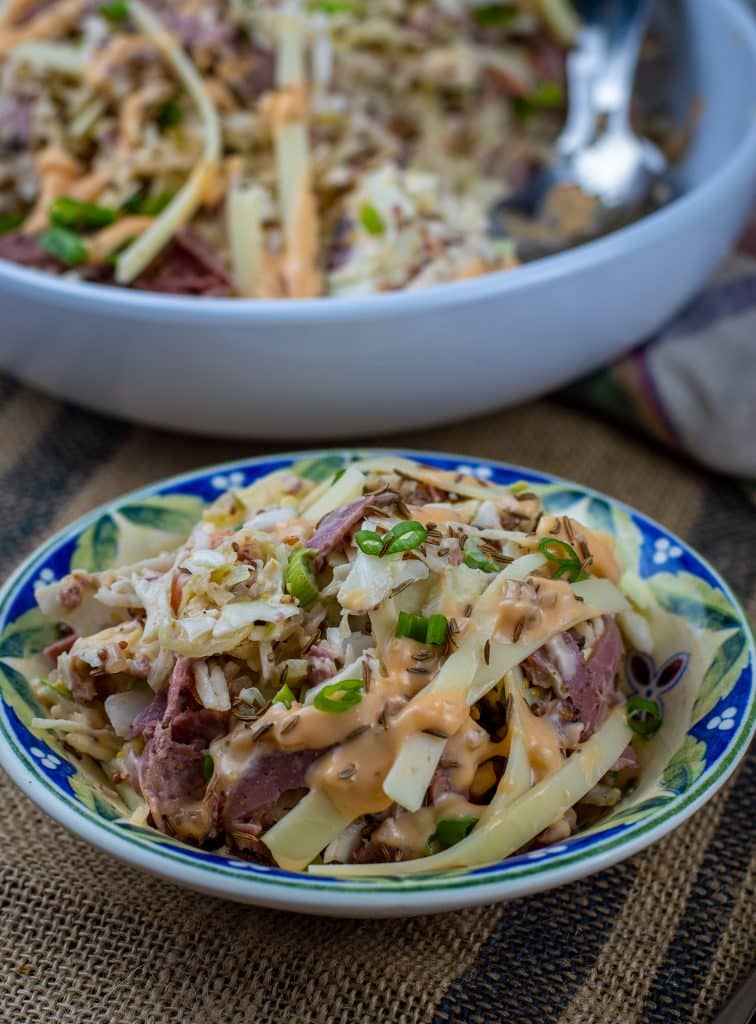 Using what you got for this Reuben Coleslaw Recipe

This recipe is all about using what you've got, if you already have Russian or Thousand island dressing go ahead and use it. If you have pastrami but no corned beef, no big deal.
I've actually made a Turkey Rachel version of this that's fantastic buy subbing the corned beef for turkey breast and skipping the sauerkraut.
I think I actually spent more time cleaning up the kitchen and photographing this recipe than it actually took to make it.

Is a Reuben Sandwich Irish??

Simply put, No, not at all. Though the true origins of this sandwich are heavily contested I can confidently say that the combination of rye bread, corned beef, sauerkraut, Swiss and thousand island dressing was not born from Irish soil.
One claim is that a hotel in Omaha Nebraska first created the sandwich while others claim that the sandwich made its debut in a New York deli.

Corned beef & cabbage itself is not traditional Irish fare. Irish immigrants are said to have first discovered corned beef as a substitute for bacon in the late 19th century.
As it turns out at the time Beef was a more affordable alternative to Pork so many Irish/Americans  would substitute it instead of the salted pork they were used to.
The Corned Beef was served with cabbage and thus became a traditional Irish American dish served on holidays. Today it has become the Quintessential St. Patrick's Day Dish often served along with boiled potatoes and carrots.
More Corned Beef Inspiration?
---
Slice corned beef and Swiss into strips, set aside and make the dressing by combining mayonnaise, ketchup, dill relish and whole grain mustard

Combine ingredients with Dressing and top with Caraway seeds and Scallions
Calories:
250
kcal
|
Carbohydrates:
6
g
|
Protein:
13
g
|
Fat:
18
g
|
Saturated Fat:
6
g
|
Cholesterol:
42
mg
|
Sodium:
935
mg
|
Potassium:
335
mg
|
Fiber:
3
g
|
Sugar:
4
g
|
Vitamin A:
272
IU
|
Vitamin C:
43
mg
|
Calcium:
204
mg
|
Iron:
2
mg
---
Nutrition Facts
Reuben Coleslaw
Amount Per Serving
Calories 250
Calories from Fat 162
% Daily Value*
Fat 18g28%
Cholesterol 42mg14%
Sodium 935mg41%
Potassium 335mg10%
Carbohydrates 6g2%
Protein 13g26%
Vitamin A 272IU5%
Vitamin C 43mg52%
Calcium 204mg20%
Iron 2mg11%
* Percent Daily Values are based on a 2000 calorie diet.
---
This Reuben Coleslaw Recipe contains affiliate links. I receive income from qualifying purchases.