Jump to Recipe
If you are looking for a Keto Cincinnati Chili recipe that will scratch that itch this is the recipe for you!
Cincinnati Chili has a unique flavor profile that really separates it from other chili recipes.
On top of that its traditionally served over pasta then loaded with an assortment of toppings like cheese, beans and onions.
Skyline Chili Copycat Recipe Keto Style
There are lots of different chili recipes out there but one that I don't think gets enough attention is Cincinnati Style Chili.
In Cincinnati they eat their chili in a unique way by ladling the chili over spaghetti noodles then topping it with a generous handful of thinly shredded cheddar.
After that you can take it a step further adding diced onions, beans and oyster crackers. They use what's known as the "Way"System:
How to Order Cincinnati Chili
2 Way: Spaghetti and Chili
3 Way: Spaghetti, Chili and Cheese
4 Way: Spaghetti, Chili, Cheese and Onion or Beans
5 Way: Spaghetti, Chili, Cheese, Onions and Beans
After that you can add your oyster crackers or hot sauce if desired.
History of Cincinnati Chili
The most famous and iconic version of cinncinati chili is far and away Skyline Chili. Opened in 1949 by Greek immigrant Nicholas Lambrinide.
Lambrinide worked at the Empress Chili Parlor before opening is own restaurant in downtown Cincinnati.
The chili was a cultural melting pot of spaghetti, midwestern beef soup with greek inspired spices fed to the predominately German/ Polish population in Cincinnati at the time.
Just like any regional cuisine there are many arguments over who has the best but skyline chili has become the most recognizable of the chili shops in the region.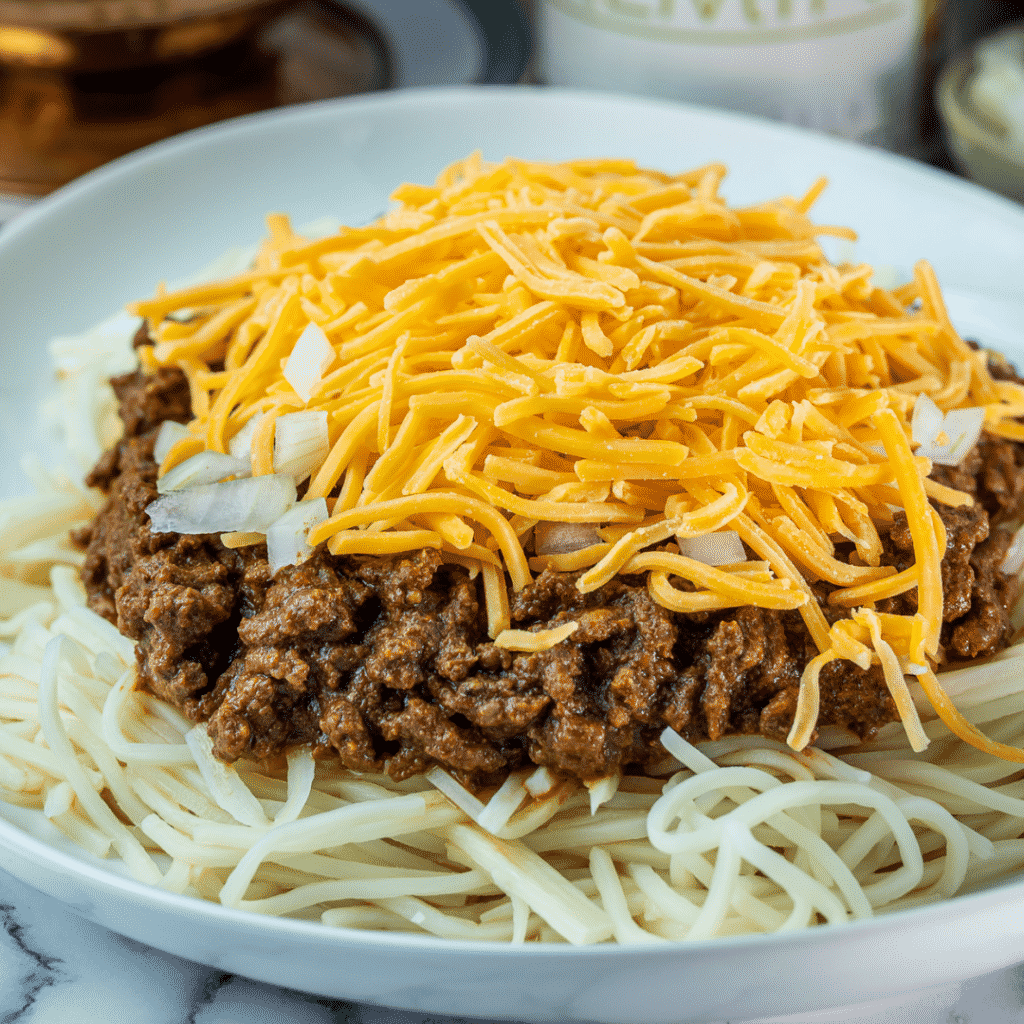 Ingredients to Make Cincinnati Chili
Chili Ingredients
What Makes Cincinnati Style Chili Unique
Right off the bat serving the chili on a plate of spaghetti noodles is definitely a change from any chili I've seen.
Growing up I always had chili served with cornbread. After talking with some friends Ive heard that its not unheard-of to serve chili over rice or even mashed potatoes.
Another big difference with Cincinnati chili is the lack of tomatoes.
Instead of a predominantly tomato based soup this chili is made with water, ground beef and copious amounts of warm spices like cinnamon, allspice, nutmeg and clove.
This unique bed of spices gives the chili a warmth and a depth of flavor.
Making Cincinnati Chili Keto Friendly.
To make this recipe keto friendly I had to make some adjustments especially when it comes to the spaghetti.
I found that substituting Palmini Hearts of Palm noodles did a great job standing in for the starchy pasta.
The chili itself didn't require much change but I did add some tomatoes to round out the bold spices traditionally used in Cincinnati Chili.
Traditionally Oyster crackers often served on top can easily be switched out with Cheddar Whisps, Moon Cheese or Pork Rinds for some added crunch.
I didn't have any on hand but if you wanted to ad beans there are these Black Soy Bean. They are low carb that you can use instead of traditional kidney beans
Got Leftovers? Make Cincinnati Chili Stuffed Peppers.
I had made this tasty Skyline Chili Copycat and was left with extra. As I rummaged through the fridge I noticed some beautiful green bell peppers that would be ideal for stuffed peppers.
The lightbulb moment happened and I said let's make Cincinnati chili stuffed peppers!!!
I simply took the chili along with some leftover Palmini noodles and diced onion stirred it all together and stuffed the mature inside a few bell peppers.
Bake at 375 degrees F. for about 35-40 minutes, then top the peppers with cheddar cheese and broil until the cheese is melted.
I will filly admit this was even better then the original recipe because the flavors of the chili had intensified overnight giving the peppers even more beefy goodness.
I highly recommend giving this a try with any leftovers you may have.
More Soups and Keto Comfort Foods
---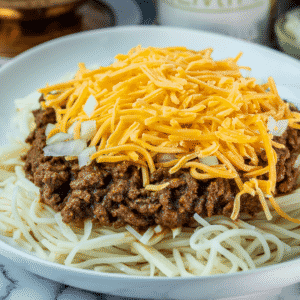 Skyline Chili Keto Copycat w/ Palmini Noodles
If you are looking for a Keto Cincinnati Chili recipe that will scratch that itch this is the recipe for you!
Ingredients
2

cans

Palmini Pasta

Hearts of Palm

1

cup

Cheddar Cheese

½

Cup

Diced Onion
Instructions
In a dutch oven saute diced onions in butter until blond and slightly soft. add ground beef and beef broth. simmer over medium heat breaking up the ground beef. Once the beef is completly cooked ad the tomatoes, Worcestershire and seasonings.

Reduce the heat to simmer and cook for about 90 minutes until the chilli has reduced so that the chili is thick but pourable. if too thick simply add in a few tablespoons of beef broth.

Prepare the Hearts of palm noodles by rinsing in cold water then boiling in lightly salted water for 3-5 minutes until slightly tender. To serve layer the chili over the hearts of palm noodles then top with a heap of shredded cheddar cheese and diced onions.
Notes
serving size about 1 cup of chili w/ ½ a can of Palmini noodles, ¼ cup cheddar cheese and 2 tbsp diced onion
Nutrition
Calories:
484
kcal
Carbohydrates:
17
g
Protein:
51
g
Fat:
22
g
Saturated Fat:
12
g
Cholesterol:
143
mg
Sodium:
2564
mg
Potassium:
1146
mg
Fiber:
8
g
Sugar:
5
g
Vitamin A:
3472
IU
Vitamin C:
8
mg
Calcium:
288
mg
Iron:
7
mg
---
Nutrition Facts
Skyline Chili Keto Copycat w/ Palmini Noodles
Amount Per Serving
Calories 484
Calories from Fat 198
% Daily Value*
Fat 22g34%
Cholesterol 143mg48%
Sodium 2564mg111%
Potassium 1146mg33%
Carbohydrates 17g6%
Protein 51g102%
Vitamin A 3472IU69%
Vitamin C 8mg10%
Calcium 288mg29%
Iron 7mg39%
* Percent Daily Values are based on a 2000 calorie diet.