Think Chicken Parmesan meets baby back ribs. This Italian oven baked pork ribs parmesan will blow you taste buds away with bold Italian flavors.
Fork tender oven baked baby back ribs topped with marinara, mozzarella and Parmesan Cheese. Do I have your Attention!!
Italian Pork Ribs Parmesan Recipe
Speaking of chicken Parm be sure to checkout my Sausage and fresh mozzarella chicken parmesan recipe.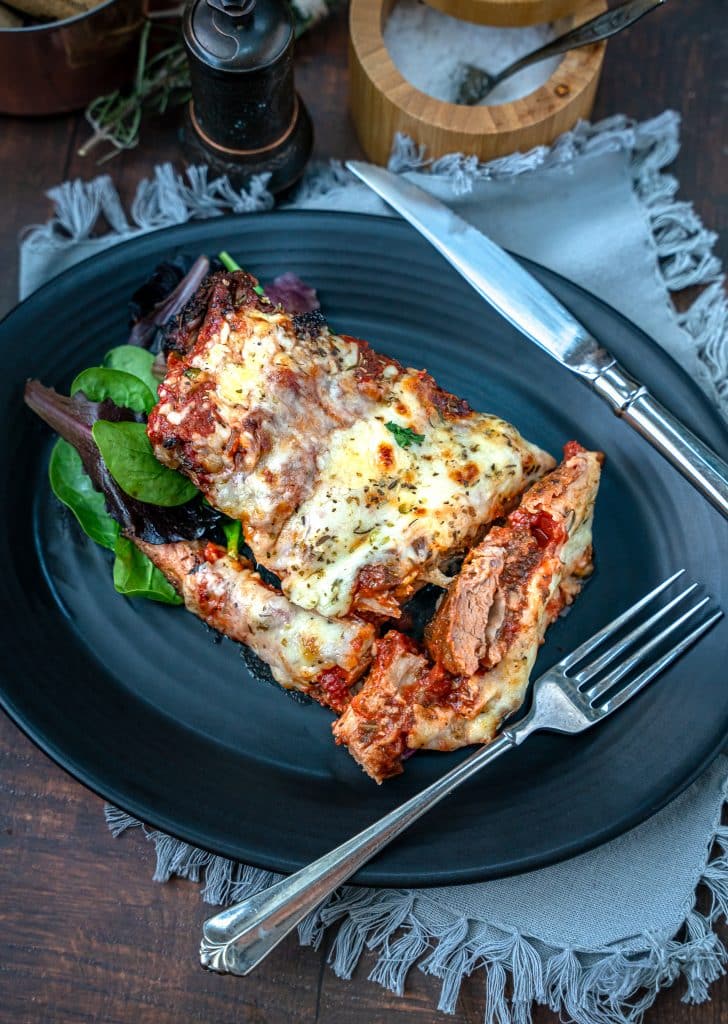 Italian Oven Baked Pork Ribs Parmesan
Its absolutely fringed outside and I have a beautiful rack of baby back pork ribs that need to be cooked. What do I do? Turn those ribs into a boneless Italian Pork Rib Parmesan that's what.
Obviously this is not a traditional use of baby back ribs but stick with me because this recipe is one of my families new favorite recipes.
Using Pork in Italian Recipes.
Pork is often paired with Italian dishes. Pork cutlets are lightly breaded and fried then topped with marinara and cheese. Shanks are braised in stock and wine with vegetables and tomatoes to make Bolognese.
So the thought of using ribs to make a play on parmesan is not that crazy despite the comments I received on tiktok when this video went mildly viral.
Can you make this recipe with Spare Ribs
Sure can. This recipe works great with pork spare ribs or even beef short ribs. Just be sure to look out for any small pieces of cartilage found on the tips of the spare ribs. Beef ribs shouldn't have any issue.
Preparing Ribs in the Oven
The next point of contention to this recipe is the fact that the ribs are baked in the oven. Not everyone has access to a grill or a smoker or you may just not want to cook outside in the cold as in my case this particular day.
The fact is you can make incredibly juicy tender ribs in the oven the just won't have the wood flavor that they would if cooked outside on a grill or smoker.
Removing the Membrane From Pork Ribs
Before seasoning the ribs it's important to remove the membrane from the back of the ribs. Simply take a paper towel and pinch at the outer membrane and gently pull it off hopefully in one piece.
If the membrane tears just keep pulling and then go back and remove the section that you missed. This will allow the seasoning to stick to the ribs as well as be a much better eating experience.
Seasoning the Ribs
Once the membrane is removed you can season the ribs on both sides. drizzle the ribs with olive oil and balsamic vinegar.
Just enough to coat the ribs and then liberally season the ribs with a combination of salt, pepper, granulated garlic and Italian seasoning. if you like a little extra heat add some crushed red pepper flakes.
Wrapping Ribs in Foil
Once the ribs have had a chance to form a crust on the outside and seal in the flavor its time to tightly wrap the ribs in foil. This will lock in the juices and steam the pork ribs making them tender.
If you cook the ribs too long in the foil the ribs will overcook and fall apart. Despite the term "fall off the bone" that's not what we are looking for.
Wrapping the pork ribs in foil is just a way to keep the ribs juicy and speed up the cooking process.
Removing the Bones From the Ribs
I like to remove the bones so you can slice into sections and eat with a knife and fork. To make removing the bones easier I have a little hack I use.
I make small cuts along the bone so that as the ribs cook the bones will start to push out. After you have cooked the ribs in foil for an hour the ribs should pull right out.
If the ribs still won't pull out continue cooking for another 20 minutes wrapped in foil. You can also just take a small paring knife and slice the ribs out to expedite the process.
Turning Baby Back Ribs into Pork Rib Parmesan
The bones are removed and we are in the home stretch of the recipe. Now its time to turn these ribs into Italian Pork Rib Parmesan.
Simply pour over your favorite marinara sauce (I use Rao's Homemade) and then pile on the cheese. I used a blend of shredded mozzarella with grated Parmesan Cheese.
Provolone, Pecorino Romano, Asiago or Fontina cheeses would all be great options as well.
I garnished with additional Italian seasoning and put the ribs back in the oven for 15 minutes just long enough for the cheese to melt and warm the sauce.
Once the Pork Rib Parmesan is ready let it rest for 5 minutes then slice into it and serve. you will soon find out why this recipe was worth the effort!!
She may not be the prettiest recipe I've ever posted but its definitely one of the tastiest!!!
More Italian Low Carb Recipes
---
Pork Rib Parmesan
Instructions
Preheat oven to 425 Degrees F.

Remove the membrane from the back of the ribs then make small slits against the bones using a sharp knife. Next drizzle olive oil and balsamic vinegar over the ribs covering both sides completly. Season liberally on both sides then place ribs on a sheet pan lined with parchment paper and bake at 425 degrees F. for 45 minutes.

Wrap the ribs tightly in aluminum foil then place back on the sheet pan and continue cooking for another hour. Next unwrap the foil flip the ribs over and remove the bones from the rack. if they are still hard to remove. wrap them back up and cook for another 20 minutes or just use a knife to remove the ribs.

Once the bones are removed spread the marinara sauce over the ribs then top with mozzarella and parmesan cheese. Bake for 15 more minutes until cheese is melted and sauce is hot.
Notes
serving size ¼th Rack of Ribs with sauce and cheese.
Nutrition
Calories:
658
kcal
Carbohydrates:
5
g
Protein:
56
g
Fat:
57
g
Saturated Fat:
20
g
Trans Fat:
1
g
Cholesterol:
196
mg
Sodium:
2244
mg
Potassium:
699
mg
Fiber:
1
g
Sugar:
1
g
Vitamin A:
293
IU
Vitamin C:
1
mg
Calcium:
278
mg
Iron:
3
mg
---
Nutrition Facts
Pork Rib Parmesan
Amount Per Serving
Calories 658
Calories from Fat 513
% Daily Value*
Fat 57g88%
Cholesterol 196mg65%
Sodium 2244mg98%
Potassium 699mg20%
Carbohydrates 5g2%
Protein 56g112%
Vitamin A 293IU6%
Vitamin C 1mg1%
Calcium 278mg28%
Iron 3mg17%
* Percent Daily Values are based on a 2000 calorie diet.
---