Whether you're on a budget or not this Spam Egg Roll Bowl recipe brings big flavor without draining the wallet. Great for Cost friendly Keto Meal Prep in a snap.
Jump to Recipe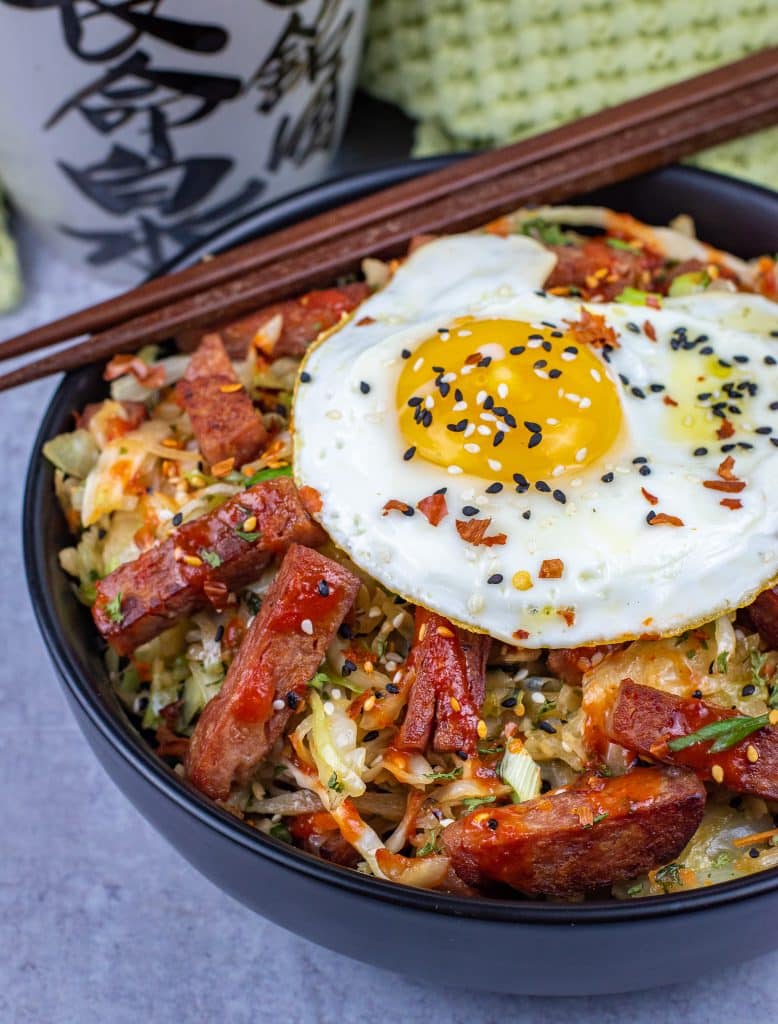 Spam Egg Roll Bowl, don't knock it till you try it!!
I wanted to create a unique Egg Roll Bowl Recipe using ingredients most of us have in the pantry. Even if you're not a fan of spam or you're too scared to try it this recipe will change your mind. The key to spam is getting maximum crispness. Straight out of the can spam doesn't look or taste very appetizing. However, once you sauté it and develop a crust it's a whole new ballgame. I slice the spam into ½ inch sticks then cook them in a skillet over medium heat. This gives them time to develop a crust without burning. Once you have crisped up the delicious mystery meat, set it aside on a few paper towels while you assemble the rest of your egg roll bowl.
If you just can't bring yourself to eat spam you can still make this recipe. You can substitute just about any protein you like from ground pork, chicken or beef to shrimp and scallops. Cubed up boneless skinless chicken thighs or breast also work great for this recipe. It's really up to you what to put in your egg roll bowl. You've seen in my earlier recipe for my Reuben Egg Roll Bowl or my Thai Egg Roll Bowl.
History of Spam
Spam was created by Hormel meats in 1937. The name came to be as guests at a dinner party hosted by Jay Hormel were offered a free drink if they wrote down a name for their new canned meat product. One of the guests blurted out SPAM and the name stuck. During the Second World War Hormel Shipped tens of millions of cans of spam to soldiers fighting abroad. Even Russian soldiers remarked of having to live off spam when supply chains were cut off. Hormel received high praise for their contributions to the war effort.
After the war restrictions were placed on Hawaii's deep sea fishing industry which was worked by a high number of Asian Americans. Spam is credited with saving much of the population from starvation due to the fishing restrictions and other food shortages. Even today Hawaiians eat over 7 million cans of spam a year. They are only second to Guam for the highest consumption per capita. There are 15 varieties of spam sold in over 44 different countries.
A Monty Python sketch involving Vikings singing spam, spam, spam in loud crescendos actually gave birth to the phrase we now associate with unwanted emails. Spam even came out with a limited edition can to celebrate the Broadway debut of the Monty Python musical "Spamalot"
The Secret to perfect Egg Roll Bowls
If there's one mistake I see when people make this or any egg roll in a bowl it's overcooked cabbage. Cabbage cooks extremely quickly and continues to cook even after you remove it from the heat before serving. I always recommend undercooking the cabbage so that it's perfect when it's time to eat. If you are meal prepping the cabbage you should undercook the cabbage even more to account for reheating later. In my opinion cabbage should still have a light crunch. I cook my cabbage for literally 45 seconds to 1 minute in a hot pan. Otherwise you'll have a mushy mess.
More Keto Meal Prep Ideas
---
Spam Egg Roll Bowl
Instructions
slice Spam into ¼ inch strips and crisp on all sides in a pan with butter ( about 4-5 Minutes) Remove spam from the pan leaving as much of the rendered fat as possible, set spam aside

add Shredded cabbage to the pan, saute for about 2 minutes then add garlic, onion, sesame oil and gluten free soy sauce. Contine to cook for about 2 more minutes then fold the spam back into the pan.

Garnish with, a sunny side up egg, sriracha, sesame seeds and scallions. (optional)
Nutrition
Calories:
360
kcal
Carbohydrates:
9
g
Protein:
16
g
Fat:
28
g
Saturated Fat:
9
g
Cholesterol:
101
mg
Sodium:
1826
mg
Potassium:
621
mg
Fiber:
3
g
Sugar:
4
g
Vitamin A:
233
IU
Vitamin C:
46
mg
Calcium:
64
mg
Iron:
2
mg
---
Nutrition Facts
Spam Egg Roll Bowl
Amount Per Serving
Calories 360
Calories from Fat 252
% Daily Value*
Fat 28g43%
Cholesterol 101mg34%
Sodium 1826mg79%
Potassium 621mg18%
Carbohydrates 9g3%
Protein 16g32%
Vitamin A 233IU5%
Vitamin C 46mg56%
Calcium 64mg6%
Iron 2mg11%
* Percent Daily Values are based on a 2000 calorie diet.
---
This Recipe for Keto Spam Egg Roll Bowl contains affiliate Links. I receive income from qualifying purchases.