Subscribe to our newsletter!
---
Lemon Pepper Chicken Leg Quarters are a fantastic, economical meal that is easy to prepare and will feed the family without breaking the bank
Jump to Recipe
What are Chicken Leg Quarters
Simply put, chicken leg quarters are the connected drumstick and thigh. The bones are still intact and the skin has not been removed. Chicken leg quarters are incredibly versatile and can be roasted, baked, grilled or fried and can be seasoned with any flavors you would enjoy on poultry.
Why are Chicken Leg Quarters So Cheap
The less processing or labor involved the less the product will cost. So in regards to chicken a whole bird uncut will always be the cheapest and boneless skinless chicken cut into pieces will be more expensive. Since chicken leg quarters only require minimal processing they are one of the most affordable cuts of chicken.
How to Thaw Out Frozen Chicken
Chicken Leg Quarters are great to freeze and I almost always have a package or two in my freezer. To thaw them out you can place them on a tray and let them thaw in the fridge for about two days. If you need them quicker place the chicken in a sealed plastic bag and run cold water over the chicken until it's thawed. Do not leave raw chicken on the counter to thaw at room temperature or submerge in hot water. This can promote the formation of bacteria and lean to may food borne illnesses 
Cooking Chicken Leg Quarters in a Cast Iron Skillet
Cast Iron Skillets are my favorite pan to cook chicken in. They retain heat for an even cook and keep the chicken moist and juicy. As the chicken cooks the natural juices will form in the bottom of the pan which can be used as a sauce to dress the chicken with after cooking. I use a 12 inch Cast Iron Skillet for all sorts of recipes and is one of my most used pieces of equipment in my kitchen.
How Long Do Chicken Leg Quarters Take in the Oven
Depending on the size and the temperature of the oven chicken leg quarters can take as little as 30 minutes or as long as 2 hours to cook in the oven. Hot and fast methods like roasting normally take place at around 400 degrees f. Or higher. Slower methods like braising normally cook at around 325 degrees F.
What Temperature Should Chicken Quarters be Cooked to?
The USDA guidelines recommend cooking all poultry to 165 degrees F. however i prefer to cook any dark meat to between 175-185 degrees F. Because of the higher fat content of dark meat it can take longer to become tender. White meat is extremely lean and becomes dry when cooked above 165 degrees F.
Do you Cover Baked Chicken with Aluminum foil?
Covering any chicken with the skin on in foil will cause the skin to become rubbery. Always leave roasted chicken uncovered so the chicken leg quarters roast instead of steam. This will give you the best results when cooking chicken in the oven.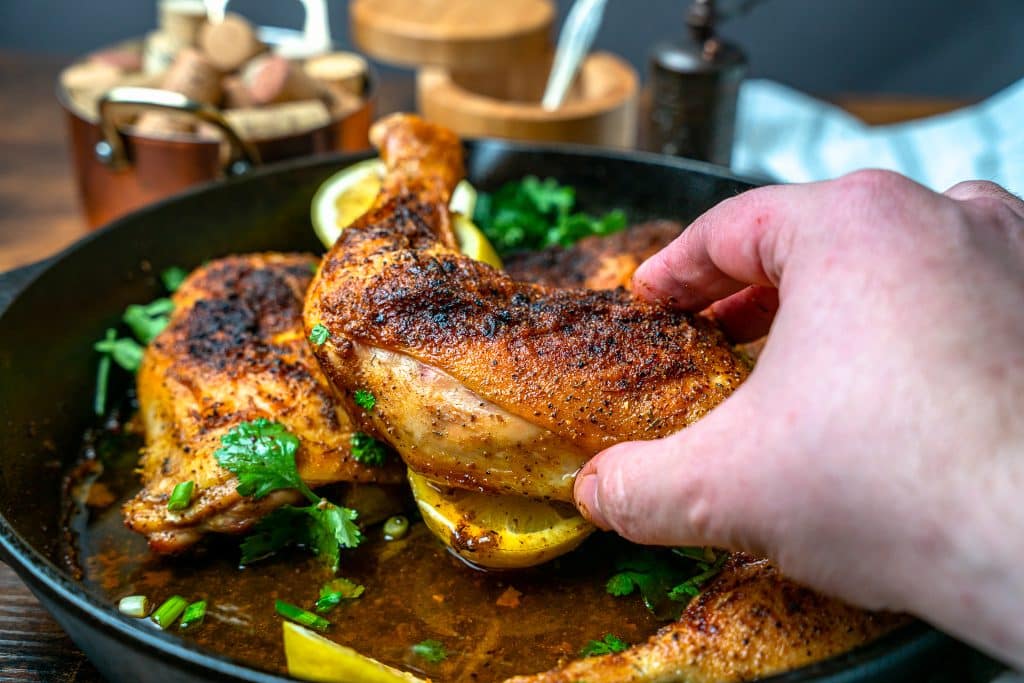 What's In Lemon Pepper Seasoning?
Generally lemon pepper consists of lemon peel and coarse ground pepper. Other blends may add salt, sugar, garlic or other seasoning. Always check the label to see what ingredients are in the seasoning blend. California Style Lemon Pepper is my favorite version because it has garlic and onion already combined in the blend.
If you want to make your own Lemon Pepper recipe from scratch here is a very basic recipe.
Homemade Lemon Pepper Seasoning
2 tbsp Coarse Ground Black Pepper
1/2 tsp Dry Thyme
2 tbsp Dried Lemon Peel
1 tsp Granulated Garlic
2 tsp Kosher Salt
1 tsp Granulated Onion
1/2 tsp Dry Thyme
Add all ingredients to a small mason jar or air tight container and shake to combine. Keep sealed in a cool dark environment for up to 6 months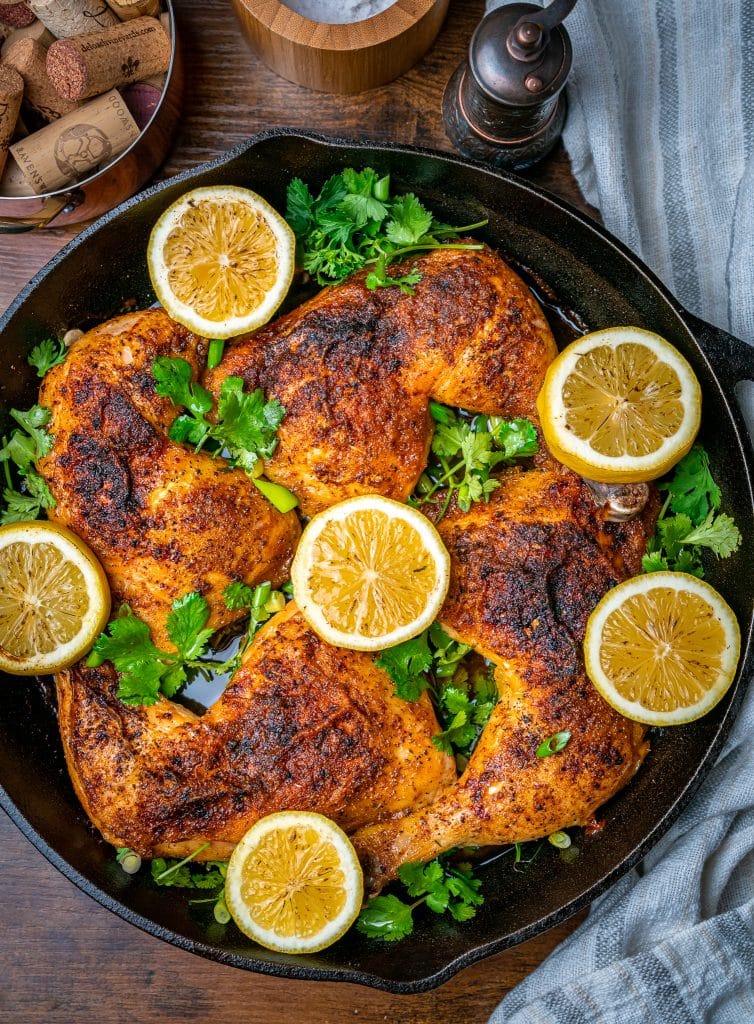 What other Seasonings are Good with Chicken?
There are literally endless options on seasonings for chicken. You can play around and combine flavors to create all sorts of seasoning blends and rubs. Here is a short List of a few Seasonings you can start with.
Italian Seasoning
Cajun
Old Bay
Buffalo
Parmesan Garlic
Mojo
Chili Rub
BBQ Rub
Caribbean Jerk
Looking for More Chicken Recipes???
---
Trim off any excess fat, pieces of bone or cartilage. Spread out the skin on the chicken so it lays flat. Lightly toss with avocado oil then season liberally on all sides of the chicken leg quarters

Place leg quarters in a cast iron skillet and bake for about 20 minutes. Next add sliced lemon and butter to the pan in between the chicken quarters. Continue cooking until the chicken reaches an internal temperature of 175-185 degrees F.

Ladle some of the juices in the bottom of the pan over the chicken and garnish with fresh parsley.
One Chicken Leg Quarter Per Serving
Calories:
554
kcal
|
Carbohydrates:
2
g
|
Protein:
32
g
|
Fat:
45
g
|
Saturated Fat:
13
g
|
Trans Fat:
1
g
|
Cholesterol:
204
mg
|
Sodium:
201
mg
|
Potassium:
502
mg
|
Fiber:
2
g
|
Sugar:
1
g
|
Vitamin A:
514
IU
|
Vitamin C:
31
mg
|
Calcium:
41
mg
|
Iron:
2
mg