Jump to Recipe
If you're looking for a fun new way to make ribs try these Keto Cuban sandwich inspired Boneless Pork Ribs
These Cuban Ribs are my creative low carb take on the classic Cuban Sandwich. Who needs bread when you've got ribs!
About a month ago I made a controversial recipe. My Italian Pork Ribs Parmesan. I received a lot of feedback, some good and well some…Let's just say not so kind.
I decided to double down and create another rib recipe that will anger rib purists and amaze anyone with an open mind.
Boneless Pork Ribs Recipe
Baby Back Boneless Cuban Ribs take all the great flavors of the Cuban sandwich and serve it up hot on top of mojo marinated pork baby back ribs.
I smoked the ribs to give the pork a smoky punch but you can totally make this recipe in the oven. If you love cubans you will also love my Cuban Casserole recipe found on my grilling website.
A Brief History of the Cuban Sandwich
From what I've read via Wikipedia the Cuban sandwich originated in Key West and Miami in the late 1800s.
It was a quick and easy sandwich created by the cigar factory workers with ingredients they had available. Later the sandwiches popularity grew up the Florida coast to Tampa.
The high population of Italian immigrants started substituting salami and provolone instead of ham and Swiss. I will definitely have to give that a try next time.
Preparing the Boneless Ribs
Prepare these baby back ribs just as you normally would by removing the membrane from the back.
Use a paper towel to get a better grip and pull the membrane off and discard. Trim any excess fat, pieces of bone or cartilage that would be unpleasant to eat.
After you have seasoned the baby back ribs make thin slits against each bone so that as the ribs cook they will push out making them easier to remove later. After that it's time to get cooking.
Seasoning the Baby Back Ribs
For these Cubano Ribs I wanted to use traditional flavors normally used with pork shoulder. Mojo is a sauce or marinade that contains garlic, citrus either olive oil or lard. Mojo has a tangy flavor that is great with chicken, pork and shrimp.
In addition to the mojo rub and marinade I wanted to add something spicy and salty. Tony Chacheres is a fantastic creole all purpose seasoning that I have a hard time pronouncing but it sure is tasty.
Yellow mustard not only acts as a binder to hold the seasoning to the bork but it also helps tenderize the baby back ribs.
Smoking Cubano Ribs
Obviously if you have a smoker you are going to have much more flavorful ribs than cooking in a traditional oven.
Slow smoked ribs are one of my favorite meals but I like to switch things up and think outside the box.
Smoking the ribs will take longer than cooking them in the oven but we all know good things come to those who wait.
Either way the citrus flavors from the mojo rub and marinade combined with the pickles ham and Swiss is a combination you will absolutely love!
Cooking Cuban Ribs in the Oven
No smoker? No problem. you can make these Cuban ribs in the oven using the same methods but they will actually cook faster at a higher temperature.
I smoke the ribs at 250 degrees but you can cook them at 400 degrees F in the oven uncovered for 1 hour. Then pour over the mojo marinate and wrap in foil and bake for an additional 90 minutes until the rib bones are easily removed.
Top with the pickles, ham and Swiss and broil just long enough to melt the cheese and warm the ham.
Ingredients you will need to make Cubano Ribs
1 Rack Baby Back Ribs
½ lb Sliced Black Forrest Ham
8 slices Swiss Cheese
2 tbsp Yellow Mustard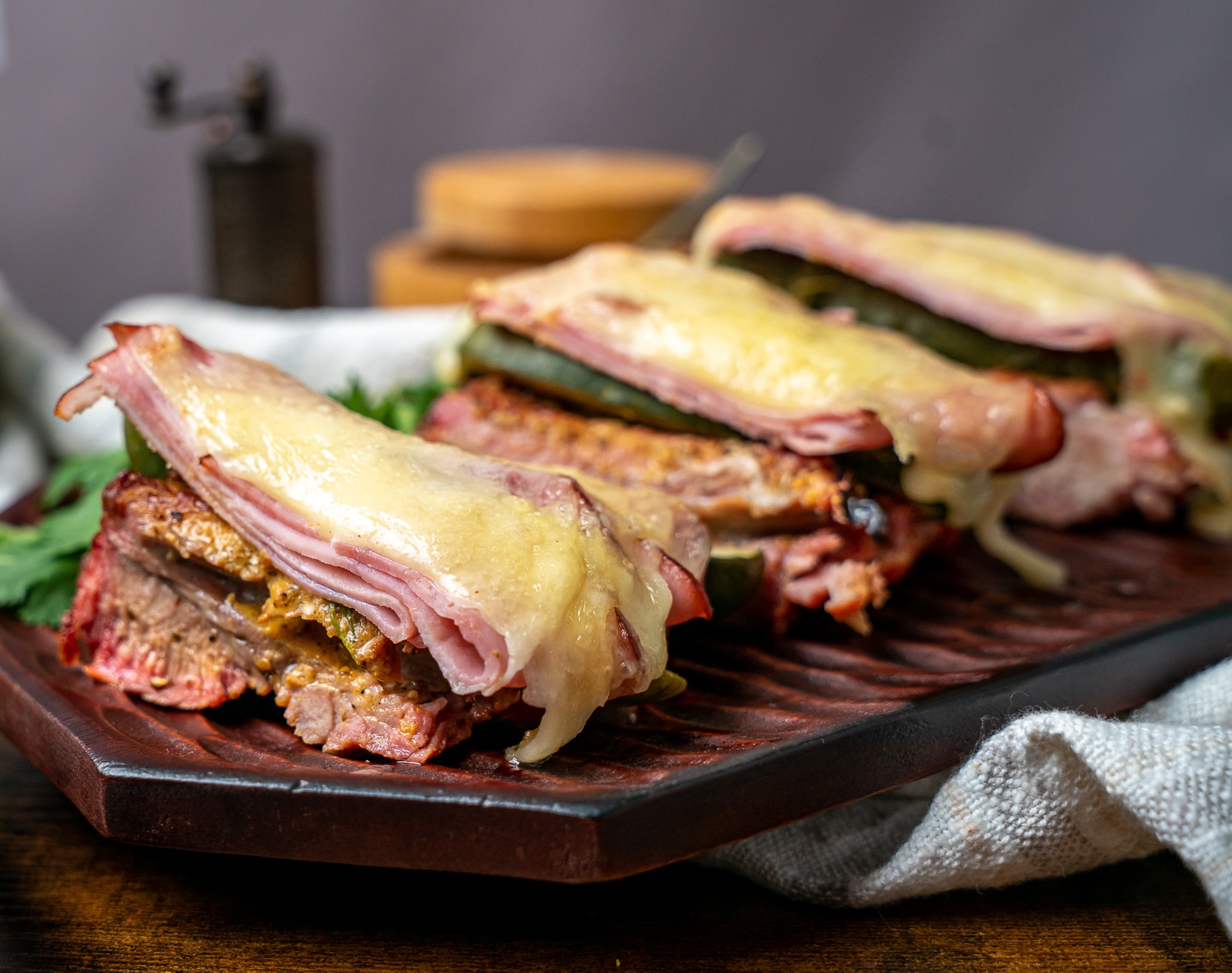 More Low Carb Must Make Recipes
---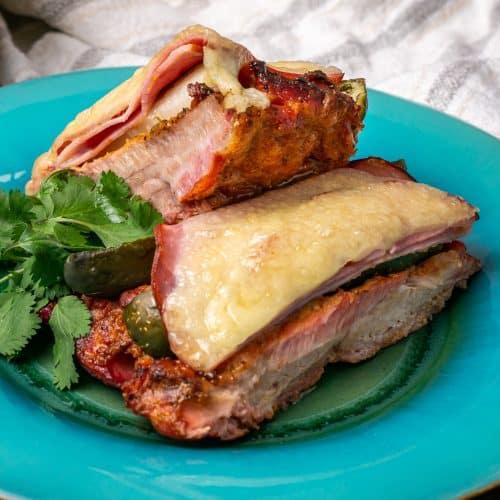 Mojo Baby Back Cubano Ribs
These Cubano Ribs are my creative low carb take on the classic Cubano Sandwich. Who needs bread when you've got ribs!
Instructions
Remove the membrane from the back side of the ribs. use a paper towel to help you grip. Brush 2 tbsp yellow mustard on both sides then season with creole and mojo rub liberally on both sides. On the back side make slits against each bone to help release the bones as they cook.

Smoke for 2 hours at 250 degrees F. or 1 hour at 400 degrees F in a traditional oven

Place the ribs on a large sheet of aluminum foil with the bones facing up. pour over mojo marinade then wrap the ribs up in the foil. Return to the smoker for 2 hours at 300 degrees F. or 90 minutes at 400 degrees F. in the oven (I recommend 2 layers of foil to prevent rib bones riping through the foil)

Carefully open up the foil and remove the bones from the rack using tongs. If bones dont come out easily continue cooking for 30 additional minutes.

Brush ribs with remaining yellow mustard. Replace rib bones with a pickle in each space then top with black forrest ham and sliced swiss. Broil in the oven for 5-7 minutes until the cheese is melted and the ham is warm. Slice into 6 equal pieces and serve.
Notes
Serving size is ⅙ of the rack of Cuban ribs. About a 2.5 inch section
Nutrition
Calories:
475
kcal
Carbohydrates:
3
g
Protein:
40
g
Fat:
30
g
Saturated Fat:
11
g
Trans Fat:
1
g
Cholesterol:
135
mg
Sodium:
1805
mg
Potassium:
642
mg
Fiber:
2
g
Sugar:
4
g
Vitamin A:
829
IU
Vitamin C:
2
mg
Calcium:
265
mg
Iron:
3
mg
---
Nutrition Facts
Mojo Baby Back Cubano Ribs
Amount Per Serving
Calories 475
Calories from Fat 270
% Daily Value*
Fat 30g46%
Cholesterol 135mg45%
Sodium 1805mg78%
Potassium 642mg18%
Carbohydrates 3g1%
Protein 40g80%
Vitamin A 829IU17%
Vitamin C 2mg2%
Calcium 265mg27%
Iron 3mg17%
* Percent Daily Values are based on a 2000 calorie diet.