Jump to Recipe
Looking for a Keto friendly soup that can be prepared in under 20 minutes, reheats well and can double as an incredibly flavorful sauce for all sorts of dishes? Well get your Pins out because you're gonna want to make this Keto Creamy Tomato Basil Soup recipe again and again
I worked as a chef for a number of years in a resort town on the Eastern shore. It's a tough life and a very drastic contrast between the seasons. In the summers you're working 6-7 days a week for 12-18 hrs a day sometimes making food in massive quantities, but once school starts and the snowbirds head south you're left with a few random locals, scattered off-season vacationers and hospitality industry workers. All the sudden you go from serving well over 500 covers a night to praying for 50 customers.

The hardest part of the seasonal restaurant business is to make enough food to not run out but not make so much that you waste food. Over that time I learned a lot of tricks to make quick dishes in small batches. Ask anyone who knew me back then and they'll tell you this soup was on the menu quite often.
Long before I started my Keto journey I was making low carb soups and I didn't even know it. Instead of preparing a Roux with butter and flour I would thicken cream based soups with cream cheese. It does a great job of providing a silky smooth texture and it doesn't break when reheating.

Rao's Marinara…Its Worth It!!
As another time saving budget friendly hack I would use a store bought marinara. Obviously you can make your own but I stand behind the Rao's Marinara. It's the best I've ever tasted and the macros are unbeatable, 3 net carbs per ½ cup. They have a number of varieties but the classic marinara is a much better price at Costco. It comes in a larger size two pack. Using a marinara sauce instead of just canned tomatoes brings a lot more flavor to the party . This particular brand has very few ingredients and the ones it does have are very high quality. Once you add the fresh onions, garlic and basil you've got the makings for an amazing soup.

What's all the hype about Calabrian Chiles??

Honestly, I have to thank celebrity chef Bobby Flay for introducing me to this magical spicy yet sweet pepper found in the Calabria region of Italy. He seems to literally use them in every recipe I see him prepare. Once I tried these peppers myself I immediately understood why. Calabrian Chiles have this very unique flavor and slightly floral fragrance that can take elevates any dish they're added to. They are sold in dry, ground, whole or in paste form. Most of the time they are packed in oil or vinegar to preserve flavor and freshness. I find the paste is very convenient and only needs a small amount to make a big difference .

I combine Calabrian Chiles with all sorts of sauces, dressing and aiolis. As far as the spice level goes I find like with any pepper, there is a range. Depending on how many of the seeds are removed and how mature the pepper at time of harvest can play a big role in how much heat these little guys pack. If you like spicy foods you can add it to your recipes with reckless abandon. However if you're sensitive to spice, Tread lightly.

Crispy Cold Cuts? Evil Genius? or utter madness?? You decide.

I think it's safe to say most of us have topped soups, salads and basically anything we can with bacon. It's delicious and you only need a little bit to add a ton of flavor to any dish. Well, why not cold cuts? They're are loads of different options that you can use. Everything from simple sliced pepperoni to a fine trio of cured meats like I chose in Mortadella, Prosciutto and Capicola.
I like the subtle nuances of using different meats together. Mortadella which is the fancy rich cousin to bologna has a silky texture. Prosciutto is a salty cured Italian meat that is normally sliced paper thin. It almost dissolves on the tongue but also gets incredibly crispy when cooked. Capicola brings an extra level of spice to the party and really compliments the other meats perfectly. You can use any combination of Italian cold cuts such as salami, coppa, sopressata or Guanchali.
You had me at Crispy Cold Cuts!!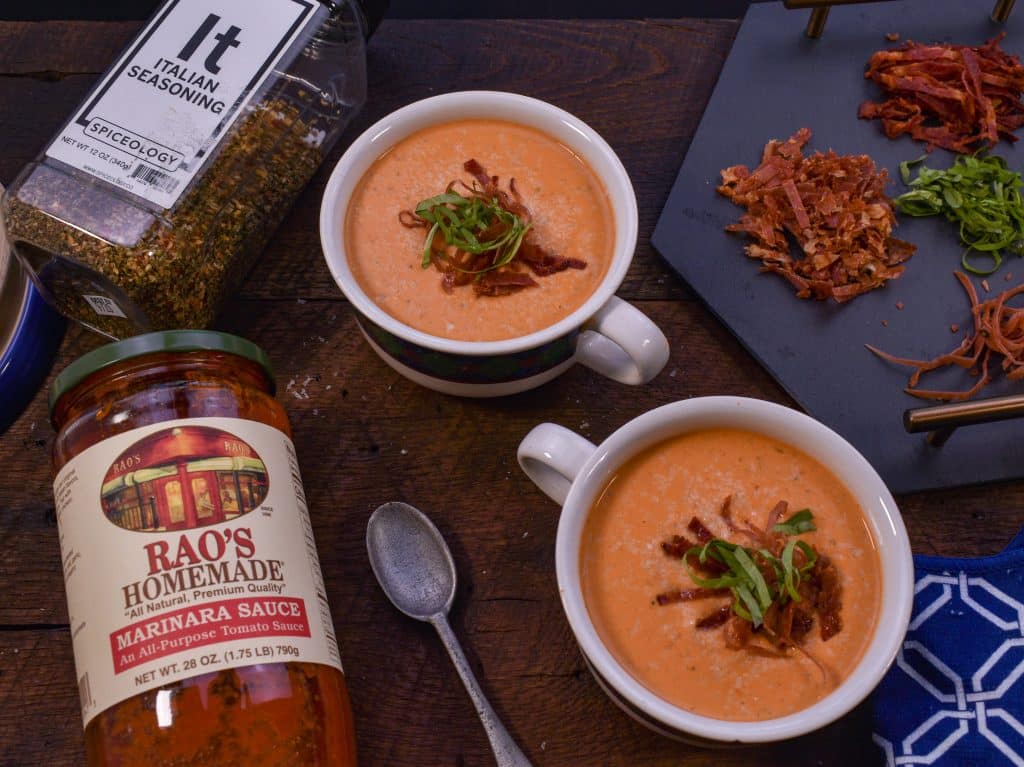 Simply lay the meats out on parchment paper and bake at 400 for about ten minutes. Don't walk away because they will go from crispy to charred in a matter of seconds. Then just let them cool down while you prepare the soup. Next just slice them into thin ribbons and you're ready to go.

Talking texture, where's the line between soup and sauce??

Soups and sauces create a lot of grey area for me. For me this difference is if I'm making a soup i will make it a little thinner. If I plan on topping a dish and serving it as a sauce. Other then that the only difference to me is how much you consume. If i told you I drank a bowl of Alfredo Sauce you'd look at me like I was crazy. However, if I told you I ate a bowl of Cream of Crab soup no one would say a word. From a caloric standpoint the Soup most likely has a lot more calories than the Alfredo sauce. That's why I use this creamy tomato basil soup as a sauce. I'll make it just a bit thicker because I only intend to serve a few tablespoons
When I serve it as a soup I will thin it out with a bit more broth. I know I'm going to eat at least 8 oz. (1 cup) or more. The broth is a great way to stretch out the soup and reduce the caloric intake of your meal.
Reheating Cream Soups Can Be Tricky
When Reheating creamy soups I find they are often too thick and I'll whisk in some broth gradually until the soup has reached the perfect viscosity. That can be left up for debate on how thick you like it but in classic french cooking they judge the viscosity of a soup by how it coats the back of a spoon.
The Culinary term is "Nappe" When your soup is heated to an ideal serving temperature simply dip your spoon into the soup/sauce. If the sauce runs off and the spoon is clean within seconds your sauce is too thin. If the soup/sauce sticks and is clumping its either not hot enough or just to thick. The perfect Nappe is reached when the back of the spoon is coated. You can drag your finger down the center of the spoon and the soup holds in place on either side of your streak. Not indefinitely, but for 2-3 seconds. Then you can make adjustments adding either more broth if too thick or more cheese and cream if too thin. As you work with soups and sauces more often you will be able to sense when the perfect texture and consistency has been achieved. and how to adjust when it is not.

Additional Items:

Dalstrong Shadow Series 8" Chef Knife
Keto Creamy Tomato Basil Soup
Instructions
Lay out cold cuts on parchment paper, Bake at 400 for about 10 minutes until crispy. Let cool while preparing soup.

Dice ½ onion and 1 clove of elephant garlic, set aside

in a soup pan over medium heat sauce onions and garlic with duck fat until softened (3-5 minutes)

add in spices and Calabrian Chiles, stir for 1 minute then add Marinara and Chicken Broth, Stir for 3-5 minutes

Add Heavy Whipping cream and Cream cheese, stir until cream cheese has almost melted then grate fresh pecorino Romano cheese.

Blend Soup using a stick blender until completely smooth.

Slice cold cuts and basil into thin ribbons and garnish soup as desired.
Nutrition
Calories:
285
kcal
Carbohydrates:
5
g
Protein:
5
g
Fat:
27
g
Saturated Fat:
12
g
Cholesterol:
69
mg
Sodium:
406
mg
Potassium:
129
mg
Sugar:
2
g
Vitamin A:
790
IU
Vitamin C:
0.5
mg
Calcium:
63
mg
Iron:
0.5
mg
Nutrition Facts
Keto Creamy Tomato Basil Soup
Amount Per Serving
Calories 285
Calories from Fat 243
% Daily Value*
Fat 27g42%
Cholesterol 69mg23%
Sodium 406mg18%
Potassium 129mg4%
Carbohydrates 5g2%
Protein 5g10%
Vitamin A 790IU16%
Vitamin C 0.5mg1%
Calcium 63mg6%
Iron 0.5mg3%
* Percent Daily Values are based on a 2000 calorie diet.