Somehow, we made it to the playoffs against all odds, and its time to sit down and enjoy some football with your favorite keto appetizers.
These flavor-packed Keto Apps are easy to prepare ahead so you can spend more time watching the big game and less time in the kitchen.
I've compiled a list of my top 25 best keto appetizers so you can plan the ultimate keto game day menu.
Jump to:
First Quarter: Keto Chips, Dips and Dressings
You can't have any legitimate Super Bowl party without at least one dip as well as some dressings for those wings you'll be serving. These are some of my favorite kick ass keto appetizers dips to serve with your favorite pork rinds, keto crackers, veggies or whatever you use to shovel that tasty goodness into your face!
This Bangin Buffalo chicken dip is always been on of my favorite keto crowd pleasers. perfect shareable low carb appetizer for your next gathering. Three cheese blend with tender buffalo chicken breast seasoned with old bay.
One of the most popular restaurant menu items in the mid Atlantic. Chesapeake Crab Dip is a creamy dip loaded with Blue crab, cheeses and old bay served with a variety of dippers. Its the perfect shareable appetizer for any gathering
Spicy Pimento Cheese Dip Is an easy to prepare keto friendly recipe that's ready in minutes.Great for dipping veggies and a super simple low carb Appetizer
This Muffuletta Dip is an easy low carb recipe based on my favorite sandwich in the Big Easy. This dip is perfect for any Game Day snacking or family gatherings. Loaded with flavor and ready in no time.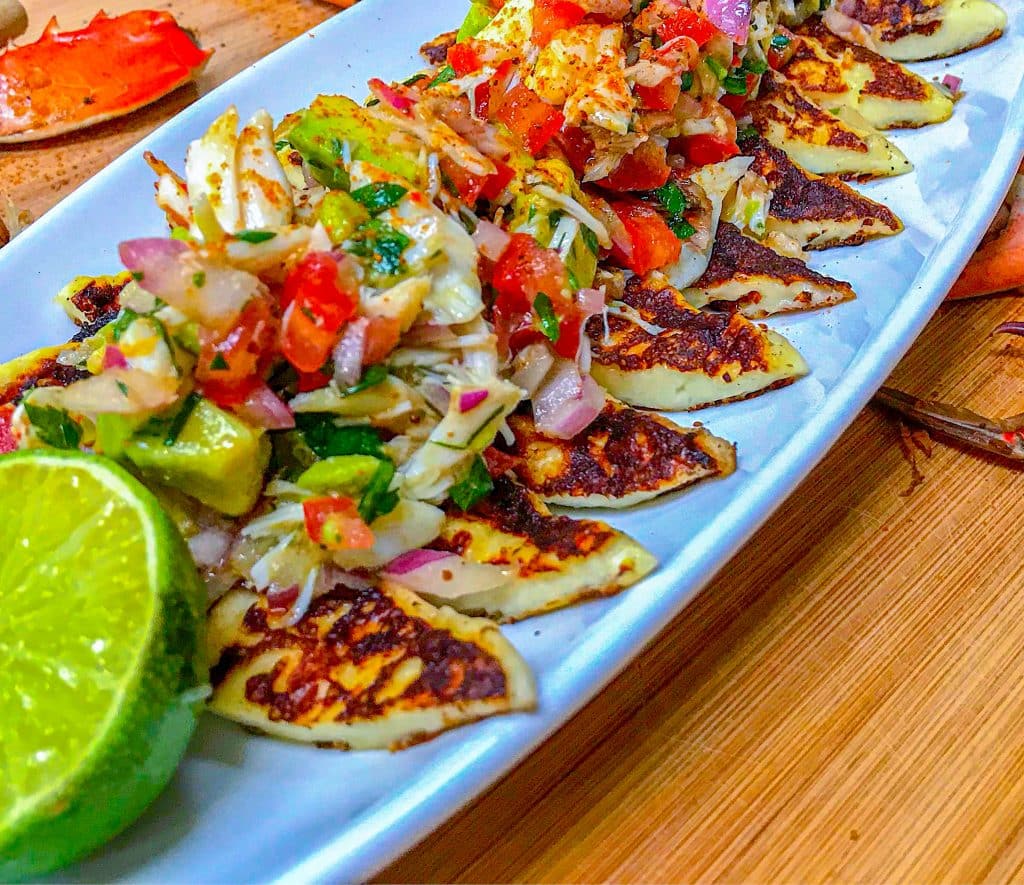 Summertime and the livin easy!! Crab Guacamole is one of my absolute favorite quick and easy recipes to serve at family get togethers. You only need a few ingredients and about 5 minutes to blow your guest away with these fresh ingredients.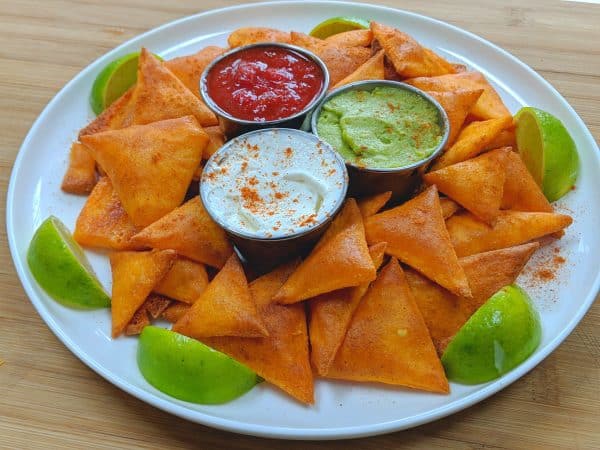 Looking for something that can stand up to the thickest guacamole without snapping in half. These Keto cheese Chips are the latest technology in low carb dipping and sure to be a favorite snack for anyone looking for a grain free crunch.
Bringing the crunch back to Keto with these easy to make pepperoni pizza crisps. These easy to make cheese crisps are great for snacking or as a crunchy vessel for your favorite dips. Packed with pizza flavor and only 3 ingredients. You can't get any easier than that.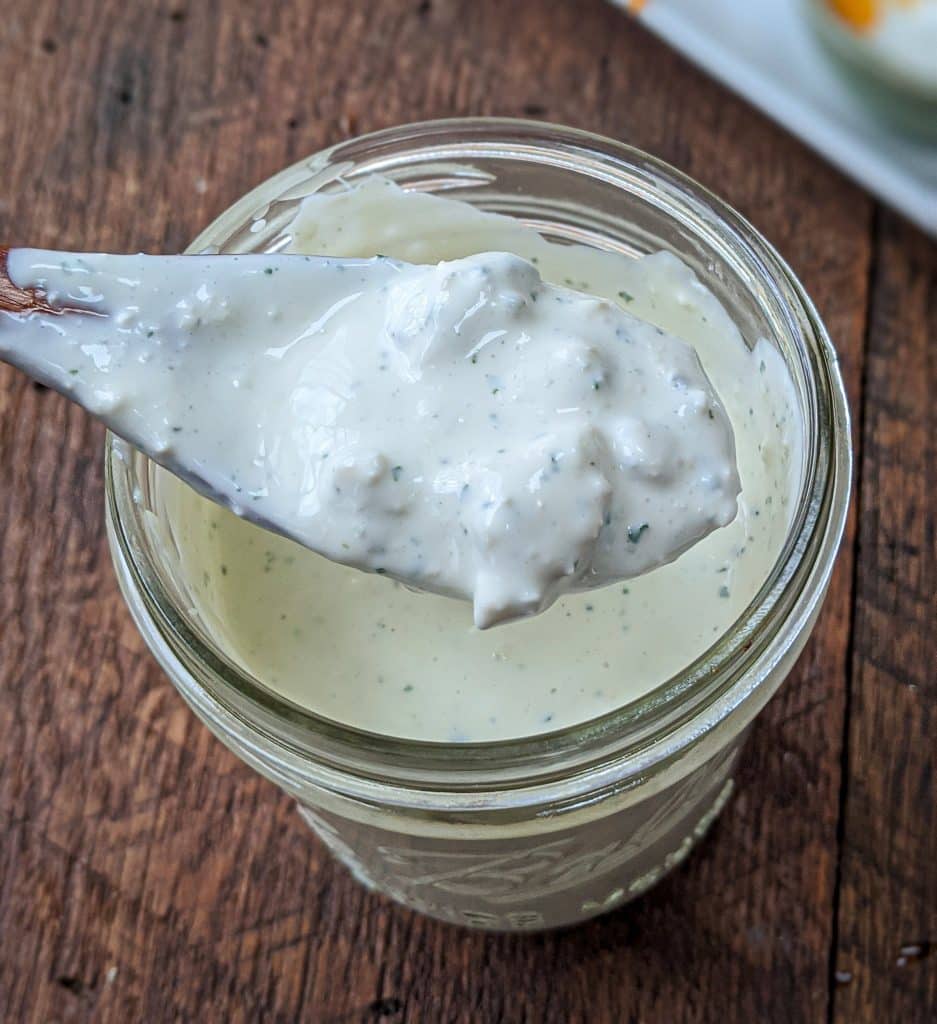 You'll never buy store bought bleu cheese dressing after you make this 5 ingredient homemade version. It takes just minutes to prepare and will put all other bleu cheese dressing to shame. Don't your wings deserve the best??
Bonus Chipotle Ranch Recipe
---
Second Quarter: Balls, Bites and Wings
For this course you want to bring out the finger foods, things you can grab with your fingers or stab with a toothpick. Obviously Wings are gonna be a big hit so make sure you have plenty but things like meatballs, Chicken tenders and Shrimp are always a fan favorite too. Remember variety is the spice of life when it comes to a proper keto Super Bowl Spread.
This recipe is my favorite way to get crispy wings that still have the smoky flavor we all love. These Chesapeake Garlic Parmesan Wings are based on an award winning recipe from a popular Irish Pub in Baltimore known for their amazing Smoked Wings
These Low Carb Vietnamese Sticky wings are oven baked to perfection. Tossed in a sweet and spicy Keto friendly sauce that's out of this world. If you're tired of boring Buffalo Wings this is the recipe for you!
Make these Chili Rubbed Wings part of your next Cinco de Mayo Fiesta. Bold and spicy wings along with zesty chipotle ranch is the perfect combo of Tex Mex Deliciousness.
The breading is really simple. I use two parts Pork King Good breadcrumbs along with Coconut flour and some spices. I've also substituted almond flour for breading and found that it's a bit heavier a crust. I like the light coating on this recipe since I'm tossing the chicken in a sauce afterwards. If you don't have any pork king good breadcrumbs you can always pulse some pork rinds in a food processor.
You'll never waste your money on overpriced sizzling fajita platters again after you make this quick and easy Keto Tequila Lime Shrimp Fajitas. Perfect for weeknight tex mex dinners or low carb meal prep.
Need a quick keto appetizer? this low carb rendition packs all the bold flavor of classic cocktail sauce without the unwanted sugar. Keto Shrimp Cocktail is the perfect appetizer for any Holiday Party or Family gathering
If you're looking for a crispy keto chicken tender recipe without pork rinds this is the recipe for you. Shrewd Food Brick oven Pizza Protein Crisps give these tenders a perfect crunch. Paired with a spicy Calabrian Chile Aioli Dipping Sauce, this is a low carb appetizer you'll be making over and over again.
Pastrami Roll ups are a fantastic anytime snack that can be ready in minutes. Perfect for dipping in spicy deli mustard or Russian dressing it's all the best parts of a Rueben without the bread. Low carb doesn't need to be boring when you have keto friendly recipes like this ready to go.
If you're like me you love chick-fil-a sauce with nuggets. I've created a copycat recipe that's gluten free, keto friendly and 100% delicious! Checkout this low carb doppelgänger recipe and Eat more chicken!!!
As the holidays approach everyone is searching for easy to prepare appetizers. These Keto Cajun Bbq sausage bites are quick easy and delicious. With only 6 ingredients you will be a hit at your next holiday party and no one will even know they're eating low carb.
Looking for the perfect keto snack? Prosciutto mozzarella sticks are a delicious appetizer with only a few ingredients. Make these low carb mozzarella sticks are air fried and the perfect quick dish.
Third Quarter: Pizza, Tacos and Sides
Halftime Show is on and it's time to regroup. Now its time to bring out the big guns with some pizza and tacos and sides. I normally wouldn't put out many dishes that involve a fork but the Hoagie Slaw is so good that It had to make the cut for my keto Super Bowl spread.
Long ago before keto was even on my radar I had a pizza addiction. I doubt I was the only one. My favorite type of pizza was Pan Pizza. That buttery crust was the perfect vessel to top with all of my favorite ingredients. I've since been on a mission to create a keto friendly pan pizza crust that could scratch that itch. Well though nothing will fully compare to the real thing I believe I've come pretty darn close.