Jump to Recipe
You'll never buy store bought bleu cheese dressing after you make this 5 ingredient homemade version. It takes just minutes to prepare and will put all other bleu cheese dressing to shame. Don't your wings deserve the best??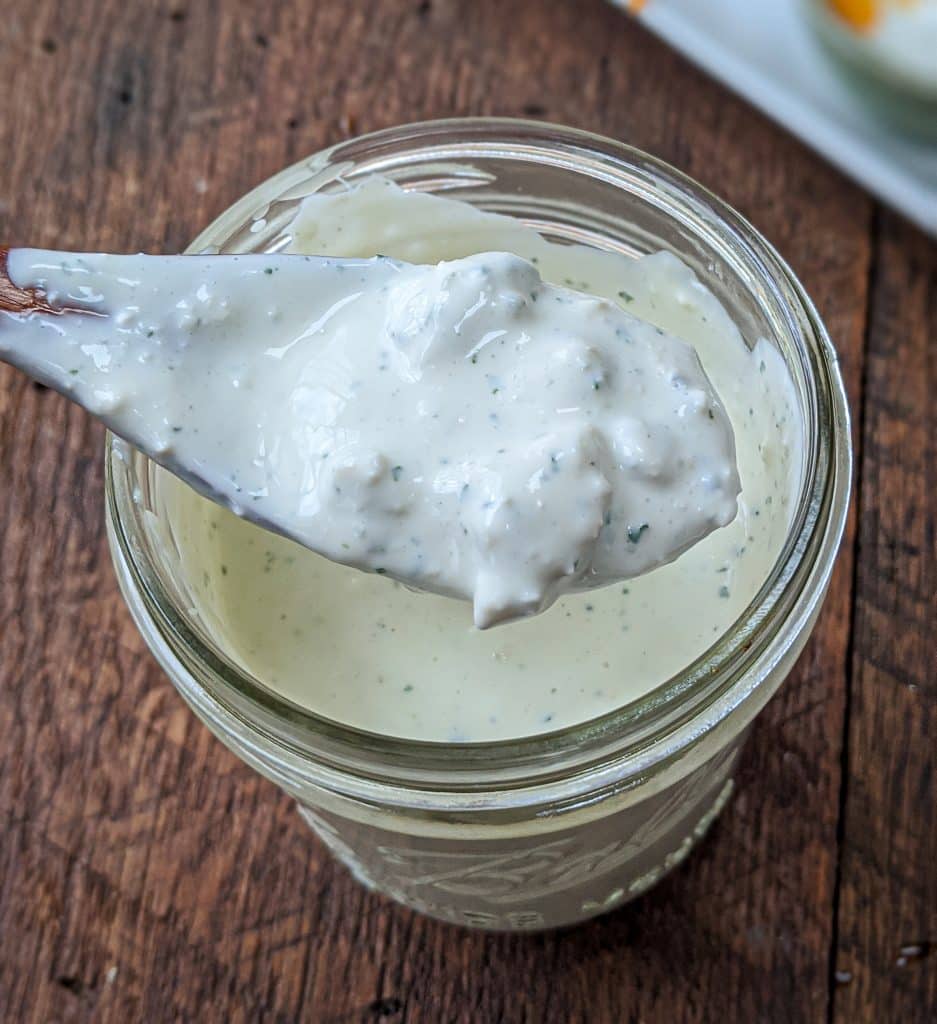 I'm a self proclaimed Bleu Cheese Connoisseur
I would like to consider myself a bit of a bleu cheese dressing connoisseur. As a chef I've probably made enough of this funky dressing to fill a swimming pool, no joke. Normally I would prepare it in 5 gallon batches with a giant stick blender affectionately known as the "boat motor". Over that time I have tried different ingredients and methods to perfect my recipe. The biggest factor that I discovered is that blending half of the bleu cheese into the dressing then stirring in the second half of the crumbles gives the best flavor and texture.

If you blend all of the bleu cheese you won't have any chunks left. For me that's what makes bleu cheese great. When you dip a wing and get a little nugget of "bleu magic" to make for the perfect bite. On the other hand if you just stir the bleu cheese into the dressing it tastes like you're eating mayonnaise with hunks of bleu cheese. It doesn't have that homogeneous taste that makes bleu cheese dressing so delicious. Having a Stick blender is handy for making all sorts of dressings and Aioli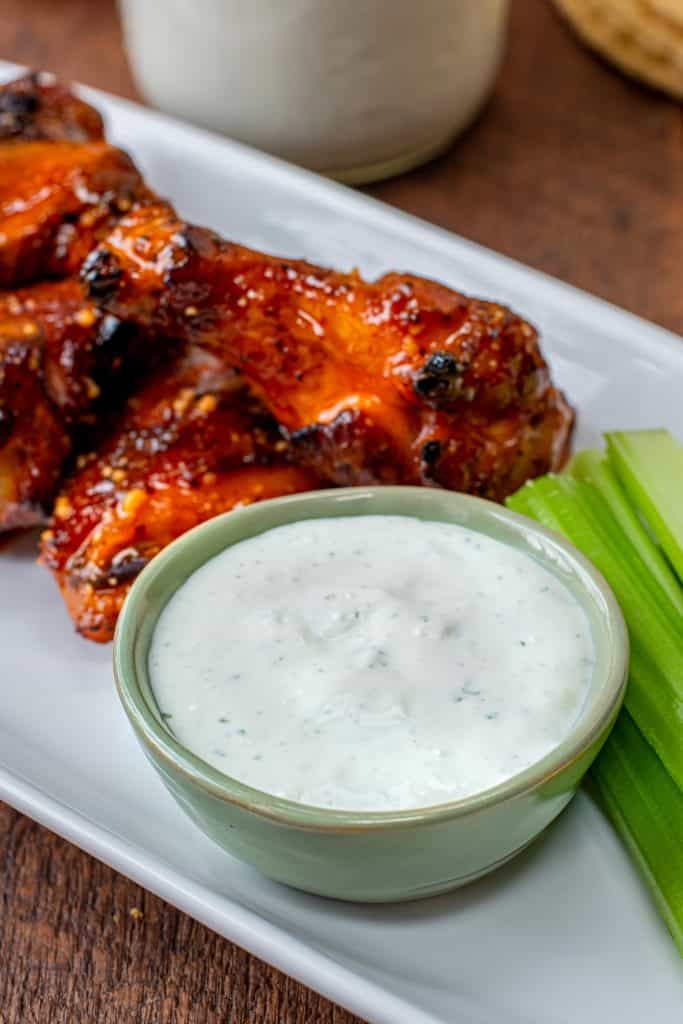 What kind of bleu cheese is best for making dressing?

If you look around the cheese section of your local grocery stores you'll most likely find multiple types of bleu cheese. Some bleu cheese will be already crumbled while others are sold in individually wrapped wedges. Most of the already crumbled bleu cheese are very mild in flavor and not the best quality. Now that being said it will work just fine for this recipe and is very convenient. If you want to make a bleu cheese dressing that blows any others away than you may want to purchase a wedge of bleu cheese and crumble it yourself.
Top 5 Most Popular types of Bleu Cheese
Maytag (United States)
Stilton (United Kingdom)
Gorgonzola (Italian)
Roquefort (France)
Cabrales (Spain)
In addition to these popular varieties there are hundreds of small batch artisan cheeses that would be outstanding options. If your grocery store has a cheese monger behind the counter don't be afraid to ask to sample the cheese before purchasing. Ask them for recommendations based on what you enjoy. If you want an intense pungent cheese Stilton or Roquefort are your best choices. My personal favorite is Maytag Bleu or Gorgonzola because they have a clean creamy texture and are slightly drier than other varieties in general.
*fun fact: Maytag Dairy Farm in located just outside Newton Iowa and was started by the same family as the Billion dollar appliance company.

What Makes Bleu Cheese Blue?

The blue or green mold veins found in bleu cheese comes from the Penicillium strain of mold. The cheese is made from cow, sheep or goats milk and can be aged anywhere from two weeks to 6 months. Wheels are aged in a temperature and humidity controlled environment to prevent from spoiling. Sometimes even aged in caves.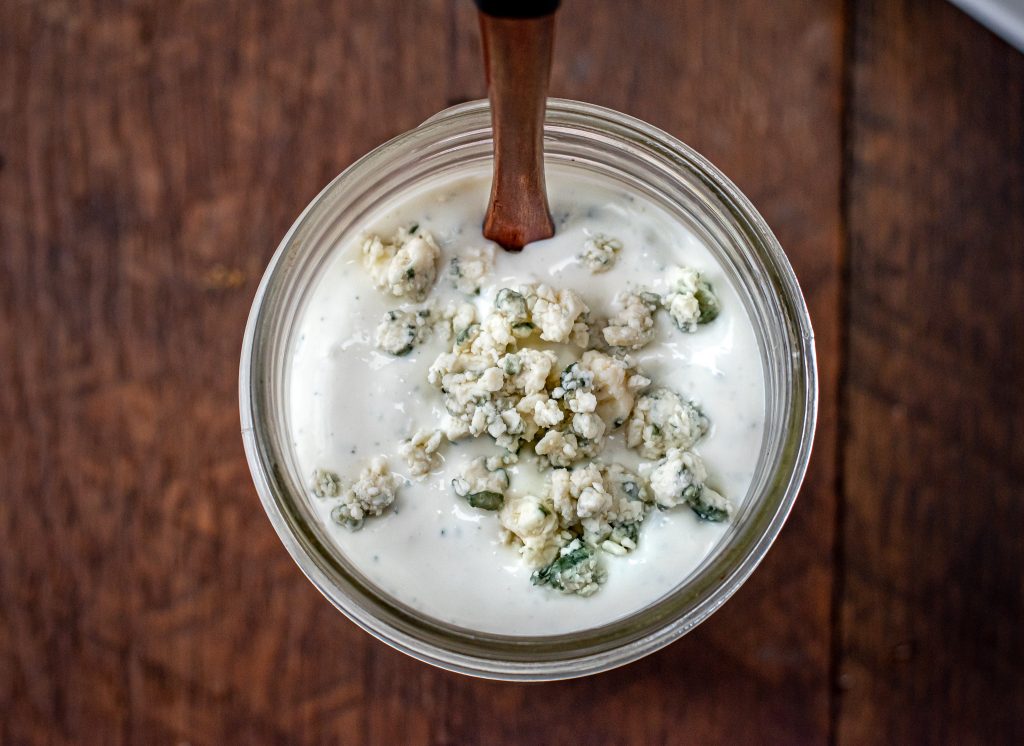 Additional Ingredients?

This recipe is obviously a simple version of my restaurant recipe. If you want to make a few adjustments to customize the dressing I recommend adding a dash of Worcestershire sauce. I also add a pinch of parsley or dried chives for color. As alway salt & pepper can be added to your palate. Sometimes small amounts of sugar are added but I don't think it's necessary. If you want this bleu cheese to be served with wings you want the dressing to compliment and not overpower the wing. Iceberg wedge salads are also a great way to enjoy bleu cheese dressing. Topping with bacon and cherry tomatoes.
*Full disclosure, I did add a tsp of dry parsley to the batch pictured but I seriously doubt that will affect the flavor in any way.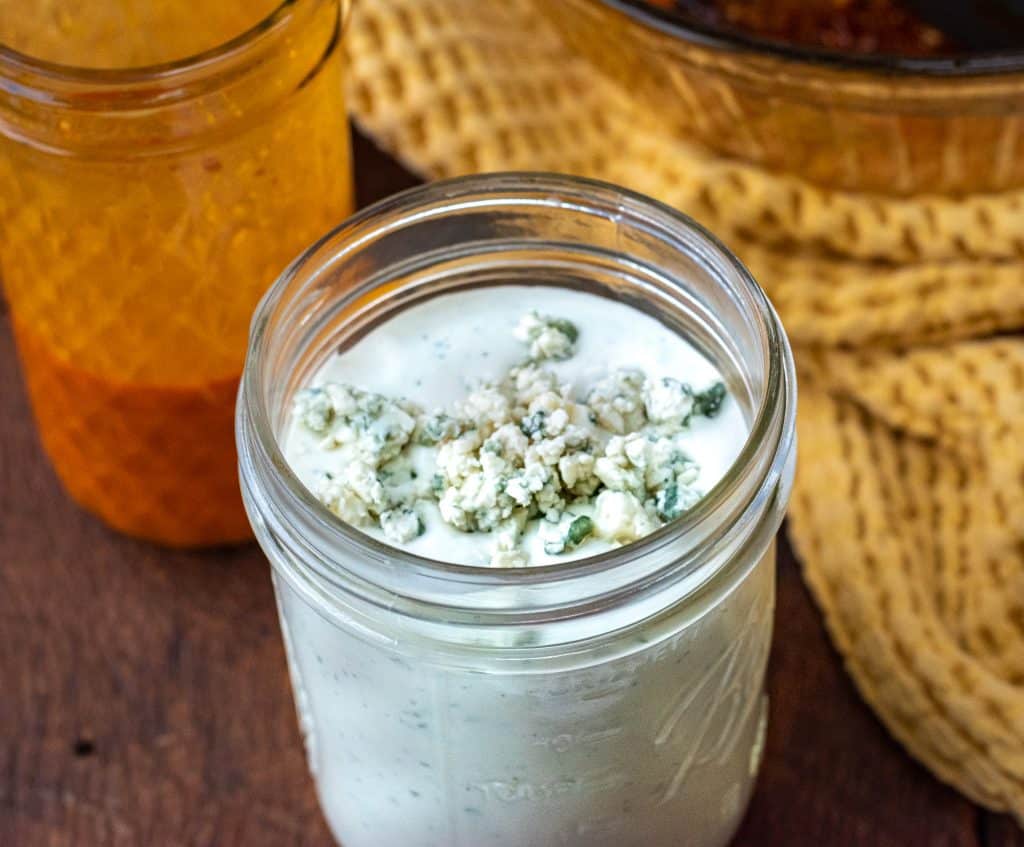 Need More Bleu Cheese in Your Life?
---
Instructions
In a wide mouth mason jar combine mayonnaise, sour cream, apple cider vinegar, heavy cream and half of crumbled bleu cheese

Using a stick blender pulse until the dressing is smooth, a few tiny lumps is ok but the mixture should be combined. If still to thick you can stir in another tablespoon of heavy cream.

Stir in the remaining bleu cheese with a spoon so you have the perfect blend of creamy and chunky bleu cheese dressing perfect for dipping.
Nutrition
Calories:
153
kcal
|
Carbohydrates:
1
g
|
Protein:
3
g
|
Fat:
16
g
|
Saturated Fat:
5
g
|
Cholesterol:
21
mg
|
Sodium:
242
mg
|
Potassium:
38
mg
|
Sugar:
1
g
|
Vitamin A:
167
IU
|
Calcium:
64
mg
|
Iron:
1
mg
This site contains Affiliate Links