Jump to Recipe
Amazing Crab Stuffed Morel Mushrooms Recipe
Crab stuffed morel mushrooms combine the tender prized mushroom with sweet and slightly spicy crabmeat seasoned with old bay.
Crab Stuffed Morel Mushrooms are not arecipe you whip up on an average Tuesday night.

This is a special occasion dish, say maybe Mother's Day coming up this week.

The beautiful honeycomb shape of morels is unmistakable and when combined with fresh jumbo lump crab meat your family won't soon forget this Keto friendly creation.

The Jewel of Appalachia: Morel Mushrooms
It's Morel Mushroom season and it's time to start seeking out this reclusive fungus at your local farmers market.
When shopping for morels look for a large golden yellow honeycomb shaped cap with a hollow stem.
Morels are hand foraged hence the hi and will need to be cleaned and washed so don't worry if they look a little dirty, just look for a undamaged cap with no discoloration.

The shelf life on morels is about 5-7 days from harvest so you'll want to get them home and use them as soon as possible.
I like to transfer my morels to a tupperware container with dry paper towel on the bottom to absorb any moisture.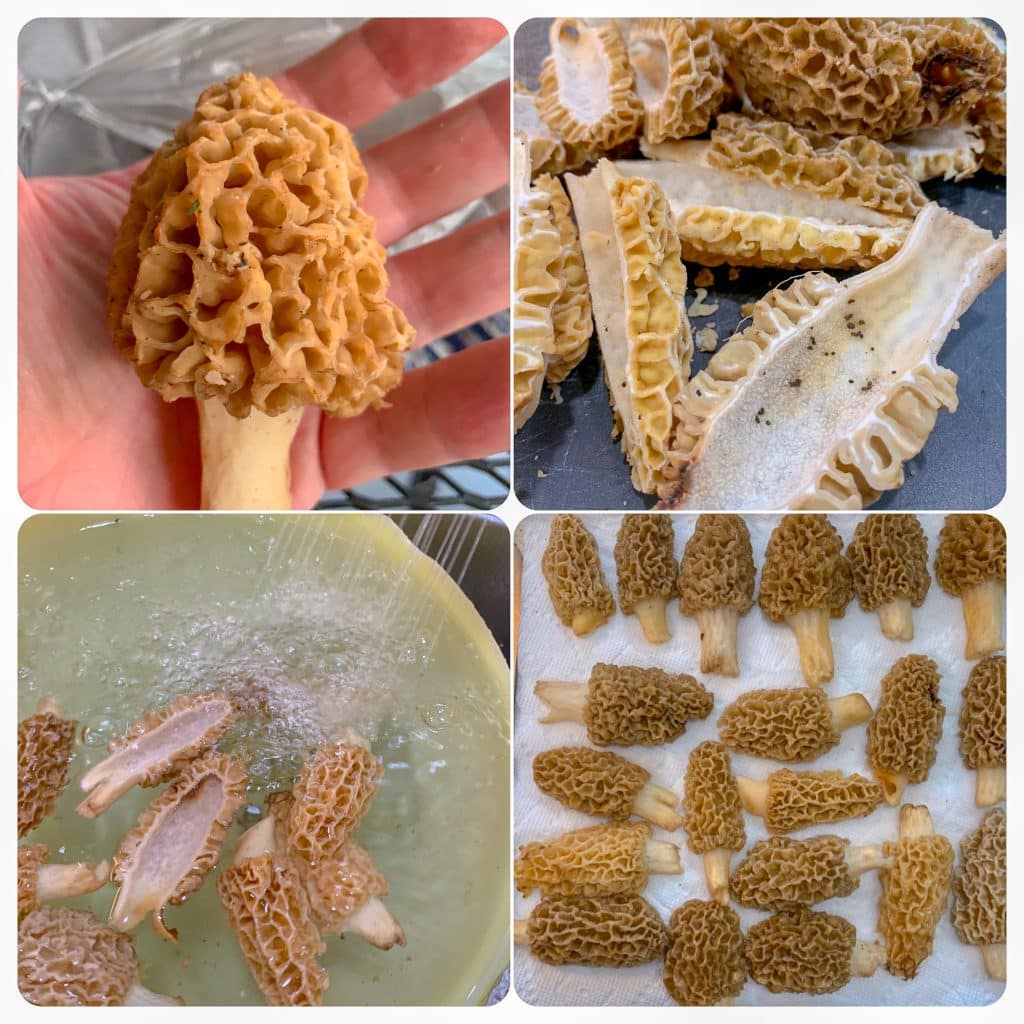 A Clean Morel is a Happy Morel
To clean the morels split the mushroom right down the middle so that they will lay flat on a sheet pan.
Next you'll want to run them under cold water gently brushing out the insides and the honeycomb caps.
You'll find dirty and possibly the occasional bug inside so make sure to take your time with each morel.
Once the mushrooms are clean lay them out on sheets of paper towels and gently pat dry.

Quality Matters
Now that the morels are cleaned and dried it's time to talk crabmeat. Now first off I've lived in Maryland most of my life and made thousands of pounds of crab cakes over my culinary career. I don't say this to brag,
I only mention it because you will hear all sorts of opinions on what type of crab meat to use. Here's my two cents…if you can afford to buy morel mushrooms you can probably afford to buy fresh Maryland jumbo lump crabmeat.
If you can't get your hands on jumbo lump regular lump would be fine. Try to avoid special or claw meat for this recipe. There's nothing wrong with claw and special but it's really a waist of a good morel.
If you must use pasteurized crab look for meat pasteurized in the Philippines or even Vietnam. Avoid Chinese crab if at all possible.

If you're not able to find morels regular button or cremini mushrooms are great options. You can definitely use a lesser grade of crab meat with those varieties of mushrooms

Crab is King!!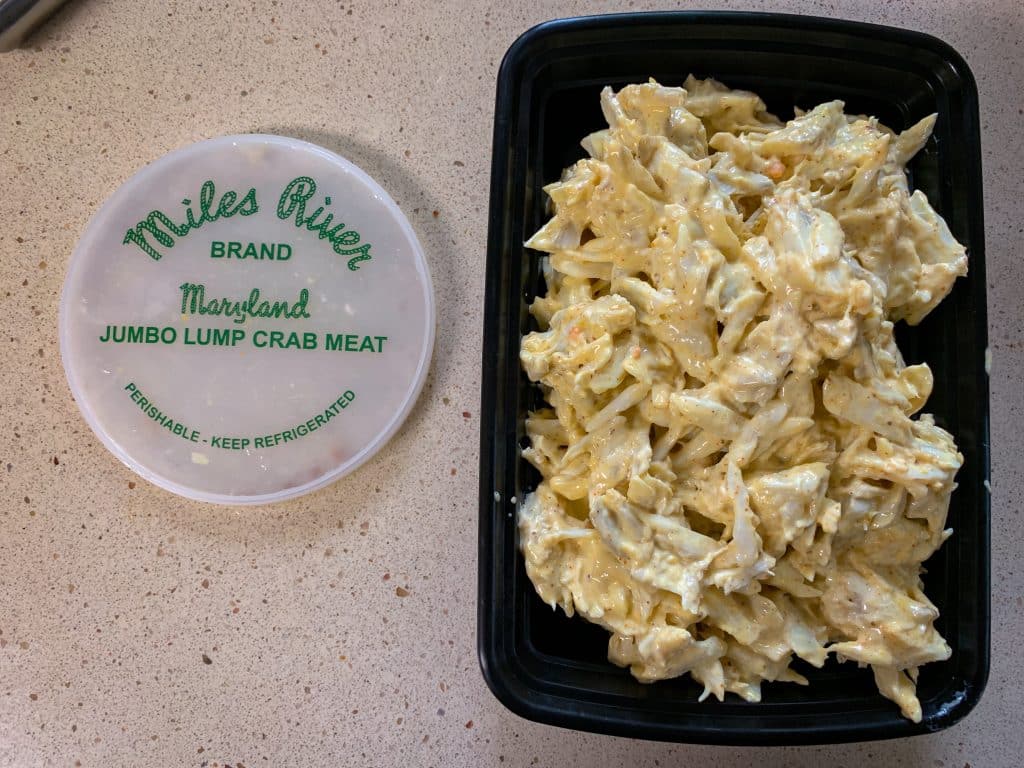 Once you have your crab meat gently pick through it looking for any shells but try to avoid breaking up any of those big lumps of crab that you paid top dollar for.
Next in a separate bowl mix your egg, mustard, mayo, lemon juice and old bay.
You don't just combine these ingredients with the crab meat in at once to prevent breaking up the lumps.
Its also so you don't over mix the crab over saturate the crab meat. You just want enough of the sauce to coat the crab meat without drowning out the flavor.
Now that the crab meat is coated let the mixture chill in the fridge for 20 minutes.
This will help the crab mixture tighten up and give you a better finished product after cooking.
Ingredient List for Crab Stuffed Morels
Morel Mushrooms Split and cleaned
Jumbo Lump Crabmeat
Egg
Lemon Juice ½ a lemon
How to prepare Crab Stuffed Morel Mushrooms
It's time to stuff those morels with your delectable crab or as my forager Daniel said "That's what happens when Appalachia meets the Chesapeake".
Spoon out a dollop of the crab mixture into each morel cap. You don't need to over fill them just enough to fill the cavity of the morel.
The stuffed morels bake they will release some moisture and shrink up a little but don't worry.
The crab mixture will turn a golden color and actually help the mushroom hold its shape. Give the morels a light dusting of Old Bay before popping them in a preheated oven.
Once the mushrooms have finished cooking you can scoop them off the sheet pan onto a serving plate using a slotted spoon. Serve them up hot and enjoy something that's both delicate and delicious.
The earthy flavors of the morels combined with the fresh rich crab is truly something special to be savored and appreciated.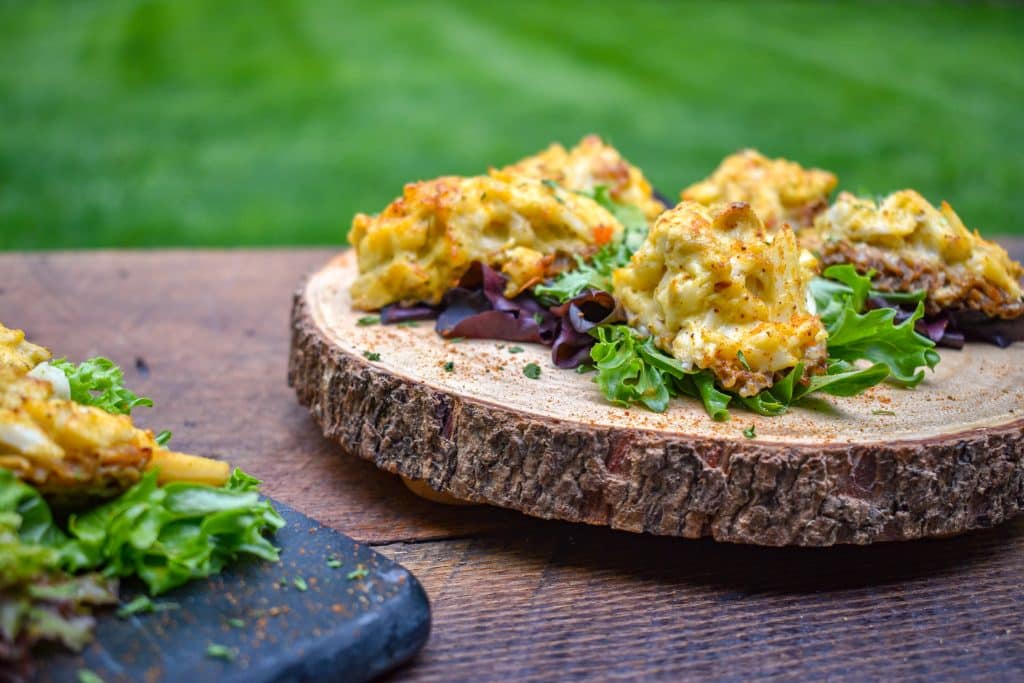 Checkout More Low Carb Appetizers
That's what happens when Appalachia meets the Chesapeake

Daniel the Forager
---
Chesapeake Crab Stuffed Morel Mushrooms
Crab stuffed morel mushrooms combine the tender prized mushroom with sweet and slightly spicy crabmeat seasoned with old bay.
Instructions
Split model mushrooms in half so they will lay flat when stuffed. Rinse the mushrooms gently in cold water removing any dirt from inside and out. Set on paper towels and gently pat dry.

Prepare crab mixture by picking through the crabmeat looking for any shells then delicately fold in the remaining ingredients until fully combined.

Stuff a spoon full of the crab mixture inside each morel mushrooms then place on a sheet pan, dust with additional old bay

Bake at 450 degrees for about 15 minutes just until crabmeat begins to turn a beautiful golden color. Serve immediately.
Notes
Serving Size is 1 Stuffed Morel Mushroom
Recipe can be prepared with button or cremini mushrooms 
Nutrition
Calories:
66
kcal
Carbohydrates:
1
g
Protein:
8
g
Fat:
3
g
Saturated Fat:
1
g
Trans Fat:
1
g
Cholesterol:
31
mg
Sodium:
360
mg
Potassium:
139
mg
Fiber:
1
g
Sugar:
1
g
Vitamin A:
34
IU
Vitamin C:
3
mg
Calcium:
27
mg
Iron:
2
mg
---
Nutrition Facts
Chesapeake Crab Stuffed Morel Mushrooms
Amount Per Serving
Calories 66
Calories from Fat 27
% Daily Value*
Fat 3g5%
Cholesterol 31mg10%
Sodium 360mg16%
Potassium 139mg4%
Carbohydrates 1g0%
Protein 8g16%
Vitamin A 34IU1%
Vitamin C 3mg4%
Calcium 27mg3%
Iron 2mg11%
* Percent Daily Values are based on a 2000 calorie diet.
"We are a participant in the Amazon Services LLC Associates Program, an affiliate advertising program designed to provide a means for us to earn fees by linking to Amazon.com and affiliated sites."