Jump to Recipe
With Pellet Grills becoming more popular than ever, I thought that I would share some tricks for recreating authentic Texas Style Smoked Brisket.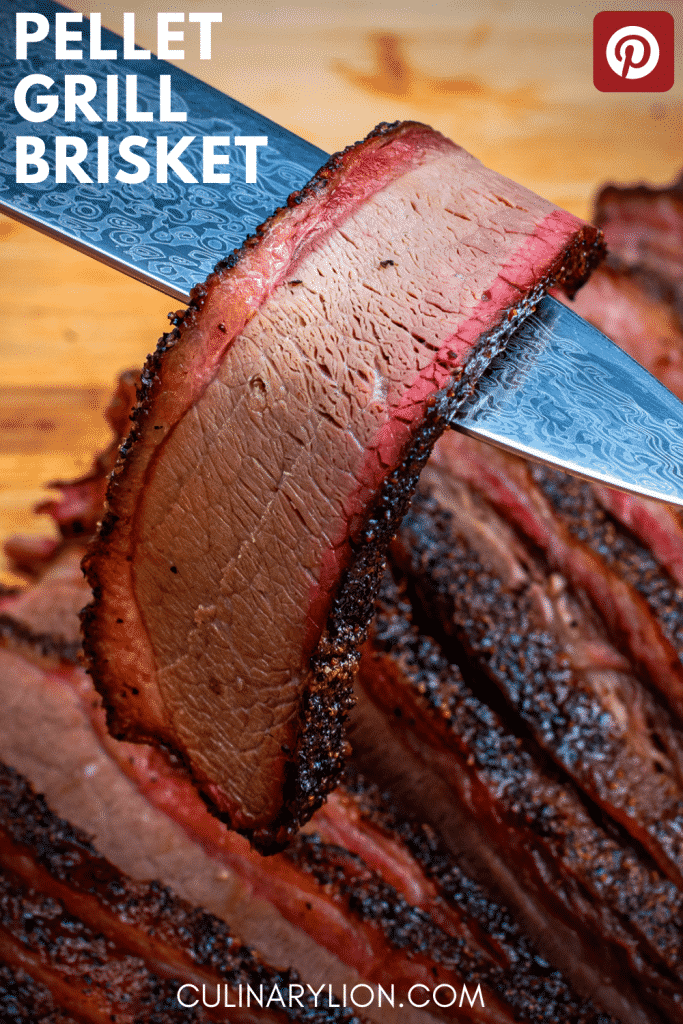 Pellet Grill Recipe
No more staying up all night checking temperatures and tending to a fire. Let technology do the work so you can wake up to tasty Pellet Grill Brisket every time.

Why Pellet Grill Brisket is My Method of Choice

Cooking Texas Style Brisket has always been a battle of wills and patience. Sitting up all night regulating temperatures on a traditional stick burner smoker.
Battling the elements and not getting any sleep.
At Bbq competitions, we would always notice that some teams would wake up at 4 am and power cook briskets in 6 hours, but our smoker was just not set up for that method of cooking.

Nowadays we got smart and a good night's sleep by purchasing a Pellet Grill. We chose the Rec Tec 700 but there are many other good options out there.
I recommend doing your research and selecting a model that can handle a long cook without needing to add pellets very often.
---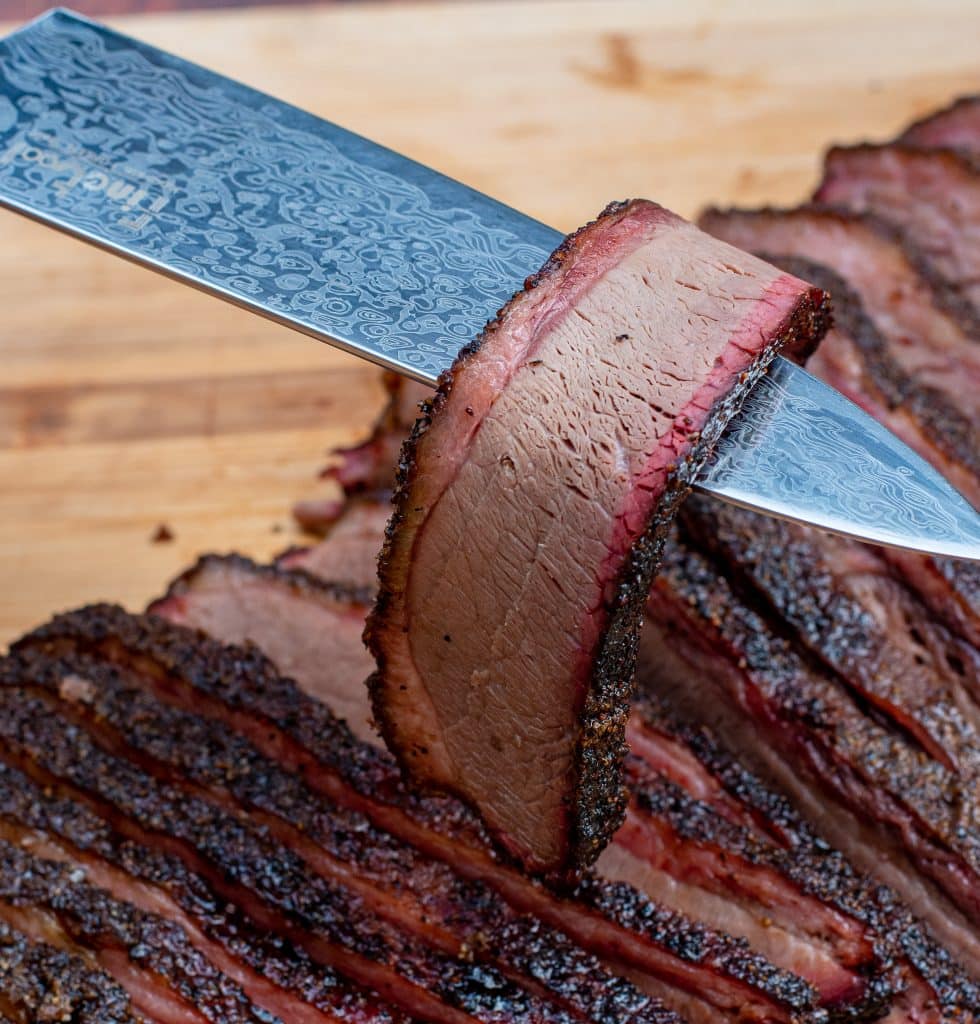 The Rec Tec 700 is built for long cooks with its 40-pound rear placement hopper. As well as the easy-to-use controls to keep a consistent temperature throughout the cook.

Among the many advantages of smoking on a pellet grill is the WiFi controls that allow you to monitor and control the smoker from your smartphone.
If you need to check the temperature, you can simply check the app, adjust the temperature and go back to sleep, knowing you won't have any surprises to deal with in the morning.

What kind of Brisket is Best for Beginners?

There are many choices when selecting a brisket. I always recommend looking for a packer Brisket. This just means that it contains both the flat and the point of the brisket.
If you're unfamiliar, the point is the thick fatty section at the top of the brisket that is sometimes shredded or cut into Burnt ends. Outside of the type of brisket is the grade.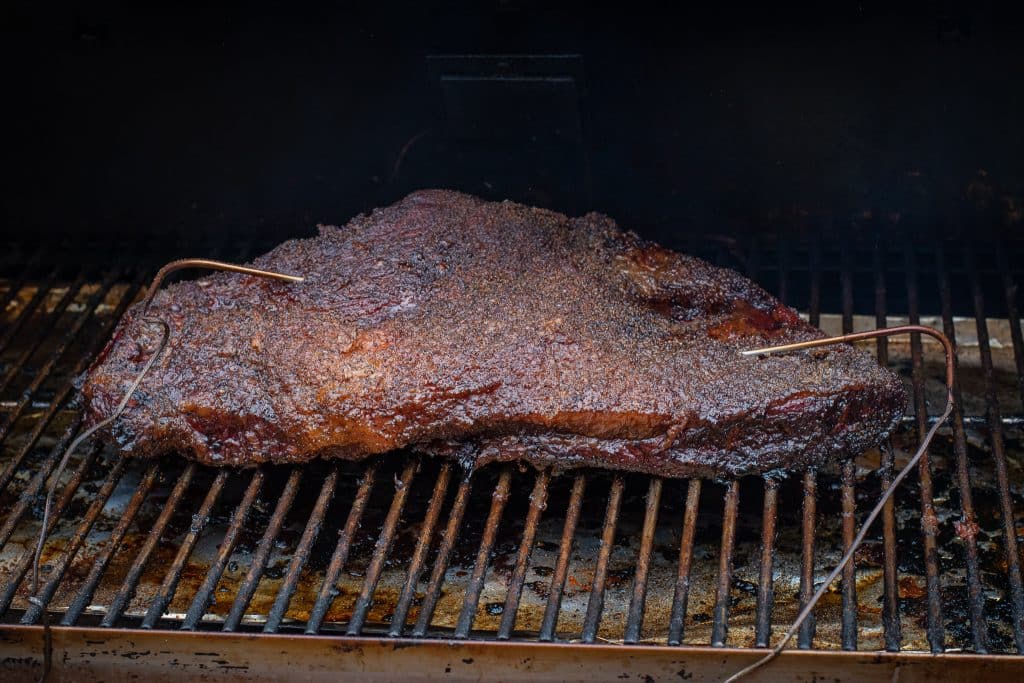 You will find a range of select choices on the lower end of the spectrum to prime and Wagyu briskets that are on the higher end of the grading spectrum.
I personally stick to choice or prime if possible and find them to be the most reasonably priced briskets for the money.
Costco has fantastic prices on briskets and is probably the best place to find briskets outside of Texas. When selecting a size for a backyard brisket, I look for a brisket weighing between 14-16 pounds.
Is a good size to feed everyone but not too big that it will take all night to cook.

Trimming the Brisket.

Trimming a brisket for backyard cooking is fairly simple. You basically want to do some minor shaping and trim any large pieces of fat off.
Other than that I like to trim off some of the extra fat on the point to expose more of the meat so a crust will form. I always trim raw brisket on a Large plastic cutting board using a boning knife.
The plastic cutting board is easy to clean and will prevent cross-contamination. I'll post a video below from the Brisket Whisperer himself, Arron Franklin of Franklin Bbq in Austin, Texas.
This video is worth its weight in gold and provides a lot of knowledge so pay attention.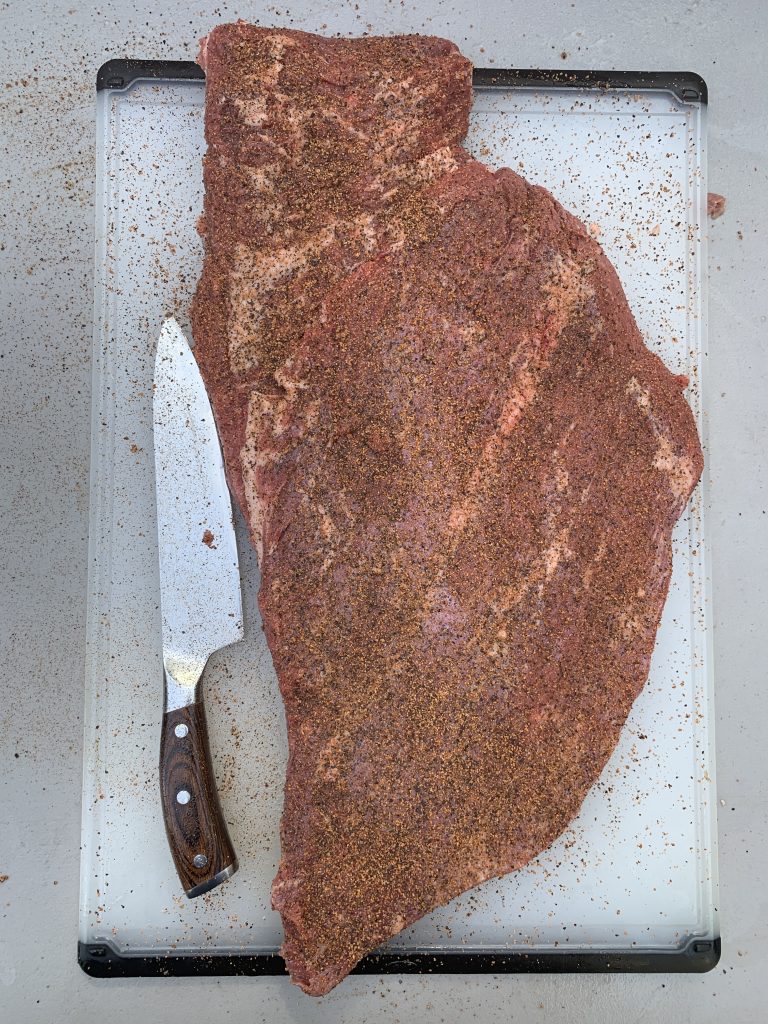 Texas Style Smoked Brisket is an art form. It takes practice.

It's very doubtful that you will cook the absolutely perfect brisket on your first try. That being said, with the aid of the pellet grill and a little knowledge, you'll have a fantastic final product.
As you get more confident, you'll make small adjustments and perfect your methods.
A lot of pros actually keep a smoke journal to note the time, type of wood, seasonings, and even weather conditions. That way, they can make necessary adjustments.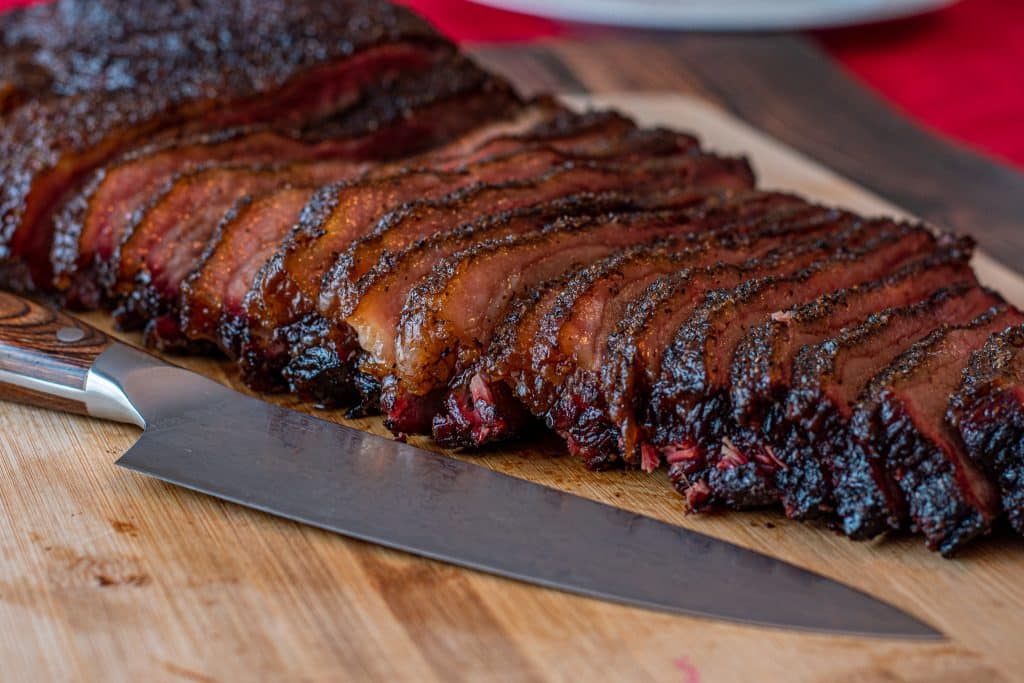 Backyard vs Competition Brisket

Professional bbq teams spend an extraordinary amount of time trimming, injecting, shaping, and mopping their briskets.
It's a painstaking process, but when money is on the line, I totally understand. Since we are just cooking a backyard brisket, you won't need to be near as precise.
The main goal is to come away with a tender, juicy brisket to feed our friends and family.
That's why I love smoking Texas-style Brisket. I Also Have a Fantastic Texas Beef Rib Recipe for you to checkout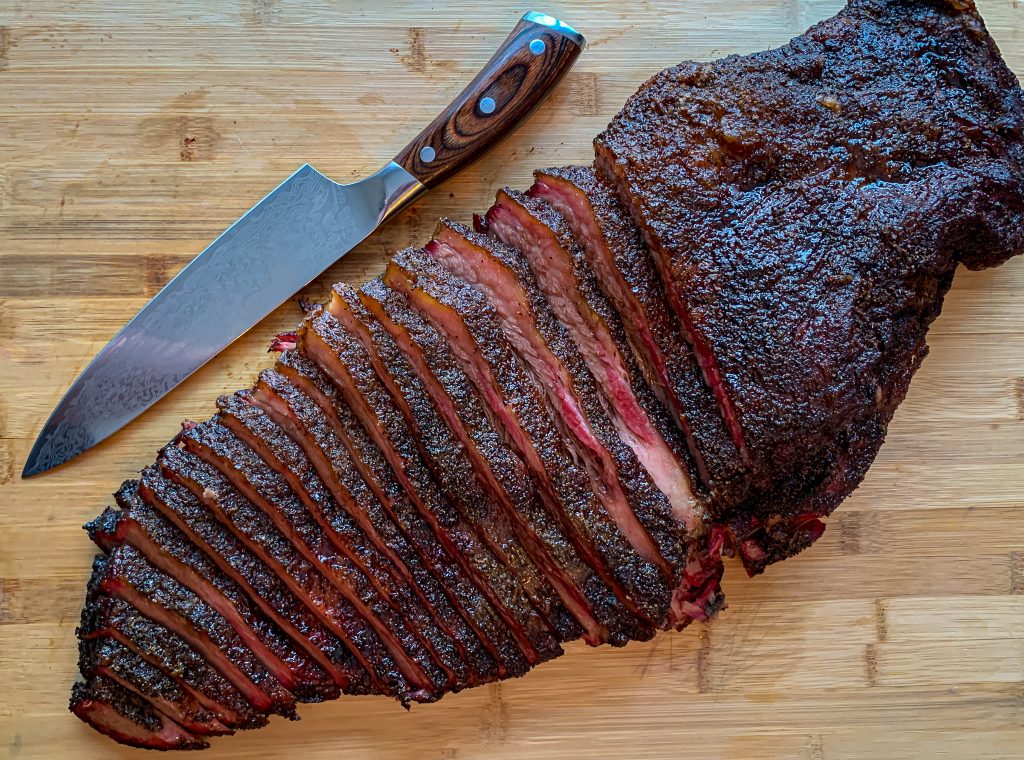 Texas Style Smoked Brisket Smoking Tips

One of my biggest tips is to cook to color, not to time. Don't just say that at the 6 hr mark, you're going to wrap the brisket.
Depending on the size, you may want to smoke the brisket longer before wrapping, or maybe you won't even wrap at all until it's time to rest the brisket.
I check the color of my brisket once it reaches an internal temperature of 160 degrees F. If it's getting too dark, I will definitely wrap, but if I think it still needs more smoke, I'll let it go longer.

Another tip is there is no exact temperature that brisket is magically done at. I would say that somewhere between 200-210 degrees F. Internal is the range to look for, but depending on the brisket, the range could be higher or lower.
The best way to tell if brisket is fully cooked is the probe test. Take your Probe Thermometer and start gently poking different parts of the brisket to check for tenderness.
The probe should go into the meat with almost no tension. Once you feel the brisket is fully cooked, you want to rest the brisket for 30-45 minutes. 

Resting the brisket will make sure that the juices in the brisket have time to redistribute into the meat and not just pour out onto the cutting board.
If you already wrapped the brisket, I will rewrap it with fresh butcher paper once it's fully cooked.

Slicing the Brisket

When slicing a brisket, you basically just want to make clean slices about the thickness of a pencil. If the brisket is crumbling, that's a sign that it's a little overcooked.
In this case, you'll want to make the slices a little thicker. On the other hand, if you think that the brisket is chewy or not tender enough, you can always slice it thinner.
These small adjustments can disguise any imperfections in the cooking process. The hang test is where you hang a slice of brisket over the top of your blade or even your finger. The slice should bend but not break as it hangs.
Second is the pull test, where you take a slice and give it a gentle tug. It should hold together for just a moment under tension before splitting into two pieces with a clean pull.
You can use a Slicer Knife, while others prefer using an Electric Carving Knife. Me I just use this 8″ Damascus Steel Chef Knife and it works like a champ.
Top 5 Favorite Pellet Blends For Texas Brisket
More Keto BBQ Recipes
---
Texas Style Smoked Brisket
With Pellet Grills becoming more popular than ever I thought that I would share some tricks for recreating authentic Texas Style Smoked Brisket
Print
Pin
Rate
Instructions
Remove brisket from packaging an pat dry with a paper towel. Trim Brisket to your liking (see video Above)

Combine Seasoning and mix well. Season brisket aggressively on both sides making sure to season any exsposed meat

Pre Heat Pellet Grill to 225 Degrees F. Place one probe into the Flat section of the brisket and a second probe in the point. Cook for 6-8 hours until brisket reaches an internal temperature of around 165 degrees F.

If you are happy wth the color and crust on the brisket you may wrap with butcher paper and continue to smoke at 250 degrees for 3-4 additional hours until internal temperature reaches around 200 degrees. Using a Prob thermometer test for tenderness by poking the brisket in diffent areas. there should be little to no tention when the brisket is fully cooked.

If you want more color you can continue to cook unwrapped until youre happy with the color. I have cooked briskets completly without wrapping until ti was time to rest with grat sucsess so dont feel like you have to wrap

if brisket is still not tender to your liking continue cooking, testing the brisket for tenderness every 45 minutes-1 hour.

Once Brisket has completed the cooking process wrap in fresh butcher paper and allow to rest for 30-45 minutes before slicing into pencil thick slices.
Notes
*Number of portions will vary depending on weight of the brisket once fully cooked.
*for accurate portions weigh out each serving individually.
*This should be enough rub for 2-4 Briskets
Nutrition
Serving:
8
oz
|
Calories:
589
kcal
|
Carbohydrates:
1
g
|
Protein:
63
g
|
Fat:
32
g
|
Saturated Fat:
17
g
|
Cholesterol:
237
mg
|
Sodium:
110
mg
|
Potassium:
750
mg
|
Fiber:
1
g
|
Sugar:
1
g
|
Vitamin A:
10
IU
|
Calcium:
11
mg
|
Iron:
4
mg
---
Nutrition Facts
Texas Style Smoked Brisket
Amount Per Serving (8 oz)
Calories 589
Calories from Fat 288
% Daily Value*
Fat 32g49%
Cholesterol 237mg79%
Sodium 110mg5%
Potassium 750mg21%
Carbohydrates 1g0%
Protein 63g126%
Vitamin A 10IU0%
Calcium 11mg1%
Iron 4mg22%
* Percent Daily Values are based on a 2000 calorie diet.
---