---
Grilled Fish: Flame, Fire and Fish…Keep It Simple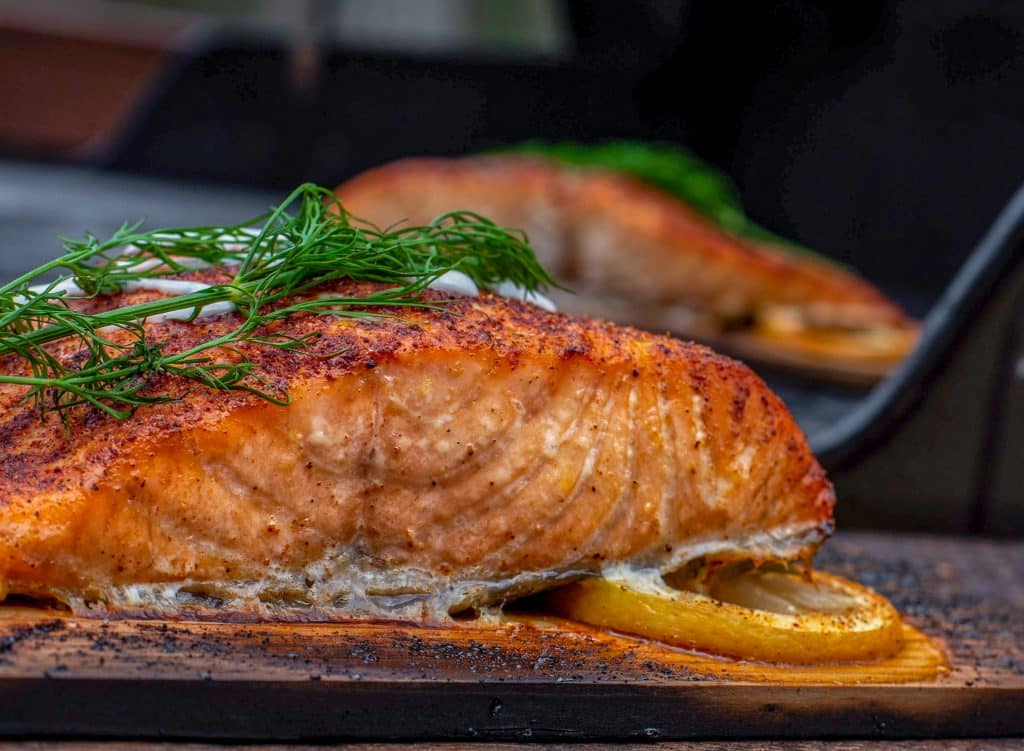 Grilled Fish just feels like summer to me. Even though I love a big steak as much as the next person, fish is a fantastic light alternative. I recently posted a recipe for Almond Ramp Pesto that I served over Grilled Swordfish with Cauliflower Mushroom Risotto. I wanted to go into a bit more depth about grilling fish in general. Also wanted to discuss what types of fish are best for grilling.

What Seasoning Are Best For Grilled Fish.

Swordfish is honestly one of my favorite fish to grill because of it's steak like texture and fresh flavor. It needs very little seasoning and when grilled properly it has a beautiful moist and tender texture. Flavor profiles commonly used on grilled fish are jerk seasoning, Cajun seasoning, lemon pepper and Italian seasoning. There are countless sauces and seasonings that you can try so it's up to you to find your favorite combination. Fresh lemon and butter are always a great way to finish off any grilled fish.
What Should you look for when purchasing fish.

Like all things in life quality matters. I don't have a problem with frozen fish of any kind if it is done properly and in a timely manner. You should know whether the fish you're purchasing was previously frozen and displayed as fresh. If the fish has any off putting odor or if the flesh looks slimy I recommend you move on. I never shop for a specific fish when I'm shopping I just look for the best quality fish. If you went in looking for Salmon but it's not up to par you might call an audible .Go with whichever fish you think meets your standards and price point.

What Types of Fish Are Best For Grilling?

When grilling fish certain species just do better than others on the grill. Fish like cod and flounder are fine for poaching or frying but preparing them on a grill can be a nightmare. I try to use fish that have dense meat that can handle a flip on the grill. swordfish, Mahi, Salmon, tuna, Mako shark and halibut all do very well on the grill. These Steak like fish make for a fantastic meal when grilled to perfection. There are other varieties of fish that can be grilled as well but the species listed above are my favorites and most commonly found.

How many times do i flip my fish?
Many times I see people constantly checking and flipping there fish on the grill. Leave the poor fish ALONE!! Fish like tuna and swordfish that lend well to grill marks can be turned once per side and flipped once. Anything more is just playing with it. Make sure your grill grates are clean and lightly brush or spray a little oil on the grill before you place the fish on the grates. Then leave the fish alone until you see the sides of the fish begin to lift up from the grill. That will tell you that its time to flip or turn. If you want diamond grill marks turn the fish 45 degrees and place on a clean part of the grill. Once you flip the fish don't move it again until its done cooking. Check the temperature and remove once the fish has hit 138 degrees. Remember, if your fish is sticking to the grill its most likely not ready to flip.
If you are grilling tuna and want to serve it med rare I recommend a very hot grill but same rules apply. Only flip the fish once. The only difference is the tuna will reach optimal temperature quicker. Rare Tuna I recommend pulling at 110 degrees F, 120 degrees F for Med Rare.
How to Grill Fish on Cedar Planks

If you want to add a smoky flavor to your grilled fish you can always soak some cedar planks and grill the fish indirectly. The planks won't need to be flipped and can be eaten directly off the wood. Cedar plank salmon might be the most commonly prepared but Whole Red Snapper is great on cedar planks. The key to cooking on cedar planks is to soak the planks for a few hours so the don't burn up. Grill the fish over direct heat until the plank begins to toast then finish over indirect heat. You can top your fish with my crab cake recipe if you really want to get fancy. Its one of my favorite recipes and always requested at family gatherings!!

What Temperature Should I cook Fish to?

The biggest mistake I see when preparing fish is simply over cooking. You only need to cook fish to 140 degrees F. Some people think you cook fish to 165 degrees F like chicken but that will kill your fish. Simply use a probe thermometer to check the temperature of the fish. Once it hits about 135-138 degrees F pull the fish off and let it rest covered with a piece of foil. The carryover temperature will keep going and you'll have a perfect moist piece of fish. You might even slice off a pat of garlic herb compound butter to melt over the fish while it's resting. Finish with a Squeeze of charred lemon and you'll have a restaurant quality dinner right in your backyard.

Great Keto sides to serve with fish
---
This Post contains affiliate links. I receive income from qualifying purchases.