This is a collection of my favorite veggies to use in Keto friendly recipes. This is not a list of vegetarian recipes but a collection of dishes that feature the veggies in a way that helps you incorporate them into your low carb lifestyle.
---
Creamed spinach is so last year in the Keto community. Step up your game with this Keto Kale Rockefeller. Fatty bacon, creamy kale all topped with tomatoes and melty mozzarella cheese!!

Creamed Spinach has always been one of my favorite steakhouse side dishes. honestly its the only way I actually enjoy spinach. That being said I always feel like creamed spinach just comes up short. Some recipes are too soupy and others are just plain old bland. Part of the problem is when the spinach is cooked it just turns into a slimy blob of nothingness. Keto Kale Rockefeller however still has some texture and body left after it's cooked.
10

cups

Kale

6

oz

Bacon

Diced

1/4

cup

Ramps

or Scallions

1/2

cup

Heavy Cream

4

oz

Cream Cheese

3/4

cup

Shredded Mozzarella

1/2

cup

Water

or Chicken Stock

1/4

cup

Pecorino Romano

1/3

cup

Cherry Tomatoes

1.5

oz

Pernod

or Dry Vermouth

1/2

tsp

Real Salt

1/2

tsp

Cracked Black Pepper
Render out the fat from your diced bacon until it's almost fully cooked then stir in your ramps or scallions until soft.



Deglaze pot with Pernod or dry vermouth ( if you don't use alcohol chicken broth will be fine)



Fill pot with kale then add ¼ cup of water or broth to steam the kale. Cover and simmer until kale stems are tender (about 15 minutes)

Add cream cheese and heavy cream, simmer until cream cheese is fully melted and incorporated into the kale mixture. Turn heat off and add your fresh grated Pecorino Romano.



Pour mixture into a casserole pan, top with mozzarella and cherry tomatoes. Bake at 450 degrees F. for 8-10 minutes until cheese is bubbly golden and delicious


Calories:
290
kcal
|
Carbohydrates:
7
g
|
Protein:
11
g
|
Fat:
23
g
|
Saturated Fat:
11
g
|
Cholesterol:
62
mg
|
Sodium:
474
mg
|
Potassium:
506
mg
|
Fiber:
1
g
|
Sugar:
1
g
|
Vitamin A:
8945
IU
|
Vitamin C:
102.2
mg
|
Calcium:
237
mg
|
Iron:
1.5
mg
---
Are You In Search of Meal Prep Perfection? The search is over because this low carb Thai egg roll bowl… Affectionately refereed to by some as "Crack Slaw" is about the easiest keto meal prep dish you can make. One pan and less than 20 minutes to prepare. You'll be back to blasting those Quads in the gym in no time.
2

lbs

Ground Pork

or Chicken

½

Head Red Cabbage

½

Head White Cabbage

1/2

cup

Chopped Cilantro

1/2

cup

Sliced Scallions

1/4

cup

Chopped Thai Basil

1/4

cup

Chopped Mint
Brown off pork in large pan. Remove pork ad drain off excess liquid. Set aside

Saute sliced cabbage in the same pan for about 2-3 minutes until slightly tender but still crunchy. Turn off heat

Prepare thai sauce in a seperate container and then add pork along with thai sauce back into the pan. toss with cabbage until sauce has coated the dish.

Portion into 6 equal portions. Garnish with chopped peanuts, sesame seeds and sriracha (optional) Store in the Fridge for 5-7 days
**** If eating immediately you can cook the veggies to preferred texture but if you're meal prepping cook them a bit less so they won't over cook as it cools in the containers
Calories:
590
kcal
|
Carbohydrates:
12
g
|
Protein:
32
g
|
Fat:
44
g
|
Saturated Fat:
13
g
|
Cholesterol:
109
mg
|
Sodium:
800
mg
|
Potassium:
942
mg
|
Fiber:
6
g
|
Sugar:
7
g
|
Vitamin A:
1217
IU
|
Vitamin C:
85
mg
|
Calcium:
146
mg
|
Iron:
4
mg
---
Sometimes all the stars align and a recipe just comes together perfectly. I've seen a few recipes for similar dishes for zucchini ravioli. The problem was I never like the way the zucchini comes out. It's always watery and turns to mush. These Low Carb Zucchini Fried Ravioli have a few extra steps that you'll want to skip but if you take the time you'll be rewarded. You just need to put in a little extra effort, whether it's cooking or your workout goals. Food can be a metaphor for life, you get out what you put in.
Using a Japanese mandolin thinly slice zucchini long ways into strips (Slice as thin as you can without tearing the strips)

Lay out strips onto a tray lined with paper towels. Lightly dust the strips with salt then place another layer of paper towels on top. Let sit for 20 minutes while you make the filling.

In a large skillet cook the sausage. Once fully cooked, let cool for about 5 minutes before adding spinach, ricotta and Parmesan cheese.

Combine the mixture and transfer to a bowl to cool

Before making the Ravioli, pat dry any excess moisture off the zucchini

To prepare the Ravioli overlap two strips horizontally and two strips vertically on a cutting board. Place a 2-3 oz scoop of filling in the center and press it out to a square shape.

Fold the four corners together to form a square and place folded side down on a baking rack. Continue preparing all Ravioli (should make about 10-12 Raviolis

Bake Ravioli at 400 degrees F for 20 minutes. Then let cool for 20-30 min or overnight if not serving immediately

Heat about 3 tablespoons of avocado oil in a pan and then dredge each Ravioli in the wet mixture then the dry mixture, then directly in the heated oil. ( shake of any extra breading before placing in the pan)

Cook for about 2-3 minutes per side just until golden brown.

Garnish with parsley and Parmesan, serve with a marinara of your choice, I use Rao's.
Calories:
582
kcal
|
Carbohydrates:
12
g
|
Protein:
34
g
|
Fat:
43
g
|
Saturated Fat:
19
g
|
Cholesterol:
197
mg
|
Sodium:
985
mg
|
Potassium:
767
mg
|
Fiber:
4
g
|
Sugar:
3
g
|
Vitamin A:
1520
IU
|
Vitamin C:
23.5
mg
|
Calcium:
395
mg
|
Iron:
3.3
mg
---
Ratatouille Caprese is a show stopping Keto friendly side dish perfect recipe to accompany just about anything. The beautiful kaleidoscope of colors in the bold backdrop of cast iron make this dish visually pleasing and delicious too.

This is one of those side dishes that could easily double as a meal if you wanted. Full of colors veggies like zucchini, squash, eggplant and tomatoes along with fresh mozzarella cheese and salty cured prosciutto. Every bite is sure to wake up every last taste bud.
1.5

lbs

Fresh Mozzarella

8

oz

Prosciutto

2

Japanese Eggplant

2

zucchini

2

squash

6

Tomatoes

2

tbsp

Olive Oil
Pre heat oven to 425 Degrees F.

Using a knife or mandolin slice your zucchini, squash, eggplant and tomatoes into 1/8th inch thick slices

Using a paper towel wipe down the inside of you cast iron pan with 1 tbsp olive oil, next place the balled up paper towel in the pan on the outside to act as a base to hold your veggies as you spiral them around the outside of the pan.

Continue to spiral the ingredients in the pan until it is full. Drizzle with olive oil and season with salt & pepper along with any fresh herbs or grated Parmesan you would like to add

Bake for 30- 40 minutes until veggies have caramelized on top, let rest for 5 minutes before serving.
Calories:
351
kcal
|
Carbohydrates:
8
g
|
Protein:
17
g
|
Fat:
22
g
|
Saturated Fat:
10
g
|
Cholesterol:
57
mg
|
Sodium:
492
mg
|
Potassium:
837
mg
|
Fiber:
4
g
|
Sugar:
7
g
|
Vitamin A:
14265
IU
|
Vitamin C:
41.3
mg
|
Calcium:
362
mg
|
Iron:
1.6
mg
---
Who doesn't love a little cured meat with their asparagus? If you need a quick Low carb side dish that's sure to please look no further than Prosciutto wrapped Asparagus. It doesn't get much easier than a two main ingredient side dish.
This is a simple low carb recipe that always seems to wow my guests whether it's a family meal or dinner service at the restaurant. It's a great side dish that can be prepped days ahead of time and only takes minutes to cook.
Cut the the asparagus above 1 inch from the bottom of the stalks to remove the fibrous section. Next spread the asparagus out on a sheet pan and add olive oil, balsamic vinegar and seasoning. Toss to coat the asparagus

One at a time place a slice of prosciutto on the cutting surface at a 45 degree angle

Place 4-5 Spears Of asparagus at the top left corner of the prosciutto and gently roll the prosciutto around the asparagus. The goal is to roll it as tight as possible without tearing the prosciutto and cover most of the Spears leaving only a little bit exposed at the top and bottom

Set your oven on low broil and place the asparagus on the bottom rack once oven has come to temperature . Broil for about 5-7 minutes until the prosciutto has tighten and the asparagus has turned a bright green.

You may like to drizzle with a bit of balsamic glace or grated Parmesan on top
Calories:
69
kcal
|
Carbohydrates:
4
g
|
Protein:
2
g
|
Fat:
5
g
|
Saturated Fat:
1
g
|
Cholesterol:
5
mg
|
Sodium:
55
mg
|
Potassium:
181
mg
|
Fiber:
1
g
|
Sugar:
1
g
|
Vitamin A:
605
IU
|
Vitamin C:
4.5
mg
|
Calcium:
23
mg
|
Iron:
1.8
mg
---
Need a breakfast/Brunch Side dish/meal?? This covers all the bases. Taking the classic comfort casserole and beefing it up a bit. Cream chipped beef can't help but turn the flavors up a notch. Try this keto mash up recipe out on your family and friends for a new twist on two classic recipes.
Thaw Green Beans by running room temperature water over beans until thawed, strain and pat dry. If using fresh green beans: Snip the ends and boil for 2-4 minutes then shockin cold water to set color and stop cooking process.

in a medium sauce pan bring heavy cream to a simmer then turn heat to medium low and begin whisking in softened cream cheese. continue wisking until all cream cheese is incorperated and smooth

Whisk in chopped dried beef along with seasoning and beef stock. you may need to add a lttle more beef stock if mixture is too thick or add less if chipped beef is thin enogh to pour

combine green beans and cream chipped beef in a cast iron skillet or casserole dish and bake for 30 minutes at 325 degrees F. top with desired toppings: Crispy onions, crushed pork rinds, Almond Slivers, Cheese Crisps, Scallions
Macros do not include Crispy Onions or additional toppings
Calories:
201
kcal
|
Carbohydrates:
8
g
|
Protein:
9
g
|
Fat:
15
g
|
Saturated Fat:
9
g
|
Cholesterol:
62
mg
|
Sodium:
444
mg
|
Potassium:
387
mg
|
Fiber:
3
g
|
Sugar:
4
g
|
Vitamin A:
1225
IU
|
Vitamin C:
22
mg
|
Calcium:
131
mg
|
Iron:
2
mg
---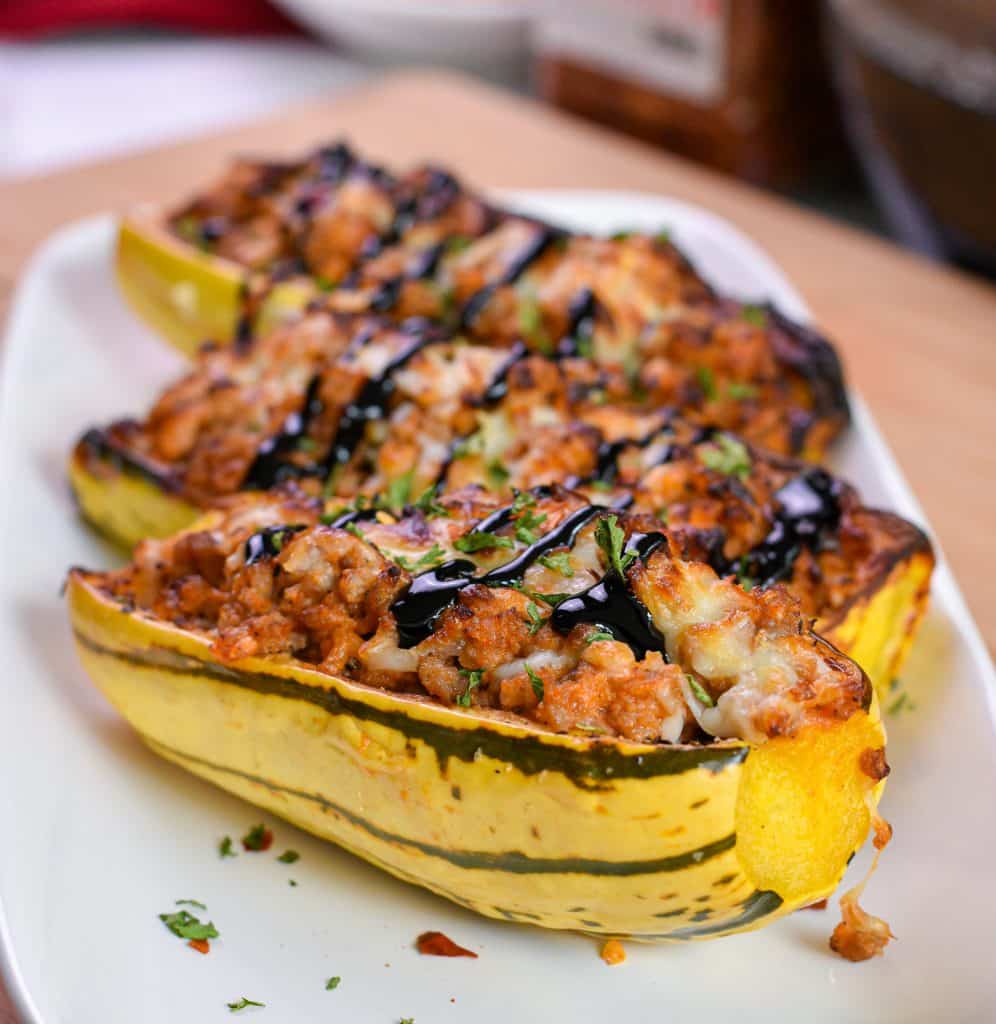 Roasted Delicata squash stuffed with Italian sausage, marinara and cheese. Do I have your attention?? This low carb recipe is so easy to make and will be a hit with the whole family. Delicata Squash Boats are a great low carb option to replace pasta or bread for a ketogenic meal.
2

Whole Delicata Squash

1

lb

Ground Italian Sausage

3/4

cup

Shredded Mozarella Cheese

1/2

cup

Rao's Marinara

1/4

cup

Whole Milk Ricotta Cheese

1/4

cup

Parmasan Cheese

1

tsp

Italian Seasoning

Salt & Pepper to Taste
Slice tips off delicata squash, split in half, spray with cooking oil, season with salt and pepper.

roast for 15 minutes at 400 degrees F. In air fryer oven or convection oven. Poke with a knife to check for doneness

While squash is roasting brown off ground sausage then drain on a paper towel. Combine sausage with cheeses, Italian seasoning and marinara

Stuff sausage mixture into the delicata squash halves, top with shredded mozzarella. Cook at 400 degrees F for about 5 more minutes until Cheese has melted.
serving size is Half of a Delicata Squash
Calories:
585
kcal
|
Carbohydrates:
16
g
|
Protein:
27
g
|
Fat:
44
g
|
Saturated Fat:
18
g
|
Cholesterol:
115
mg
|
Sodium:
1083
mg
|
Potassium:
1112
mg
|
Fiber:
4
g
|
Sugar:
5
g
|
Vitamin A:
3355
IU
|
Vitamin C:
30
mg
|
Calcium:
304
mg
|
Iron:
3
mg
---
The ultimate keto comfort food recipe. Cheesy Cauliflower Mac is the recipe that everyone turns to when they are craving traditional Macaroni & cheese. My recipe is far from the first Cauliflower mac recipe but I have a few tricks to making it one of the best. Follow a few easy steps to make your cauliflower Mac superior to other recipes.
Bring a pot of salted water to a boil w/ 2 tsp Real Salt

Cut two heads of raw cauliflower into even bite-sized florets. Boil for 7-9 minutes until tender but still firm

Shock cauliflower in ice water to stop cooking process then drain and pat completely dry. if cauliflower is not completely dry, bake in the oven at 300 degrees F for 10 minutes while you prepare the cheese sauce

To make cheese sauce bring cream and chicken stock to just below a simmer then whisk in Boursin and softened cream cheese with salt and bbqueen seasoning. Whisk until smooth.

Next slowly whisk in the cheddar and fontina cheeses in small increments until fully melted and incorporated into the sauce. Finally whisk in Parmesan Cheese.

In a separate bowl combine cheese sauce and fully dried cauliflower. Then pour into enameled cast iron or oven safe casserole dish.

Cover the top of the cauliflower mixture with a layer of cheddar, Parmesan and fontina as well as Pork King Good Breadcrumbs. Broil on the bottom rack of the oven on the low setting until golden brown (about 5 minutes)
Calories:
242
kcal
|
Carbohydrates:
6
g
|
Protein:
9
g
|
Fat:
21
g
|
Saturated Fat:
13
g
|
Cholesterol:
69
mg
|
Sodium:
886
mg
|
Potassium:
266
mg
|
Fiber:
1
g
|
Sugar:
2
g
|
Vitamin A:
702
IU
|
Vitamin C:
32
mg
|
Calcium:
182
mg
|
Iron:
1
mg
---
I know that a lot of people are looking for quick and easy things to prepare in their air fryer so I thought I'd put this post out there for everyone to check out.These Keto Cajun Bacon Radishes are a fantastic alternative for potatoes as a side dish. I'm not going to lie and say you can't tell the difference. The sharp flavor that Radishes have when eaten raw changes to a very mild tender potato "like" root vegetable. Pair it with spicy Cajun seasoning from Dak's Spices, some Coarse Real Salt and a half pound of thick cut bacon and you won't even care that it's not potatoes.
Rinse radishes then slice tips off and split radishes in half. Slice bacon into 2 inch pieces

toss radishes and bacon with olive oil then season with real salt and Cajun Voodoo seasoning.

spread out radishes and bacon in the air fryer basket, Roast at 400 degrees F. for 30 minutes, give the radishes a shake and check them every 10 minutes.
Calories:
218
kcal
|
Carbohydrates:
4
g
|
Protein:
5
g
|
Fat:
19
g
|
Saturated Fat:
5
g
|
Cholesterol:
24
mg
|
Sodium:
488
mg
|
Potassium:
351
mg
|
Fiber:
2
g
|
Sugar:
2
g
|
Vitamin A:
295
IU
|
Vitamin C:
16.7
mg
|
Calcium:
30
mg
|
Iron:
0.7
mg
---
Need to ditch that starchy Traditional Risotto? this quick and easy low carb Cauliflower Mushroom Risotto and be made in a quarter of the time as the classic preperation and with about 10 times less carbs per serving its the perfect side dish for your keto lifestyle
Most people think that risotto is a type of rice when in actuality it is a method of cooking, this keto version uses cauliflower instead of the more commonly used rice. Traditionally risotto is made by slowly adding warm stock to a grain, this version we will saute cauliflower with a bit of onion and mushroom and slowly add chicken stock.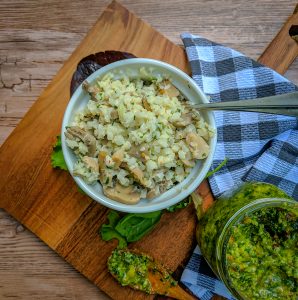 Start by either grating your cauliflower by hand or curing into florets and pulsing in a food processor so you have pieces of cauliflower about the size of corn kernels, if you chop it too fine it will turn to mush and have more of a polenta texture but that's another recipe ( stay tuned)

Heat a medium saucepan on medium high and melt the butter. Next add the onion, garlic and cauliflower and stir for about 2 minutes

Add salt, pepper and Italian seasoning then pour in half of the chicken stock, let the liquid reduce and add in the rest as needed until the cauliflower is tender but not mushy.

Add in heavy cream and reduce until most of the excess liquid is gone

Remove from heat and stir in Parmesan cheese.

The risotto should not have any excess liquid and have a creamy rich texture. Put a lid on the pot and let sit. After a few minutes the risotto will tighten up further and be ready to serve.
Calories:
138
kcal
|
Carbohydrates:
8
g
|
Protein:
4
g
|
Fat:
10
g
|
Saturated Fat:
6
g
|
Cholesterol:
31
mg
|
Sodium:
385
mg
|
Potassium:
446
mg
|
Fiber:
2
g
|
Sugar:
3
g
|
Vitamin A:
370
IU
|
Vitamin C:
57.3
mg
|
Calcium:
69
mg
|
Iron:
0.8
mg
---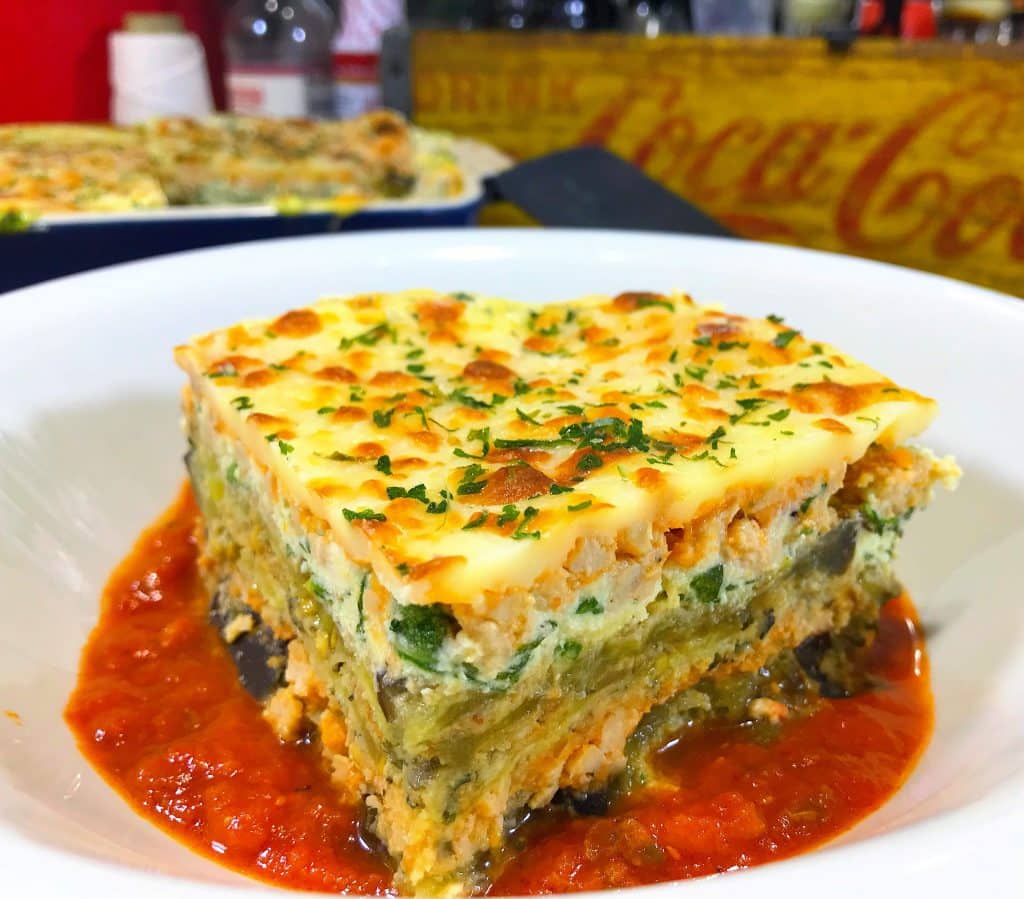 Can't decide on eggplant or chicken Parmesan??? Got you covered. Great weeknight dish that can be prepped ahead of time and finished in the oven for dinner. This Lasagna style keto casserole keeps the carbs low and the flavor high.
This recipe is a combination of three different dishes, it's layered like a lasagna but the eggplant replaces the pasta and I used ground chicken instead of ground beef or Italian sausage. As you might guess I couldn't decide on what to make for dinner so I just took door number three and made everything in one. I've got to say I was very happy with how this dish came out, it's incredibly filling but doesn't pull you in a food coma like traditional lasagna can. The ground chicken is perfectly cooked because it's got the ricotta and marinara prevent it from drying out. The eggplant is tender but strong enough to hold the layers together.
Prepare the Dry Dredge mix by combining the nutritional yeast 2/3 cup Parmesan Cheese, Italian seasoning. parsley and black pepper.

prepare the cheese mixture by combining eggs, ricotta, spinach, basil, parsley, parmesan, Italian seasoning and black pepper

Cut both ends off of the eggplant, optional step to peel stripes off of the eggplant. (I feel like its is easier to eat with less skin) .Next slice eggplant into 1/4 inch slices

Brush may on both sides of the sliced egg plant one at a time and place in the dry breading dredge then place on a greased sheet pan.

Bake at 400 degrees F. For about 20 minutes until golden brown.

while eggplant is cooking brown off ground chicken in a pan with salt, pepper, and Italian seasoning. once chicken is cooked add heavy cream and reduce by half. Finally stir in the marinara then Set aside to cool

once the eggplant is out of the oven you can assemble the lasagna stating with layers of the cheese mixture, eggplant, chicken and repeat. top of with sliced provolone cheese

Bake at 400 degrees F. for 15-20 minutes until golden brown.
Calories:
311
kcal
|
Carbohydrates:
6
g
|
Protein:
18
g
|
Fat:
23
g
|
Saturated Fat:
10
g
|
Cholesterol:
119
mg
|
Sodium:
512
mg
|
Potassium:
488
mg
|
Fiber:
2
g
|
Sugar:
2
g
|
Vitamin A:
860
IU
|
Vitamin C:
2.9
mg
|
Calcium:
214
mg
|
Iron:
1.3
mg
---
A culinary kaleidoscope of deliciousness! inspired by a Green Papaya Salad from the food Network Show "Triple D" . This Keto Thai Veggie Salad is packed with all the flavors of the Far East with a lot less baggage from carbs and added sugars. A Ketofied Recipe that anyone can prepare in minutes that everyone will love
Using a mandoline with the julienne blade carefully slice zucchini,squash and carrots into long noodle like strains. Add salt to draw out the moisture. Let sit for 30 minutes then drain off all excess liquid and pat dry.

Next slice mini bell peppers lengthwise into matchsticks and rough chop herbs. Add to the rest of the veggies.

In a separate bowl prepare dressing by whisking all the ingredients together. Pour dressing over the veggies, toss to combine. Let sit for 30-60 minutes in the fridge before serving
Serving:
4
oz
|
Calories:
76
kcal
|
Carbohydrates:
6
g
|
Protein:
1
g
|
Fat:
5
g
|
Cholesterol:
2
mg
|
Sodium:
451
mg
|
Potassium:
285
mg
|
Fiber:
1
g
|
Sugar:
3
g
|
Vitamin A:
1680
IU
|
Vitamin C:
23.7
mg
|
Calcium:
25
mg
|
Iron:
0.6
mg
---
This page contains affiliate links