---
Jump to Recipe
It's not truly thanksgiving without mashed potatoes and gravy right.
Well this Ricotta Cauliflower Mash with Cremini Mushroom Gravy will be a part of your new KETOFIED thanksgiving menu for years to come.
Low on carbs, packed with flavor!

How to cook Cauliflower Right

There is a lot of debate on the best way to cook cauliflower for recipes. Because cauliflower has a high water content it can make recipes soupy and watery. You can roast cauliflower but I find that it dries out and becomes crunchy and fibrous.
That's great for Cauliflower Mac n Cheese Recipes but not what you want for a creamy cauliflower mash. If you're able to steam your cauliflower that's probably your best method. It will give you tender soft cauliflower but not add too much moisture to your recipe.

A trick I've picked up when cooking cauliflower is to leave the head of cauliflower in large pieces or even cook whole. I boiled my cauliflower but quartered it to fit in my pot instead of cutting it down into small florets.
This prevents the cauliflower from becoming waterlogged. Once the cauliflower is fork tender remove it from the pot then be sure to drain for 5-10 minutes even patting dry to remove excess moisture.
Whether you boil or steam I recommend leaving the cauliflower in large hunks instead of small florets.

Less is more

If you read my recipes you know I'm not afraid of long ingredient lists. I love to add layers of flavor sometimes using 10-15 ingredients in a single recipe.
That being said I feel like less is best for this Ricotta Cauliflower Mash. To truly mimic the flavor and texture of traditional mashed potatoes requires simplicity.
Salt and white pepper along with a pinch of onion and garlic powder is all the flavor you need. Feel free to add different herbs or seasoning if you like but I wanted the cauliflower mash to keep its fluffy white texture.

Butter is a must and using a high quality grass fed butter is highly recommended.
You might be tempted to use more than a ½ a stick of butter but it will effect the consistency of the final product.
Instead add a pat of butter on top afterwards to give your mashed cauliflower added buttery goodness.

Ricotta: the Secret to Perfect Cauliflower Mash

Most mashed cauliflower recipes you will find use a mixture of cream cheese and heavy cream. I elected to use whole milk ricotta instead because of its light creamy texture.
Ricotta cheese doesn't have a lot of flavor on its own but adds velvety smooth texture to any recipe. It's actually my secret ingredient in my Italian Meatloaf Recipe for amazing melt in your mouth meatloaf.
If you don't have ricotta on hand softened cream cheese will work but I find the texture of the ricotta fat superior. I hope you give it a try and let me know what you think.

Let's get Mashing.

If you don't have an Immersion Blender or "Stick Blender" you need one. It's a tool that gets a lot of use in my kitchen. Plus it's the perfect time of year to put one on your amazon wishlist.
You can make all sorts of soups and sauces. Sauces like hollandaise or homemade salad dressing are a breeze.
The whisk attachment allows you to make perfect whipped cream in no time without cramping wrists from vigorous hand mixing. 

Now that I've given you my case for owning an Immersion blender let's talk about what it does for this recipe.
Once you have cooked your cauliflower and it's drained and dry I place the cauliflower back in the pot I cooked it in. The pan will have a bit of residual heat and will help melt the butter.
I take my stick blender and begin pulsing it  into the large pieces of cauliflower mashing them down until they begin to for a mash.
At this point I add the ricotta and seasoning the mash before continuing to blend but now stirring in a circular motion until the chunky mash has become a smooth purée.
You can decide how chunky to leave your cauliflower mash. Some people like it smooth like baby food while others prefer a chunkier home style version.

Let's talk Gravy.

I wanted to give you a gravy that was packed with flavor but easy to prepare. The veggies in this recipe not only provide flavor but will also thicken the gravy when blended. If you have actual turkey drippings from cooking the bird that's fantastic.
Be sure to defat the broth or your gravy will be oily and separate. If you don't have turkey dripping you can just use any store bought broth or stock to prepare the gravy.

This recipe is not the fastest but your patience will be rewarded. Slowly sauteing the veggies over low heat will caramelize the veggies giving the gravy a beautiful golden color as well as providing amazing flavors.
I like to put the pot on the back burner while I'm preparing my Ricotta Cauliflower Mash and just stir occasionally until the veggies are completely soft and mushy.
Then add in your broth and bring to a simmer along with your gelatin and cream cheese.

Once the gravy has come to a simmer simply use that Immersion Blender that you used for the cauliflower to purée the gravy until smooth.
If the blender is not fully submerged tilt the pot so you don't splash hot liquids over yourself and the kitchen.
After your gravy is blended smooth it may not be as thick as you like it. Stir with a spoon and the gravy will thicken as it cools.
If it's still not thick enough just add another tablespoon or two of cream cheese. The gravy will be smooth but not look overly creamy. Perfect for drowning turkey, stuffing and mashed cauliflower.
Need More Holiday Recipes Please Checkout These Delicious Side Dishes
---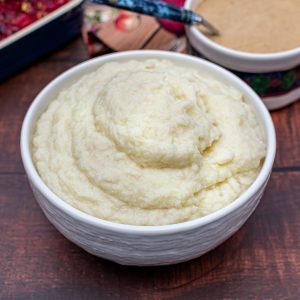 Ricotta Cauliflower Mash
This Ricotta Cauliflower Mash with Cremini Mushroom Gravy will be a part of your new KETOFIED thanksgiving
Instructions
Quarter 2 heads of cauliflower and place in a pot, fill with just enough water to cover then add 2 tsp of real salt and bring to a boil.

Cook cauliflower until fork tender, about 15 minutes then drain for 10 minutes until completely dry. Pat dry if needed.

Place cauliflower back into pot along with remaining ingredients. Then begin mashing cauliflower using a stick blender. Purée until smooth.

Let cool for 5 minutes before serving. If mash is not thick enough add a few tablespoons of grated Parmesan or shredded mozzarella.
Nutrition
Calories:
76
kcal
Carbohydrates:
5
g
Protein:
3
g
Fat:
5
g
Saturated Fat:
3
g
Cholesterol:
15
mg
Sodium:
652
mg
Potassium:
299
mg
Fiber:
2
g
Sugar:
2
g
Vitamin A:
160
IU
Vitamin C:
46
mg
Calcium:
42
mg
Iron:
1
mg
Cremini Mushroom Gravy
Instructions
Dice carrots, onion, celery and mushrooms then add to a saucepan along with butter. Simmer on medium low stirring frequently caramelizing the veggies until soft. About 15-20 minutes

Next add half of the turkey stock and seasoning continuing to simmer for 10 more minutes

Add remaining turkey stock along with cubed softened cream cheese. Using a stick blender purée the gravy until completely smooth. About 2 minutes. 

Finally whisk in gelatin and stir for 10 minutes then remove from heat. Let cool for 10-15 Minutes before serving.
Nutrition
Calories:
85
kcal
Carbohydrates:
2
g
Protein:
3
g
Fat:
6
g
Saturated Fat:
3
g
Cholesterol:
18
mg
Sodium:
263
mg
Potassium:
138
mg
Fiber:
1
g
Sugar:
2
g
Vitamin A:
650
IU
Vitamin C:
1
mg
Calcium:
16
mg
Iron:
1
mg
This Page May Contain Affiliate Links