Need a warm broth soup that's ready in 15 minutes. Stracciatella is basically the Italian version of Egg Drop Soup with more flavor. Parmesan and garlic along with chicken broth will give your body the boost it needs while warming your soul at the same time. Comforting therapeutic deliciousness in a bowl and low carb to boot. I make this soup anytime I'm feeling a little under the weather.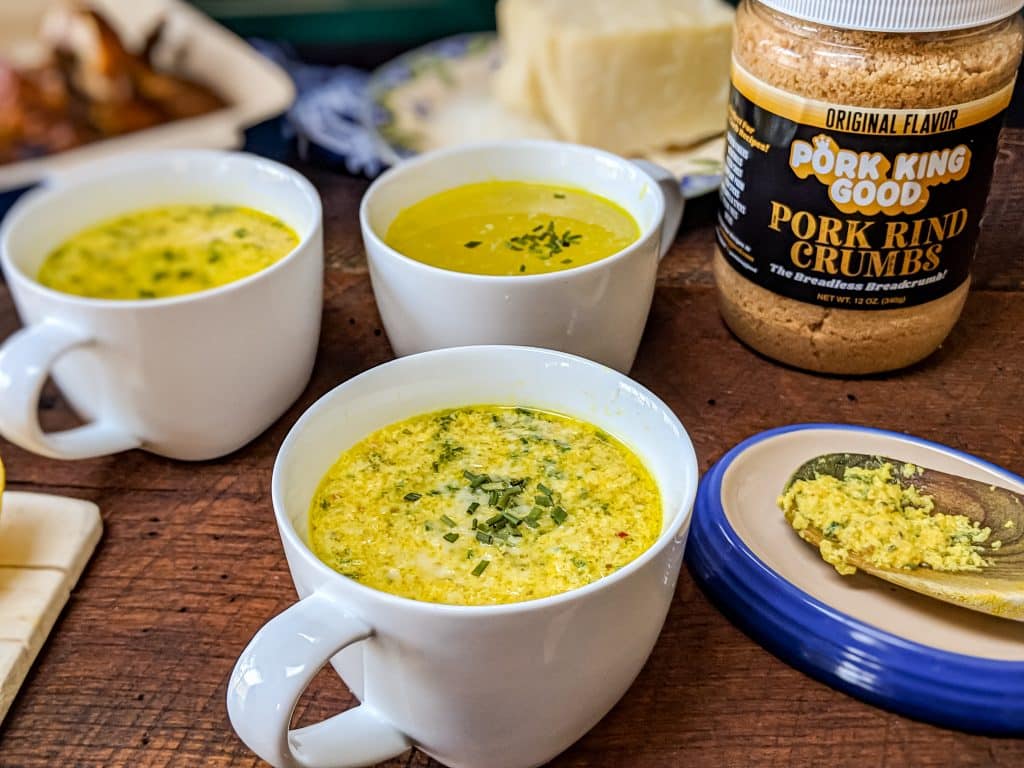 Stracciatella…soup, cheese or dessert?

For some strange reason stracciatella is associated with three completely different Italian dishes. This recipe is for the broth based soup with cheese and egg mixture whisked into hot broth. Stracciatella is also referred to when describing the filling of Burrata cheese.
Yet another dish, stracciatella is a flavor of gelato that contains irregular pieces of chocolate flakes.y Stracciatella means "rag," from the Italian word "strattore" (to stretch). The term is used to describe the ripped "rag" like bits found in the dessert, soup and cheese.

Stracciatella vs. Egg Drop Soup: what's the difference??

There are many varieties of broth based egg soups from all over the world. Probably the most common variety of the soup is the Chinese version "Danhuatang". It's a simple mixture of scrambled egg with a few additional ingredients whisked into hot broth to form ribbons of cooked egg.

The Italian version stracciatella has Parmesan cheese added to the egg mixture as well as semolina in some recipes. Similarly in France le tourin, a garlic soup, is made with egg whites which are drizzled into the soup in a similar way to how traditional egg drop soup is made. Also in Spain, the similar and traditional sopa de ajo (literally "garlic soup") uses egg whites to thicken the broth in a similar fashion.

I have tried many versions of egg drop soup and each one has its own distinct flavor though have many similarities as well.

Stracciatella: KETOFIED

To give the soup extra body semolina is combined in the egg mixture along with the Parmesan cheese to thicken the eggs when stirred in the broth. To make this recipe keto friendly I substituted Pork King Good Breadcrumbs. You can crush up your own pork rinds but the even consistency of pork king good is perfect for this recipe. To bring in extra flavor I also sautéed garlic and shallots in butter to act as the flavor foundation.

My favorite bone broth is the Roast Chicken Bone Broth Powder from Ketologie. The convenience of the powder is great for all sorts of recipes and if you're broth isn't chickeny enough you can just whisk in an extra scoop. I drink the broth by itself all the time in the winter when fasting in place of coffee or tea. Looking for More Low Carb Soup Recipes??
Checkout My Creamy Tomato Basil or 5 Cheese Creamy Cauliflower Soup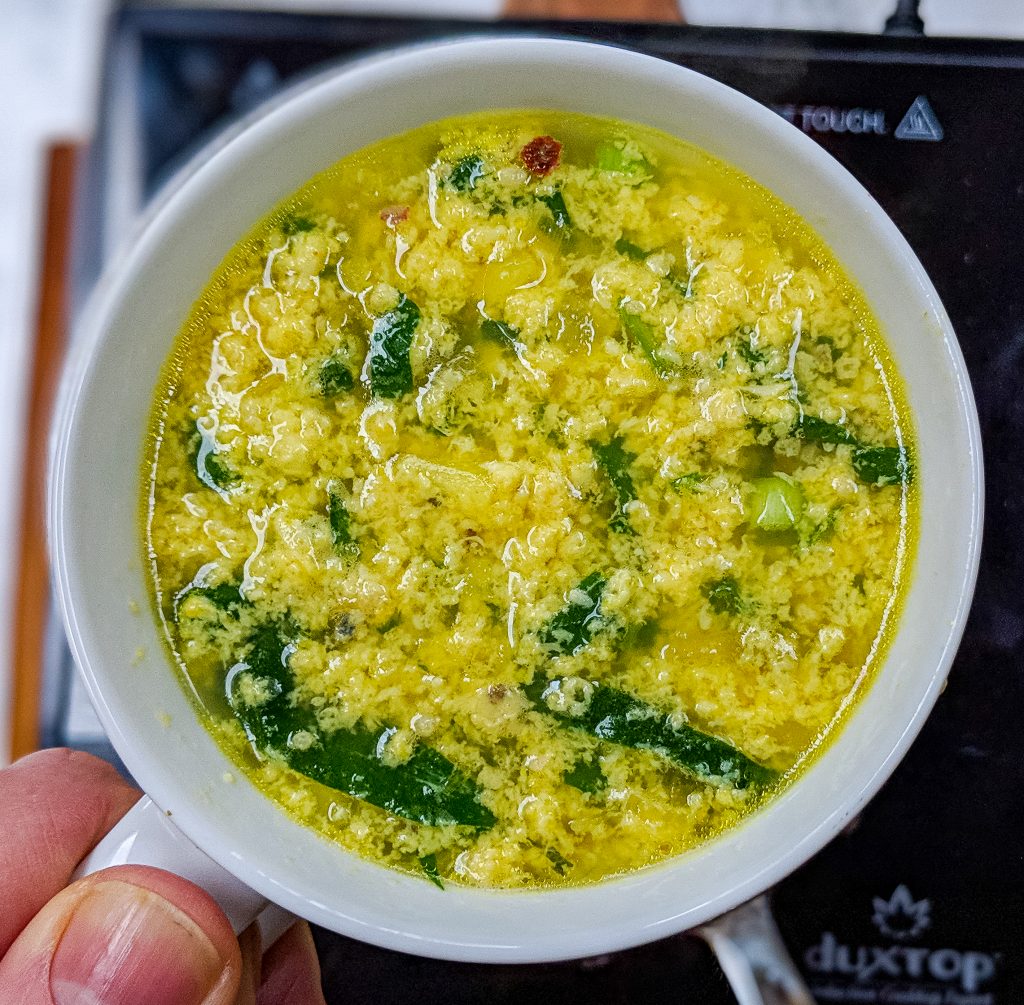 Helpful Tips

Because this soup comes together so quickly be sure to have all your ingredients ready. Chop your garlic, shallots, scallions and spinach ahead of time. You can also whisk your egg mixture and set aside as you heat the broth. As you bring the broth to a simmer make sure the broth doesn't come to a full boil. You don't want a rolling boil while whisking in the egg mixture.
A low simmer is ideal and you don't want to whisk to fast. The goal is to create ribbons as you whisk. Pour the egg mixture at a slow and steady pace. You can also begin whisking before you pour to create a whirlpool in the center of the pot to help the egg mixture dispersed evenly. It may take a few trys to get the texture perfect but the soup will be delicious either way.
Stracciatella: Italian Egg Drop Soup
Instructions
Dice Shallots and garlic then slice spinach into thin ribbons and slice shallots.

Combine Eggs, Pecorino Romano Cheese, Italian Seasoning and Pork King Good Breadcrumbs. Whisk to combine

in a Sauce Pan saute garlic and shallots in olive oil over medium heat until softened and translucent (about 3-5 minutes)

whisk bone broth powder with warm water to dissolve. then add to the sauce pan along with turmeric. Bring Broth to a low simmer.

add spinach and scallions to simmering broth then begin slowly stirring broth to create a whirlpool. Begin pouring egg mixture into the simmering broth while continuing to whisk.

Remove from heat and let soup set up for 1 minute and then serve.
Nutrition
Calories:
204
kcal
Carbohydrates:
3
g
Protein:
9
g
Fat:
14
g
Saturated Fat:
4
g
Cholesterol:
172
mg
Sodium:
186
mg
Potassium:
111
mg
Fiber:
1
g
Sugar:
1
g
Vitamin A:
671
IU
Vitamin C:
3
mg
Calcium:
148
mg
Iron:
1
mg
Nutrition Facts
Stracciatella: Italian Egg Drop Soup
Amount Per Serving
Calories 204
Calories from Fat 126
% Daily Value*
Fat 14g22%
Cholesterol 172mg57%
Sodium 186mg8%
Potassium 111mg3%
Carbohydrates 3g1%
Protein 9g18%
Vitamin A 671IU13%
Vitamin C 3mg4%
Calcium 148mg15%
Iron 1mg6%
* Percent Daily Values are based on a 2000 calorie diet.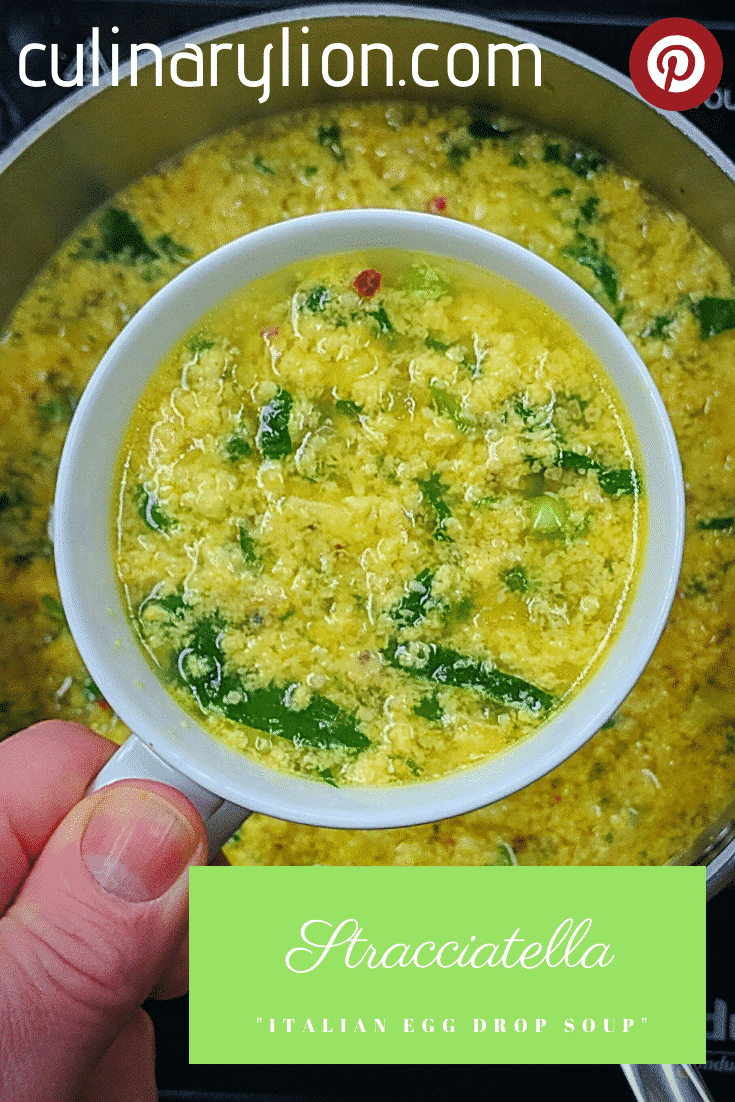 This Page Contains Affiliate Links