Subscribe to our newsletter!
---
Grilled Spaghetti Squash Rings are a great side dish for your next cookout. Spaghetti Squash grill up easy and a perfectly portioned for everyone to enjoy.
Keto Sides for Summer Grilling Season
This Super simple recipe has always been a favorite at every cookout I've ever hosted. Grilled Spaghetti squash is a easy side dish that really only has 4 ingredients but doesn't skimp on the flavor. I slice the spaghetti squash into 2 inch rings instead of cutting the squash in half long ways. The rings are then grilled to bring out more flavor than traditional methods.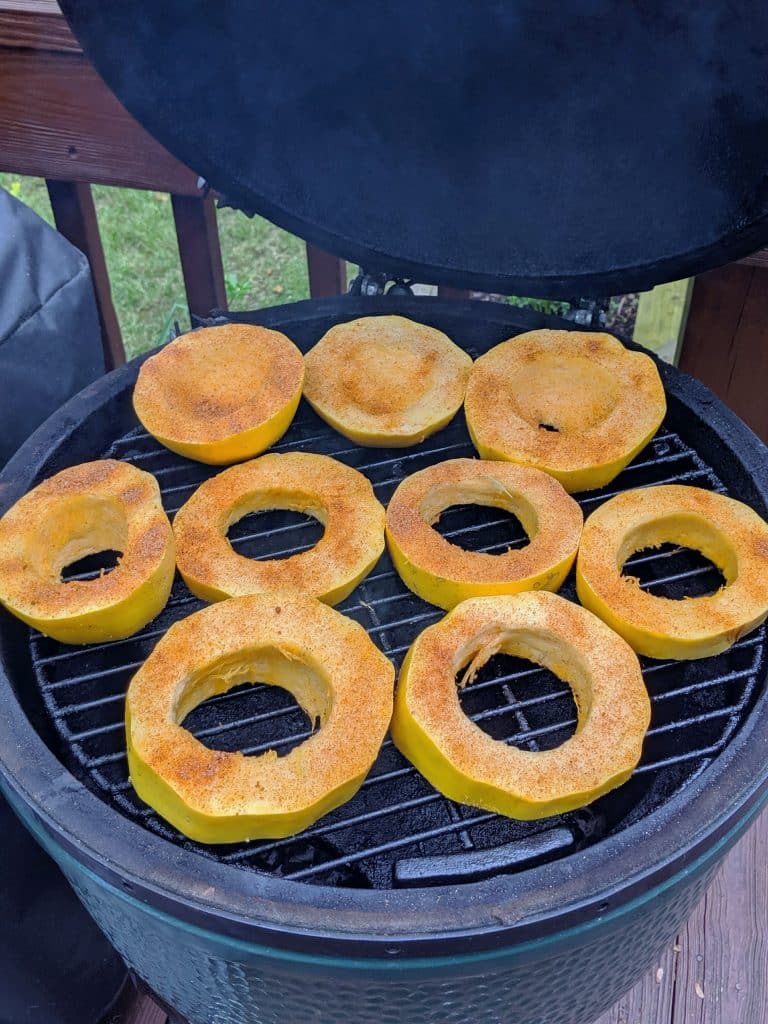 Spaghetti Squash is so Hot right Now
Spaghetti squash is one of my favorite gourds because of its lightly sweet flavor and long strands of pasta like goodness. Many low carb dieters use spaghetti squash as a gluten free low carb alternative to traditional pasta. As the spaghetti squash cooks the fibers inside begin to separate into "noodle" strains that you can fork off and eat just like traditional pasta.
There are plenty of savory recipes using spaghetti squash but you can also add brown sugar and butter to make a sweeter side dish.Spaghetti Squash goes great with pulled pork and ribs as well. I didn't use the brown sugar but instead brushed the rings with butter then seasoned with the a spicy bbq rub (I use this). I love the subtle sweetness of the spaghetti squash combined with the caramelized butter and spicy dry rub. Once the Spaghetti Squash is tender brush them with your favorite bbq sauce and cover for just a few minutes and it's time to eat.
Safety First, you can't Grill from the Emergency Room
Always be careful when slicing your spaghetti squash as the outer shell can be very tough and hard to cut. One easy trick is to poke a bunch of holes using a fork then microwave for a minute or two so that the squash softens and will be easier to slice. After you have cut the spaghetti squash into slices take a spoon and scoop out the seeds by holding the spoon at a 45 degree angle and spin the ring to remove all the seeds but leaving the meat of the gourd. After that your ready to brush with butter or olive oil, I do this to caramelize the squash but also to help the seasoning stick to the meat of the squash.
There's no exact time or temp when preparing grilled squash, I like to grill directly for a few minutes to caramelize the flesh and then rotate to indirect cooking until tender. I look to have a grill temperature somewhere between 325-350. You don't want to have a super hot grill or the sugars will burn before the meat of the squash is fully cooked.
Tips To Perfect Spaghetti Squash
There is a window of perfection when cooking this glorious gourd. If you undercook the squash it won't separate the fibers and will be tough to eat. If you overcook the squash it will all turn to mush. It still tastes ok but it won't shred into it and will look more like an acorn or butternut squash. The easiest way to tell is to look for the fibers to begin separating by pinching the flesh of the squash. If it's still firm continue cooking but if the threads of the squash easily separate when you pinch them you are ready to eat. If the squash is too hot just use tongs to pinch the flesh.
More Keto Side Dish Recipes
Grilled Spaghetti Squash Rings
Instructions
Slice the spaghetti squash into roughly 2 inch rings then scoop out the seeds using a spoon.

Brush the flesh of the spaghetti squash with melted butter and season generously on both sides.

Grill the squash over direct heat for a few minutes per side then move to indirect heat for the rest of the cook. Looking for a grill temp of between 325-350 degrees F.

Check for doneness by pinching the flesh of the squash looking for the fibers to separate easily. If the fibers are still tough continue cooking until the fibers separate with little tension.

Brush bbq sauce onto the spaghetti squash rings, cook for just a few more minutes to let sauce set up.
Nutrition
Calories:
116
kcal
Carbohydrates:
10
g
Protein:
1
g
Fat:
8
g
Saturated Fat:
5
g
Cholesterol:
19
mg
Sodium:
21
mg
Potassium:
137
mg
Fiber:
2
g
Sugar:
3
g
Vitamin A:
171
IU
Vitamin C:
3
mg
Calcium:
38
mg
Iron:
1
mg
---
Nutrition Facts
Grilled Spaghetti Squash Rings
Amount Per Serving
Calories 116
Calories from Fat 72
% Daily Value*
Fat 8g12%
Cholesterol 19mg6%
Sodium 21mg1%
Potassium 137mg4%
Carbohydrates 10g3%
Protein 1g2%
Vitamin A 171IU3%
Vitamin C 3mg4%
Calcium 38mg4%
Iron 1mg6%
* Percent Daily Values are based on a 2000 calorie diet.
---
This recipe for grilled spaghetti squash rings contains affiliate links. I receive income from qualifying purchases.