Jump to Recipe
Beef Heart Satay Recipe
Sadly, Beef heart is one of the most underused cuts but this Beef Heart Satay Recipe is a great way to introduce this intimidating cut of beef.
Beef Heart is loaded with Iron as well as loads of vitamins and healthy protein. This makes it an incredibly healthy ingredient to use in recipes
This Beef heat satay recipe is marinated in some of my favorite asian inspired flavors to keep the beef heart tender and moist.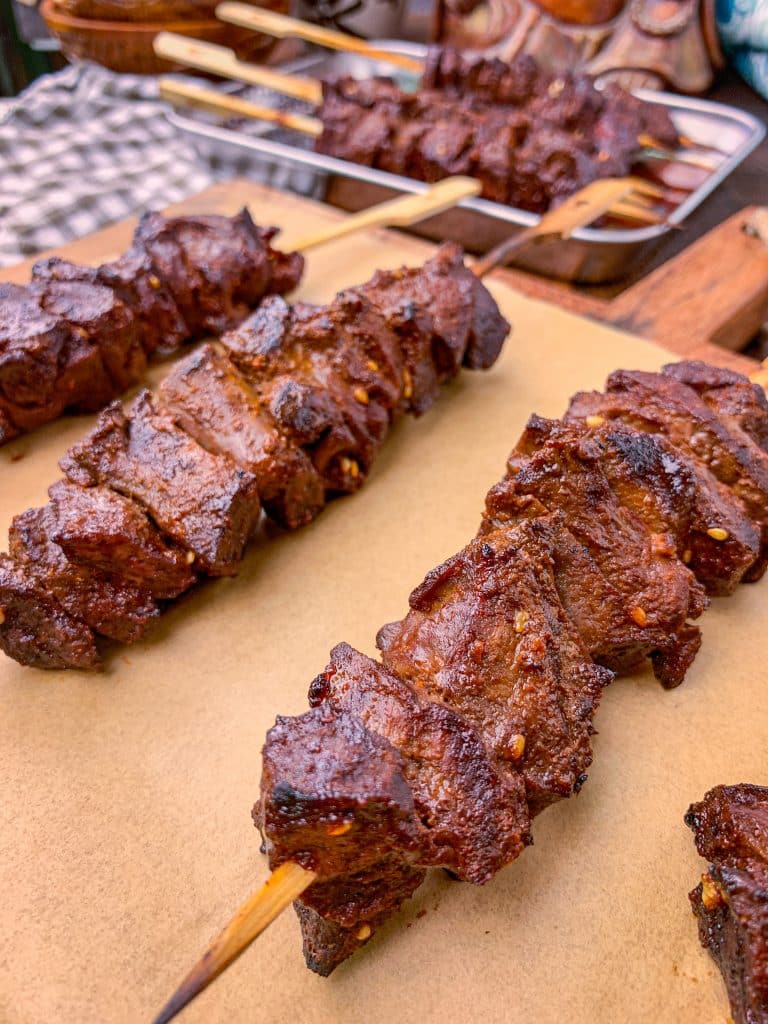 Keto Nose to Tail Is So Hip Right Now!!
In my quest to try new things and eat healthier, I've started working with more organ meats. I'm not the biggest fan of beef liver but heart is actually quite tasty.
It's surprisingly lean and doesn't have that iron taste that liver has. Beef heart has a steak texture and is great for grilling.
Asian Beef Heart Satay is the perfect introduction to Keto Nose to tail eating.
The Spicy marinade complements the lean heart and tenderizes at the same time.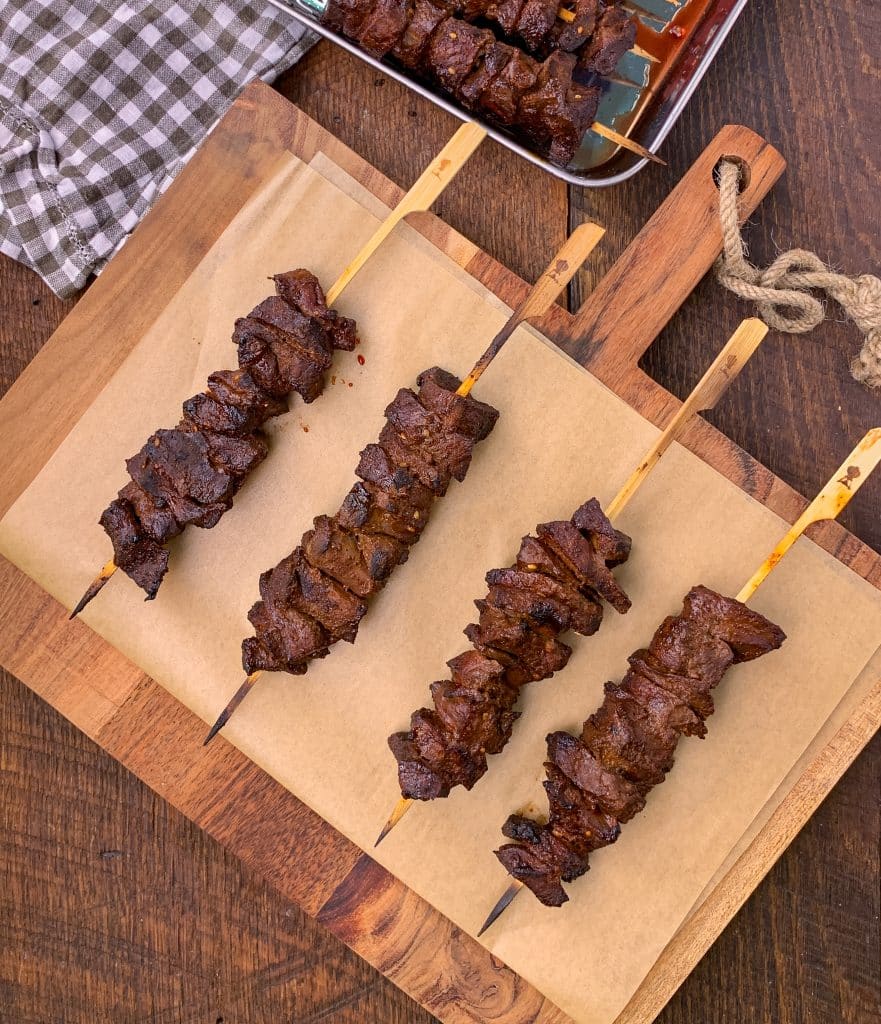 Asian Beef Heart Satay is the perfect intro to Offal
Beef Heart is an incredibly nutritious cut and with many people in this community moving towards a nose to tail approach to eating I wanted to share this recipe.
Most of the time beef heart will be found frozen and whole at your butcher shop. I always recommend talking to your butcher and asking for any tips on cleaning the heart.
There will be some hard white fat and silver skin that will need to be removed.
After that you will open up the heart and look for any small vines that can be chewy, so you will want to remove those as well.

Once the heart is cleaned it's time to slice it up. The thinner the slices the more tender your final product will be so I like to cut the heart into ¼ inch bite size slices.
Later when you skewers the meat it will have more surface area to create a crust.
Since the heart is a dense lean cut it can handle a longer marinade time. I recommend somewhere between 12 and 24 hours to really incorporate the flavor into the meat.

If you're using wooden skewers make sure to soak them in water for an hour before skewers your beef heart. This will help prevent the skewers from burning.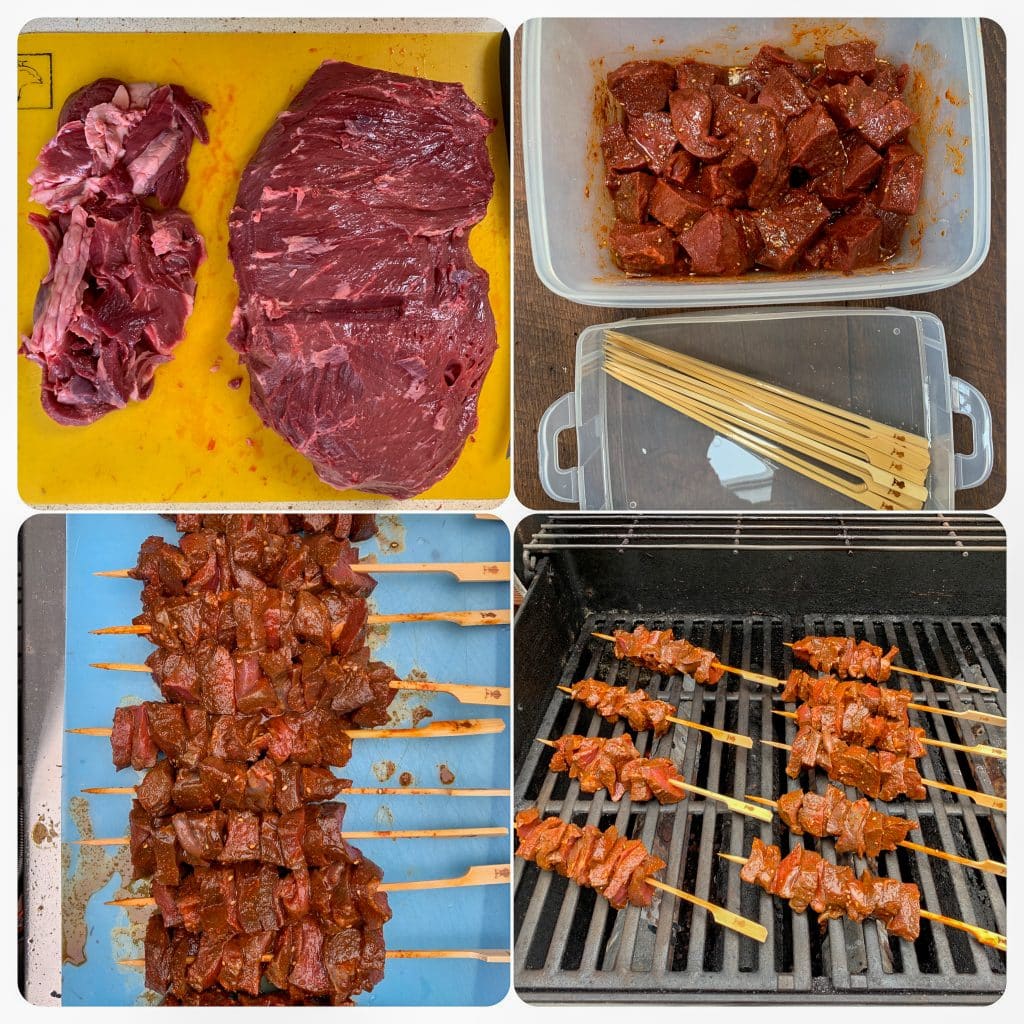 Dont Overcrowd the Beef Heart Satay
As you skewer the beef heart satay try not to overcrowd the skewers so that the heart will cook evenly.
You can brush any extra marinade on the beef hearts once they're on the grill to add more flavor and keep them moist.

Grilling over Gas or Charcoal
Regardless if you're cooking on a gas or charcoal grill I recommend only using half the surface area for direct heat.
Light one side to a fairly high heat and leave the other side off so you can rotate the meat on and off the flame. This way you can have the handle of the Beef Heart Satay pointed away from the flame so they don't burn.
Once the beef heart has developed a nice crusty exterior you can move to indirect cooking to finish. This not only prevents over cooking but it also allows your skewers to rest before serving.

These Asian beef Heart satay are fantastic on their own as an appetizer or serve alongside Spicy Thai Noodles s or my Thai Veggie Salad.
More Recipes You Will Love
---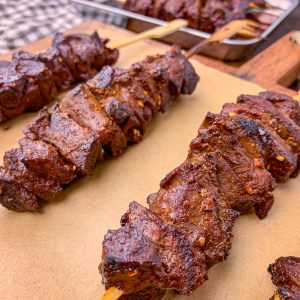 Thai Lime Keto Beef Heart Satay
Beef heart is one of the most underused cuts but this Beef Heart Satay Recipe is a great way to introduce this intimidating cut of beef.
Instructions
Cube the beef hearts into 1 inch cubes then whisk together all of the marinade ingredients then toss the beef hearts in the marinade so they are completly coated. Chill for at least 4 hours. Overnight is best.

Soak Wooden Skewers for about 30 minutes. Preheat grill to 400 degrees F

Place 4-5 cubes of beef heart on each skewer. Then place the beef heart satay on the grill and cook for about 3-4 minutes per side so that the internal temp is about 135 degrees F.

As the beef is grilling brush on remaining marinade to keep the beef moist.
Nutrition
Serving:
4
oz
Calories:
208
kcal
Carbohydrates:
4
g
Protein:
21
g
Fat:
12
g
Saturated Fat:
2
g
Cholesterol:
141
mg
Sodium:
832
mg
Potassium:
385
mg
Fiber:
1
g
Sugar:
1
g
Vitamin A:
10
IU
Vitamin C:
4
mg
Calcium:
14
mg
Iron:
5.1
mg
---
Nutrition Facts
Thai Lime Keto Beef Heart Satay
Amount Per Serving (4 oz)
Calories 208
Calories from Fat 108
% Daily Value*
Fat 12g18%
Cholesterol 141mg47%
Sodium 832mg36%
Potassium 385mg11%
Carbohydrates 4g1%
Protein 21g42%
Vitamin A 10IU0%
Vitamin C 4mg5%
Calcium 14mg1%
Iron 5.1mg28%
* Percent Daily Values are based on a 2000 calorie diet.
---